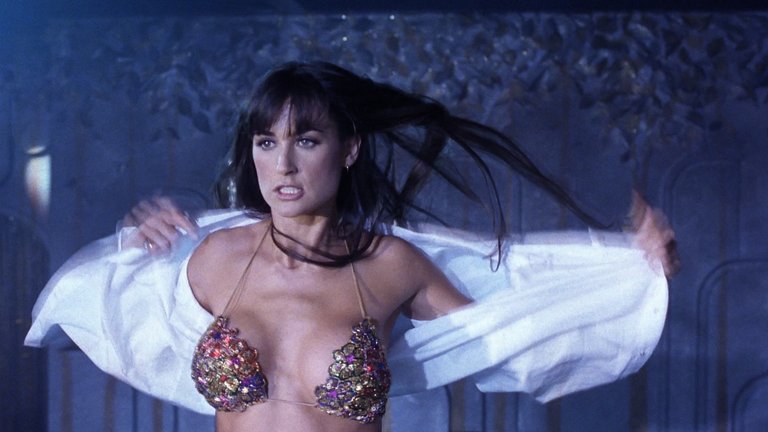 In mid 1990s Croatian film distributors came with a new idea for promoting Hollywood films. They began to hire Croatian pop stars and have their video-clips stuffed with the brief shots from the particular films. The lyrics and title of the song, as well as the content of the clips, usually had little or nothing to do with the subject or atmosphere of the film. But the videoclip used for Croatian distribution of Striptease, 1996 comedy directed by Andrew Bergman, was different. Anamarija Djumbrek, Croatian pop star better known for her dancing than singing abilities, took her job quite seriously and made sure that her performance in the video-clip matches the content and title of the film. Although the clip, unlike the film, didn't have any actual nudity, it proved to be more erotic and entertaining.
The plot of the film, based on the satirical novel by Carl Hiassen, is set in Florida town of Ft. Lauerdale. Erin Grant (played by Demi Moore) is a former FBI secretary who, thanks to male chauvinist judge, loses custody over her daughter to her ex-husband Darrell (played by Robert Patrick), drug addict and career criminal. Needing money for appeal, Erin takes job at "Eager Beaver", sleazy strip joint. One of the patrons happens to be David Dilbeck (played by Burt Reynolds), sex-crazed US congressman who quickly becomes obsessed with "Eager Beaver's" new star. His obsession leads to embarrassing incident, captured on camera and later used for blackmail. Before she knows it, Erin Grant gets involved in murder.
In its time Striptease created a lot of hype for two things – Demi Moore being paid record 12 million US$ fee for her role and Demi Moore being willing to reveal her mammary glands in front of camera. Demi Moore, however, didn't want public to make any connections between those two aspects of Striptease, so she made sure that her role didn't give any "wrong" messages to women. Her character of Erin Grant is portrayed with seriousness of Ingmar Bergman's drama - as brave single mother willing to sacrifice everything for her daughter and empower herself in the process. In promoting such quasi-feminist agenda, Moore did to Carl Hiassen's satire exactly the same thing that she had done to Nathaniel Hawthorne's classic in the Scarlet Letter] a year earlier. Because of that, heroic Erin Grant looks like an alien being thrown into surreal world populated by plenty of bizarre characters.
Cause of Striptease is hardly helped by the presence of Andrew Bergman, director whose career gives impression of a film maker determined to have the most hilarious films scripts remain funny only on paper. Supposedly funny characters are cartoonish, supposedly silly lines are bland and supposedly comical situations are serious. acting in the film, despite respectable cast, also leaves much to be desired - Burt Reynolds' take on sleazy US congressman was probably one of the lowest points of that actor's career. On the other hand, Ving Rhames is very good in the role of sympathetic bouncer, but his appearances are too short to improve general impression of the film. And the film's supposedly most important selling point - striptease - is handled in such uninspiring fashion that even those viewers accustomed to neo-Puritanical 1990s standards of Hollywood would feel cheated. In the end, it is hard not to think about real-life women who find themselves in film heroine's situation and have no other option but to enter the world of adult entertainment industry - many of them would deliver more credible and effective performances than Demi Moore in this film, but they could only dream of being paid 12 million US$ for it.
RATING: 2/10 (-)
(Note: The text in its original form was posted in Usenet newsgroup rec.arts.movies.reviews on May 29th 2003)