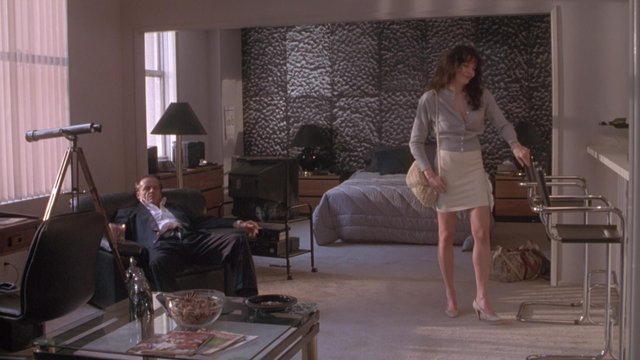 (SPECIAL NOTE: Capsule version of the review is available here .)
Some films are bound to be hurt by inflated expectations of experienced filmgoers. The Crossing Guard, 1995 drama written and directed by Sean Penn, is one of such examples. It had everything a powerful drama was supposed to have – serious thought provoking subject and first class cast - but some important ingredient was still missing.
The plot of the film starts six years after tragic event that had forever changed lives of two protagonists. Freddy Gale (played by Jack Nicholson) is a jeweller whose daughter was run over by drunken driver. Unlike his wife Mary (played by Anjelica Huston), Freddy never got over this tragedy and his life now consists of alcohol, visits to seedy strip joints and endless self-pity. The only thing that gives him some sense of direction is the fact that John Booth (played by David Morse), man who had killed his daughter, is about to be released from prison. Freddy counts days before this event, determined to kill him. When two men meet, it turns out that John has spent prison years tortured with guilt and he is ready to accept whatever Freddy has in store for him. Freddy decides to give him three more days to live and set his affairs in order. Two men spend those three days in different fashion - John meets attractive musician Jo Jo (played by Robin Wright-Penn) while Freddy continues to self-destruct with booze.
At first glance it looks that The Crossing Guard would tackle serious issues of grief, crime, punishment and revenge in original fashion. Basic plot of a crime victim seeking revenge on the criminal is given an interesting twist. The victim is hardly someone the audience would root for - he is an alcoholic, more than able to ruin lives of people around himself. The criminal, on the other hand, is hardly a monster - instead he looks and acts almost like a saint, deeply affected with guilt and being ready to accept punishment. Sean Penn, one of the best actors in contemporary America, creates superb characterisation and knows how to utilise his colleagues' skills. Unfortunately, Penn doesn't know how to restrain some of them, especially Nicholson, whose role at times sink into over-acting. David Morse is much better in his minimalist performance. Another of Penn's problems is his inability to establish proper pace for this drama; many scenes are overlong and the ending is utterly disappointing. Because of that The Crossing Guard puts too much of viewers' patience to the test, thus leaving the bitter taste of wasted opportunity.
RATING: 4/10 (+)
(Note: The text in its original form was posted in Usenet newsgroup rec.arts.movies.reviews on April 10th 2003)