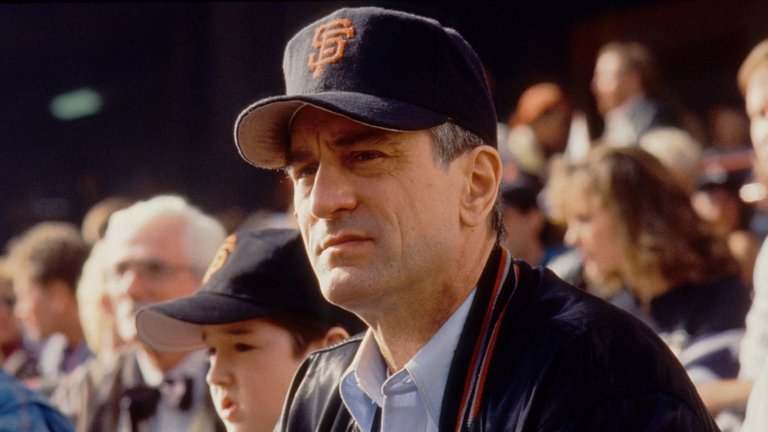 The author of this review happens to live in town full of talented athletes. Few weeks, however, his city became a news through different, more sinister reasons – apparently, couple of local soccer club fans have broke into town's main stadium under cover of night and spent couple of hours digging grave-like holes at the pitch (with holes corresponding to the team's formation) and thus expressed what they thought of their favourite club's performance. The truth is stranger than fiction, and this conclusion could be made by anyone comparing that incident with The Fan, 1996 thriller directed by Tony Scott.
The protagonist of the film is Gil Renard (played by Robert De Niro), kitchen knife salesman whose life is a complete mess - he went through nasty divorce, he is getting estranged from his son and, last but not least, his bosses only wait for the right opportunity to fire him. The only thing that makes life bearable for Renard is baseball, namely his favourite team San Francisco Giants. New Giants acquisition is 40 million US$ star Bobby Rayburn (played by Wesley Snipes) and Renard not only becomes his most loyal fan, but also stays loyal after Rayburn's initial performances turn to be lacking. The main problem for Rayburn seems to be Juan Primo (played by Benicio del Toro), his cheaper, younger but more effective team mate. After losing his job, Renard decides to help his beloved baseball idol by eliminating his team rival.
Tony Scott, just like his brother Ridley, is one of those directors able to both make masterpieces and worst examples of celluloid excrement. It usually all depends on the script, and in case of The Fan the script by Phoef Sutton was closer to the second category. The beginning of the film seems promising, with Robert De Niro using opportunity to display another study of pathological character, while plot flirts with some critical depictions of the darker side of American professional sports. Unfortunately, in the second half of the film it all degenerates into "psychotic at large" thriller cliches, and Scott's direction does very little to arouse audience's interests. The acting is good, though; Snipes handles his, rather thankless, role very well; John Leguizamo is good as Snipes character's agent, while Ellen Barkin seems wasted in the role of radio host. Soundtrack, dominated by Rolling Stones songs, is mostly annoying. The Fan, although watchable, represents another example of Hollywood wasting potentially good plots.
RATING: 3/10 (+)
(Note: The text in its original form was posted in Usenet newsgroup rec.arts.films.reviews on September 16th 2003)