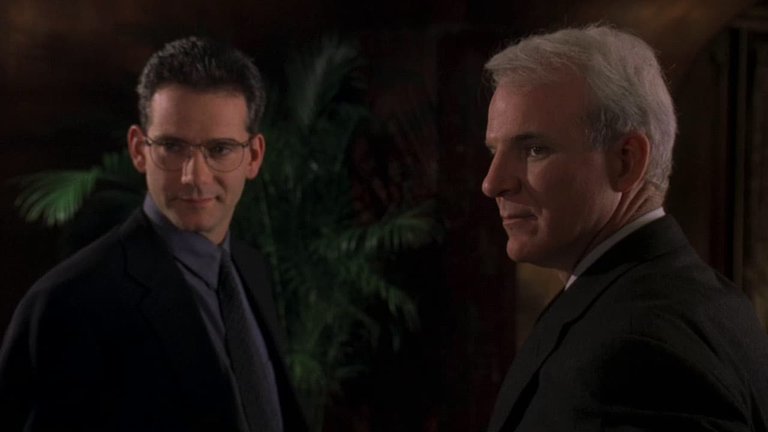 David Mamet is one of the most respected American playwrights. On the other hand, his record as a screenwriter leaves much to be desired. So many films written, co-written or script doctored by Mamet were disappointments. On the other hand, Mamet also tried his hand as a director, which resulted in couple of very interesting films. Probably the best known of them is 1997 thriller The Spanish Prisoner.
Protagonist of the film is Joe Ross (played by Campbell Scott), inventor employed by huge New York company. He invented the mysterious Process, which is supposed to bring global market domination to his employers. Ross flew to Caribbean island in order to present his discovery to company executives and win financial compensation for his effort. His boss Klein (played by Ben Gazzara) and other executives don't seem likely to grant him that kind of money. In the meantime, Ross meets and befriends Jimmy Dell (played by Steve Martin), businessman who came to the island. Later Dell asks Ross to bring mysterious envelope to his sister in New York. Ross does that but soon finds himself embroiled in the series of strange events that indicate that his friend might not be who he claims to be. Ross tries to get out of that mess with the help of Susan Lucci (played by Rebecca Pidgeon), attractive and intelligent secretary who seems to view Ross as her romantic interest.
David Mamet's greatest talent lies in dialogue and The Spanish Prisoner is another example of vocabulary being put to good use. The plot that revolves around industrial espionage and con game is excellent opportunity for Mamet to invest some of his talent, because there is relatively little action in the film and the only interesting thing is in the mind games. To make those mind games even more interesting, Mamet insisted on cold, at times even deadpan, delivery of his lines. Campbell Scott is convincing in the role of Hitchcockian "ordinary man" hero, while Mamet's wife Rebecca Pidgeon makes the best of her husband's text by playing seemingly cold, but very seductive character. Steve Martin is also good in one of the rare roles in which he had to use his dramatic talent. But despite good acting and impressive dialogue, the audience is slowly becoming too aware of the artificiality behind The Spanish Prisoner. Suspension of disbelief begins to vanish only to be shattered by weak and unconvincing deus ex machina ending. The Spanish Prisoner nevertheless works as a very entertaining thriller, but it is also a reminder that even intelligent films can be exercise of style over substance.
RATING: 6/10 (++)
(Note: The text in its original form was posted in Usenet newsgroup rec.arts.films.reviews on May 3rd 2004)
Blog in Croatian https://draxblog.com
Blog in English https://draxreview.wordpress.com/
Cent profile https://beta.cent.co/@drax
Minds profile https://www.minds.com/drax_rp_nc
Uptrennd profile https://www.uptrennd.com/user/MTYzNA
Brave browser: https://brave.com/dra011
Rising Star game: https://www.risingstargame.com?referrer=drax
BTC donations: 1EWxiMiP6iiG9rger3NuUSd6HByaxQWafG
ETH donations: 0xB305F144323b99e6f8b1d66f5D7DE78B498C32A7