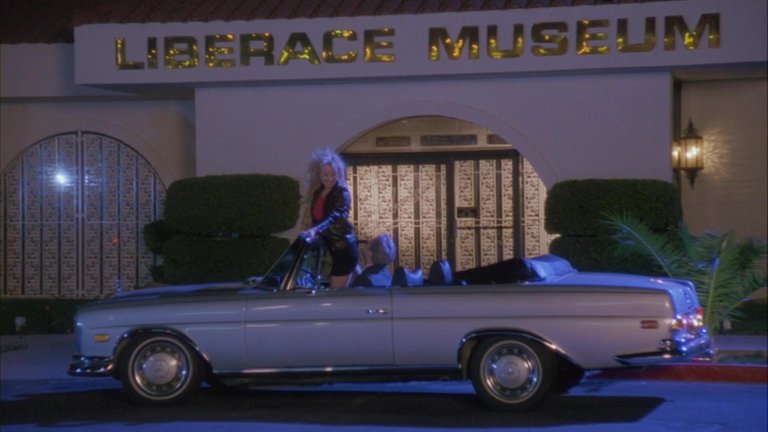 There are various ways in which people can be divided into separate categories – by gender, by race, by sexual orientation, by religion, by political beliefs or by their opinion towards war in Iraq. But the most obvious division is between winners and losers. The same division could be applied to film directors. If we judge by The Winner, 1996 neo-noir thriller, its director Alex Cox belongs to the latter category.
The screenplay for this film was written by Wendy Ris and based on her stage play A Darker Purpose. The plot takes place in Las Vegas where Philip (played by Vincent d'Onofrio), seemingly clueless gambler, suddenly starts winning any time he sets foot near gambling table. Such seemingly supernatural winning streak caught the attention of various shady characters who intend to deprive Philip of his earnings. One of them is beautiful lounge singer Louise (played by Rebecca de Mornay) who attracts Philip and sees in him as a reliable source of income. Before he is able to adapt to new situation, Philip would find himself involved in bizarre intrigues and murder.
Alex Cox used to have his glory days in the past decades with cult films like Sid & Nancy and Repo Man. After that his career went downhill and The Winner didn't reverse the trend. The main reason for that could be found in Wendy Ris' script that wasn't properly adapted for the feature film. The characters are too bizarre to be taken seriously, and there is too little humour to take this film as comedy. Alex Cox doesn't help with his tragicomic attempts to give some "hip" visual identity to the movie. The Winner, despite having strong cast, looks like one huge wasted opportunity. And Alex Cox isn't the only loser in The Winner. Rebecca de Mornay as executive producer again showed ability to put her name behind wrong film projects.
RATING: 2/10 (-)
(Note: The text in its original form was posted in Usenet newsgroup rec.arts.movies.reviews on April 9th 2003)