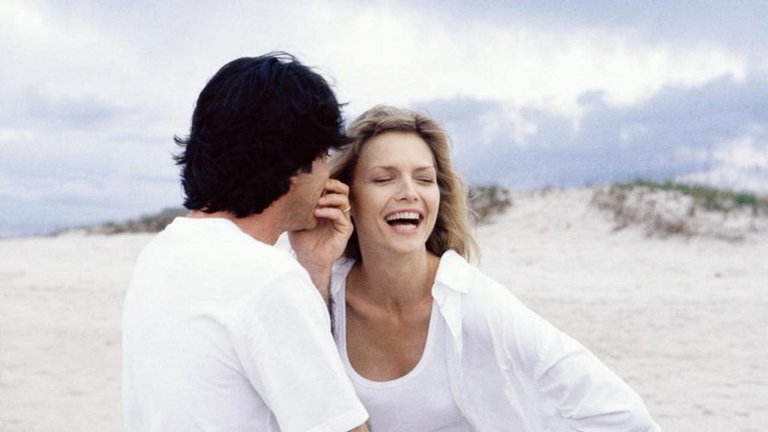 David E. Kelley is one of America's most successful screenwriters, but all of his successes have been limited to small screen. His efforts in the area of feature films give striking contrast to his television triumphs. One of the reasons might be in the medium of feature film itself - unlike TV show, even the longest feature film doesn't have luxury of developing various subplots and characters over many episodes. Some of those problems are present in To Gillian on Her 37th Birthday, 1996 drama directed by Michael Pressman and written by David E. Kelley.
The plot, based on Michael Pressman's stage play, deals with David Lewis (played by Peter Gallagher), literature professor who lives on Nantucket Island together with his 16-year old daughter Rachel (played by Claire Danes). Through the years David has developed entire miniature family festival celebrating the birthday of his beloved wife Gillian (played by Michelle Pfeiffer) and this year isn't exception. The problem is in the fact that Gillian died in a boating accident two years ago and that she exists only as an apparition that haunts David any time when he gets lonely. David's in-laws Paul (played by Bruce Altman) and Esther Wheeler (played by Kathy Baker) are concerned for David's and Rachel's well-being, so they use the birthday celebration to match grieving David with their divorcee friend Kevin (played by Wendy Crewson). All that leads to misunderstandings, while, in the same time, Rachel tries to escape tomb-like reality of her home by indulging in a romantic relationship with local teenager Joey (played by Freddie Prinze Jr.).
The script of To Gillian on Her 37th Birthday touches many subjects that could have provided material for powerful drama - grief, inability to deal with real life, teenage angst, father-daughter relations, dysfunctional families etc. Problem with this film is in many of those subjects being too dark for what actually turned out to be light-hearted family film. David E. Kelley also has problems in tying all those subplots in coherent whole. On the other hand, inadequacies of the content are somewhat with attractiveness of the package (including Claire Danes in on of her rare bikini appearances). The acting is superb, especially in the case of Peter Gallagher, while David E. Kelley's real-life wife Michelle Pfeiffer makes the best of rather limited role. The running time of the film is short, so many viewers would have little time to spot film's flaws. This is the reason why To Gillian on Her 37th Birthday could be actually enjoyed by those who by some chance watch it.
RATING: 5/10 (++)
(Note: The text in its original form was posted in Usenet newsgroup rec.arts.films.reviews on September 24th 2003)