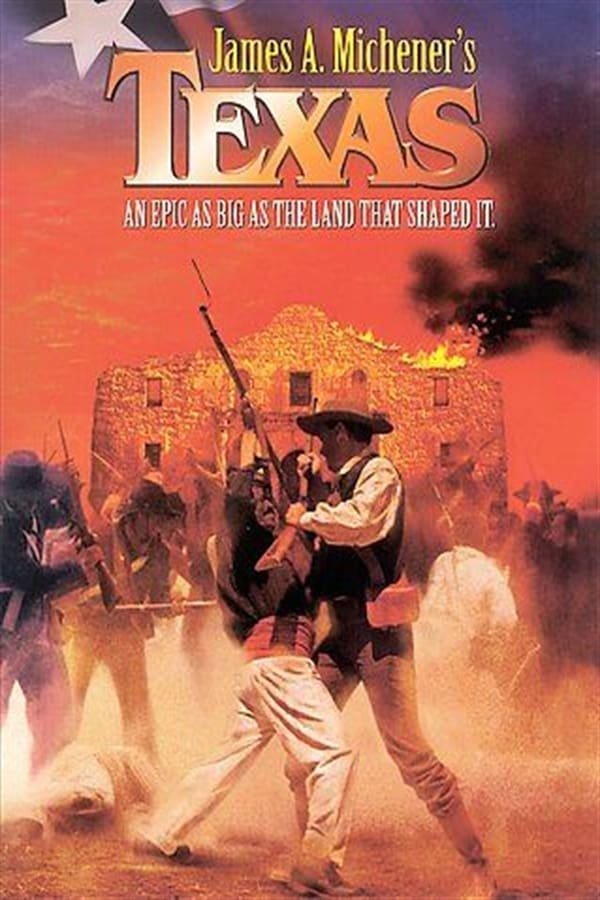 State of Texas for many non-Americans represents everything which is the best and the worst of USA. Those contradicting sentiments could be aroused by Texas' history, especially first half of 19th Century, which provided good material for Hollywood and American novelists. Among the latter was James Michener, whose epic novel Texas was in 1995 adapted into 3-hour television film directed by Richard Lang.
The film was released on the 150th anniversary of Texas' admission to Union. The plot covers quarter of century that preceded that event and begins in early 1820s when newly independent Mexico desperately needs people to settle its northeastern province of Tejas. Most of people settling in the new land are Anglo-Saxons led by Stephen Austin (played by Patrick Duffy) and at first they live in harmony with Mexicans. But the arrival of brutal dictator Santa Anna (played by Lloyd Battista) leads to the conflict between settlers and the government. More and more Texans begin to accept opinion of Sam Houston (played by Stacey Keach) and favour independence. All that would lead to legendary but bloody conflict.
Despite plot of such epic proportions Texas doesn't look very epic. The reason for that could be found in small budget, which forced authors to present famous siege by using footage of John Wayne's Alamo. When it came to another battle - at San Jacinto – film makers were forced to use their own material, and that was opportunity for Richard Lang to show his directorial ineptness. Result is probably among the worst reconstructions of major military events in the history of film. Non-military events doesn't fare any better, because Sean Meredith's script pays less attention to history and more to the cliched love triangle between Stephen Austin and two fictional characters. The acting in the film is good, especially from Rick Schroeder, but it can't rescue Texas from sinking into oblivion.
RATING: 2/10 (-)
(Note: The text in its original form was posted in Usenet newsgroup rec.arts.films.reviews on September 15th 2003)