"Pehle pet Pooja fir kaam dooja" that's my motto for Everything:,-)
hello and happy weekend
hope you all are in good health, I'm also good and recover fast after a burning-accident( even it was a minor accident but a horrible experience), but still it is hurting and feeling a little bit low because not able to go outside and after a long day , feel alone.
---
So in the evening I decided to cook something and divert myself because some weared thoughts was bothering me.
I decided to cook dhokla; a simple , easy to cook and healthy recipe.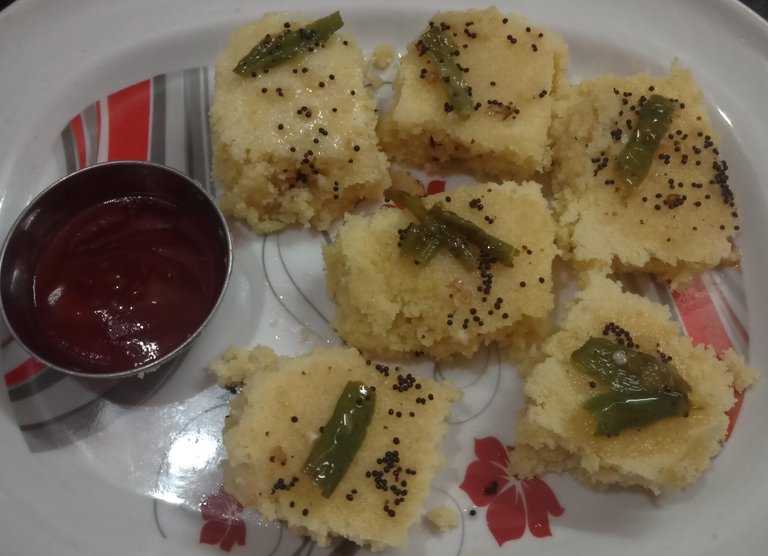 Dhokla is a Gujrati food, can be eaten for breakfast or snack.
Dhokla is one of the specialities of Gujarati cuisine.
There r 2 different recipe , khaman and dhokla . Usually khaman is made by Gram flour and dhokla with rice flour. But today what I do, used 2 bowl gram flour and add 1 bowl semolina.
To prepare this delicious recipe I took 1 bowl , add gram flour, semolina, salt, curd, lemon juice, water and baking soda , a pinch turmaric powder (can add little sugar also)
And make the batter.
Now leave the batter for 1 hour to ferment.
After that cook for 20-25 minutes (steem) , allow to dish to cool , cut into pieces and pour tempering which I made aside with oil , mustards seeds and green chilly and enjoy .
Khaman dhokla is sweet and sour in the taste.
I decided to start the series of food photography , let's see .
good thing is that food always makes me happy.
Hope you also enjoyed and have taste food for dinner 😋