On yesterday's post we received a very welcome comment from a famous Graphene Tech Blogger @taskmaster4450

While it seems that using Steem in the title or headline is not a great way to get curated on HIVE, we are looking at the markets available to our fun Fund holistically.
There are still some qualities we are interested in available on STEEM, and with the risk involved we are looking to get tokens at a nice discount and a sizeable potential. As a reminder, activity, especially active dev activity, is our top indicator in the INCOME entertainment Synergy Fund.
As reported two days ago, ARCHON is doing a HIVE fundraiser to raise enough BEE to activate all the various SCOT services.
UFM on the other hand will continue to run on STEEM. This is one of the only tribes that is still doing that, and thus one of the only tribes whose price market hasn't totally collapsed. This is important, because if there is any chance STEEM/TRON merge into something useable, even if centralized, UFM will be there.

Currently the price is right about 5% of the prefork market price, and about 2% of the most recent high. As a reminder, UFM price was supported by active development and use and massive burn through its lottery games available on its discord.
It will continue to have this use, together with ARCHON. But here comes the Beta on this trade.
ARCHON airdrop gives HIVE exposure to UFM holders on STEEM.

Half of all initial supply of ARCHON will be dropped to UFM holders. Let's compare this to the UFM supply.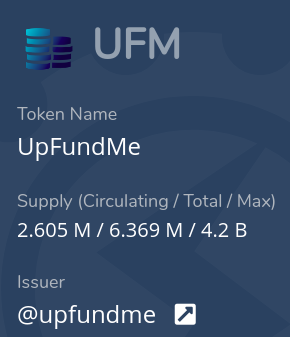 Let's be conservative and use 3 million for the UFM non-burnt supply, since we know that they are continuing to be created on STEEM in the mean time.
50k ARCHON shared between 3 million UFM tokens yields 0.0167 ARCHON per UFM. (ARCHON is for sale on hive-engine for 0.075 HIVE per token)
So 1000 UFM, currently being traded between 3.2 and 9.7 steem, would seem to yield at least 16.77 ARCHON, valued at 1.25 HIVE at sale price. Consult the price spread between Hive and Steem when analyzing this trade. At current it seems like quite a nice 'risk rebate' on the lower price end of the Steem-UFM trade.
Let's look at the largest holders set to benefit from this trade: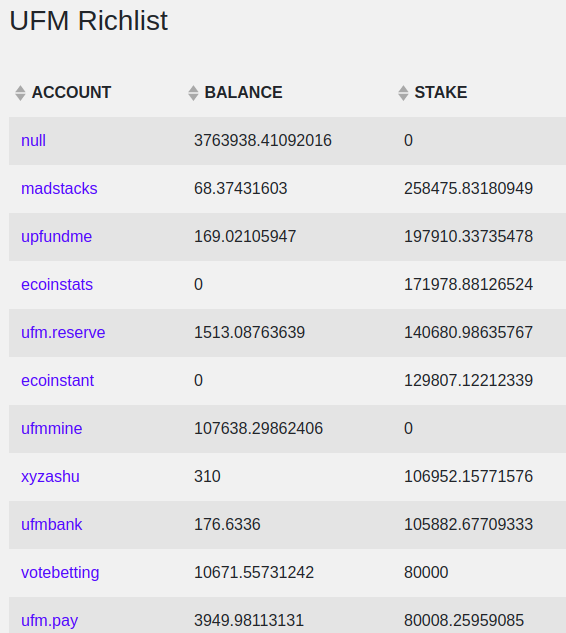 As you can see, between fund and manager, we have about 300k UFM into this trade. But also interesting to note is the 500k owned by the managing accounts of the UpFundMe program. It is not clear whether these accounts will be dropped ARCHON, but they might be. If they aren't, combined with error on the 400M estimated pre-airdrop inflation (conservative, as ARCHON is already buying BEE to activate SCOT), the ARCHON drop per thousand UFM might be as high as 23.
All of this is speculative analysis, and should not be considered advice. Do your own homework, and mark your own risks in this weird weird world we live in! We will continue to watch and write about what we observe with our dedicated brand of entertaining SYNERGY!
Freedom and Friendship!