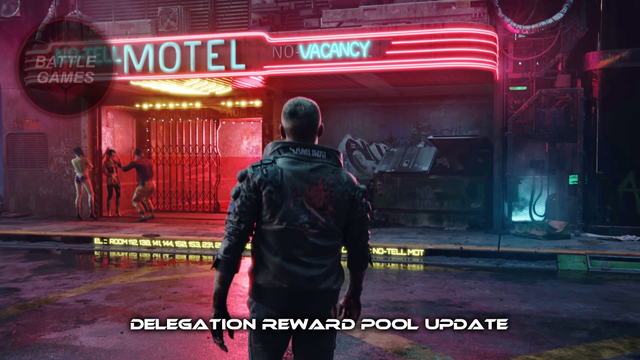 We Distributed Nearly 20 HBD To Our Delegators!
Program Update: Our total account earnings are up more than 25% over last month which means more rewards to our delegators.
Thank you to our delegators, big and small I appreciate you all 👊
@miniteut @badpupper @elevator09 @tsnaks @gooddream @mickvir @gamefiles @jacobpeacock @dera123 @risingstargame @georgeknowsall @mfblack @ahmadmanga @thegoliath @dkid14 @solominer @wiriwiri @rentmoney
CURRENT HIVE POWER: 13,000 HP
Program Details
Our Delegation Rewards Pool is a delegation program aimed at rewarding those that delegate HIVE Power to @battlegames. 25% of All Account Rewards To Be Distributed To Delegators!
How It Works:
25% of total Claimed Rewards on the @battlegames account will be placed into a Delegation Rewards Pool and payed out to program participants on the 1st of each month.
Invest in Community and Earn.
The portion of the rewards pool earned is proportionate to your delegation as a % of total account delegations. For example if your delegation amounts to 50% of total delegations received, you would earn 50% of the total Delegation Rewards Pool.
Payout from the Delegation Rewards Pool will be paid in HIVE or HBD on the 1st of each month.

The delegation must be active for entire previous 1 month period to be eligible for payout. 1 week exception period at start of every month.

Minimum delegation of 100HP needed to participate in the program and earn from the Delegation Rewards Pool.
Total Claimed Rewards by the @battlegames account includes all rewards earned through Published Posts, Comments, and Curation! 💥
A monthly report is made available to all program participants displaying detailed account reward claims, total size of Delegation Rewards Pool, and individual delegator earnings.
Our Mission
We're currently curating gaming content with apx 13,000 HP.
HELP US REACH 15,000 HIVE POWER!
Thank you for your consideration. If you have any questions at all please pop into our Discord Community and connect with @agr8buzz.
---

25% of All Account Rewards Distributed To Delegators!
Read about our Delegation Rewards Pool program here, and how you can earn by delegating to @battegame!
Help us reach our goal of curating with 15,000 HIVE Power!
25HP | 50HP | 100HP | 250HP | 500HP | 1000HP
Thank you to our current delegators 👊
---
---
🕹️ Follow @battlegames for Gaming News, Curation, and Community.
---
---