Wheat Harvest is in Full Swing ~ So is the Fire Season Unfortunately…
With so much rain this spring, the dry land wheat crops were the best the farmers had seen in a long time. Dry land wheat isn't irrigated. It's only watered my Mother Nature. There are hundreds of thousands of acres of dry land wheat in Southeastern Washington State. When harvest time kicks in, convoys of harvesters travel up and down highway 12. You will see 3-4 and sometimes 6 harvesters in one field with a couple Bail out wagons collecting the wheat. It's pretty impressive to watch
For those that don't know what I am talking about when I say Harvester or Bail Out Wagon here…
Harvester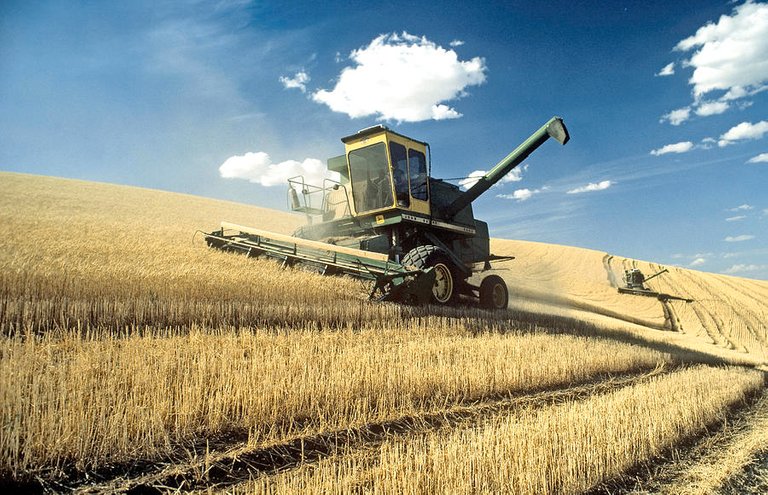 source
Yes, that big machine can take on some pretty steep terrain. The whole entire cab has auto leveling hydraulics. They don't go up and down the hills, they side hill these wheat fields when harvesting. A machine that big going sideways on a steep hill…
Crazy!!
Bail Out Wagon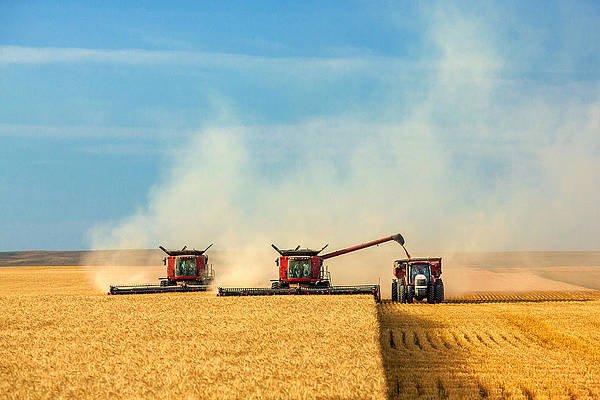 source
The Bail out Wagon is on the far right. These harvesters have a big hopper that holds a good amount of wheat. When it's full they use that "snorkel" sticking out the side to empty into the bailout wagon. Then the wheat is loaded into big semi trailers and hauled off to one of the many different grain silos in the area.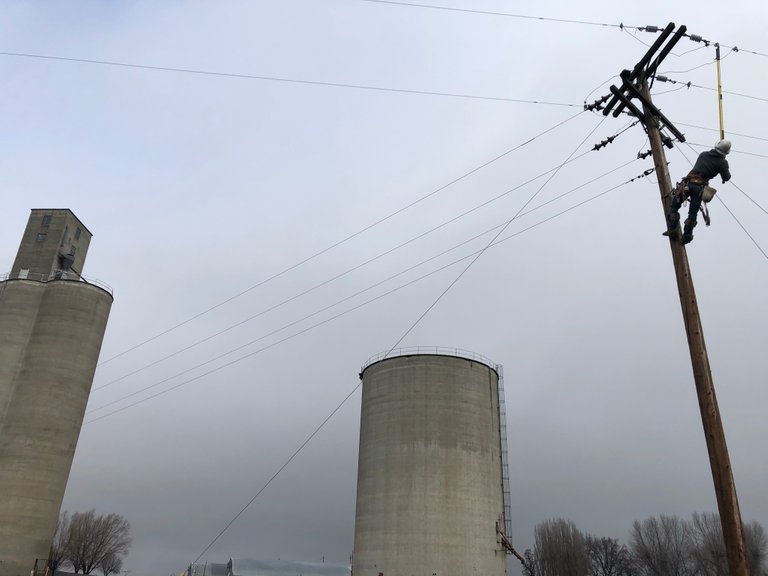 It's bound to happen and it does every year. A fire or multiple fires break out during harvest. All it takes is for one of the cutting blades on the implement (the big attachment on the front that cuts the crops) to spark, a little breeze and you got a full on standing wheat fire that gets out of control real fast. That standing wheat provides a lot of fuel for the fire. Add in a little breeze… Not good… not good at all!!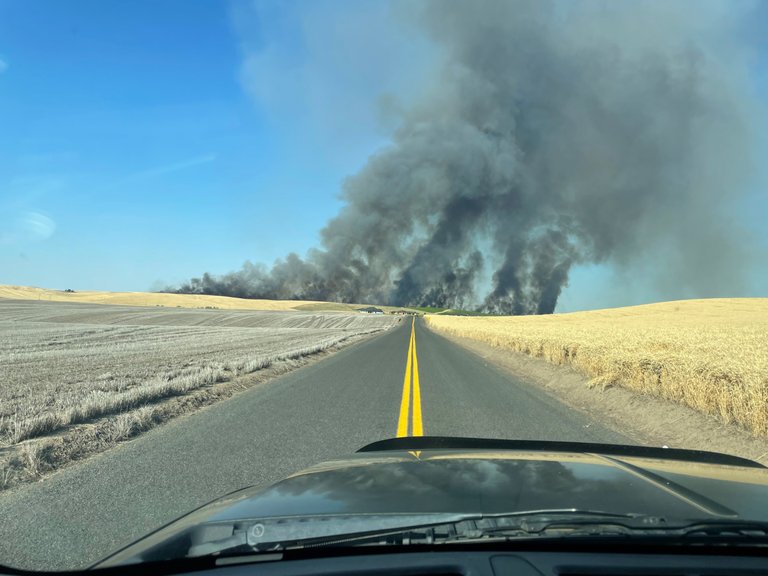 My wife and I ran to the shop at work for me to grab a few things out of my bucket truck before leaving town. On our way home I looked out to the north.

"OH, SHIT!! That fire is big!!"
I've been around these types of fires for years, so it want a hugedeal to me. Us Lineman head to these fires to keep our power poles from burning down. My wife asked is we could wonder out and take a look. "
You got it honey
" As we got closer a very concerned look spread across her face…
"OH MY GOD!! What about those houses!!"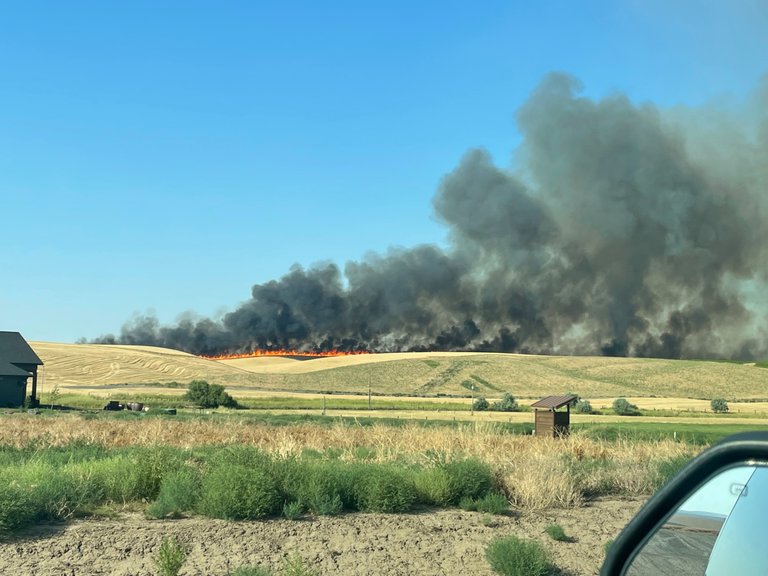 With firefighters stationed around the nearby homes, others were trying to contain the fire. That breeze made it very difficult to do so. One of my coworkers told be that the fire actually jumped across a 2 lane road. Not good… not good at all!!
Check out those flames!!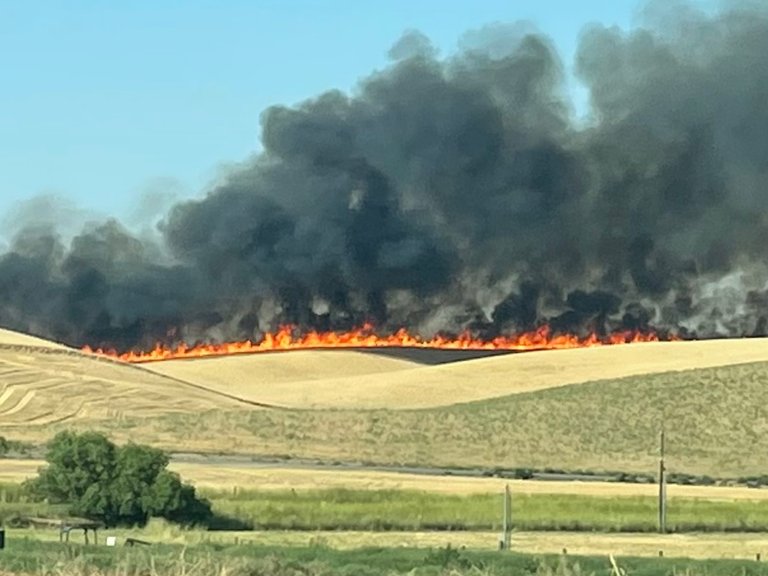 As my wife and I drove along the road about 1/2 mile away, I could tell this fire was gonna burn for a while. We stopped for a couple minutes and watched in awe… I kept thinking,

"Where is the farmer with his tow behind disc barrow to create a fire line around this thing?"
Disc Harrow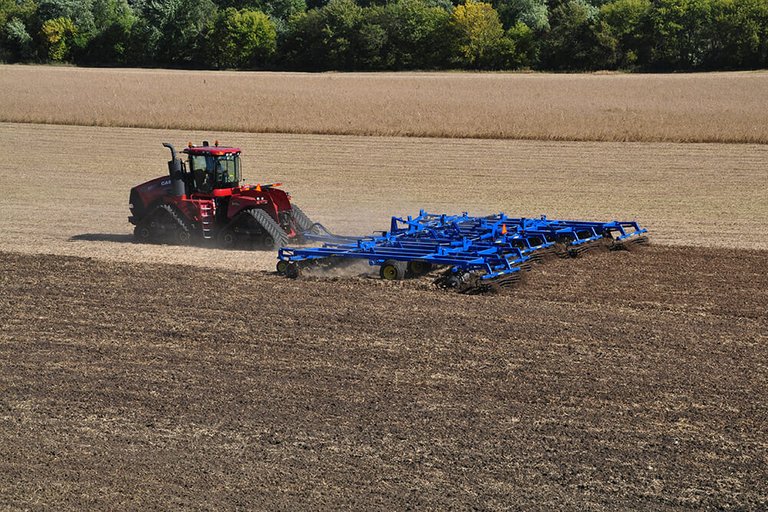 source
These can be up to 50 feet wide!! It takes some serious power to be able to pull those things through the dirt. A Quad-Trac, like the one above, is one bad ass machine. I've seen them drag one of those 50 foot disc harrows around a fire going 15-20 mph. That's flat out moving for a machine that big pulling that size disc harrow behind it.
Typically what happens with these fires is, the firefighters are running around like crazy spraying water everywhere. Then a farmer shows up with a disc harrow… and it's game over. They make a big circle around the fire and leave…

"My job is done here"
Not this time!! The guys told me that the fire kept jumping the fire line that the farmer was making with his disc. It must not have been the 50 foot one, maybe just a 25 footer.
As we watched the fire for a few minutes I noticed something I have never seen before. It was Smoke Tornado of sorts. By the time I got my phone out for the photo it had gotten a lot smaller but you could still see it.
We drove a little further then stopped again… This time I saw a Fire Tornado shooting up off the ground. Again it was probably double the size before I was able to get a photo of it.
The breeze along with the 110F temps… what a nightmare!! I did get called to come into work but I couldn't. I had to get packed up to leave in the morning to take my Son to his Scoliosis treatment in California the following morning. No worries, Line Brothers got this.
I noticed the fire around 4pm and talking to a fellow Lineman that was on the scene of the fire, around 8pm the fire was still going. I really hope this isn't a sign of things to come this year. That's one thing I don't enjoy doing when it comes to my job as a Lineman… working fire damage. That's what I call, Blood Money!
As my wife and I headed for home, we noticed the police department and sheriffs department setting up road blocks to keep people out of the danger zone. We snuck in early and got a good view of the fire. wink:wink
Here is a link to the local news story if you would like to check it out. Walla Walla Fire
Stay safe out there and keep your distance from any wild fire. You never know what direction it may turn and you could end up in a very scary situation really fast.

Your Random
Dose of...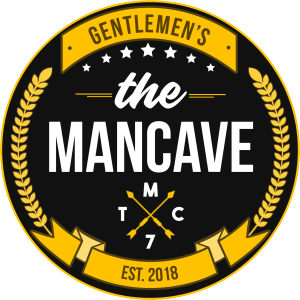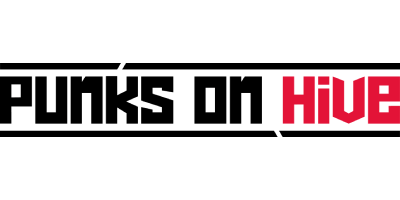 ---
---