If the hemoglobin (red blood cell) in the body is lower than normal, we consider someone to be an anemia. It is normal for an adult woman to have hemoglobin in the blood from 12.1 to 15.1 g / dL, in men's blood from 13.1 to 17.2 g / dL, in children's blood from 11 to 16 g / dL.
Anemia is usually caused by deficiency of fol-ate, iron and folic acid in the body. Blood deficiency should be taken seriously without neglect. We need to make the body more resistant to treatment of anemia. So first of all we need to bring change in our daily diet.
So let see some useful diet list.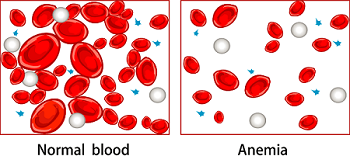 Image Source
Cows or Goats Liver:
Iron deficiency is the main cause of anemia So we should eat foods that fill the body's iron deficiency. There is a large amount of iron in the Goats or Cow's body. Iron deficiency of the body is met by regularly eating cow or goats liver. However, those who have high blood pressure must stay away from the liver.
Eggs:
This diet rich in protein and it adds nutrients to the body. This eliminates the anemia caused by the nutrients. Along with other nutritious foods, eating 1 egg daily will reduce anemia fast.
Green vegetable:
Blood deficiency occurs for lack of nutrients, folic acid and iron in the body. In order to fill all these essential mineral deficiencies in the body, there should be plenty of green vegetables in the list of foods. By eat vegetables such as squash, cabbage, cauliflower, broccoli, etc. You will get rid of blood loss.
Pomegranate:
The most accomplished fruit Pomegranate is extremely effective in eliminating anemia. Pomegranate contain many minerals, including potassium, magnesium, sodium, zinc and iron, which work well in the body. If you drink 1 glasses of Pomegranate juice 3 times a day, anemia will be removed within 2 to 6 months. So keep Pomegranate in your daily diet.
Fish:
Fish is the best source of iron, especially sea fish. All fish, including Barbel fish, Hilsha fish etc., are rich in iron. Keep a minimum of 60 grams of fish in the daily diet list.
Pulse:
Fol-ate helps to maintain blood hemoglobin levels. Keeping fol-ate-rich foods in our daily diet is important. Any kind of pulse is rich in high levels of fol-ate. So eat lentils, mugs or pulses daily. You can also eat pulses like ordinary soup.
Thanks to all. Stay tuned,