Kittylandia is not such a large country, but the Hive Torch relay has come through a second time! Today, the Torch Bearer was @ambiguity and I have chosen @adalger as the next esteemed Hivean to carry it forward. So, what is the Hive Torch? In this post by @stayoutoftherz, we learn that:
In case you were not aware, the Hivetorch is a social experiment to show, if it is possible that one Hive user sends a number of Hive to someone trustful who will be then the next Hivetorch keeper and so forth and try to do as many transfers as possible without breaking the chain. [source]
Here is the screenshot of the blockchain transaction where @ambiguity passed the Hive Torch to me: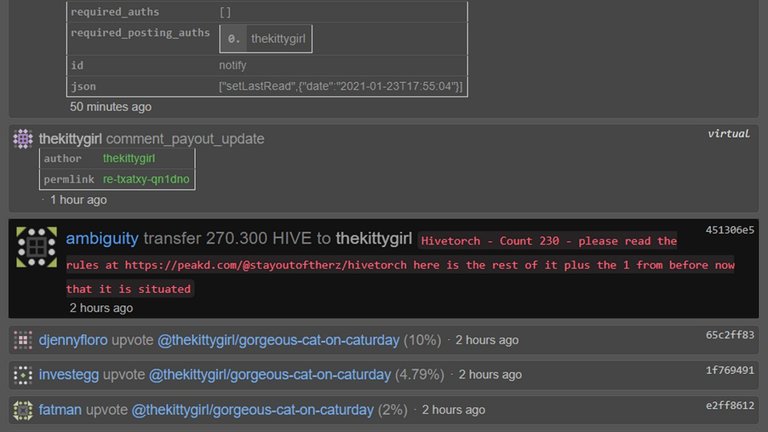 screenshot from https://hiveblocks.com
The value of the Torch was 270.300 HIVE when I received it, so I will add 1 HIVE to the amount for 271.300 HIVE total. The "Count" number in the transaction Memo field indicates that his passing it to me is the 230th transaction of the Torch, so I will send the Torch onward as the 231st transaction!
I hereby pass the Hive Torch to @adalger 🔥
Visit this post by @stayoutoftherz to see the recent history of the Torch! In that post is a link to the original post and a list of the entire history of the Torch's passing through the blockchain!

 😊










23-Jan-2021