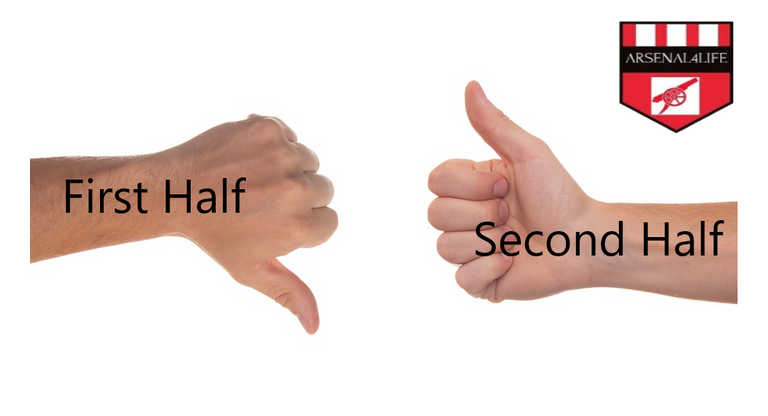 It has been a while I experienced this sort of performance from the boys, so I really had to soak it in at the end of the day. We got the three points and that's all that matters in this result oriented game, but the way we played, particularly in the second half gave me hope.
We started the first half on the front foot. Despite holding for almost 120 minutes in the FA cup, a few nights ago, Newcastle came undone in the second half.
The first half of the match really left us with a lot to ponder about. All over Twitter, I read comments about how Auba should be binned and how Arteta is clueless. You know, the usual reactionary crap that Arsenal fans do online.
For what it's worth, I had no doubt in the capacity of this team to win on the day, because despite our travails in the first half, I could tell that it was only a matter of time.
Aubaconfident
The second half started and we continue right where we left off. WHich was constantly probing and trying to make things happen further up the pitch. Our opponent came with the plan to stifle us for as long as possible, probably drawing confidence from the FA cup fixture.
Sadly(for Newcastle at least), it wasn't their day, and on the 51st minute, Auba put us ahead after a fine run that was initiated by Thomas Partey's pass. That goal was a nice morale booster for him, as he then found the net again to grab a brace.
The Life of the Partey
Speaking of Thomas, it was really nice to see him back on the pitch again. The Ghanaian midfielder was a rock at the back and his passing, combined with his composure and positioning gave us control in the centre of the park.
Thomas and Xhaka combined really well in midfield to cause trouble from deep. Both players are very good passers of the ball and distributed well. Also, they complimented each other and seemed to have a better understanding than when Elneny plays.
Young Gunners Gunning
Once again, the game featured Bukayo Saka and Smithe-Rowe. The two Hale-end graduates combined once again to produce the second goal. There's a clear understanding between both of them that I would really like to be transmitted to the team.
I must admit that while I'm not exactly a Holding fan, I can totally understand why he got the three year-deal. He's actually been winning my adulation for him and he combined with David Luiz to keep things tidy at the back.
This was probably the most comfortable match we have had all season and I hope we could just keep it this way. We're clearing out the wage bill, and focusing our energy on talents within the club.
Arteta is still learning his trade, so I intend to be patient with him. Despite how things have been bad for a while, I still think Arteta will come good in the long run. Maybe it's because I'm a romantic, or maybe it is something more technical; even I don't know.
We keep moving forward and taking the season one win at a time. We're only just in the top half of the table but with many teams having a game in hand, I wonder how long we'll last there. In good and bad times, we stay loyal to the club and until we meet again, up the Arsenal.