This post can also be read in Portuguese
Emotion until the end, it seems that it was written, Flamengo is the Brazilian fifth-time champion! With the match this Thursday against São Paulo, Flamengo needed to win to not depend on any result. Internacional needed to win and hope for the team to lose.
Flamengo started the game well but the first 20 minutes showed that São Paulo did not want to play football, the team was back and scored many fouls. By the end of the first half, there were already four players from São Paulo with a yellow card.
It was a game of attack against defense and Flamengo attacked from the sides and also infiltrated through the middle but no goal. At the end of the first half, there was a foul for the São Paulo team and believe me, with a flawed failure by goalkeeper Hugo, São Paulo scores the first goal of the match.
The Flamengo team entered the locker room at a disadvantage, it is true, they would still have a whole second time so that Mengão could reverse the situation of the game. At the start of the game, Bruno Henrique equalized in a corner kick. It was the ideal time for the team to grow.
Source

But in another grotesque mistake by goalkeeper Hugo on the ball, São Paulo scored the second goal to the despair of all the red-black fans. The worst was happening, São Paulo winning and Internacional needed only to score a goal against Corinthians to be the Brazilian champion.
The match ended with Vitória do São Paulo and Flamengo players were waiting for the end of the other match. In a game that would be the last of the game, Edenílson from Internacional scores a goal and to the despair of the entire red-black nation, the title was running between our eyes ....
But today there is the VAR and believe me, Internacional's goal was canceled, because the colorado player was offside. Relief and hope for all flamenguistas. After a minute passed, the referee finally finished the game and made Flamengo two-time champion. It was suffered, but if it were not suffered it was not Flamengo.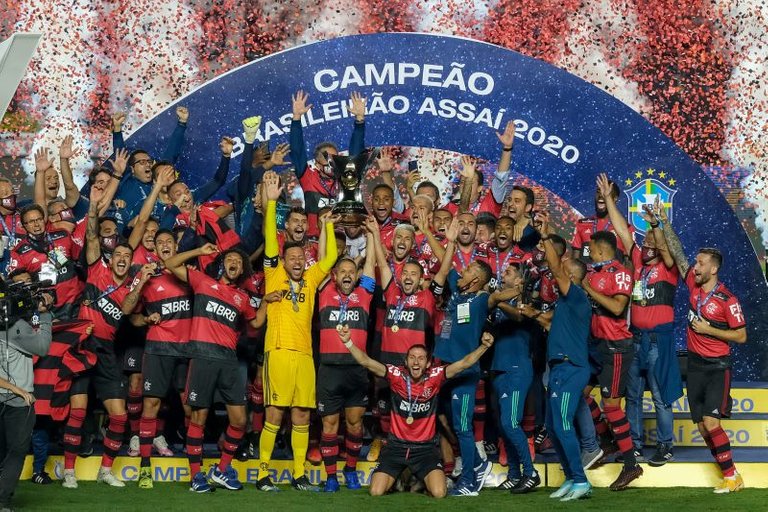 Source



Now it's time to celebrate!

Versão em português
Emoção até o fim, parece que estava escrito, O Flamengo é Octacampeão brasileiro! Com a partida nesta quinta contra São Paulo, o Flamengo precisava vencer para não depender de nenhum resultado. Já o Internacional precisava vencer e torcer para a equipe carioca perder.
O Flamengo começou o jogo bem mas os primeiros 20 minutos mostrava que o São Paulo não queria jogar futebol, time recuado e marcava muitas faltas. Até o final do primeiro tempo, já tinha quatro jogadores do São Paulo com cartão amarelo.
Foi um jogo de ataque contra defesa e o Flamengo atacava pelos lados e também infiltrava pelo meio mas nada de gol. No final do primeiro tempo, houve uma falta para a equipe paulista e acreditem, com uma falha bisonha do goleiro Hugo, São Paulo marca o primeiro gol da partida.
O time do Flamengo entrou no vestiário em desvantagem, é verdade, ainda teriam um segundo tempo todo para que o Mengão pudesse reverter a situação do jogo. No início da volta do jogo, Bruno Henrique empata em um lance de escanteio. Era o momento ideal para o time crescer.
Mas em outro erro grotesco do goleiro Hugo na saída de bola, São Paulo marcou o segundo gol para o desespero de toda torcida rubro-negra. O pior estava acontecendo, São Paulo vencendo e Internacional precisava apenas fazer um gol contra o Corinthians para ser o campeão brasieiro.
A partida terminou com a Vitória do São Paulo e os jogadores do Flamengo estavam aguardando o final da outra partida. Em um lance que seria o ultimo do jogo, Edenílson do Internacional marca um gol e para desespero de toda a Nação rubro-negra, o título escorria entre os nossos olhos....
Mas hoje existe o VAR e acreditem, o gol do Internacional foi anulado, pois o jogador colorado estava impedido. Alívio e esperança para todos os flamenguistas. Após passar um minuto, finalmente o árbitro termina o jogo e consagrou o Flamengo bicampeão. Foi sofrido, mas se não fosse sofrido não era Flamengo.
Agora é hora de comemorar!

Thanks for reading so far. If you liked it, give that strength with your upvote and rate me. Feel free to leave a comment .Thanks guys!