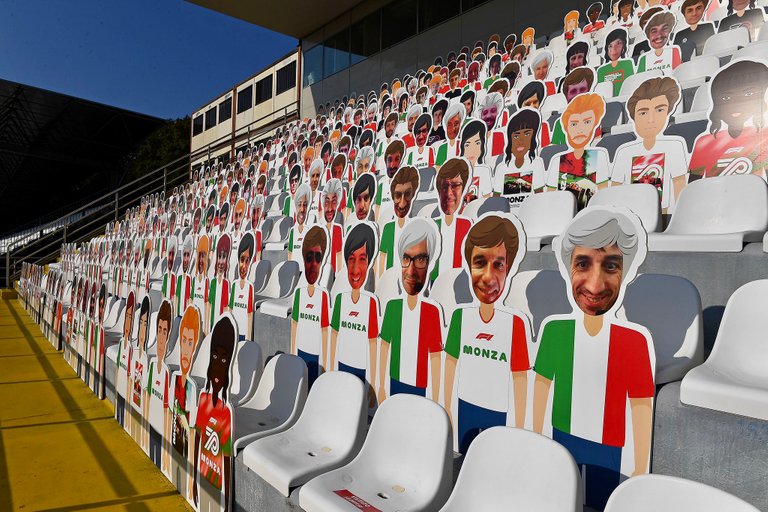 Source
We all know to the Covid restrictions that fans are not allowed to attend sporting events so card board cut outs have been popping up all over the place. Not the same, but at least some people are having fun with it donating to charity at the same time.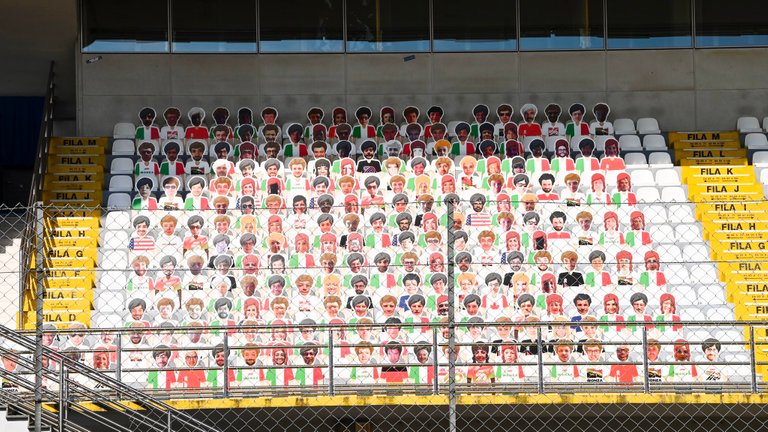 source
Monza was offering fans the opportunity to have their face in the crows for $40 a pop and one person stepped up to the plate a few days ago. Sebastien Vettel did something quite special by taking photographs of his entire team and had the card board cut outs ordered. I bet you they had no idea what he had in mind and must have wondered what crazy scheme he had planned. This is the entire Ferrari team at Monza this weekend all sitting in the stands waiting patiently for the race. There are 76 of them in total and what i find funny is they are all smiling yet the truth is Ferrari will most likely be lapped this weekend. Realistically they should all be grimacing as they are not looking forward to this one.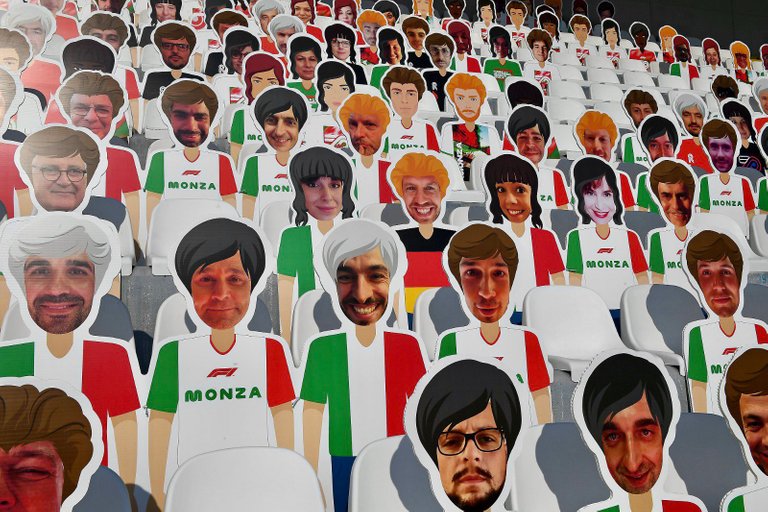 source
For someone who has been "fired or "let go" by Ferrari he holds no bitterness towards them when others would be less charitable. This tells you something about him and why he is one of a kind. This is what brings teams together and something as simple and thoughtful as this they will miss him next season. Every team needs someone like him as there has to be a fun element amongst all the stress.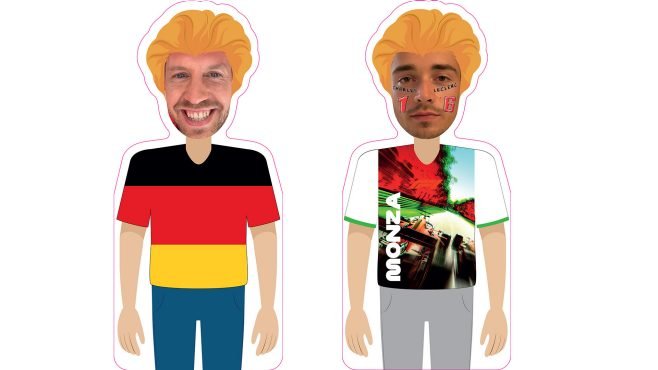 source
Sebastien Vettel and LeClerc sitting together in the stands is Sebastien sending a message to Ferrari?
Vettel obviously has a sense of humor which the Italian's don't right now as their beloved Ferrari is not exactly performing to the standards everyone is accustomed to. Maybe he is suggesting to the team they are better off being spectators this weekend as they have no chance on the track.I do believe it could be Sebastien sending a subtle message and he is having some fun at their expense. I don't know if the Italians will get it or it will go straight over their heads.
I noticed that Mattio Binotti hasn't been included as there is no one with the John Lennon glasses in the stands.Sometimes trying to enjoy yourself when everything is against you is difficult and truthfully Ferrari didn't deserve this from Sebastien. The way they have treated him is appalling and they haven't exactly been subtle about it either. He has been on the side lines since the back end of last season as it was clearly obvious the team was favoring LeClerc.
At least some good will come from the race as Vettel paid the $3000 for the cut outs plus donated extra to the charity. Maybe he has started a trend now and other teams will follow suit in the races that follow. The idea originated in Germany back in February for football fans to donate helping local businesses generate some much needed income during the lock down period.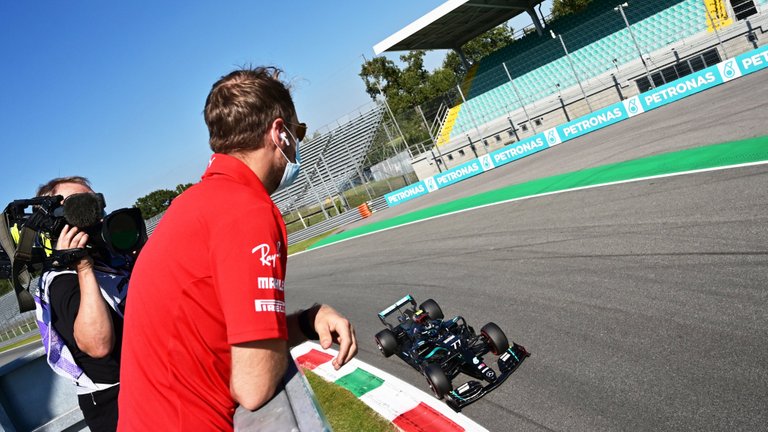 source
Vettel was knocked out in qualifying one and instead of hiding and sulking in his motor home he went to watch the remainder of qualifying. This tells you he just loves the sport.
If Ferrari won't enjoy this season at least Vettel is creating some memories and remaining positive throughout the turmoil around him. You can understand why people hold him in high regard as this is a classy and slick move. Formula One needs him next season as it won't be the same with him not around and hope he gets his driving seat somewhere next season. He is a true fan of the sport and he wont be able to stay away.