Today took place the women's team competition in artistic gymnastics in Tokyo. It's a historical event no matter how you look at it and the competition is fierce at every edition of the Olympics. Each nation wants to win team's gold and if one year they don't succeed, next time there's time for revenge so to speak.
There have been a few superpowers over the years, dominating gymnastics, but times change, gymnasts change as well as you can't compete forever and this is how some nations get the chance to win medals, while others disappear, like my country for example.


Women's Team Event - Rio Olympics 2016
Russia, United States, China, Romania, these were the countries ruling the event, not necessarily in this order. So if a team has been preparing for the Olympics, the goal has always been to beat these nations as it has been known they are the best. As you can see on the screenshot, Romania is non existent now from gymnastics point of view.
For the first time since the 1972 Olympics, Romania did not win a medal in the women's team event, due to Romania's failure to qualify a team for the first time since 1968, ending a 40-year medal run. source
I don't think there's anything to say there. It's a shame we got here and I hope those in control are working hard on finding a solution to get my country back where it belongs. Yeah right! Who am I kidding? But let's get back to the Olympics.
United States
Way before we knew the Olympics will be postponed last year, the hype around Simone Bile has started. She is a legend, an exceptional gymnast who has given a lot to gymnastics and has set the bar extremely high for the upcoming generations. The press has been full of news about her, day in, day out, her name has been the only one written about.
The day has come and today everybody, I mean everybody was waiting to see her perform. The eye of the world was on her, people wanted to see how she drives the US team to win the gold medal.

source
The first event was vault, I'm not sure if she was first or not, but what she executed was not what it has been planned. At landing she made a huge step forward which means penalty. Then she stormed off to her team, spoke to them and that was all. She was replaced with another gymnast. Then all kinds of news, rumors were flying around about her getting injured, or the other version was that she was not in the best shape to compete. Ex gymnasts said it did not look like she got injured during her vault performance, plus she got no medical help at all, not had her behavior indicated an injury.
Bottom line, the US team lost the so much wanted gold medal, came only second. The team performed well, but when others are better, you have to take what you get. Was it Simone Bile's fault? No, absolutely not. A team doesn't mean one single gymnast and who is building success on one gymnast is not a professional.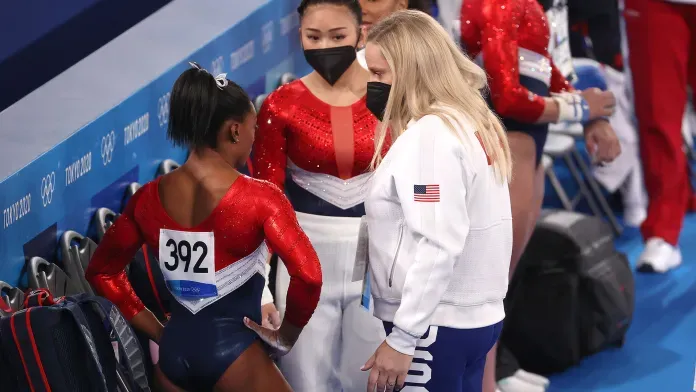 source
We don't know what's happened and probably will never find out the real reason why she had to or was withdrawn, but I bet the press will ride this story for a few months.
I felt sorry for the rest of the US team to be honest. They deserve appreciation and all the attention goes to one person. This is not fair.
Next is the individual all-around, which is just as important as the team competition. I'm curious to see if she'll be participating or not. I'm fine either was as I'm not watching the event blindly for one person, besides, all the hype around her made me turn to other gymnasts, not that i have even been a huge fan of her. I'd like to see the rest of the gymnasts show their talent.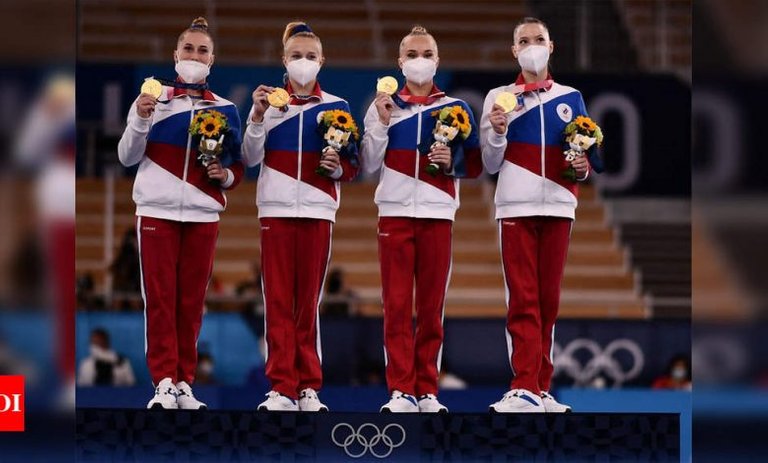 source
Russia Or ROC
As I said yesterday Russia is banned from the event, so athletes are competing under the make of Russian Olympics Committee. Regardless how you call them or what anthem is played when they get their medals, the Russians are a force to recon with. The gymnasts knew who they are up against and made sure to be better. This is how they were able to be better than the US gymnasts.
There was a slight advantage but the final result was only known after the last gymnast finished her performance. The pressure was high for both teams, the American gymnast made a huge mistake that cost her and the team quite a lot, while the Russian gymnast had a very nice performance, getting a good result.
Great Britain
This was a huge surprise as i wasn't expecting GBR to win third place. However, I'm glad to see the top teams change as watching the same countries win always is boring. Looks like they knew what to do and won third place. Well done ladies!
Tomorrow we'll be able to enjoy the men's all-around final, which will be amazing. I have no idea who has the most chance to get the gold, silver or bronze, this is why it's going to be interesting. I guess we'll find out tomorrow who's the best at the moment or who can control their emotions better.