Oh boy! What a juicy bunch of fixtures we have at hand for this year's UEFA Champion's League Quarter Finals! Feels like some of these fixtures could be the grand finale of the most glamorous football tournament after the world cup!
Let me rephrase that. Some of these fixtures are replays of the finals from the recent years!
The PSG wounds are still fresh from just a few months back and the French champions are going to be itching for revenge, But FC Bayern Munich is almost unstoppable at the moment! Fans are in for a hell of a clash over the two legs!
But the cherry on the cake, and definitely the clash I'll have my eyes on is the Real Madrid vs Liverpool clash! A replay of the 2018 Champions League final, which was marred by controversy surrounding guess who! Sergio Ramos, LOL! Is that even a surprise?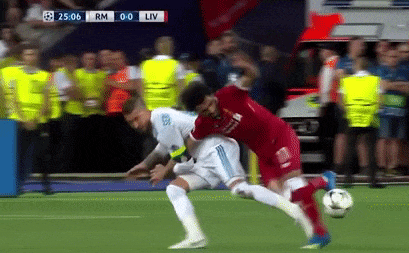 With game level, and Salah terrorizing the Madrid defence, Ramos did what he does best! Straight out broke Salah's Shoulder, and escaped red card because....well it's Real Madrid. I may sound biased to someone just starting to follow football....but I have been watching football since I was 5. I know a thing or two about football politics!
Given my extreme love for writing controversy, I could go on and write a series of posts on this single incident, but that's not the point! We have an extremely exciting clash at hand...and if Ramos chooses not to break more legs and shoulders we could be in for a couple of matches that may be remembered for years to come!
---
Lord Voldemort and "Defense" against the Dark arts!
Seriously, stop imagining I'm going to label Ramos as Lord Voldemort! (Pepe could be a close candidate, but he is irrelevant now).
No, what I'm trying to say is, remember how Voldy cursed the Defense against the Dark Arts position at Hogwarts after Dubledore denied him the job..? No one could last at that position somehow.
Liverpool's defense is in a similar dystopia right now. It all began with that foul Virgin Van Dijk horror injury at a moment where Jordan Pickford lost his brain for a second and started imagining a football looks like a knee!
Fabinho was moved from the midfield into defense, completely derailing Liverpool's season! Fab played the central defense position like a natural alongside Joe Gomez...until a few games later Joe Gomez was out for the season with injury! But worry not, Joel Matip just returned to fitness and handled the defense along with Fabinho for....oops, Injured! LOL!
At this point Jurgen Klopp had no option but to move Jordan Henderson from midfield into defense as well. With two of the best number 6 and 8 moved out of the midfield, it was hard to watch Liverpool play! Everything was a struggle.
But only if it was over! Remember Voldemort's curse! No one could stay in the position long enough. So as expected, Fabinho got injured as well....followed by guess who! Yeah, Jordan Henderson!
So essentially liverpool lost 5 out of their 3 central defenders. No, I didn't mean 3 out of 5. I actually meant 5 out of 3! Figure that math out!
With a top 4 finish looking more bleak by the day, winning the Champion's League has become quite essential for Liverpool to directly qualify for next year's competition. With the pandemic tightening up their financial situation, missing out on next year's champions league will deal a massive blow to LFC. So much so that their their inability to spend big on players could be further compounded by the time the summer transfer window opens.
An Inexperienced Defense and the Fab dilemma!
With no options remaining Liverpool have been playing with 19 year old Ozan Kabak and the 24 year old Nat Phillips at central Defense, but with less than 5 matches as a pair....they are hardly ready for Champions League action.
With Fabinho returning from injury just in time for their clash against RB Leipzig in the Champion's League Round of 16 second leg 2 weeks ago....Klopp took a big gamble and kept the inexperienced defensive pair and played Fabinho at his natural position 6. And boy oh boy what a difference the best number 6 in the world can make! It was enjoyable to watch Liverpool again, after 4 long months!
But with Real Madrid as the opposition...it becomes quite tricky for Jurgen klopp. Does he risk exposing the young inexperienced defenders against the likes of Karim Benzema, Marco Asensio, Luca Modric, Tony Kroos! They are going to eat these kids up alive!
But at the same time, Real Madrid's midfield of Luca Modric and Tony Kroos is as good as any on the world and a player of Fabinho's caliber besides the likes of Thiago Alcantara and Gini Wjinaldum is essential to win the fight at the center of the park. It's a veru difficult decision whether to use Fabinho's experience in the midfield or at the heart of the defence!
The front three Linking up with Fabinho
Liverpool's envious run of form and klopp's Heavy Metal Style of Play was only possible because of the way Fabinho linked the defense with the Striking trio of Sadio Mane, Roberto Firminho and Mohammed Salah. So it was no surprise when Fabinho was taken out of the midfield, goals were hard to come by for this same liverpool side who were scoring goals for fun last two seasons. And the moment Fab slots back into number 6, goals seem to come naturally to the front three again. add to that the return of Diogo Jota from injury who started scoring like he never missed 4 months of football through injury
Curtis is an exciting young midfielder Klopp has at his disposal, but Fabinho at number 6 is a no brainer! Jones could possibly come on as a sub to replace either of Thiago or Gini if required. But this is clash that will be won or lost at the midfield, Given Real Madrid chooses to play football instead of Wrestling for once!