The best points per pound team - Hive FPL 2022/23
The official Fantasy Premier League game for the upcoming 2022/23 season is now open and if you haven't already joined the Hive FPL community then now is the time to get involved.
If you've read my blogs with any regularity then you'll know I like crunching numbers as part of my sports analysis and I thought I'd start a series of posts with this very simple measure of who the best value players in Fantasy Premier League 2022/23 are based on their starting price and points they scored last season.
Generally speaking, the FPL game bases its starting value for players on their past performances and of course those values change as the season progresses and players either live up to their initial price or not as the case may be.
The below squad then represents the best points per pound (£ GBP) spent and is created by simply dividing the total number of points scored in 2021/22 by the starting value of the player in the 2022/23 game.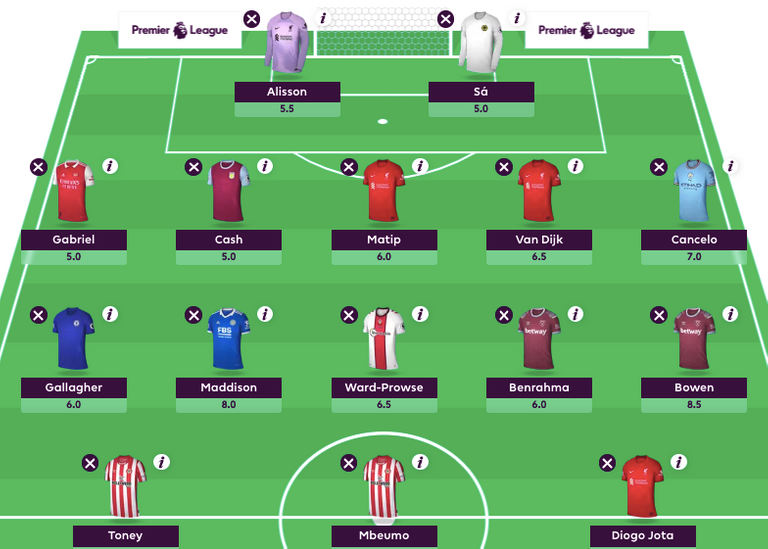 The eagled among you will see straight away that this isn't a valid squad selection as it contains 4 Liverpool players which is beyond the max. of 3 from any 1 team. So right off the bat you'd need to make compromises. However, at a total cost of £97 million, it does give you a bit of extra cash to play around with too.
A good season in FPL would see a total score of 2000 points, anything over 2200 is very good, anything around 2500 and beyond is exceptional. If this team were to perform to the same standards as last year and you made the correct decisions on who to bench and who to captain, it's surpass the 2200 point mark.
It's not the first time I've done this calculation and every season it's the defenders and goalkeepers who actually offer you the best value for money on this measure. Take Alisson for example who would cost you 5.5 million, but delivers 32 points per million spent, higher than any other player available.
Of course you still need to consider who your big purchases are going to be because while the likes of Salah, Son, Kane, De Bruyne, etc. might cost you at lot more they do ultimately tend to top the point scoring. In the end you pay double for these guys on the basis that they'll get that extra 50 or so points across a season than defenders and goalies are capable of.
Equally, are past results the best indicator for future performance?
Certainly it's good indicator at least across the league as whole but from the team above, do you trust that the likes of Cash and Bowen will be able to emulate their stellar 2021/22 seasons? Will Conor Gallagher get the same opportunities for game time this year if he remains at Chelsea?
On the other hand you have a whole host of high quality players like Haaland and Darwin who will be debuting in the Premier League and so can't feature on our list. Both were scoring at just shy of a goal a game in their respective leagues last season which if carried forward would certainly make them both attractive and good value buys.
Do you fancy any the above players for your FPL team?
Who are going to be the bargain buys that score big this year?
---
---