The gains of teamwork can never be downplayed in any organisation. Being able to coordinate members of a community to work together on a project is the best strategy that can be. I have em ployed this knowledge in the course of managing my sports team on Rabona game. The experience gathered over the last four seasons have been tremendous and would be crucial in the building of my future team management career.
However, I had lost matches in the last three to seven games which my heart t ache. I tried to figure out what was the cause and I resorted to changing formations and it actually turned out good. The play improved and the team but we couldn't miss the demotion to the lower league. Just then, I understood better the import of formation.


source
A formation describes how the players in a soccer team are positioned on the field - source. Different managers have deployed different formations to give their teams an edge over the play.There is no optimal formation that your team can use for every match. Thus, one must always take into account, the skill of his opponents.
There are different formation for soccer including, 4-3-3, 4-4-2, 4-5-1, 4-3-2-1, and many more. For example the 4-4-2, is a formation with 4 defenders, 4 midfielders and two forwards, and is the most widely used formation in soccer today. The choice of a formation may vary from one squad to another and that the best formation is the one which most suits your team.
The 4-4-2 formation has a true balance. Offensive attacks are combined with solid defense. The weakness is the two center players who must be supported by the midfield. On Rabona game, The 4-4-2 is the default formation for all teams. A manager must take the initiative of training his team to adapt to a new formation that gives them an edge in the tournament.
In any case, it's best that a team is versatile to adapt to more than one formation in case there's need for a change. Indeed, the best and most sought after players are the ones that remain as versatile as they possibly can. Any successful soccer player must be able to play in all possible formations.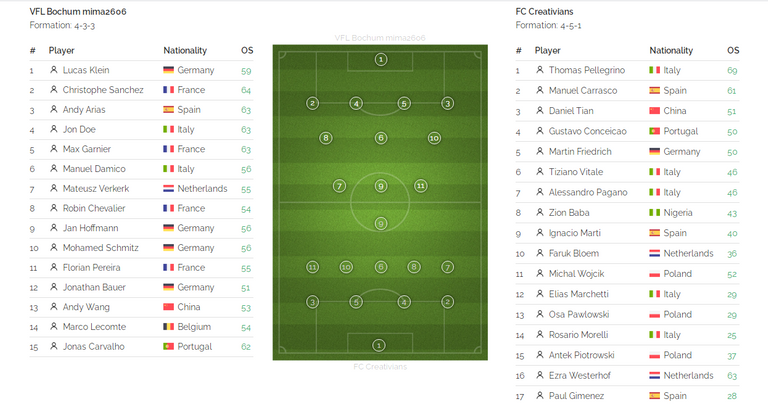 One of my hardest hit in the season was my 3:0 loss to VFL Bochum minaz606. With just 15 players on-board they trashed my teams and I think that derailed the morale of my team such that they lost in the following 3 games.

The experience gathered in the just concluded season has called my attention to more carefulness in fixing the team in terms of player capacity and team work. We hope to to better in the next round of play.
Which mix is your best formation?