Playing with Explosion: Flawless win against Yodin
STRATEGY TIME
MATCH DETAILS
This match was fought with Fog of War and Melee Mayhem rulesets. The mana cap to build our team is 20, and we can use most Splinters except Earth.

---
MY LINEUP AND TEAM PLACEMENT
| Summoner | First position | Second position |
| --- | --- | --- |
| | | |
| Third position | Fourth position | Fifth position |
| --- | --- | --- |
| | | |
Summoner: Malric Inferno
For this match, I used Malric Inferno to maximize the Melee Mayhem ruleset. With Marlic's +1 melee attack, every attack done by my melee monsters is magnified. Additionally, having Earth Splinter gone for this match made my almost all-melee lineup conviction stronger. There will be no annoying Mylor Crowling for this match!
Position 1: Kobold Bruiser
Since my main plan for this match is to put Exploding Rats and Exploding Dwarf, all of my monsters should adjust accordingly. Whenever I am short of mana in a Fire Splinter, I always choose Kobold Bruiser as my tank because of its decent 5 health for just 3 mana.
Position 2: Ant Miners
In the next position, we have Ant Miners. To provide cover after Kobold Bruiser dies, I chose to put Ant Miners in the second position as a backup tank. With its Scavenger ability, Ant Miners is a perfect low-mana cost tank given that I am going for an aggressive lineup. My estimate is by the time that Kobold Bruiser dies, Ant Miners would have already activated Scavenger 3 times.
Position 3: Exploding Rats
My favorite reward card: Exploding Rats. I placed Exploding Rats in this match because of Blast, high speed, and decent melee damage output. Goes well with Melee Mayhem because I can put it in the third position and it can still attack!
Position 4: Exploding Dwarf
Similar to Exploding Rats, I used Exploding Dwarf in this match because of its Blast ability, decent speed, and 4 melee damage. Goes well with Melee Mayhem ruleset due to its low health. The piercing ability is a good bonus!
Position 4: Goblin Shaman
Whenever I am playing an aggressive lineup, I always find myself utilizing Goblin Shaman. With the health and speed debuff, it makes the perfect partner for an explosive melee lineup. As much as I want all my monsters to have a melee attack in this match, I don't have a problem making an exception for Goblin Shaman. A 1 speed difference usually matters a lot, especially when your damage dealing monsters only have 1 health.

MATCH RESULTS AND VERDICT
Time to see the match that we've been preparing for. I love this week's challenge because I can flex my Malric's skin. See its full glory in the video below!
Match replay link
Uh-oh, we are facing a Yodin Zaku. I always hate going against Yodin because its blast is just too deadly for my taste. Luckily, our monsters are significantly faster than the enemy. We can rely on its speed and hope that our own Exploders kill most of our enemies before it deals significant damage.
The match begins! Exploding Rats dealt the first blow to Cerberus, killing Chicken with Blast. This followed by Exploding Dwarf who landed the final hit to Cerberus. This now moves Fire Beetle in the frontline, giving Kobold Bruiser the opportunity to kill it the succeeding turn. By end of Round 1, the match is already in the bag as the enemy's Lord of Fire is the only monster standing on the other side at this point.

Match Conclusion
This was a pretty fun match especially that it is a flawless win against a Yodin Zaku. When playing a Fire Splinter, I usually like going with the Exploding Rats and Exploding Dwarf combination whenever the strategy seems apt for the situation. The high speed blast from these two are just too deadly to ignore. This combination is also a perfect synergy with Goblin Shaman's Slow and Weaken. With those abilities, the likelihood of my Exploders killing the enemy increases drastically.

GOBLIN SHAMAN VERDICT
Goblin Shaman is a staple for my Fire Splinter lineup. While I am not a fan of Goblin Shaman at levels 1-4, its utility significantly increases once it reaches Level 5. Given that I love playing aggressive Fire lineups, Goblin Shaman's Slow and Weaken synergizes well with my team. It ensures that my Blast monsters hit first, and it also increases the likelihood of the enemy's first and second position monsters dying right away.
This might be obvious already, but I'll definitely keep on using Goblin Shaman for my Fire Splinter runs. As long as the two formats are not yet out, you can expect more matches with Goblin Shaman from me. When the Modern format comes out, who knows maybe Dr. Blight will be the replacement of Goblin Shaman? Not too shabby of a replacement right?
There you have it! I hope you enjoyed this match. In case you missed the previous replay link, click HERE to watch GOBLIN SHAMAN in action.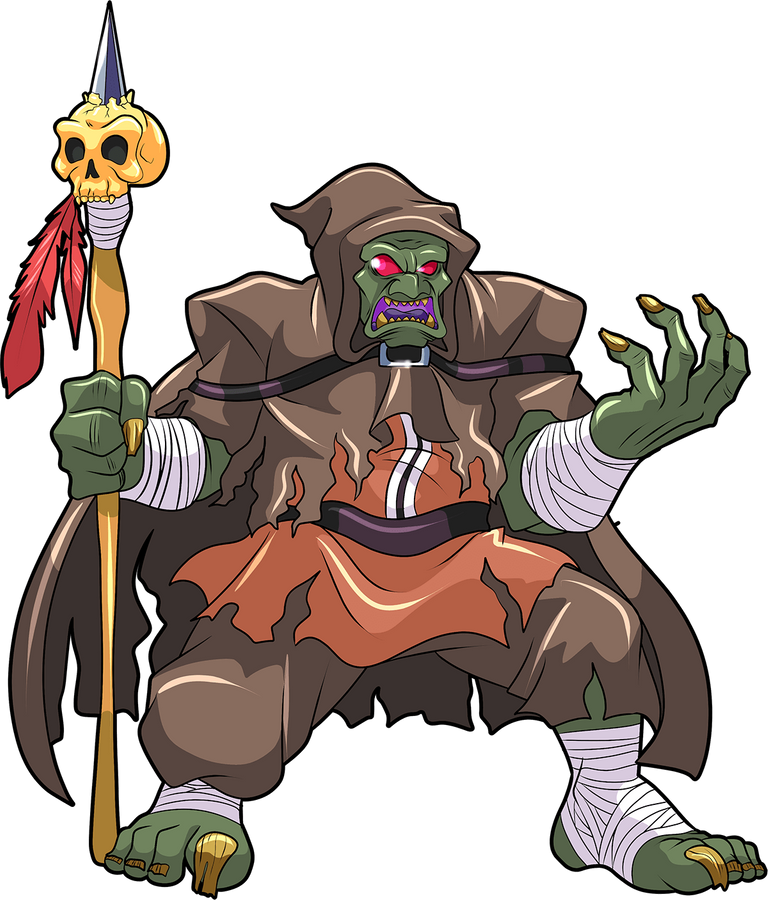 ---

CREDITS
Splinterlands for the game-related images, game screenshots, and lore.
@flauwy for the nice-looking dividers
Cover photo made in Canva

Haven't started playing Splinterlands yet? Click here to join!
---
---