Disappointment - The Chinese Mindset (freewriting)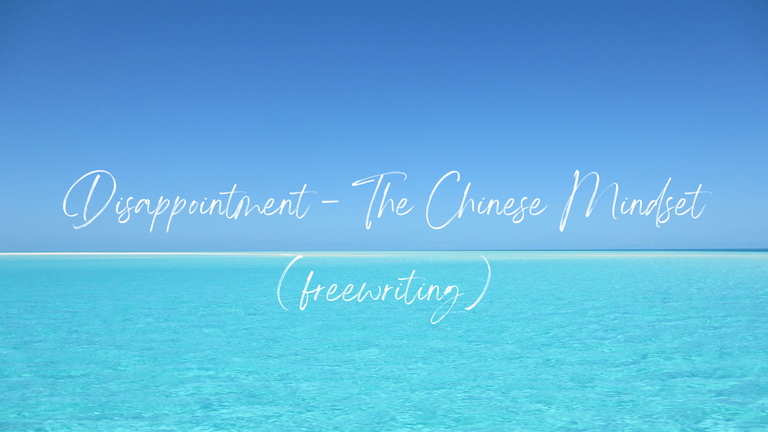 Okay, so I'm starting to write today by having a timer of 20 minutes. I will challenge myself to compose within that duration. This is called a freewriting challenge. I saw @curiouscatho post some 15-minute freewriting this past few days and I find it interesting. And so I am doing it right now.
I am unmotivated in writing at the moment, but doing a freewriting challenge is an easy way to write without hesitation. Just write anything that comes to mind.
Now I'll share what my hubby teaches me or tell me this weekend. I am a little bit disappointed with how I was gaining money recently. It was too little compared to what I was gaining before.
But then he teaches me the Chinese mindset. It's the attitude of accepting few profits as long as you're gaining every day.
He compared it to the Filipinos' mindset wherein we want to have a high income in just a day. One-day millionaire/one-time big time just like what others call it. And that's what I want.
He told me how having little earnings can be big soon, rather than having a high salary but just seasonal.
It motivates me to continue my Hive journey. Here in Hive, we can't get high upvotes per article. Sometimes we just get a few cents out of those votes. But it's okay. Writing every day, and still getting votes, even for a few can be big if you sum it all up within a week.
It's still earning. Rather than stop posting and gaining nothing.
I then realized how the Chinese became so successful in their businesses. They don't think to stop, but they think about how to make their businesses improve and gain more.
So here in Hive, instead of stopping and being demotivated in writing, I need to do more. I think I just need to accept that sometimes my article is not that good. Sometimes, people can't just relate to what I am experiencing. Sometimes, I was expecting too much, which then lead to heartaches and disappointments.
So yeah, maybe I just need to accept and have a Chinese mindset. It's okay to earn a few as long as I am gaining every day. This will be big if I save it little by little.
I visited some profiles here, and they are still writing despite having a few upvotes. They are eager to share their ideas and opinions whatever others do or say.
It's just they love what they're doing. Maybe they're not about the earning. It's about their passion for writing. They enjoyed it, so earning a few cents for it is a bonus.
Well, maybe I need to change how I view Hive now.
Instead of looking at this as a platform that can help me gain more, maybe I'll just try to look at this as a platform that's willing to accept my opinions and ideas. The platform that's ready to read and hear my beliefs, suggestions, sentiments, or whatever you call it.

Ooppsss... My timer buzzes, so that means I should stop writing.
That's all for now. Just releasing what I need to. 🙈
Disclaimer: Banner image created in Canva (free version)
---
---