THE CLAWS OF THE BEAST | Welcome October!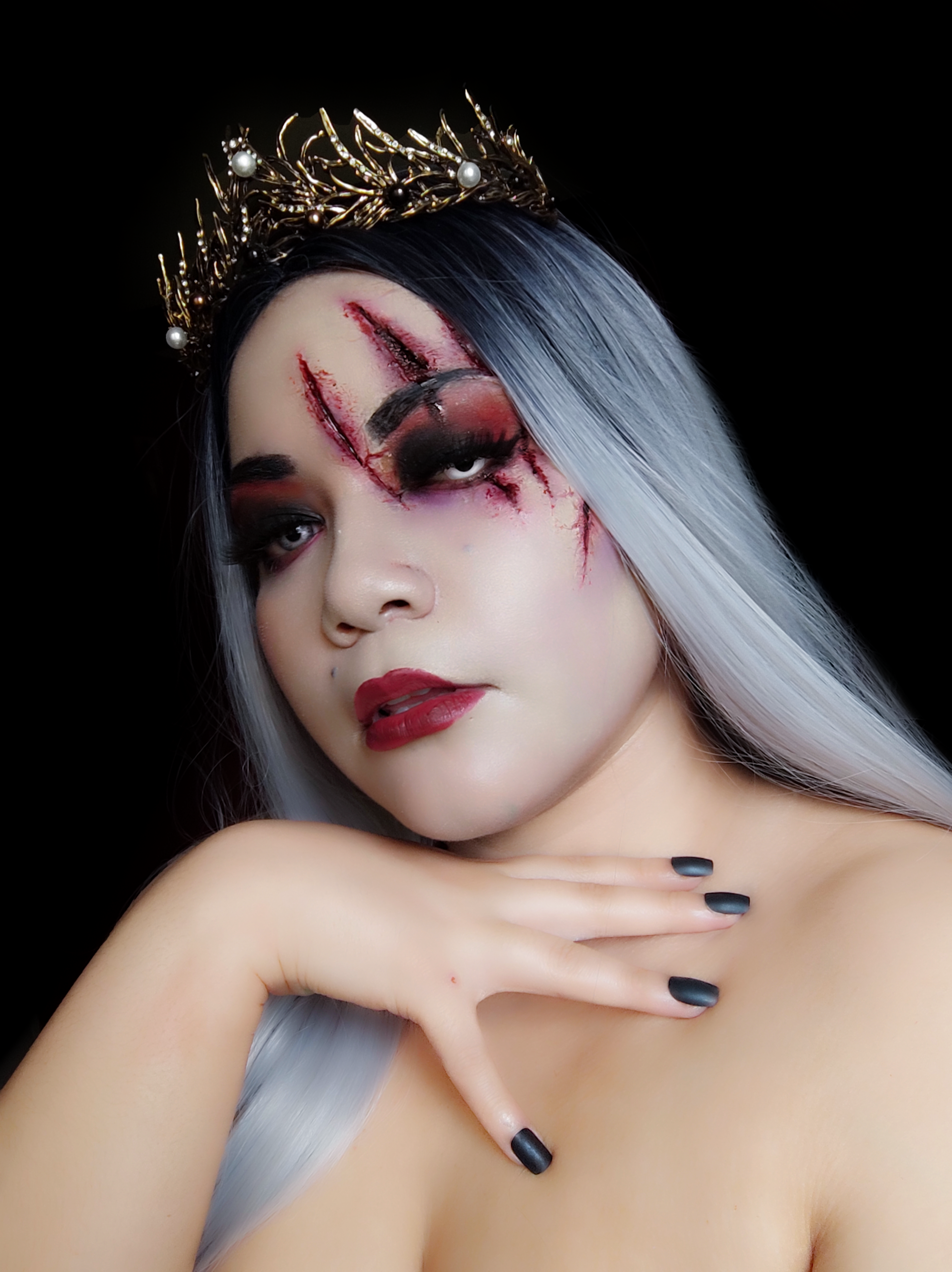 Solía ser la reina de este frio lugar pero, un día conocí a la bestia, esa bestia de quien todos hablaban y temían, yo nunca creí en el y si pensaba por un segundo su existencia no era algo que realmente me preocupara.
Una noche oscura escuche sonidos entre los árboles, me acerque y lo vi, la bestia estaba ahí, sus ojos eran rojos como la sangre, su pelaje era como la de un lobo, garras que podrían arrancarte fácilmente un trozo de la cara y yo… una simple doncella que no podía moverme ante tal monstro. Él se acercó a mí, lentamente y curioso, mis piernas temblaban cada vez más, me miró fijamente y me dijo que yo era una criatura hermosa, tan hermosa que debía ser suya… En ese momento mi mente se nublo y quede pasmada por unos segundos antes de correr de vuelta a mi palacio.
La bestia me detuvo, detuvo no solo mi llegada al palacio, detuvo también mi vida, asesinó a quien quizás era quien menos temor le tenía sin conocerlo…
---
I used to be the queen of this cold place but, one day I met the beast, that beast that everyone talked about and feared, I never believed in it and if I thought for a second its existence was not something that really worried me.
One dark night I heard sounds among the trees, I approached and saw it, the beast was there, its eyes were red like blood, its fur was like that of a wolf, claws that could easily tear a piece of your face and I ... a simple maiden who could not move before such a monster. He approached me, slowly and curious, my legs were shaking more and more, he looked at me fixedly and told me that I was a beautiful creature, so beautiful that it must be his ... At that moment my mind clouded and I was stunned for a few seconds before running back to my palace.
The beast stopped me, stopped not only my arrival at the palace, it also stopped my life, it killed the one who was perhaps the least afraid of him without knowing him...
---
Hola amigos! Hoy estuve muy inspirada en hacer este makeup para comenzar octubre, como he mencionado en post anteriores me emociona la idea de tomar este mes de "Halloween" y además escribir alguna mini historia sobre algunos de ellos, el día de hoy les presento este maquillaje sfx que simula heridas de garra, hace unas semanas esperaba algunos de los elementos que utilice en este maquillaje para hacer un trabajo terrorífico y finalmente llegaron ayer, justo a tiempo para inaugurar Halloween de la mejor manera, estoy muy feliz con el resultado que me llevo varias horas, espero que les guste.
Hi friends! Today I was very inspired to do this makeup to start October, as I mentioned in a previous post, I am excited about the idea of taking this month off "Halloween" and also writing a mini story about some of them, today I present this sfx makeup that simulates a claw wound, a few weeks ago I expected some of the elements that they use in this makeup to do a terrifying job and they finally arrived yesterday, just in time to inaugurate Halloween in the best way, I am very happy with the result that I have taken several hours, hope you like it.
Proceso/Process

Este proceso será un poco breve ya que realmente pase el 90% del tiempo intentando moldear la piel falsa, fue bastante difícil quizás por que no tengo tanta practica pero hice lo mejor que pude, comencé marcando el lugar donde haría estas heridas para luego aplicar trozos de piel falsa y moldearlas con una paleta, una vez moldeadas hice unas aberturas en el centro donde iría mi herida, aplique polvo traslucido ya que la piel falsa es muy brillante y grasosa, en este punto no sabia que sombras escoger así que elegí dos de mis colores favoritos para esta ocasión, negro y dos tonalidades de rojo, difumine estos colores entre si y luego aplique base mezclada con pintura corporal blanca (quería lucir pálida) y con la ayuda de un beauty blender difumine y esparcí esta base por todo mi rostro.
This process will be a bit short since I actually spent 90% of the time trying to mold the false skin, it was quite difficult perhaps because I do not have so much practice but I did the best I could, I started by marking the place where I would make these wounds and then apply pieces of fake fur and mold them with a palette, once molded I made some openings in the center where my wound would go, I applied translucent powder since the fake skin is very shiny and greasy, at this point I did not know which shades to choose so I chose two of my favorite colors for this occasion, black and two shades of red, blur these colors together and then apply a foundation mixed with white body paint (I wanted to look pale) and with the help of a beauty blender, blur and spread this foundation all over my face.

Selle la base también con polvo traslucido, aplique rubor, delinee mis cejas, pinte mis labios y agregue unas pestañas postizas las cuales olvide tomarle fotos.
Also seal the base with translucent powder, apply blush, outline my eyebrows, paint my lips and add some false eyelashes which I forgot to take photos of..

Final

Finalmente me puse una peluca gris y como decoración una corona super hermosa que compre, creo que combinaba muy bien con este look, luego aplique sangre falsa en mis heridas como ultimo paso antes de fotografiarme, tome alrededor de 138 fotos las cuales muchas me gustaron asi que les advierto que se acerca un spam de 10 fotos.
Finally I put on a gray wig and as a decoration a super beautiful crown that I bought, I think it combined very well with this look, then i applied fake blood on my wounds as the last step before taking pictures, I took about 138 photos which I liked many so I warn you that a 10 photo spam is coming.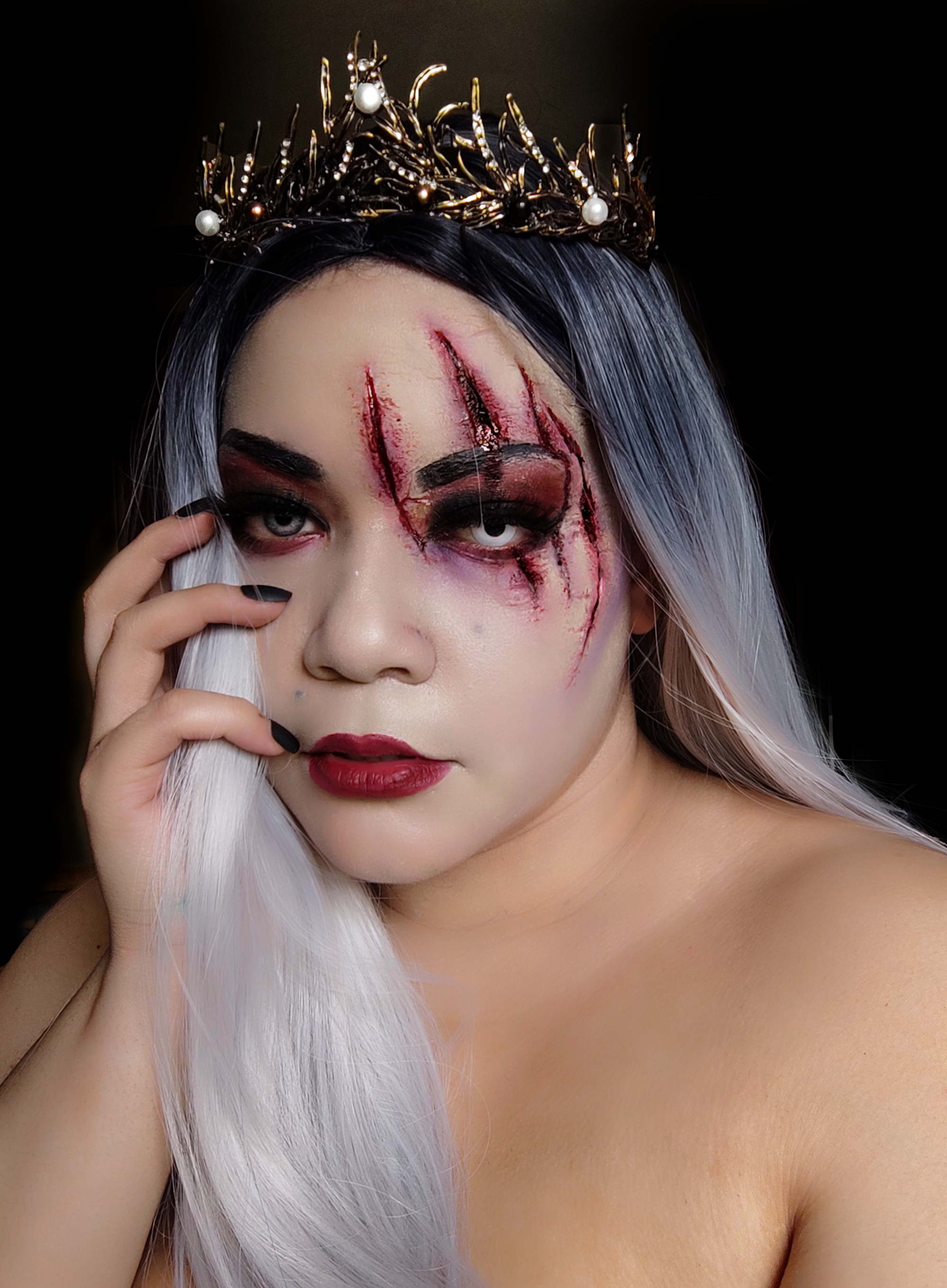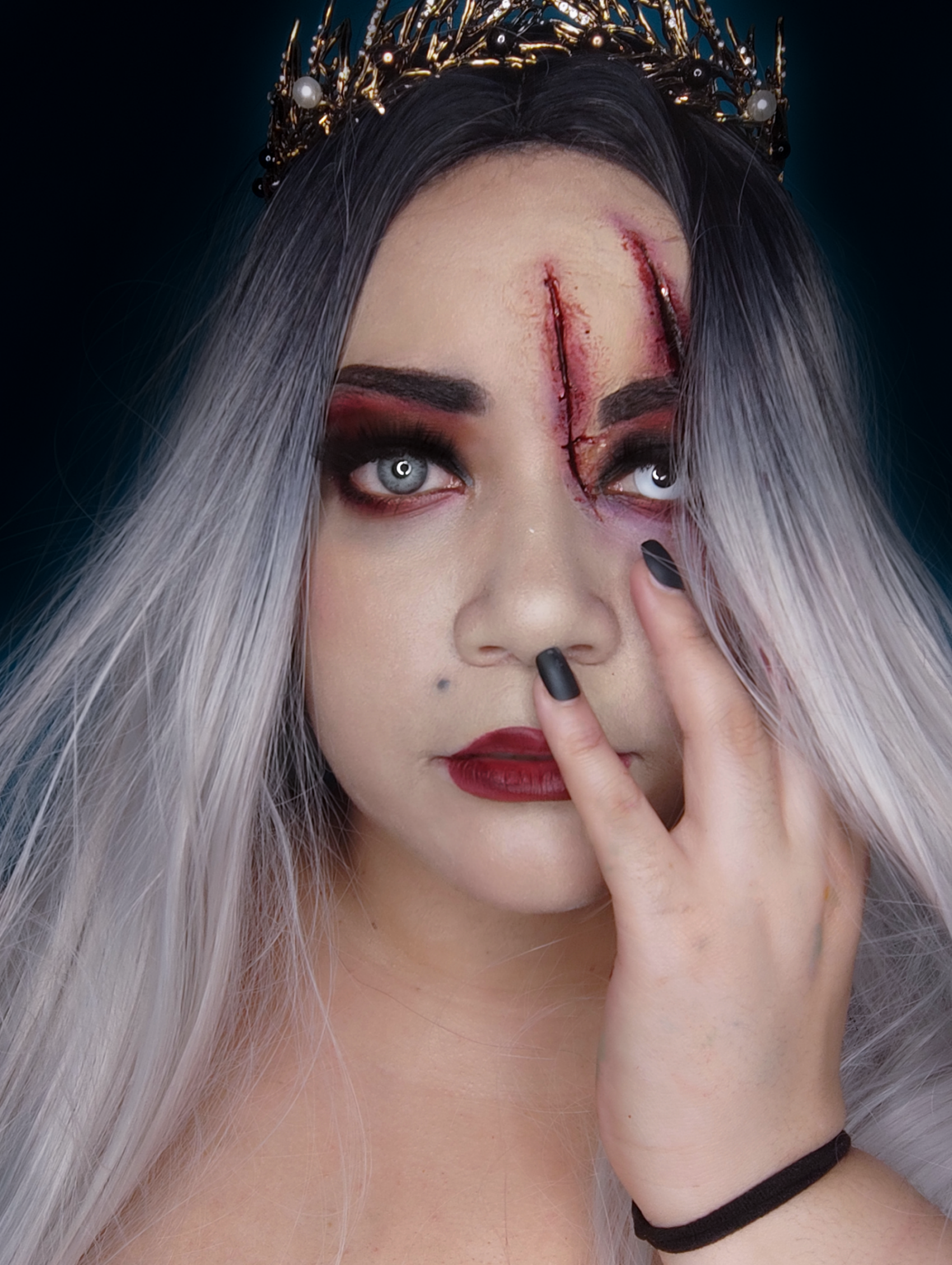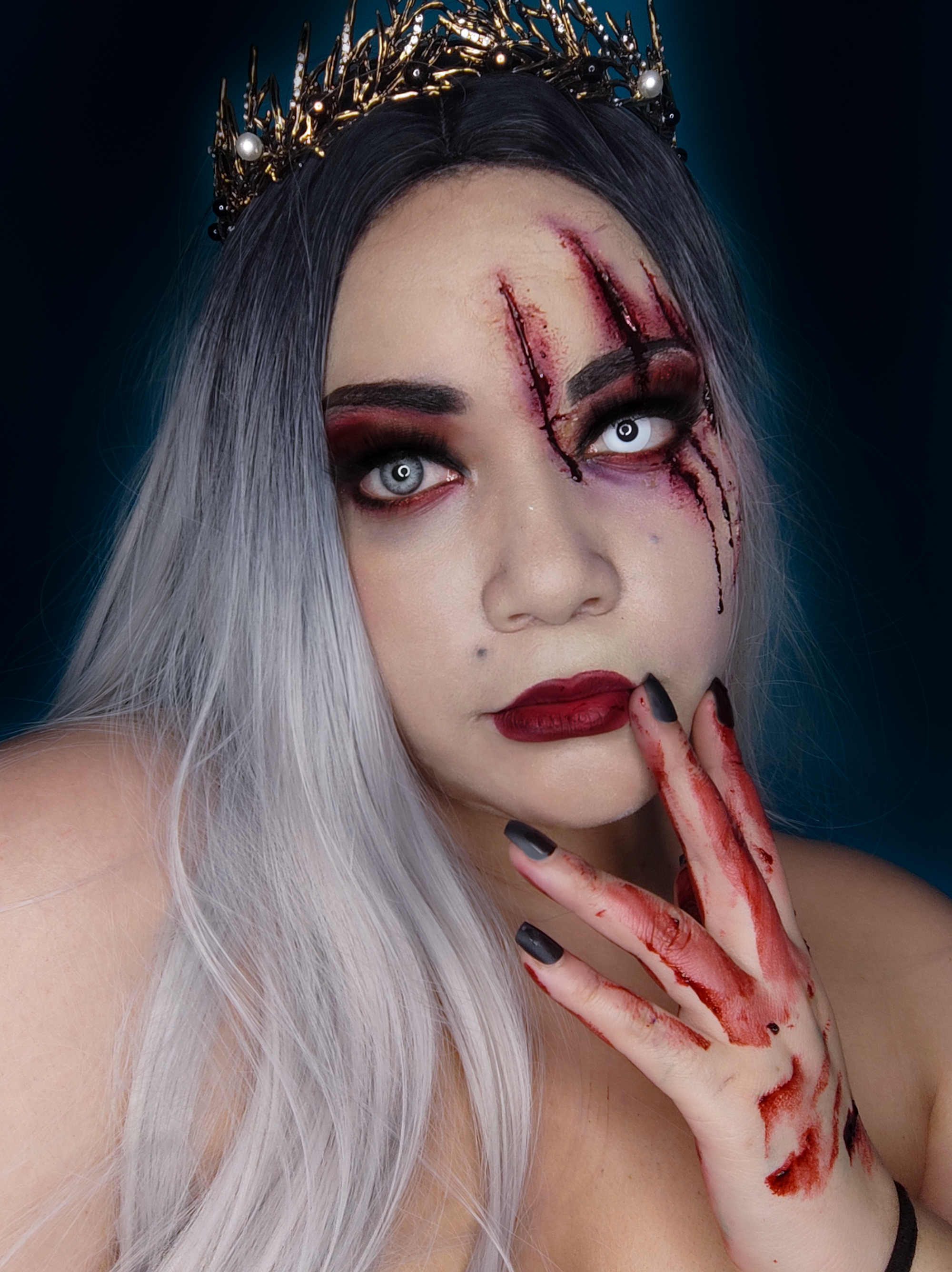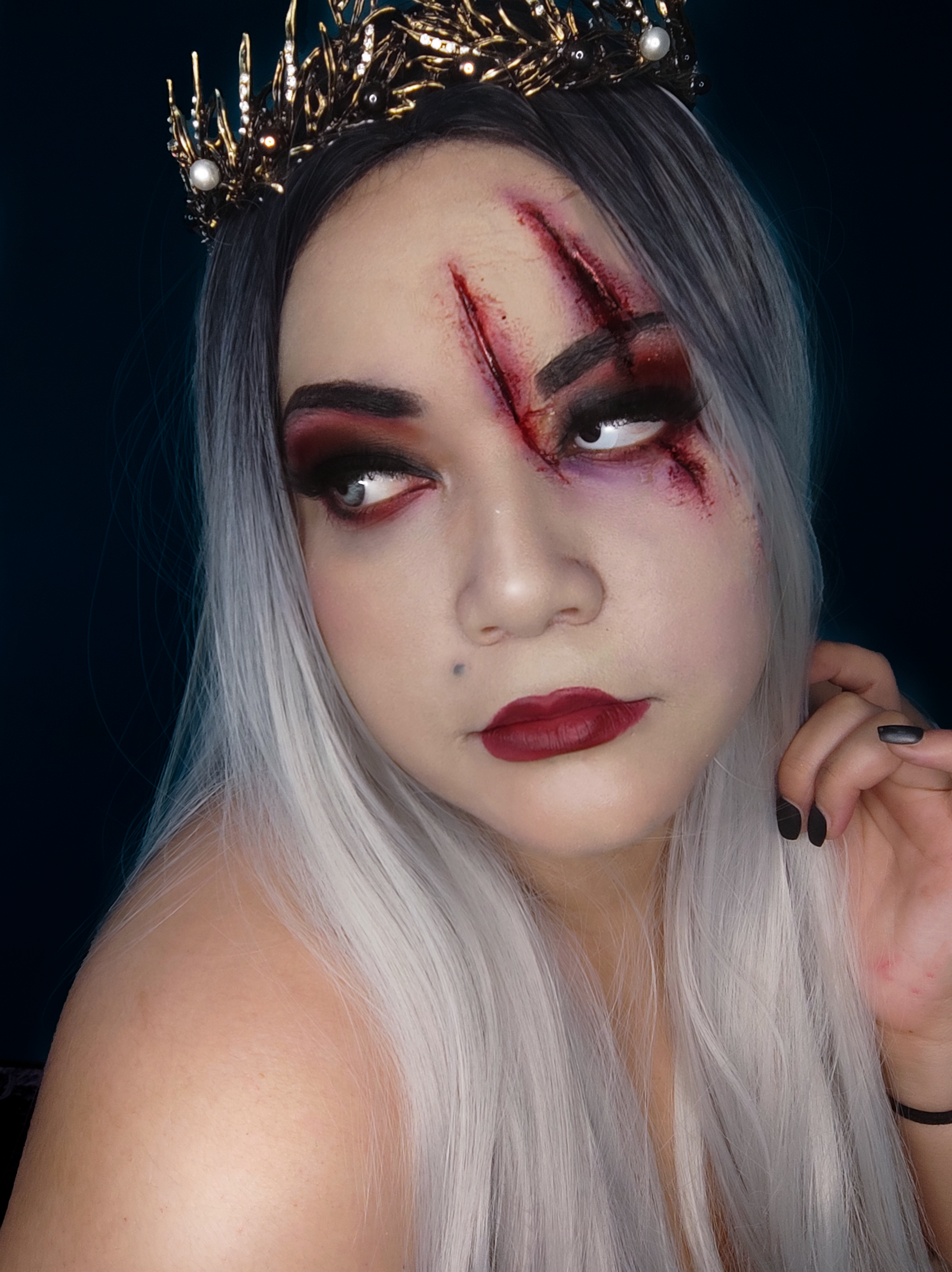 Fue muy divertido comenzar octubre con este maquillaje, me gusto bastante de verdad, los veo pronto con algo nuevo, que estén bien.
It was a lot of fun starting October with this makeup, I really liked it, I'll see you guys soon with something new, be fine.
---
---