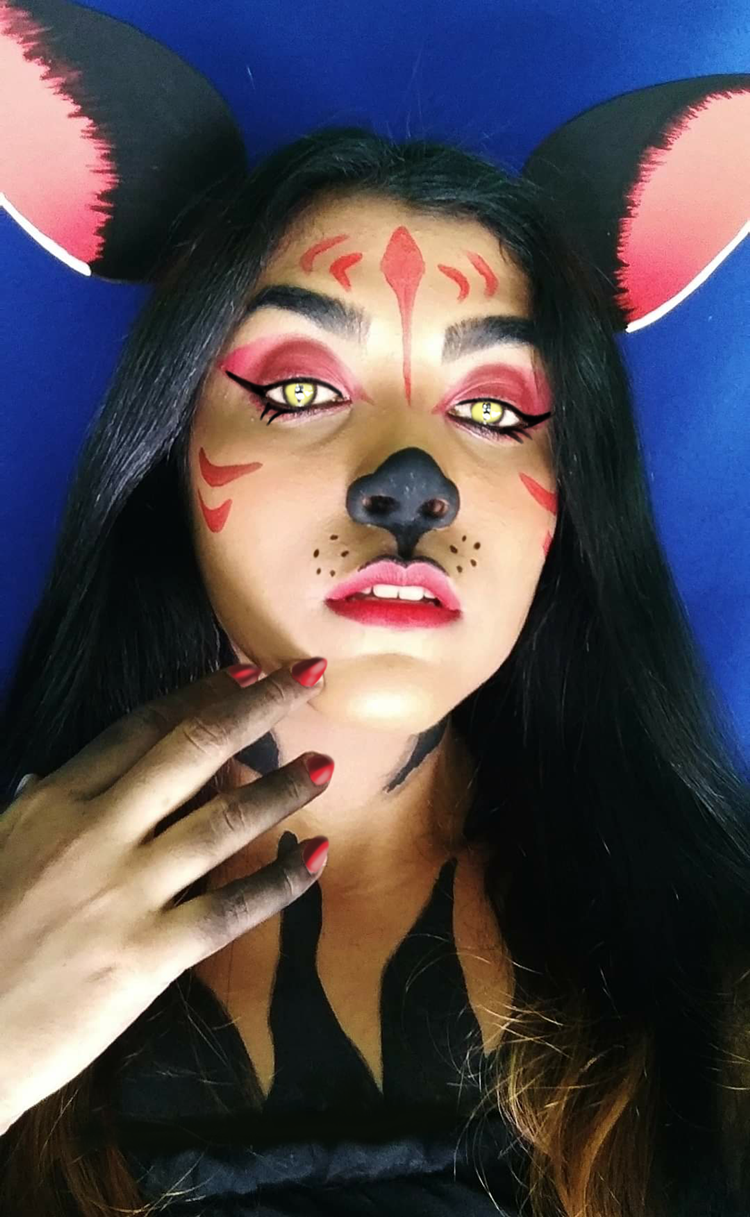 Hola amantes del maquillaje. || Hello makeup lovers.


El maquillaje nos permite camuflarnos y parecer lo que queramos, pase de ser una flor tricolor el cual fue mi anterior maquillaje, a ser una criatura mitológica japonesa, actualmente en la comunidad de Makeup Power se esta llevando a cabo un challenge inspirado en criaturas mitológicas, cada cultura posee mitos, leyendas y desde luego criaturas que están representadas por seres de aspectos fantásticos, que poseen poderes mágicos.
Makeup allows us to camouflage ourselves and look like what we want, from being a tricolor flower which was my previous makeup, to being a Japanese mythological creature, currently in the community of Makeup Power a challenge inspired by mythological creatures is taking place, every culture has myths, legends and of course creatures that are represented by beings of fantastic aspects, that possess magical powers.

INSPIRED MAKEUP LOOK: MYTHOLOGICAL CREATURES


"Kitsune" Japanese Mythology.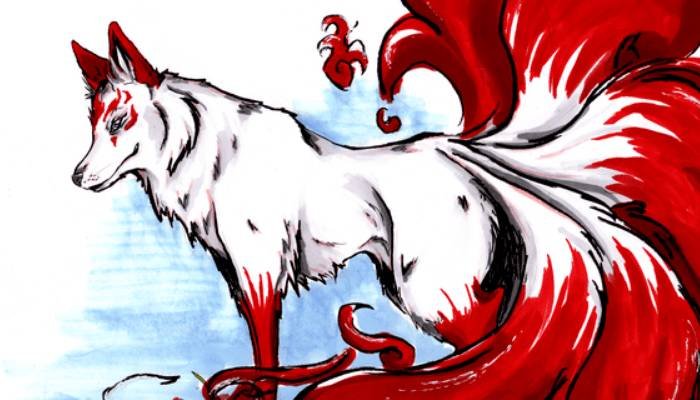 SEARCH

No fue fácil decidir que criatura representar, existen muchas en cada cultura, pero después de investigar un poco decidí representar a una criatura de la cultura japonesa (Kitsune). La palabra Kitsune se traduce en español como zorro, los Kitsune son animales poderosos que tienen como responsabilidad cuidar los bosques, además se dice que tienen habilidades mágicas, las cuales avanzan al pasar el tiempo, es decir; mientras más viejo es el Kitsune más poderoso es.
It was not easy to decide which creature to represent, there are many in each culture, but after some research I decided to represent a creature from the Japanese culture (Kitsune). The word Kitsune is translated in English as fox, the Kitsune are powerful animals that have the responsibility to care for the forests, also it is said that they have magical skills, which advance over time, ie the older the Kitsune is more powerful.

MORE INFORMATION

Un dato curioso, los Kitsune han sido usados para representar criaturas místicas poderosas en la cultura japonesa, como lo vemos en el caso del anime Naruto, el personaje principal tiene sellado en su cuerpo a Kurama quien es un Kitsune de 9 colas muy poderoso.
A curious fact, the Kitsune have been used to represent powerful mystical creatures in the Japanese culture, as we see in the case of the Naruto anime, the main character has sealed in his body Kurama who is a very powerful 9-tailed Kitsune.


Cómo hacer las orejas de zorro. || How to make fox ears.


Antes de maquillarme realicé unas orejas de zorro para tener un look completo. Para ello usé, foami rojo, tijeras, pinturas negra y blanca, marcadores, pegamento y una diadema que tenia sin usar.
Before making up, I made some fox ears to have a complete look. For this I used, red foami, scissors, black and white paints, markers, glue and a headband that I had not used.

Primero realicé un patrón de la oreja en papel, consistía en un triángulo con una base de 8cm y lados de 10cm, usé ese patrón para dibujar dos orejas en foami rojo, en la base hice cortés que me ayudarán a pegar con facilidad en la diadema.
First I made a paper ear pattern, it consisted in a triangle with a 8cm base and 10cm sides, I used that pattern to draw two ears in red foami, in the base I made polite that will help me to paste easily in the headband.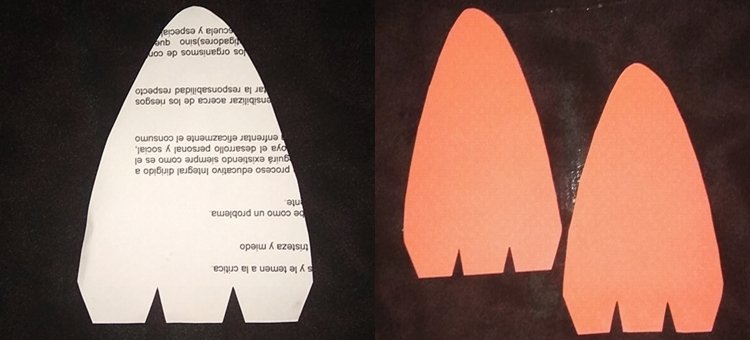 Luego con un marcador negro dibujé una sombra en cada oreja, esa sombra la pinté con pintura negra, para los bordes usé pintura blanca, por último pegué cada oreja en la diadema.
Then with a black marker I drew a shadow on each ear, that shadow I painted with black paint, for the edges I used white paint, finally I glued each ear on the headband.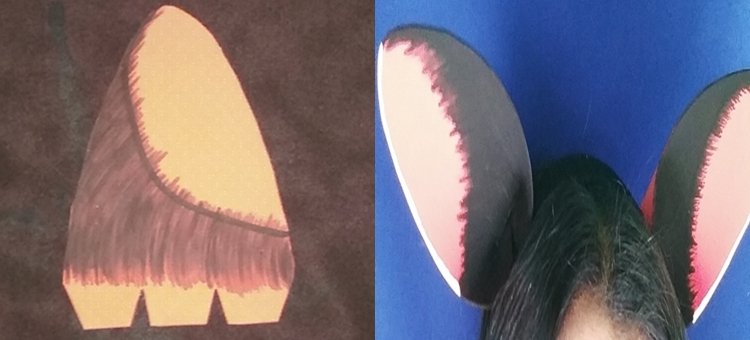 ¡Es tiempo de maquillarse! || It's time for makeup!


Antes de maquillarme preparé mi rostro, lavé con mi jabón de uso habitual a base de avena, y luego hidrate muy bien, apliqué base y sellé con un polvo suelto, hice mis cejas como de costumbre rellenando los espacios vacíos con sombra para cejas, seguido de ello realicé trazos en mi cuello y pecho, lo hice con un lápiz para ojos.
Before applying makeup I prepared my face, washed with my usual oatmeal based soap, and then moisturized very well, applied foundation and sealed with a loose powder, I made my eyebrows as usual filling in the empty spaces with eyebrow shadow, followed by making strokes on my neck and chest, I did it with an eye pencil.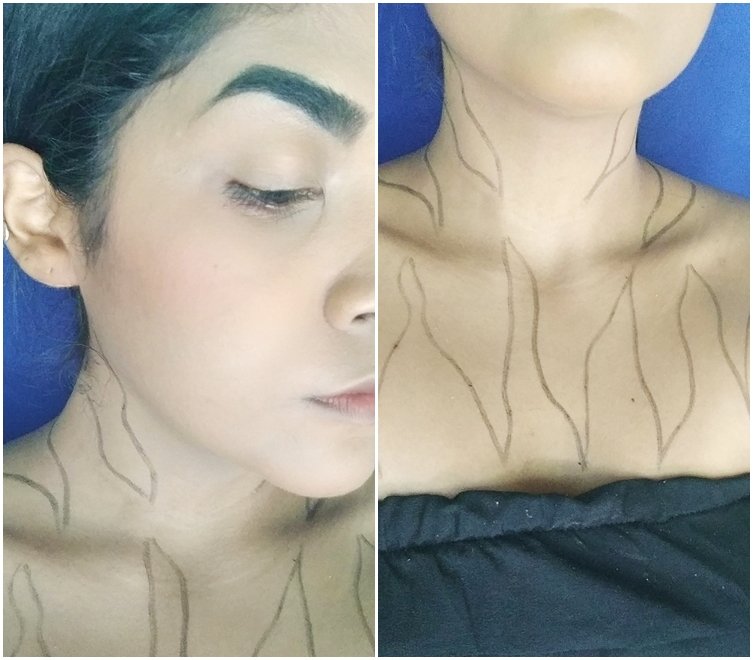 Realicé un maquillaje largado en los ojos, para ello empleé una sombra cremosa en tono rojo, y luego delineé en negro, de igual manera el delineado fue alargado. Debajo de los ojos apliqué la misma sombra cremosa en tono rojo.
I made a long makeup on the eyes, for that I used a creamy shade in red, and then I outlined in black, likewise the eyeliner was elongated. Under the eyes I applied the same creamy shade in red.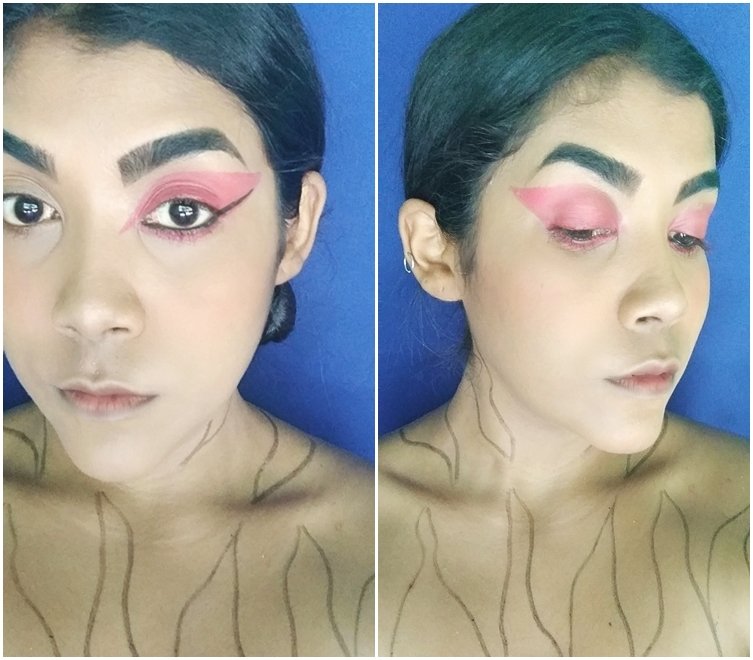 El siguiente paso fue dibujar la nariz de zorro usando un lápiz para ojos.
The next step was to draw the fox nose using an eye pencil.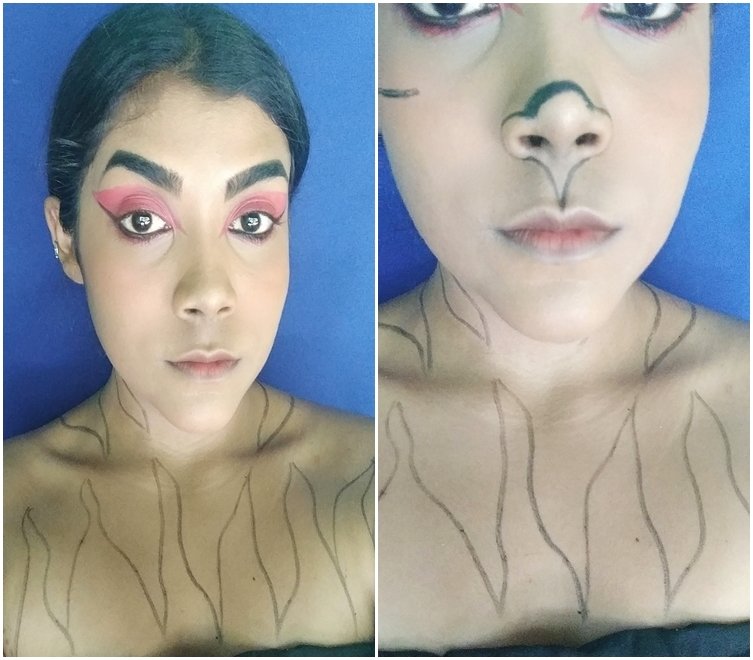 Comencé a realizar las formas características de Kitsune en el rostro, para ello usé pintura roja hice las marcas con un pincel en punta fina.
I began to make the characteristic forms of Kitsune in the face, for that I used red paint I made the marks with a brush in fine point.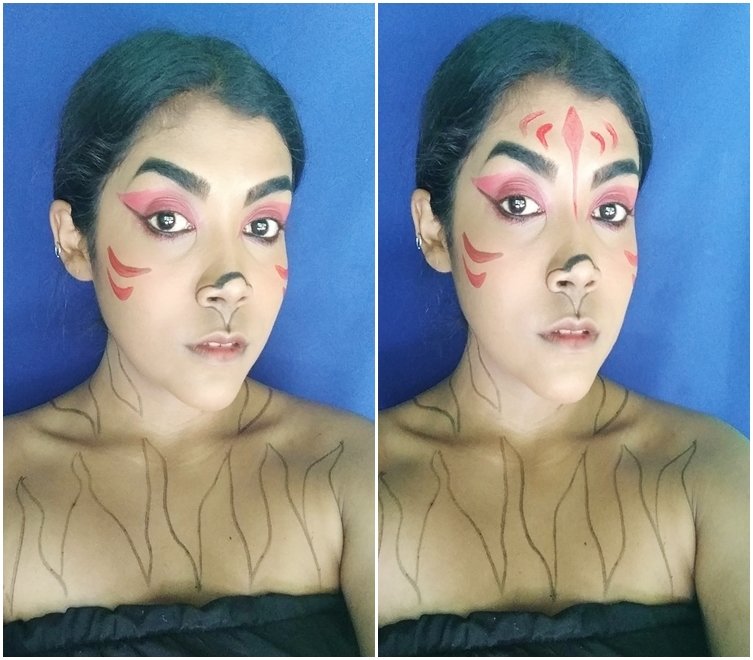 Es tiempo de rellenar los trazos, primero rellené con pintura negra la nariz, luego con un labial rojo pinté los labios, en el labio superior lo uní a la línea de la nariz con pintura negra, luego pinté pequeños puntos para representar los bigotes, rellené los trazos del cuello y pecho en negro, para finalizar delineé con sombra negra los trazos del cuello, y los dedos de mis manos también los pinté con sombra negra, como toqué extra.
It's time to fill the lines, first I filled with black paint the nose, then with a red lipstick I painted the lips, in the upper lip I joined it to the line of the nose with black paint, then I painted small points to represent the mustaches, I filled the lines of the neck and chest in black, to finish I delineated with black shadow the lines of the neck, and the fingers of my hands I also painted them with black shadow, as I touched extra.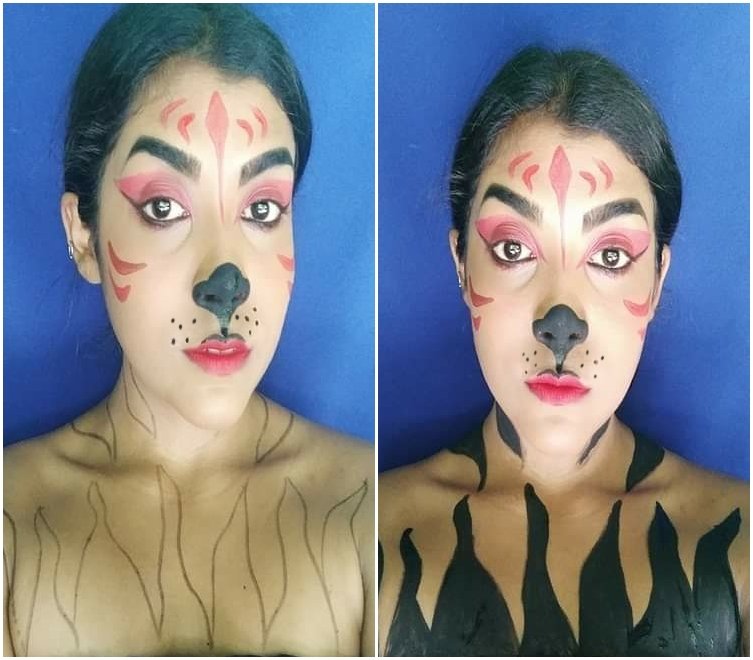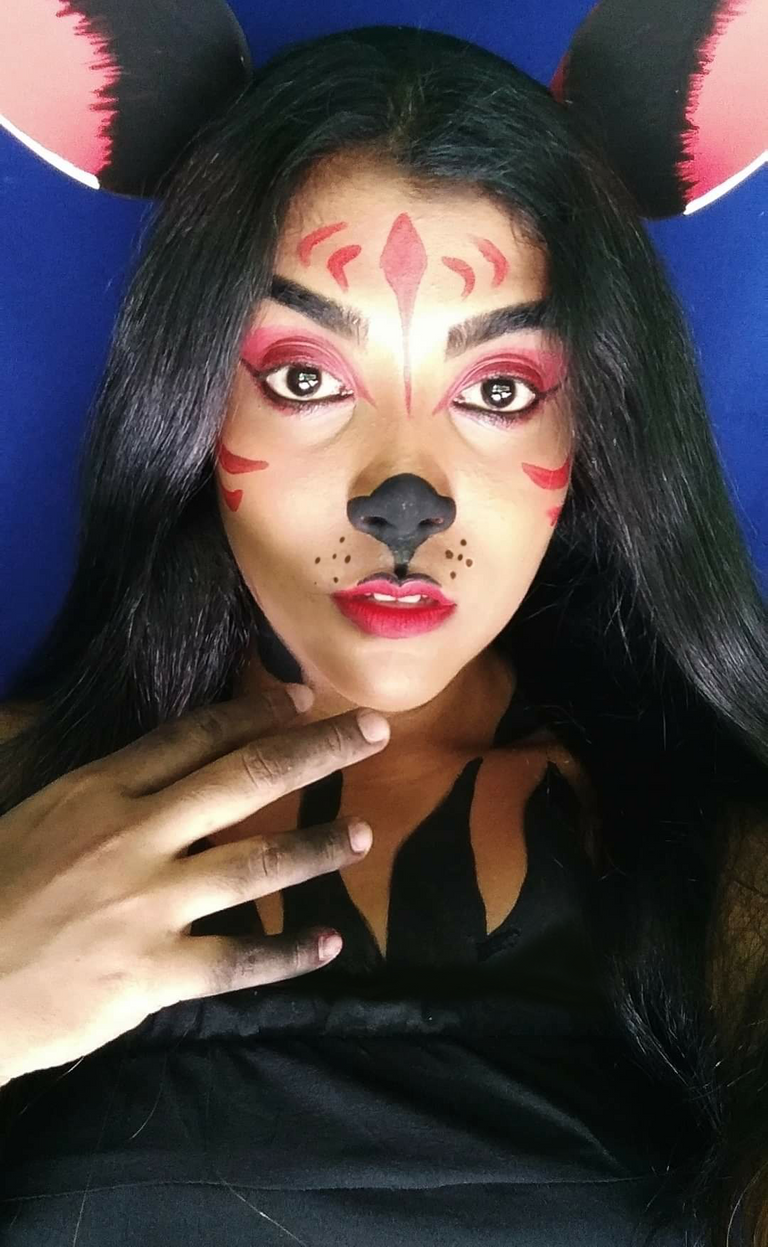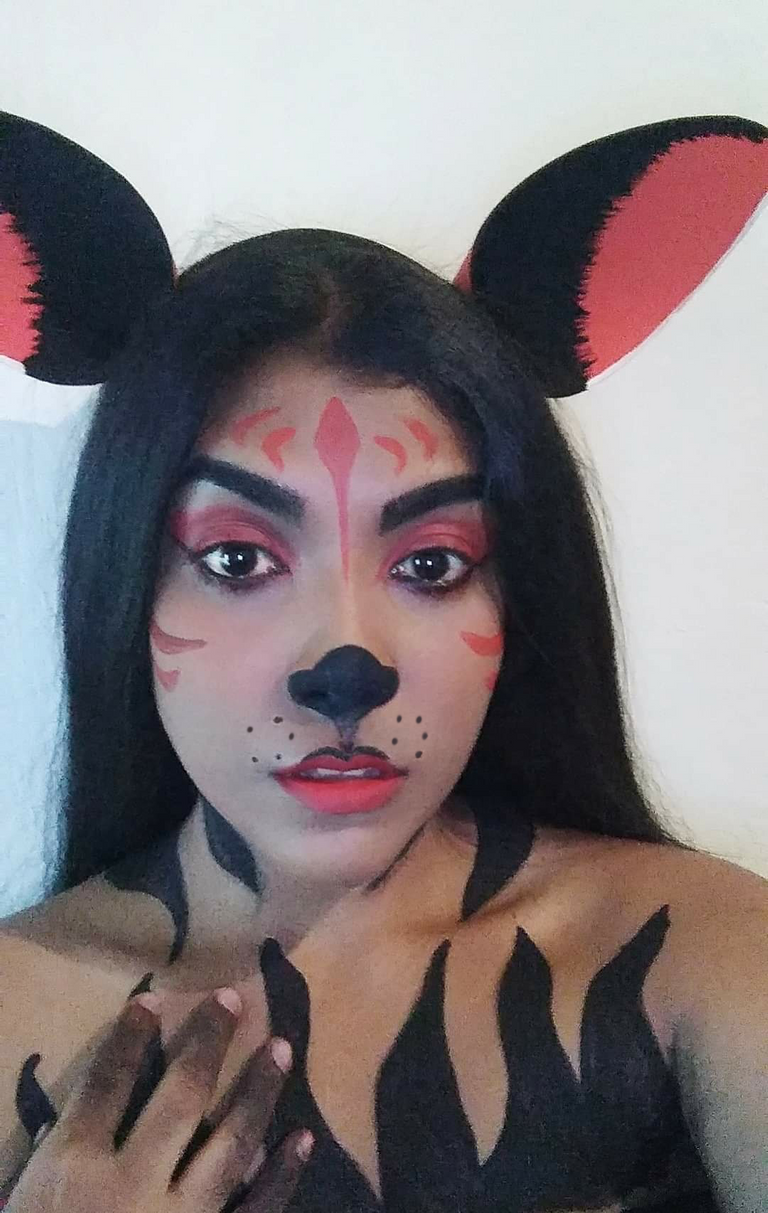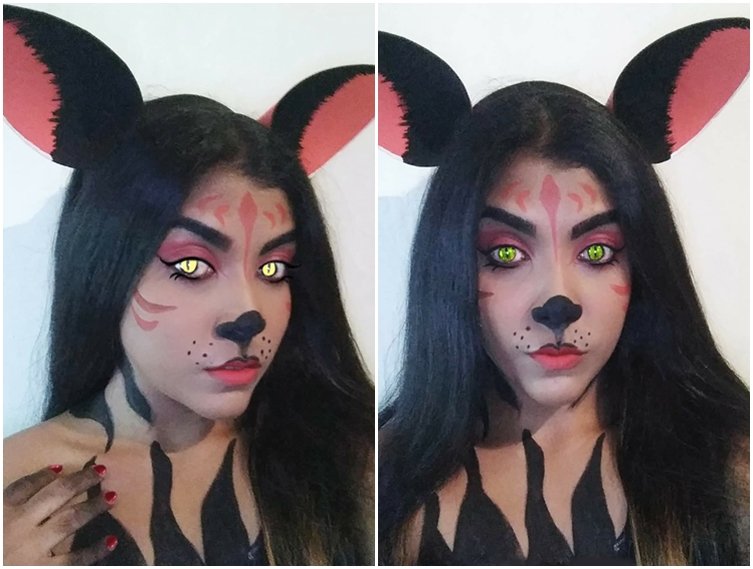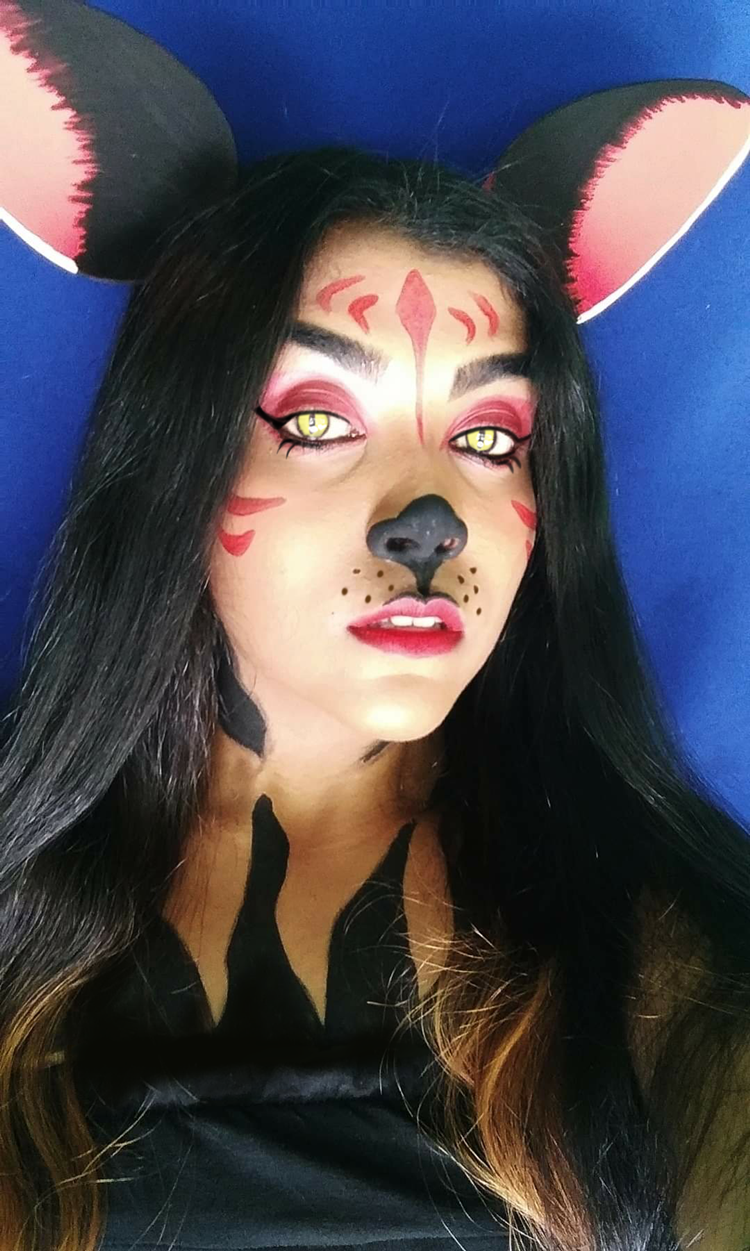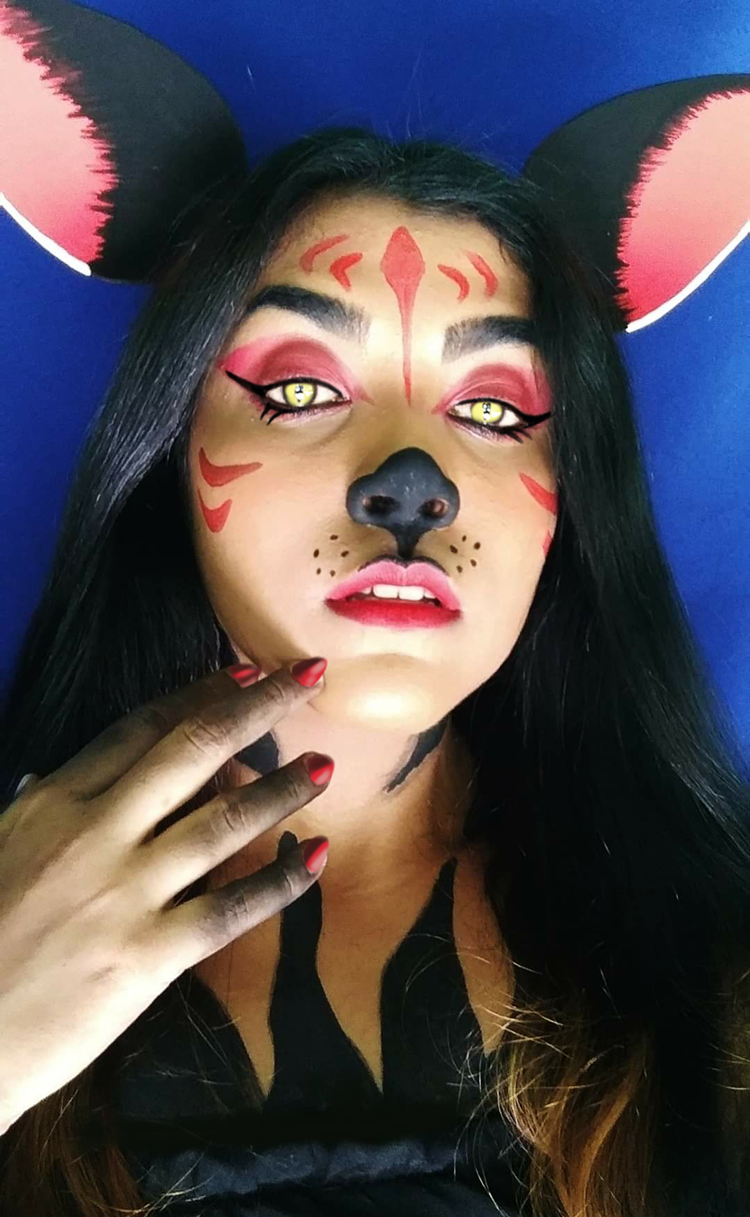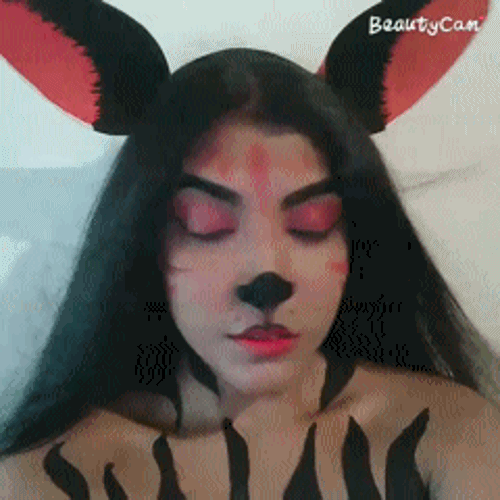 Publicaciones recientes. || Recent publications.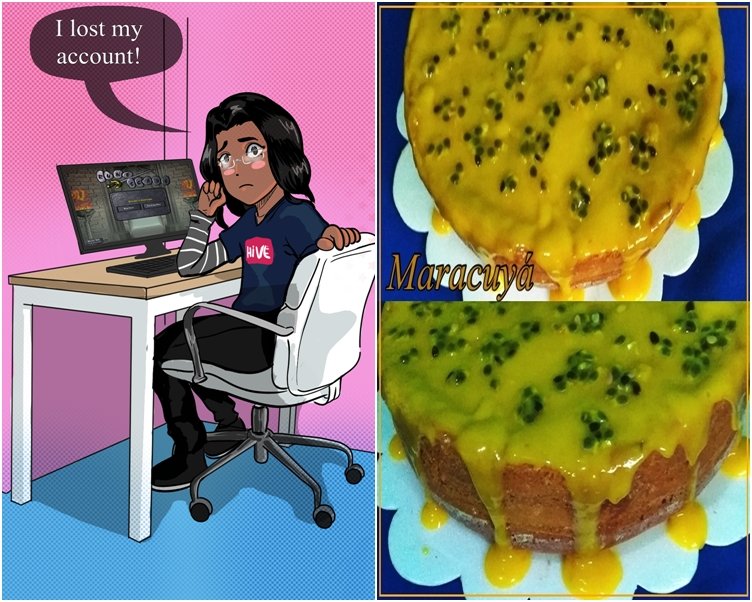 Imágenes editadas en Photoshop. || Images edited in Photoshop.