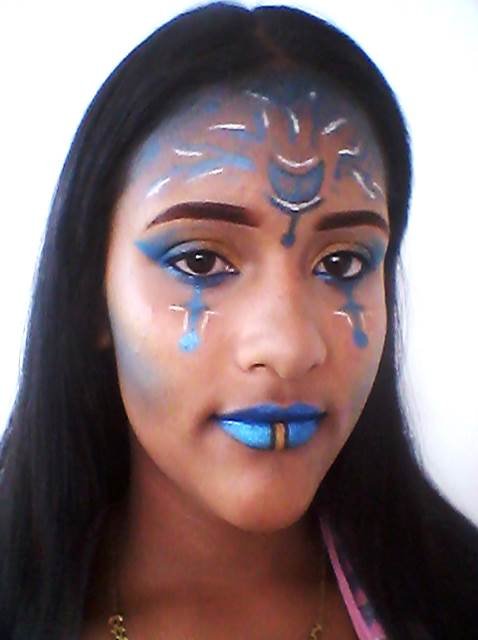 ---
---
Hola a todos yo soy @kimbi09, y estoy aquí participando en este nuevo reto el cual es iniciativa de @roxifit es un placer para mi poder mostrarle mi signo y como me caracteriza.
Hello everyone, I am @kimbi09, and I am here participating in this new challenge which is an initiative of @roxifit, it is a pleasure for me to be able to show you my sign and how it characterizes me.
Les presento a mi signo Acuario que representa el aguador o portador del agua, yo soy una persona muy calmada cual agua quieta, muy serena y pacifica, ademas me encanta el mar en todos sus sentidos su color azul y sobre todo me encanta su interior sus animales y vegetación, pero no se confíen puesto que una agua quieta no dura mucho tiempo y cuando ese momento llegue se puede esperar lo pero. Espero les guste mi maquillaje.
I present to you my Aquarius sign that represents the water carrier or bearer of water, I am a very calm person like still water, very serene and peaceful, I also love the sea in all its senses its blue color and above all I love its interior. animals and vegetation, but do not trust it since still water does not last long and when that moment arrives you can expect it. I hope you like my makeup.
---
---
Materiales:/
Pomada.
Ointment
Sombra de cejas.
Eyebrow shadow.
Correctores.
Correctors.
Sombras de ojos.
Eye shadows.
Cinta adhesiva.
Scotch tape.
Base.
Base.
Polvo compacto.
Compact dust.
Lápiz de ojo.
Eyeliner.
Labial casero.
Homemade lipstick.
---
---
Fase 1:/Phase 1:
Para comenzar delineé mis cejas, las rellene y las corregí, continué agregando un poco de base en mis parpados y la difumine, para mis ojos escogí tres tonos de colores: Dorado, azul y azul escarchado, para aplicarlos puse cinta adhesiva en mis ojos para que al agregar la sombra quede con un delineado.
To begin I delineated my eyebrows, filled them in and corrected them, I continued adding a little base on my eyelids and smudged it, for my eyes I chose three shades of colors: Gold, blue and frosty blue, to apply them I put adhesive tape on my eyes to that when adding the shadow it remains with an outline.

---
---
Fase 2:/Phase 2:
Ya terminados mis ojos, agregue base en todo mi rostro, la difumine y agregue polvo, terminado ese paso agregue sombra escarchada azul en mi parpado inferior y luego lápiz en mis ojos.
With my eyes finished, I added foundation all over my face, smudged it and added powder, finished that step I added blue frosty shadow on my lower eyelid and then pencil on my eyes.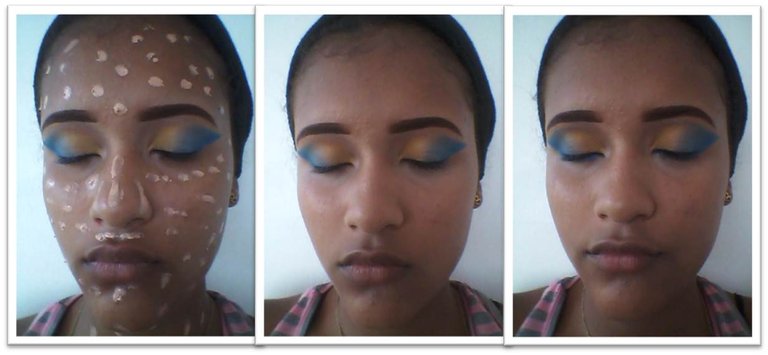 ---
---
Fase 3:/Phase 3:
Con el lápiz hice un diseño en mi frente simulando una jarra y la rellene con sombra azul escarchada por los bordes y azul claro por dentro, continué agregando sombra azul al principio de mi frente, luego con la sombra escarchada le hice agua saliendo de la jarra, luego con el corrector blanco trace lineas en los bordes de la jarra y del agua para que resalten.
With the pencil I made a design on my forehead simulating a jar and filled it with frosty blue shadow on the edges and light blue on the inside, I continued adding blue shadow at the beginning of my forehead, then with the frosty shadow I made water coming out of the jar , then with the white concealer, trace lines on the edges of the jug and the water to make them stand out.
---
---
Fase 4:/Phase 4:
Luego con la sombra escarchada azul hice un diseño de gotas de agua saliendo de mis ojos y con el corrector blanco trace lineas para resaltarlas, luego agregue sombra azul escarchada en mis pómulos y un poco de dorada encima. Para los labios agregue vaselina y sombra escarchada azul, en el centro hice con lápiz dos lineas y las rellene con sombra dorada.
Then with the blue frosty shadow I made a design of water drops coming out of my eyes and with the white concealer I traced lines to highlight them, then I added frosty blue shadow on my cheekbones and a little gold on top. For the lips add Vaseline and frosty blue shadow, in the center I made two lines with pencil and filled them with golden shadow.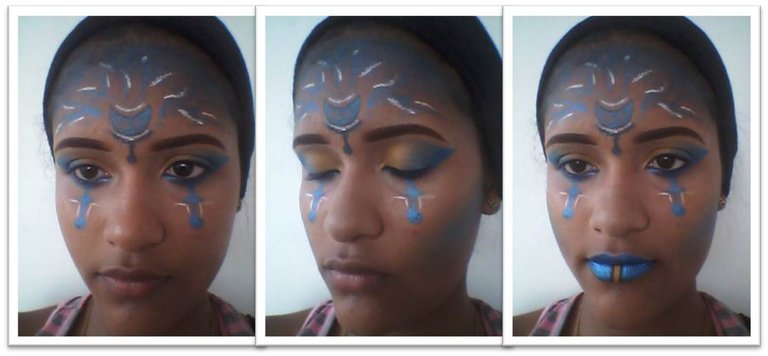 ---
---
Y así quedo:/And so it is: