💕 Hello Hive Community! 💕
---
En esta oportunidad les traigo una nueva técnica que me había tardado un poco en practicar por primera vez. La cual esta bastante en tendencia desde hace algún tiempo. Básicamente se trata de hacer varios "cortes" en el maquillaje de ojos, llevándolos hacia afuera siendo bastante exagerado, con diversas combinaciones de colores y acabados con respecto a sombras de ojos.
This time I bring you a new technique that had taken me a while to practice for the first time. It is a technique that has been on the rise for some time now. Basically it is about making several "cuts" in the eye makeup, taking them out being quite exaggerated, with various color combinations and finishes with respect to eye shadows.
---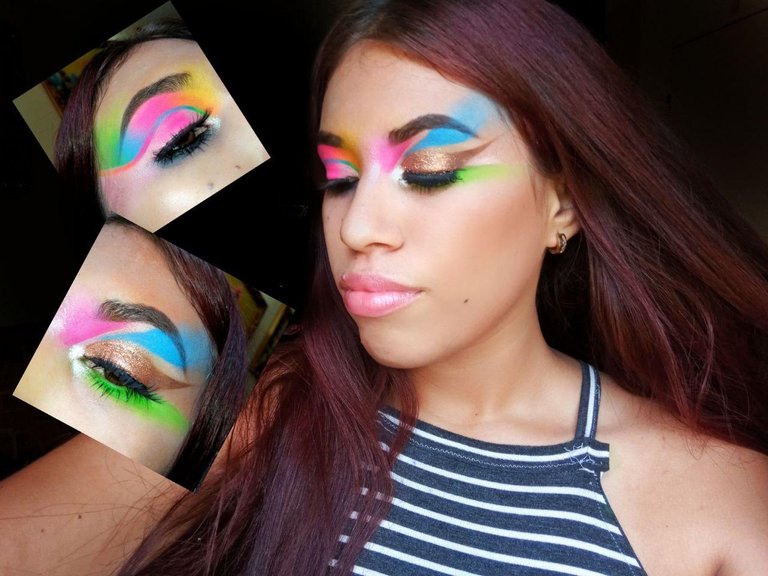 ---
Como quería practicar entonces decidí hacer 2 maquillajes distintos en cada ojo. En uno de ellos lleve los cortes mas separados y en el otro use muchos tonos e hice solamente 3 cortes en la cuenca. Ambos looks llevando hacia afuera las sombras. Utilizando mis paletas de Salome Makeup y Profusion
Cosmetics.
As I wanted to practice then I decided to do 2 different make-ups on each eye. In one of them I took the most separated cuts and in the other I used many shades and I made only 3 cuts in the eye socket. Both looks were brought to the outside of the eye shadows. Using my Salome Makeup and Profusion Cosmetics palettes.
---

---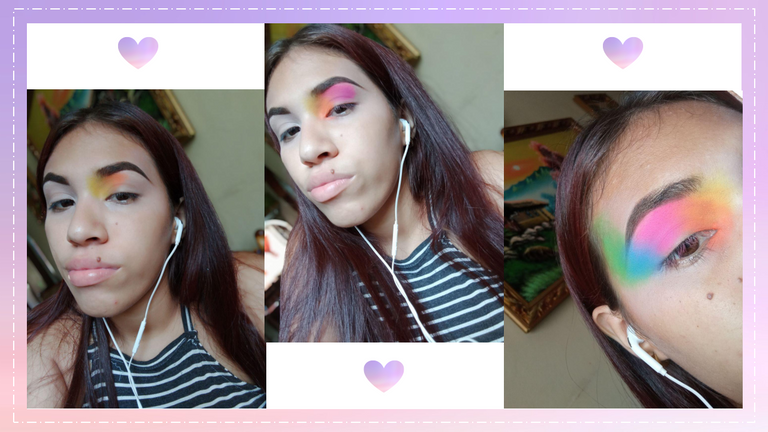 ---
Este look fue bautizado como "el arcoiris" 😂 Me gusta mucho utilizar todos estos colores juntos. Así que comencé aplicando primero el amarillo sacándolo hacia el puente de la nariz, luego naranja y difuminando con el anterior, después el rosado, seguido del morado y luego el azul, todos los tonos tocando la linea inferior de la ceja y el verde ubicado en la esquina exterior subiendo hacia la frente y aplicando un poco de amarillo neón para difuminar hacia afuera.
This look was named "the rainbow" 😂 I really like to use all these colors together. So I started by applying first the yellow, taking it out towards the bridge of the nose, then orange and blending it with the previous one, then pink, followed by purple and then blue, all the tones touching the lower eyebrow line and the green located in the outer corner rising towards the forehead and applying a little neon yellow to blur it out.
---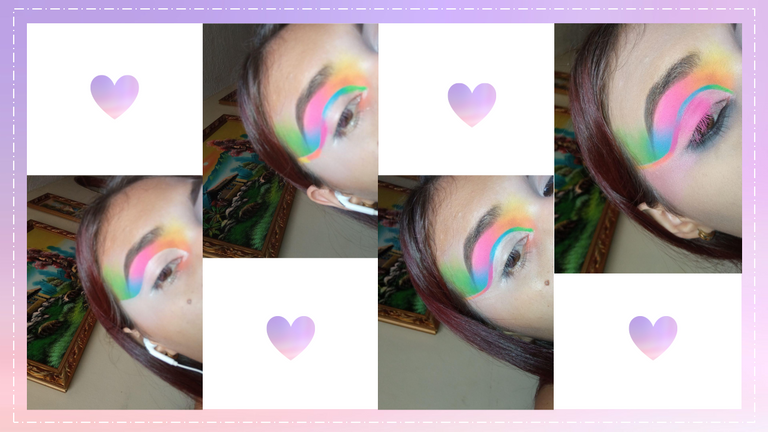 ---
Después de aplicar todos los tonos realice el primer corte, un corte de cuenca infinito. Después aplique los mismos tonos pero de manera inversa, haciendo una especie de delineado. Después de eso limpie con desmaquillante para hacer nuevamente otro corte de cuenca siguiendo la línea anterior.
Ya con el corrector aplicado nuevamente procedí a aplicar 2 tonos. En el medio el mismo tono rosado intenso y en los extremos un tono rosado pastel, difuminando entre sí. En la línea inferior de las pestañas coloque un tono negro intenso, igualmente en la línea de agua.
After applying all the tones make the first cut, an infinite basin cut. Then apply the same shades but in reverse, making a kind of eyeliner. After that clean with makeup remover to make another cut of the basin following the previous line.
With the corrector applied again I proceeded to apply 2 shades. In the middle the same intense pink tone and in the ends a pastel pink tone, blurring each other. In the lower line of the lashes, place an intense black tone, also in the water line.
---

---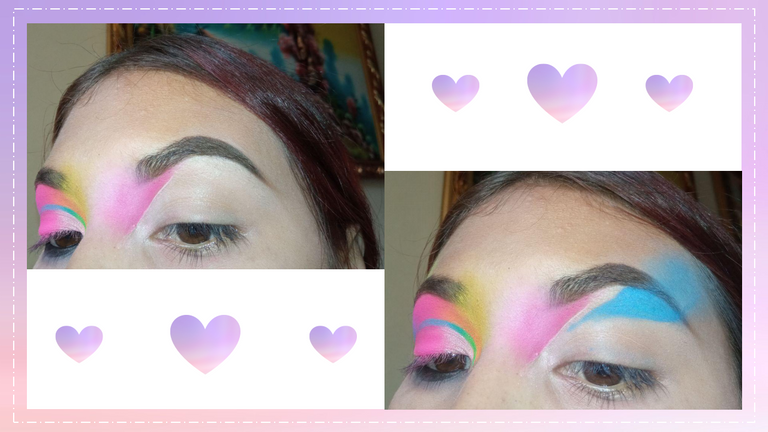 ---
Este fue el maquillaje con cortes más separados, por lo que comencé aplicando un tono rosado en la esquina interior del ojo, sin tocar el lagrimal, enfocándome en la parte superior. A la cual le hice un corte recto. Después realice un corte en azul, ubicándolo en el centro del parpado fijo, haciendo forma ondulada y difuminando hacia arriba pasando por encima de la ceja.
This was the makeup with the most separated cuts, so I started applying a pink tone in the inner corner of the eye, without touching the teardrop, focusing on the top. To which I made a straight cut. Then I made a blue cut, placing it in the center of the fixed eyelid, making a wavy shape and blurring it upwards passing over the eyebrow.
---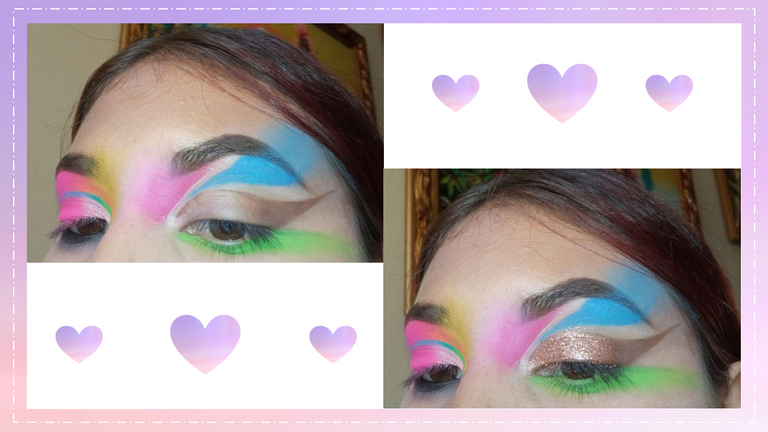 ---
Después realice una especie de "delineado" muy grueso en tono marrón, dejando un espacio sin producto, donde luego coloque una sombra dorada Shimmer y encima un Glitter prensado en tonalidad cobriza. En la parte de abajo aplique verde junto con amarillo neón y realice un corte en
diagonal.
Then make a kind of "eyeliner" very thick in brown, leaving a space without product, where then put a golden shadow Shimmer and a pressed Glitter in copper tone. At the bottom apply green with neon yellow and make a diagonal cut.
---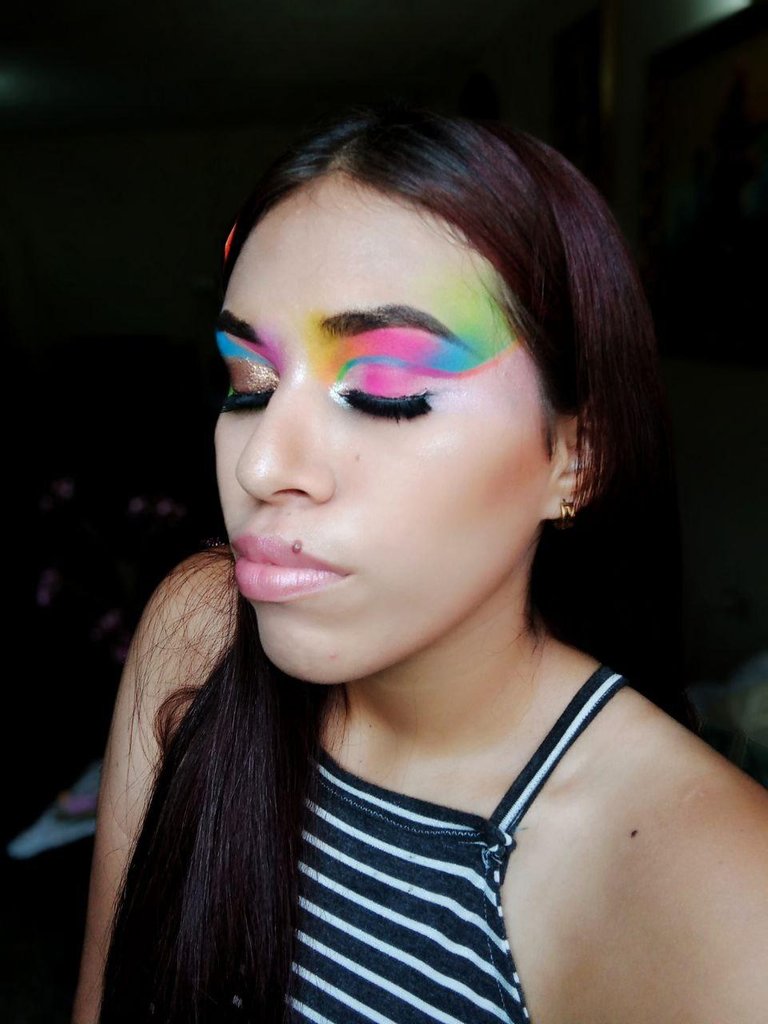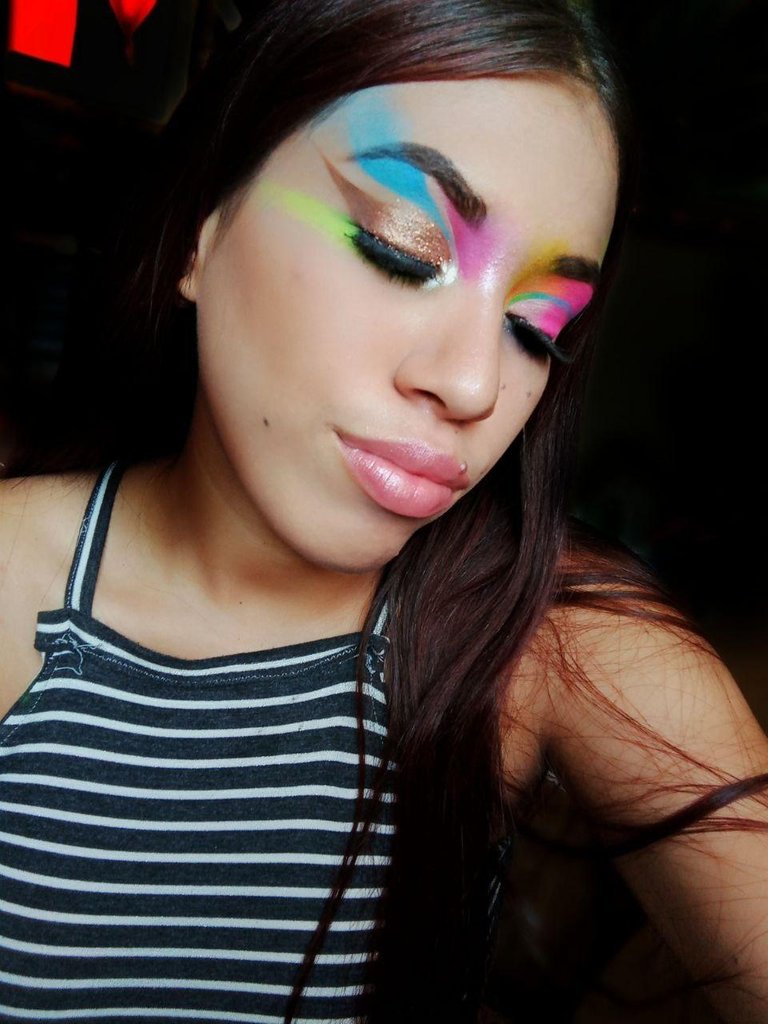 ---
Finalmente como parte de los detalles finales, aplique entre el tono marrón y el tono verde una sobra Shimmer con base transparente, para que reflejara solo cuando le pegara la luz. Coloque mascara de pestañas en ambos ojos, un punto de luz en el lagrima y arriba de la nariz justo en medio de las sombras rosadas y amarilla. En ambos ojos coloque pestañas postizas diferentes y realice una piel bastante sencilla sin base, solo polvos y bronceador.
Finally as part of the final details, apply between the brown and green shade a Shimmer surplus with transparent base, so it will reflect only when the light hits it. Place mascara on both eyes, a light spot on the teardrop and above the nose right in the middle of the pink and yellow shadows. On both eyes put different false lashes and make a fairly simple skin with no base, only powder and suntan lotion.
---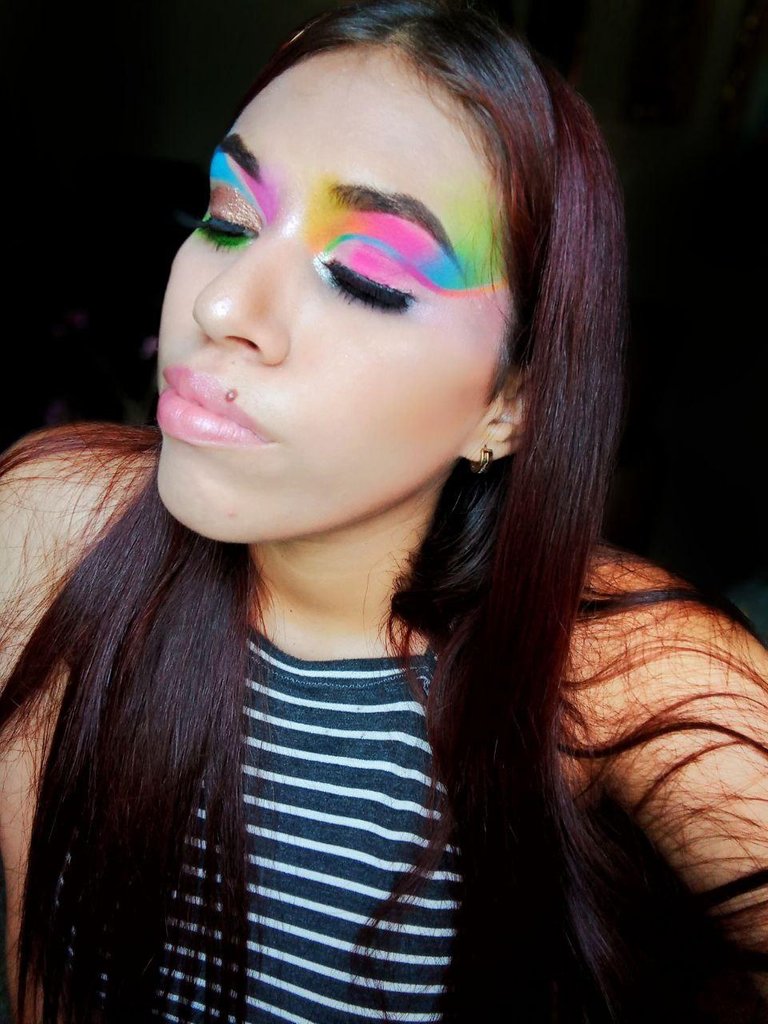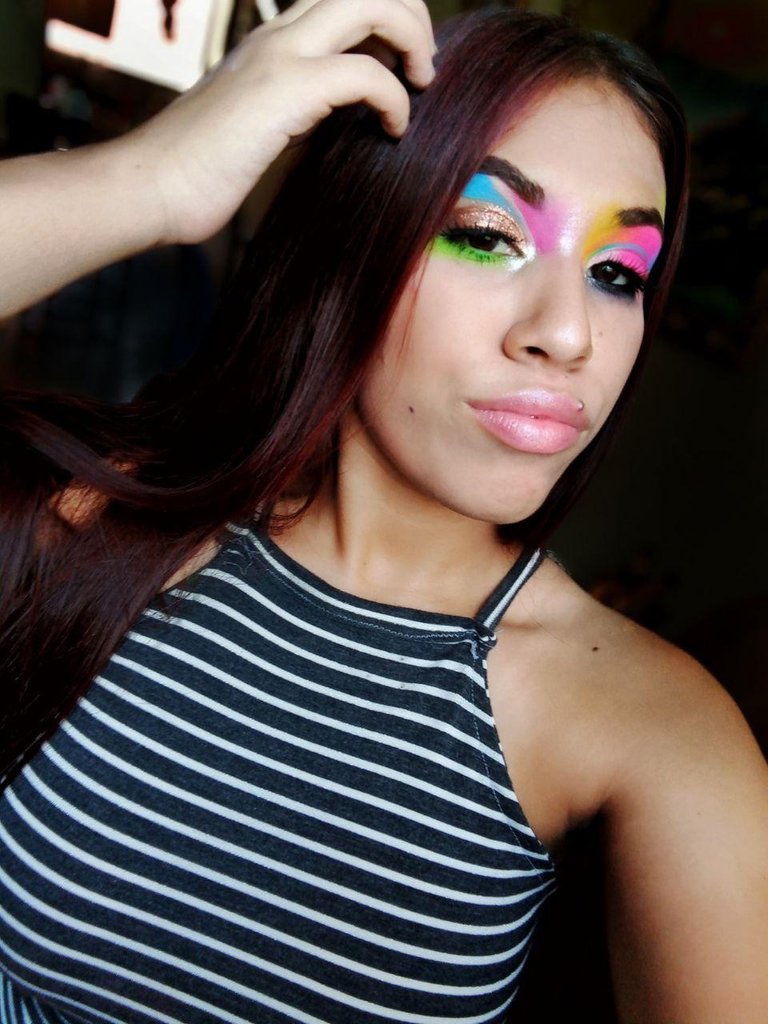 ---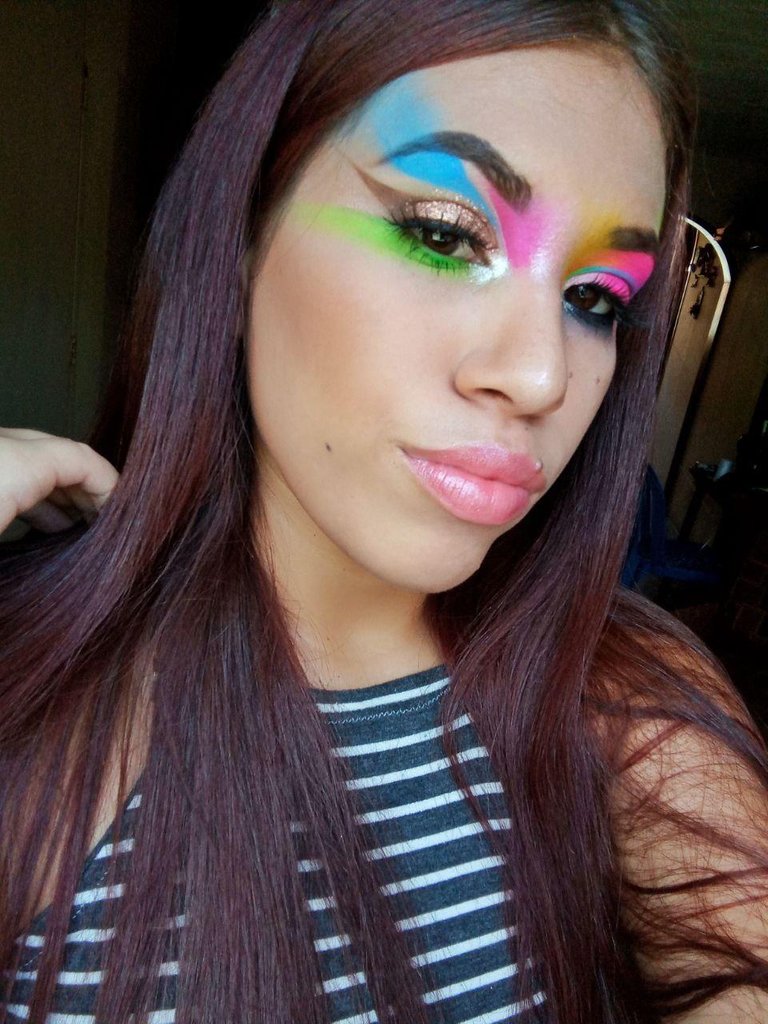 ---
Esta técnica es muy divertida de hacer, basta con imaginar todos los posibles cortes que se pueden realizar en el ojo y ejecutarlos. Para ser la primera vez haciéndola creo que no me fue tan mal jajajaja en el maquillaje todo es posible, solo es cuestión de mucha practica. Es importante recalcar eso, a todas las chicas con las que he hablo se los menciono, practiquen muchísimo y lograran todo lo que se proponen.
This technique is very fun to do, just imagine all the possible cuts that can be made in the eye and execute them. To be the first time doing it I think I was not so bad hahaha in the makeup everything is possible, just a matter of much practice. It is important to emphasize that, all the girls I have talked to I mention them, practice a lot and achieve everything they set out to do.
Pictures of my property.

Camera: CellPhone Xiaomi Redmi 9.
---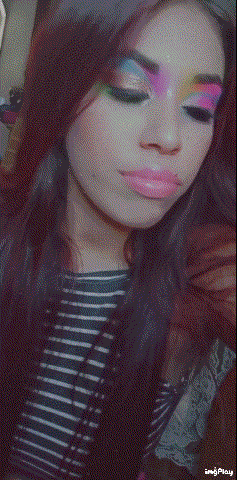 REMEMBER! || RECUERDA!

INITIATIVE #MakeupChallenge by: @lucianav & @ambarvegas | 💄 WEEK 8: FLOWERS

Valid until SUNDAY 20/09/2020

INSPIRED MAKEUP LOOK #4 - MYTHOLOGICAL CREATURES.

Valid until WEDNESDAY 23/09/2020

Si te gusta el maquillaje, el mundo de la belleza o hacer arte en tu piel te invito a la comunidad y al Telegram:




If you like makeup, the world of beauty or making art on your skin I invite you to the community and the Telegram:



---