My Featured Battle using Wave Runner

My speaking it is better not to add my voice.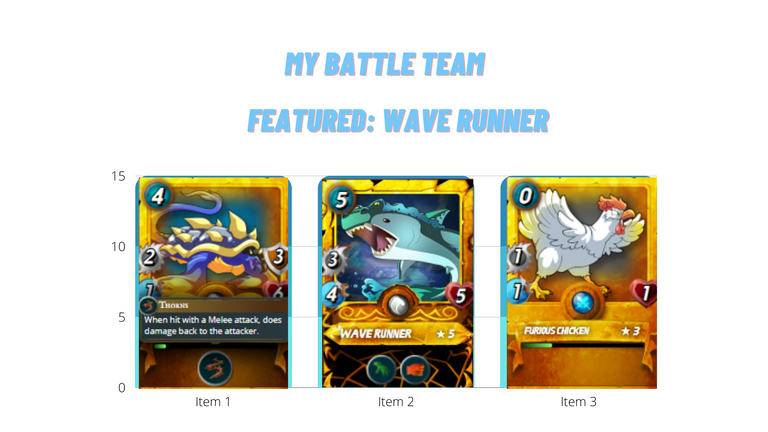 Spineback Turtle is in first position and Chicken is in last position.
Wave Runner's Reach ability was overridden battle rule 'Opportunity'
It is a very low mana match. Players have to choose the monster with ability 'Last Stand' but It is very expensive to try. So I used Spineback Turtle, Wave Runner and Chicken in my battle team.
Spineback Turtle has the ability 'Thorns" and it can return 2 damage to the enemy that attack him with melee attacl. In the battle with small mana cap people will choose melee attackers more likely. So I chose Spineback turtle.
For Wave Runner this monster has high speed and also high melee damage so he can easily take out one enemy form enemy team. This will be a good start I think. Wave Runner also have medium health so he will not be killed easily. Knockout ability is useless in the absence of Medusa but Wave Runner is still useful without Medusa.
I chose Chicken that has very low health as a spacegoat. And then it is a gold card so it would be no harm choosing this card.
I like Wave Runner so I featured it in my first entry post and this is my second entry post to the contest. I want to try different strategy everytime.
I think I will still win even if my opponent has the same level cards. My two monster cards (Spineback Turtle and Wave Runner) killed two monsters in my enemy team. They are equally
useful for me in this battle.
My enemy chose all his monsters as melee monsters so it will be very good for My Spineback Turtle.
Thanks for reading my post.
If you want to play Splinterlands. Please use following link:
@mmunited aka @beyondhorizonmm
You may also want to join my community that giveaway 3 weeks delegation for monsters cards.
Join my community:
ecency.com/created/hive-104151
You must need to join my community to be eligible for giveaway.
And also join my discord that make actually giveaway actually.
https://discord.gg/HmB6AZf9
---
---