You might be wondering why I haven't used an image of the prestigious clubhouse as the cover for the Flaxby Park Golf & Country Club post.
After a relaxing round of golf, one should always visit the 19th hole and then down a few pints before drunkenly getting in your Jaguar to drive home?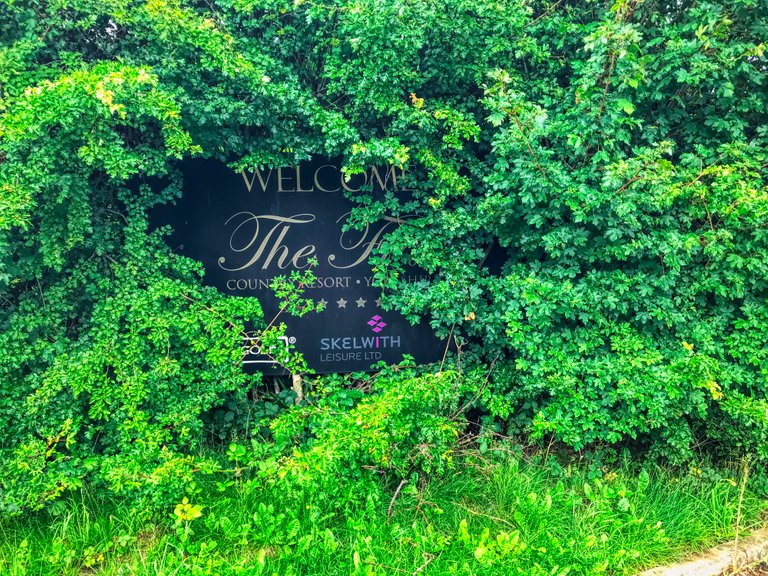 I will not say at this point why there is an image of the sign at the entrance that you can barely see as it's so overgrown, that's for later.
A derelict golf club sounds boring. Overgrown fairways, and greens you can no longer see, and all of them the same.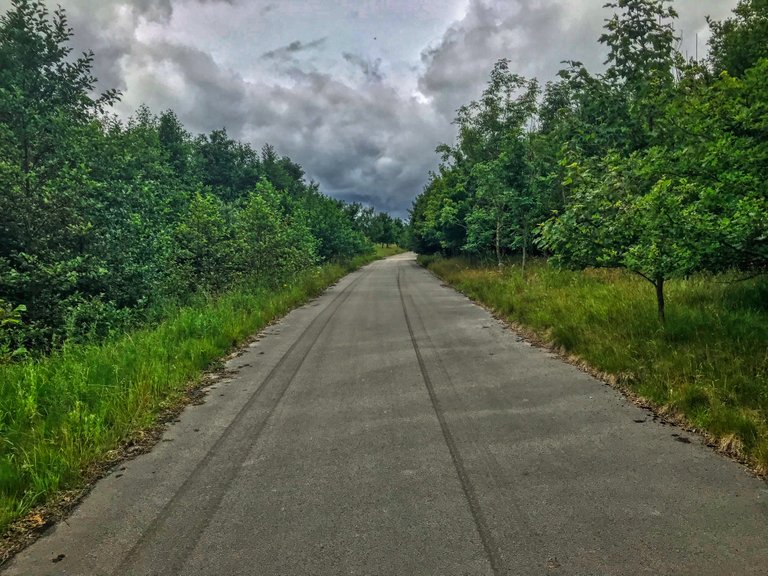 The clubhouse is going to be the place of interest and so we walked down this lane and walked some more, and then some more.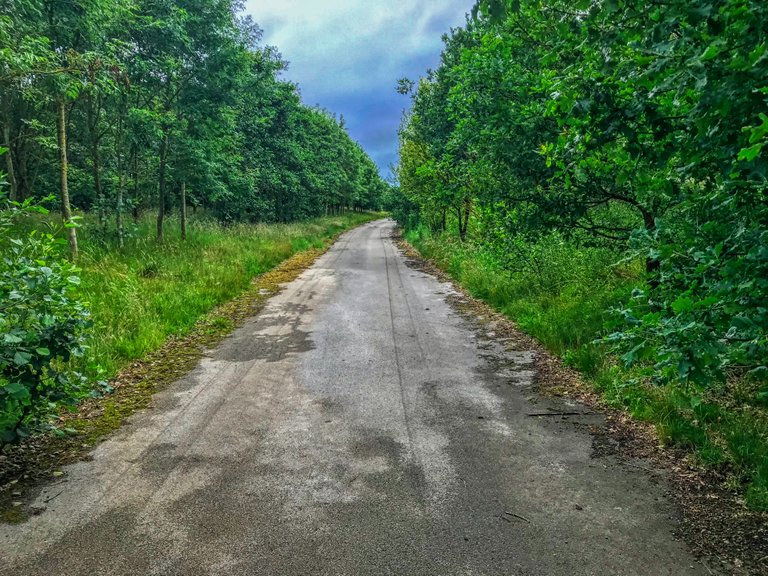 The clouds were ominous and I felt sure it was going to start pissing down at any minute.
After 10 minutes of seeing this same road bend ever so slightly to the left, the prize and target beheld us.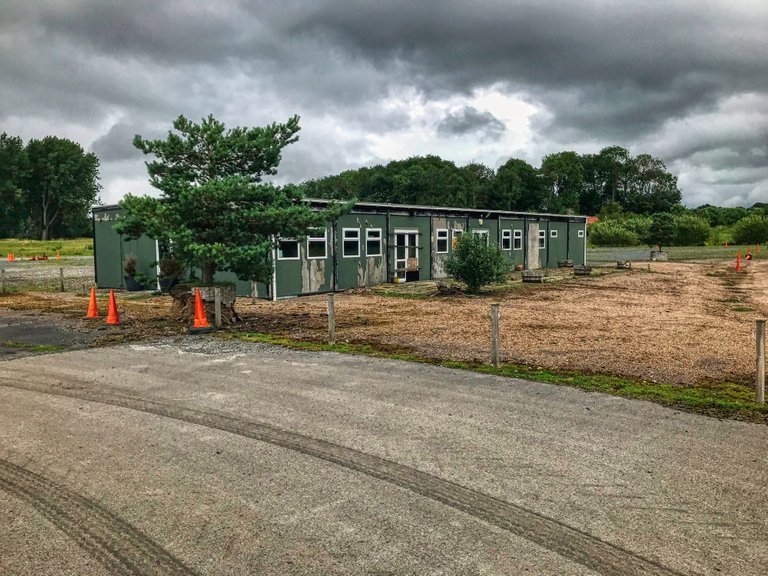 What kind of a clubhouse it this? It looked more like a load of portacabins taped together with glue. What a shit clubhouse!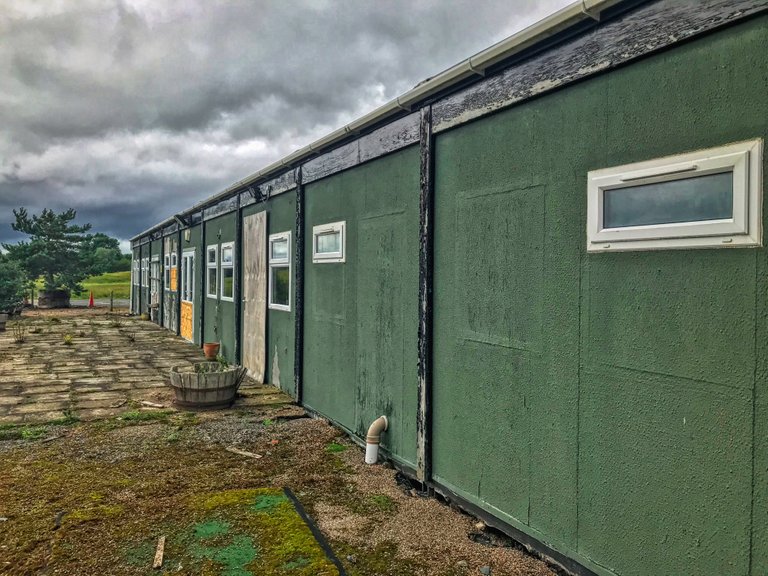 For fuck sake, it's not the elegance you associate with a lovely golf club, and could it ever have looked good?
The company hit liquidation problems in 2015, and since then it has lain derelict and useless.
We approached the 'tin hut' and looked around. I had seen a previous aging report that showed all the pumps working inside and you could even pour yourself a pint of rotting beer.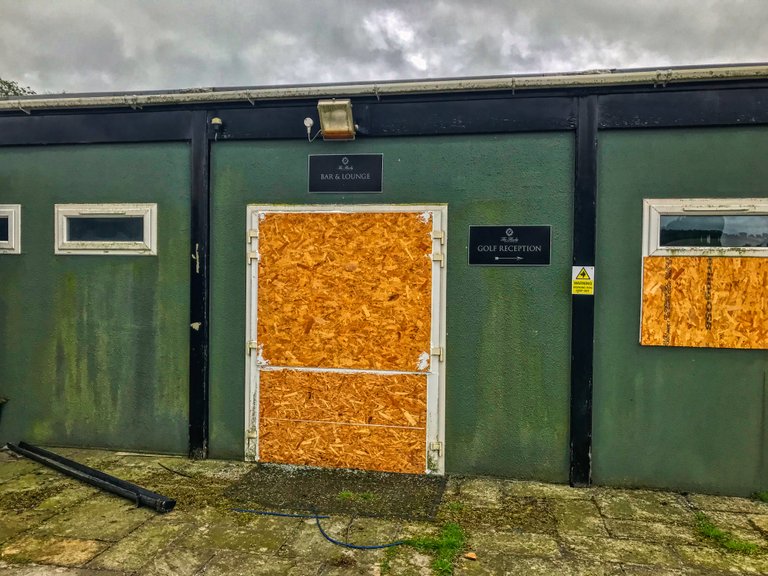 The boards looked new and we sighed. Beaten to it by the boarders, we looked around and couldn't find an access point.
Then @dizzydiscovery found it, not obvious but our obvious way in. The lad does have potential!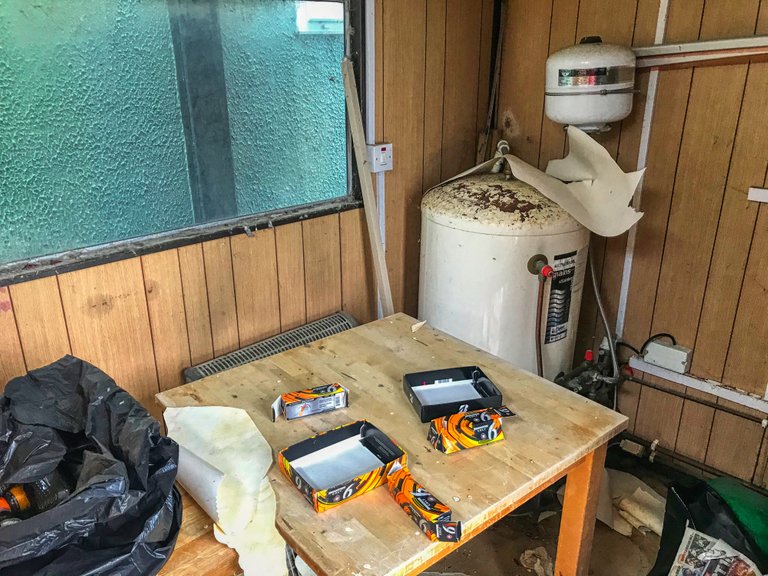 No golf balls left in these boxes and it looked like we were too late as the vandals had already struck.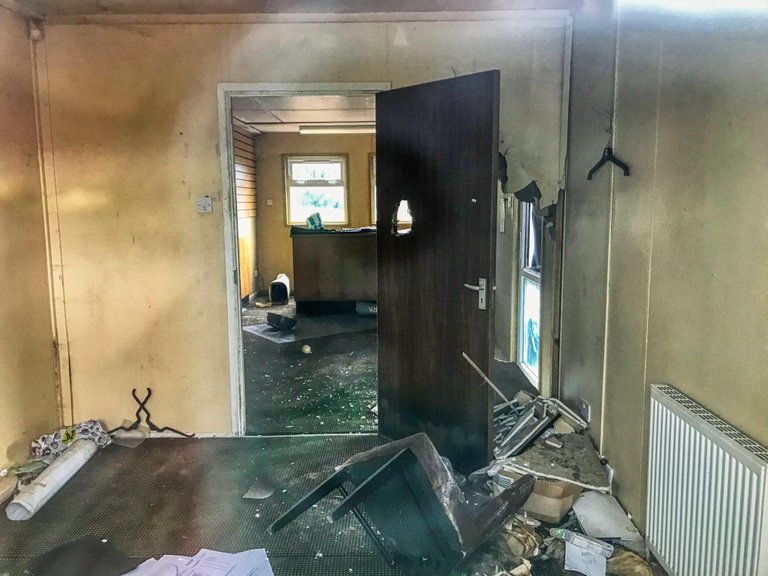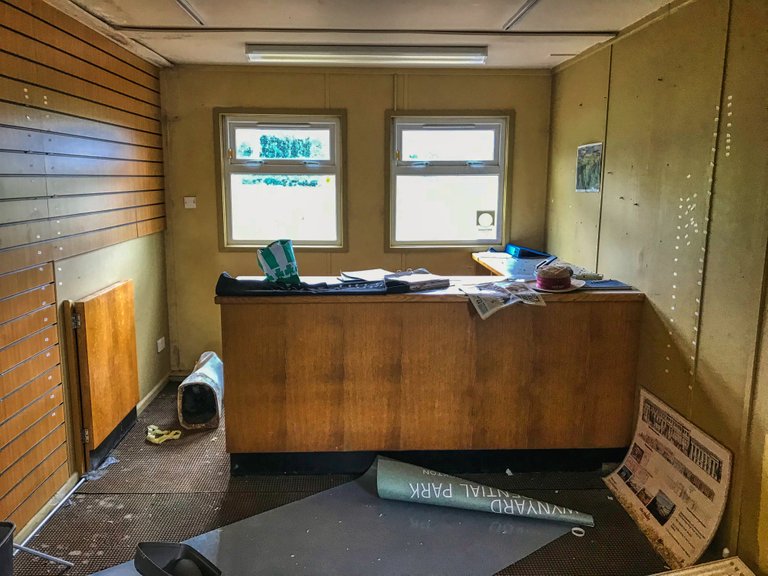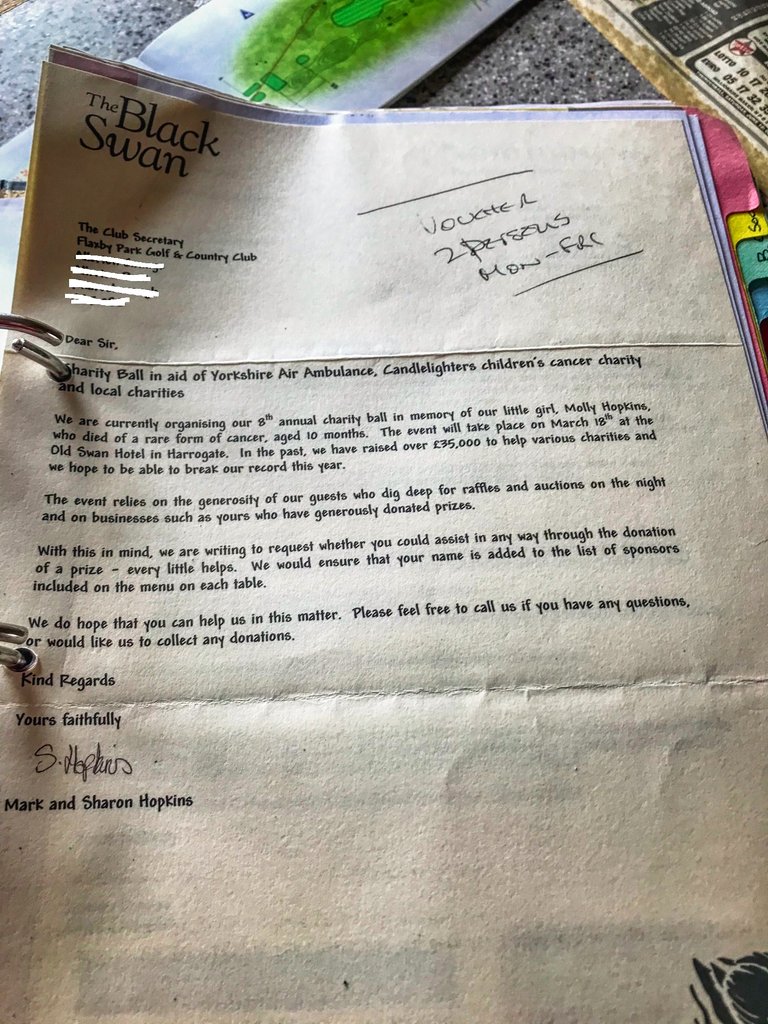 I'm guessing the club didn't help with the charity gig or was this a contributing fact to them going bust?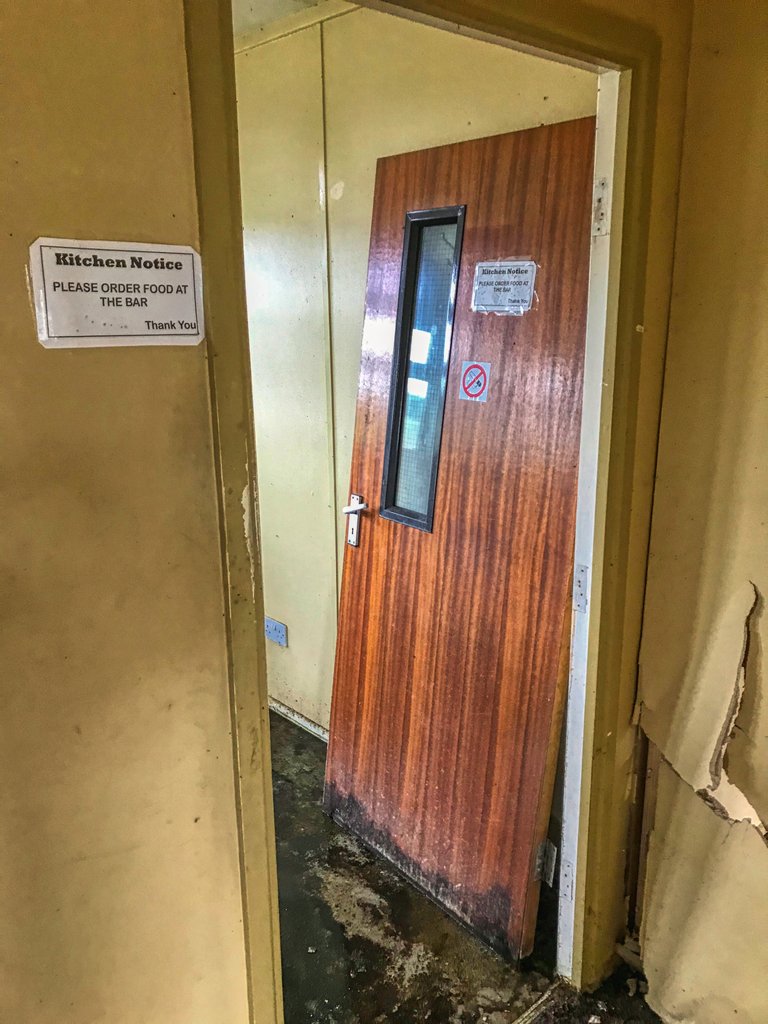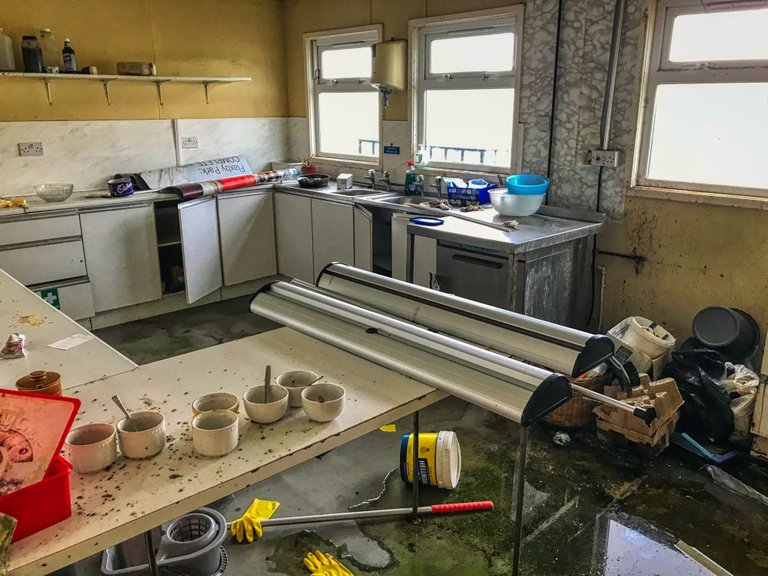 A few things left in the kitchen and what do I see on that top shelf, HP Sauce! Fantastic.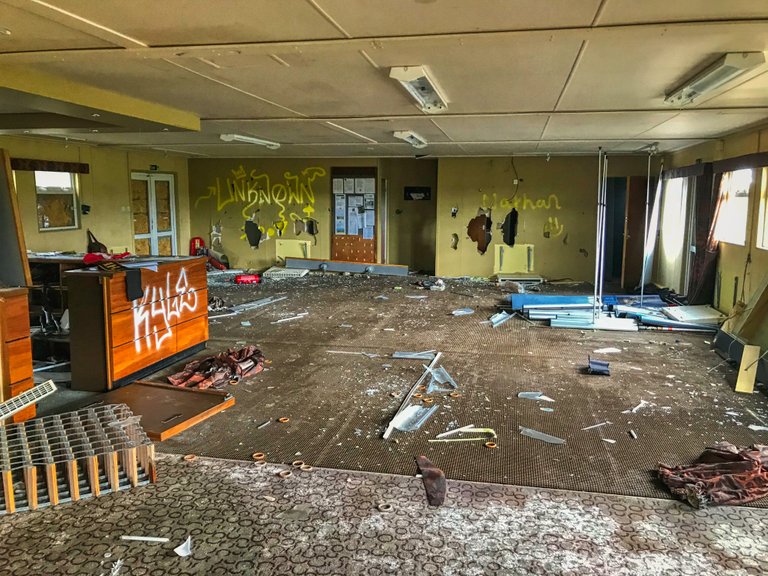 The main area was terrible, the dickheads had certainly visited and this was nothing like the old images I saw posted on the internet.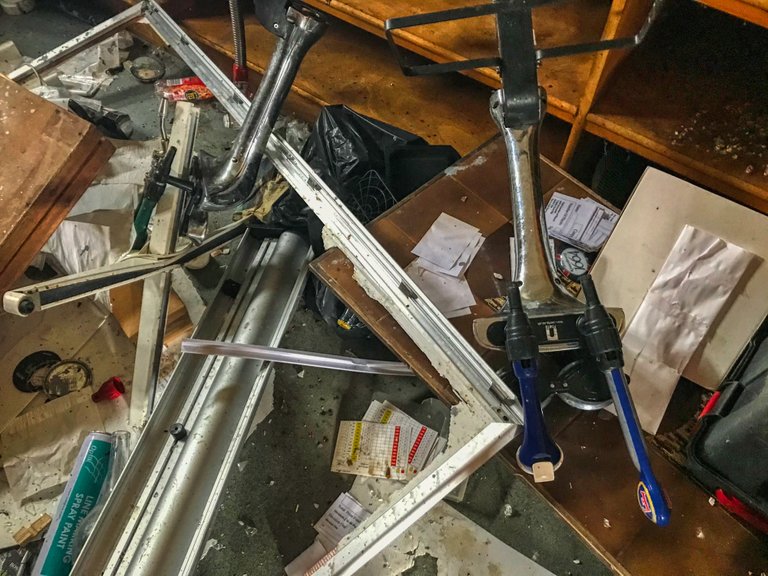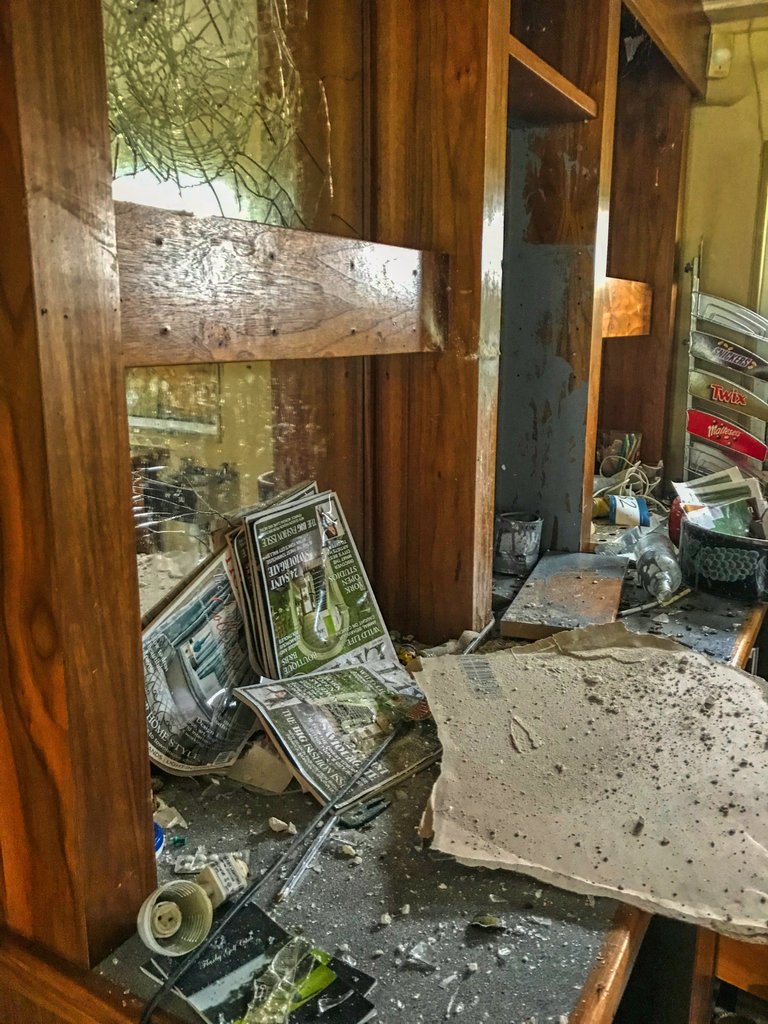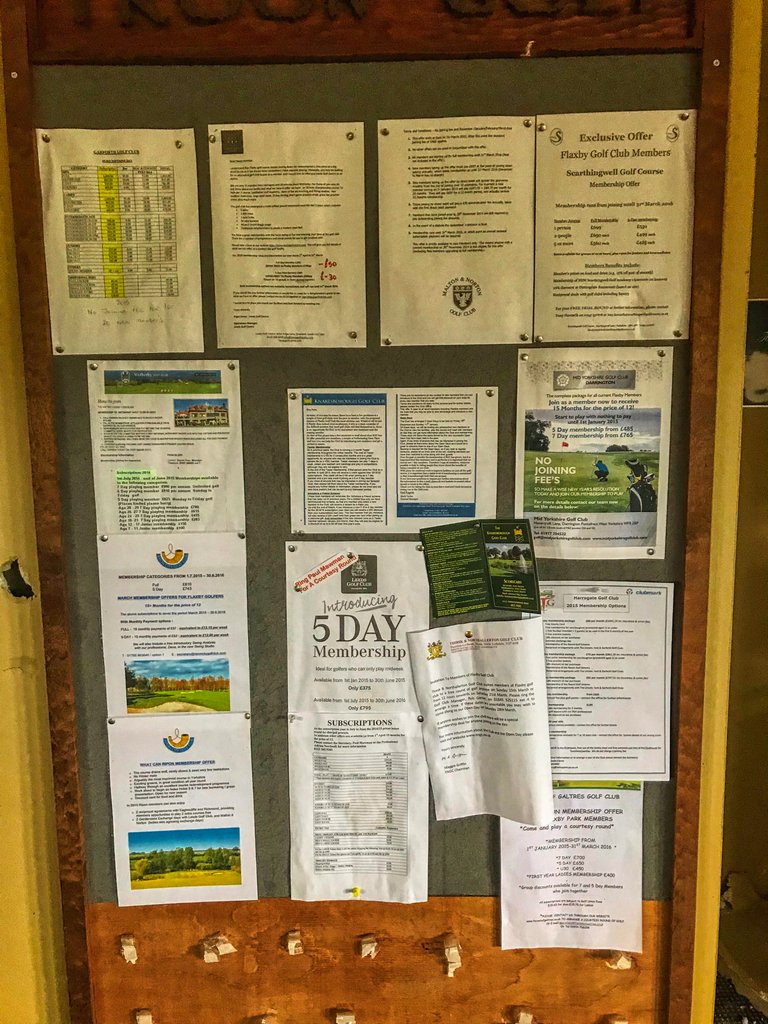 The bar was wrecked denying me that pint of 5-year-old beer.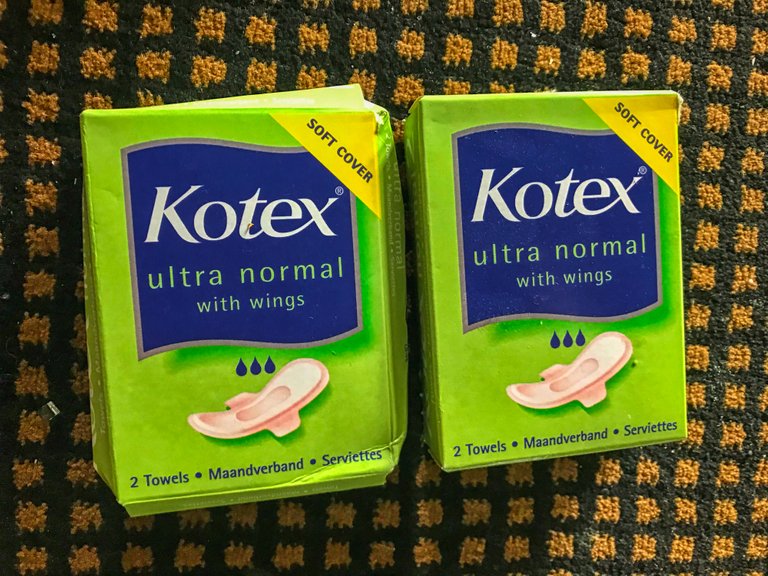 Still, there was plenty left behind, and no problem if you're a lady and find yourself in need.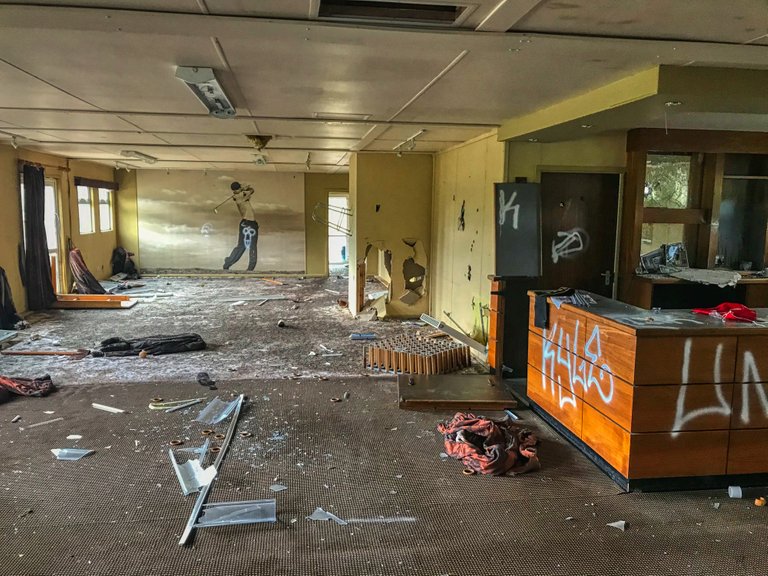 This is just to remind you that it is a clubhouse, and how to swing a ball. Pull your pants down, let it all hang out, and swing.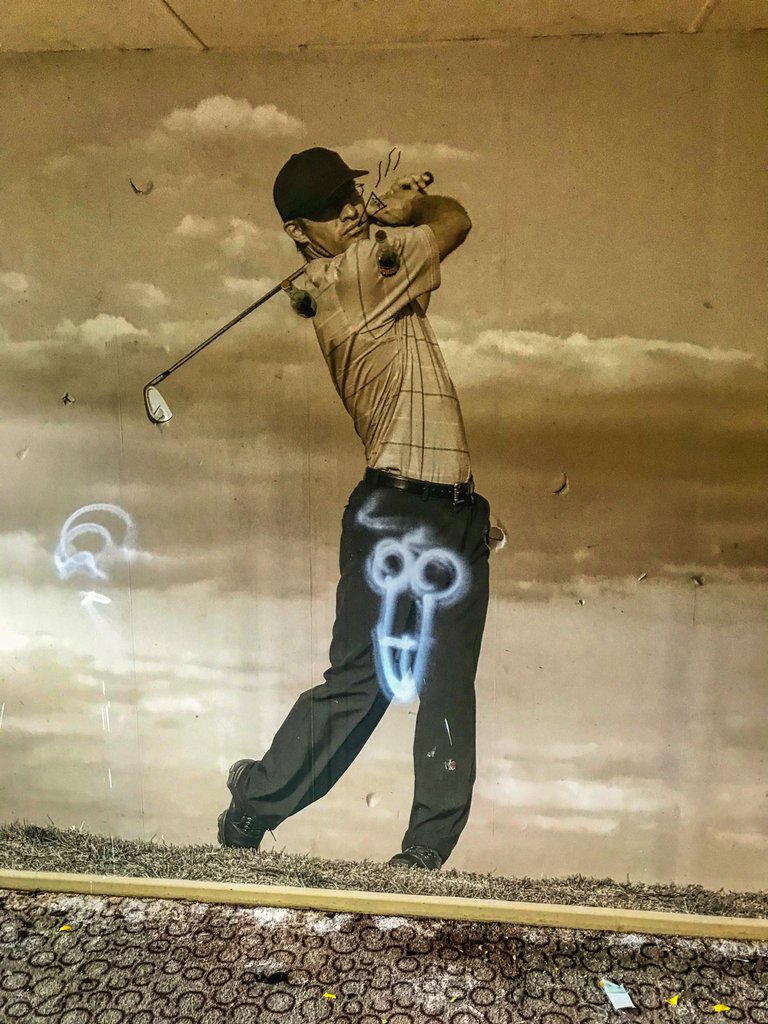 In case you need a close up of this imaginative artwork.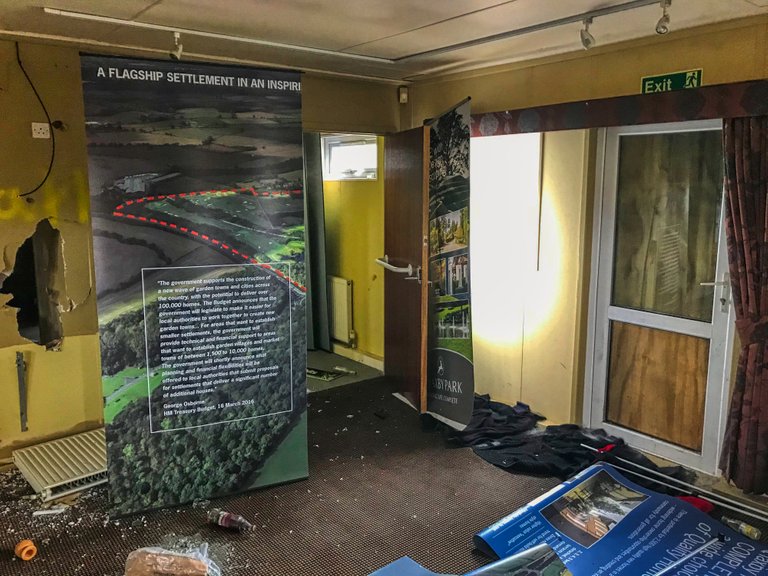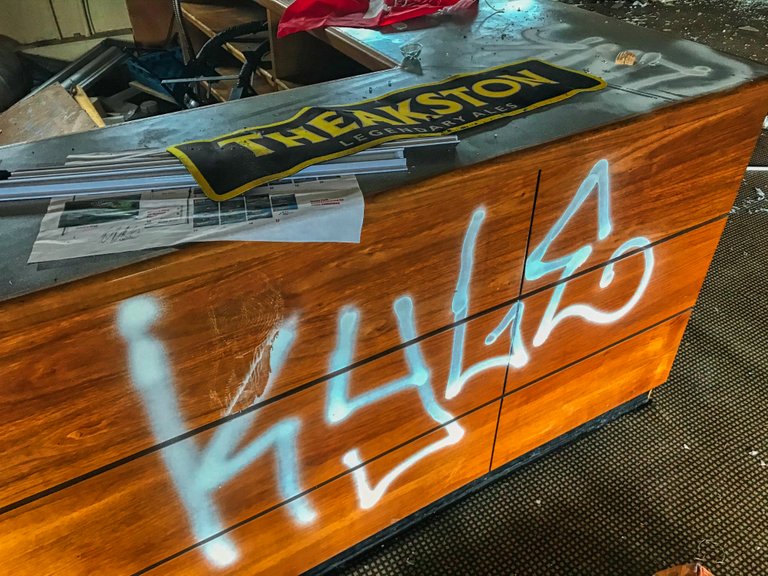 They had made a real mess, and I do know another Urban Explorer named 'Kyle' though I can't imagine it's him who sprayed this. He's even got a HIVE account (@kyleurbex12) and just maybe he will see my post.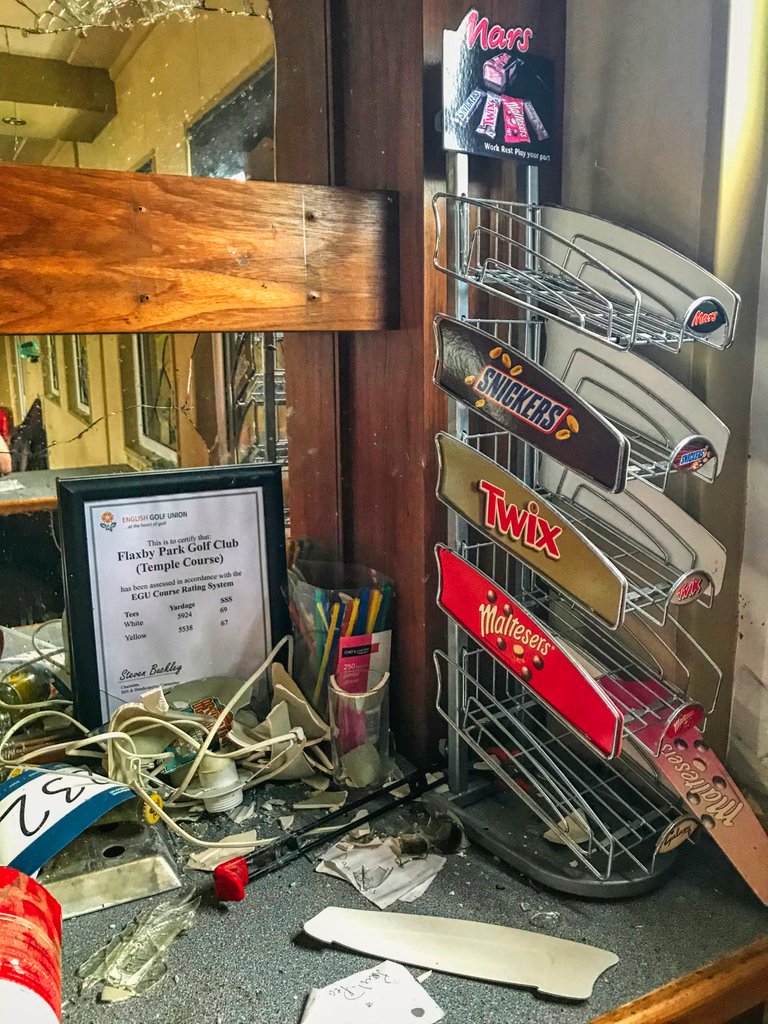 Not even a single chocolate bar to snack on, just terrible.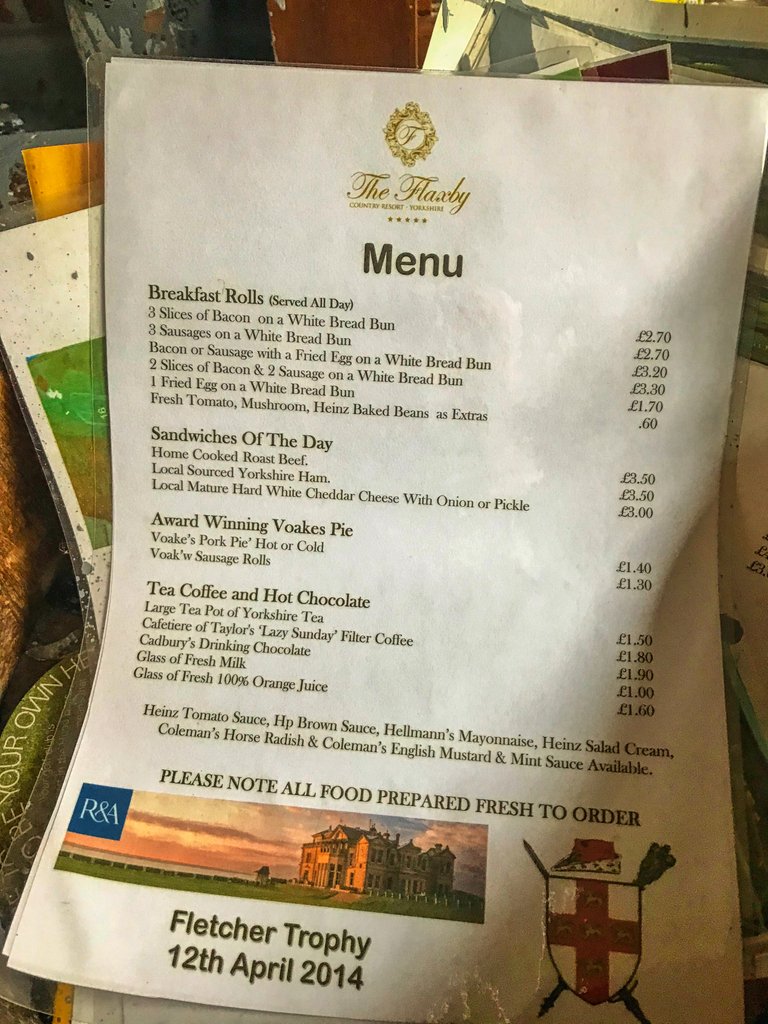 The food menu was quite limited, but these are not bad prices. This is likely from 2015 when things were a little cheaper.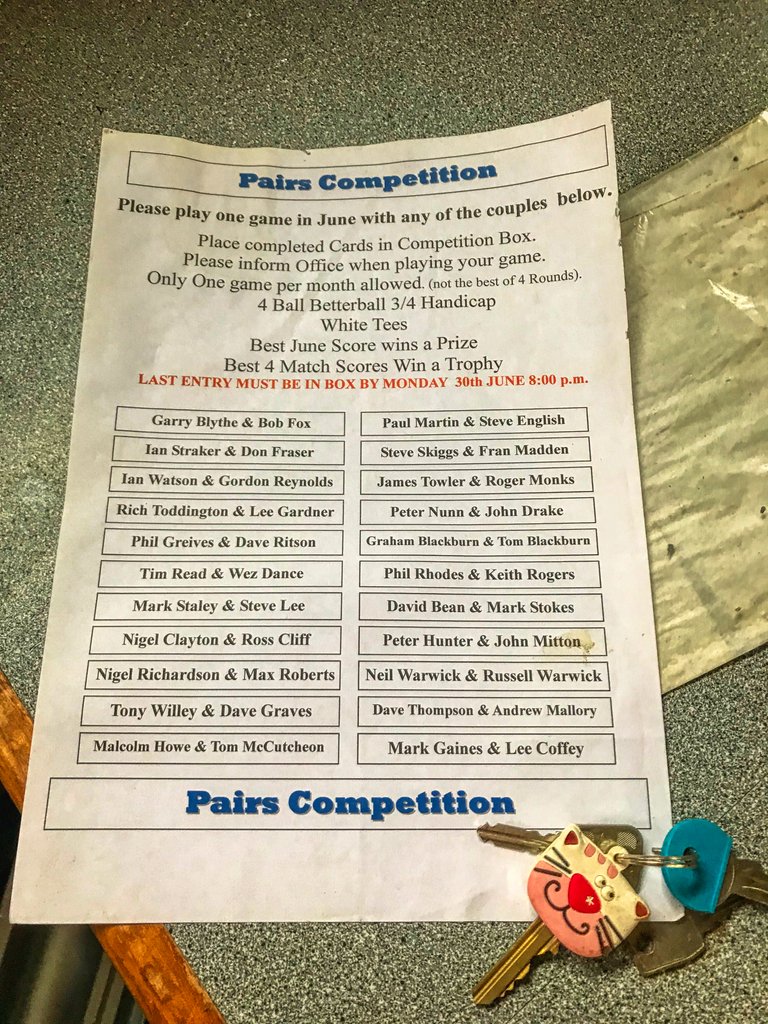 Competition days are typically on Saturdays, I always used to play Golf on Sunday afternoons when they had all left, and the course was almost empty.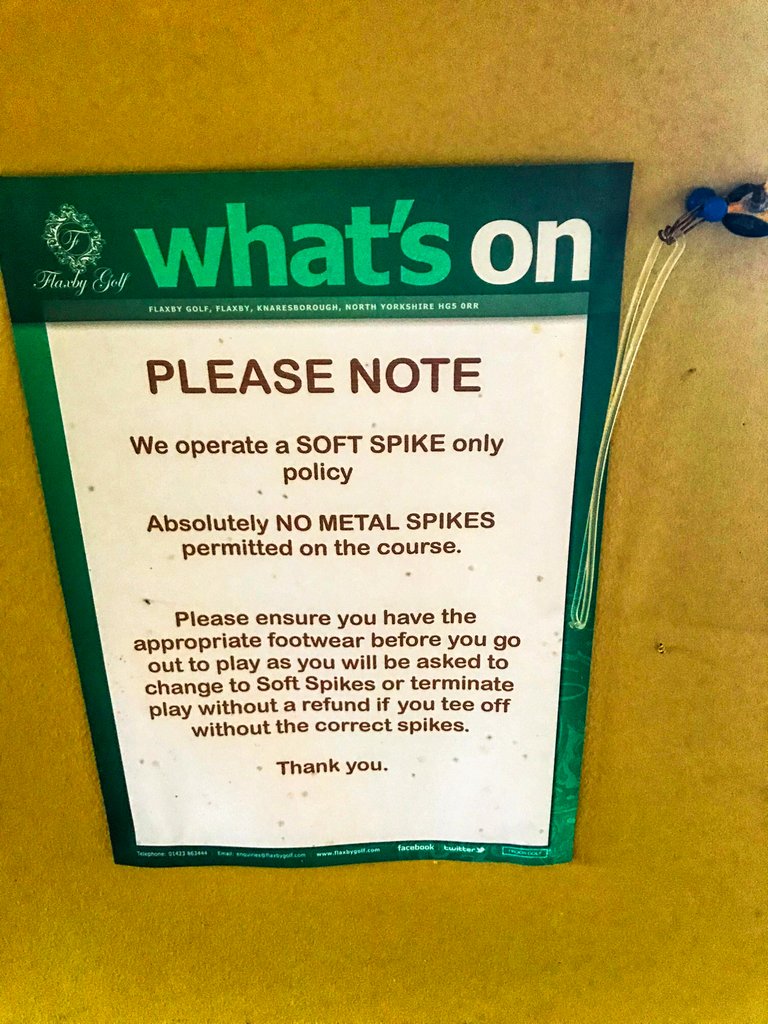 No Metal Spikes? They used to be allowed; my geriatric golf shoes have them. The clicking noise tends to give them away when you walk.
We didn't stay long in the clubhouse of Flaxby Park Golf & Country Club simply because it was very exposed and walkers still stroll by occasionally.
We wouldn't want to be seen exiting the place in a dodgy manner which of course we did.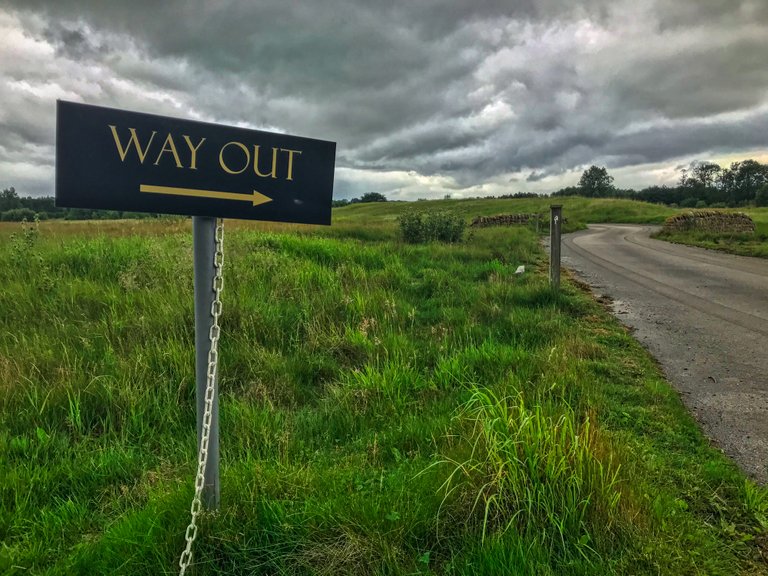 So it's one off the list and slightly disappointing. It was a case of too late.

Do you like posting your Urbex content and photography for FREE on Facebook and YouTube? I like to get some form of reward for my work and every time I create I do just that. Take a look at The Urbex Community on HIVE.
If you want to keep creating for FREE then ignore what you are reading. If you want to be like me and gain something other than BUGGER ALL for your work then click here and learn about posting on the HIVE blockchain.

Earn FREE EOS from Coinbase by taking partaking in a simple quiz here
Earn currency while you play brewing virtual beer with CryptoBrewMaster
Earn currency while you play and become a global Rock Star with Rising Star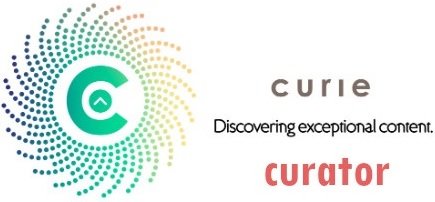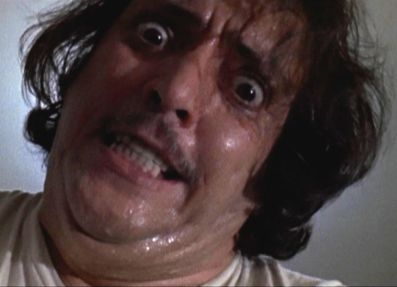 If you found this article so invigorating that you are now a positively googly-eyed, drooling lunatic with dripping saliva or even if you liked it just a bit, then please upvote, comment, rehive, engage me or all of these things.