When I see a newish property in this kind of state I have to ask why is that?
The farmhouse (that doesn't look anything remotely like one) is one of these places. Yet it is named, 'the farmhouse', we were told just that.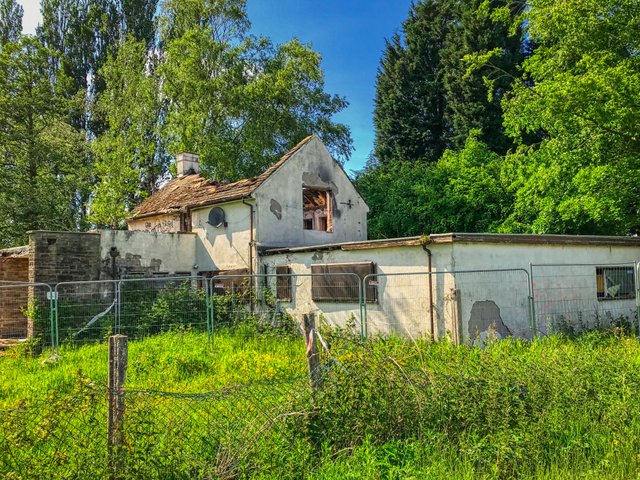 Lostock Hall is located in a quiet affluent location around the South Manchester area and this one took some finding as it's off the beaten track.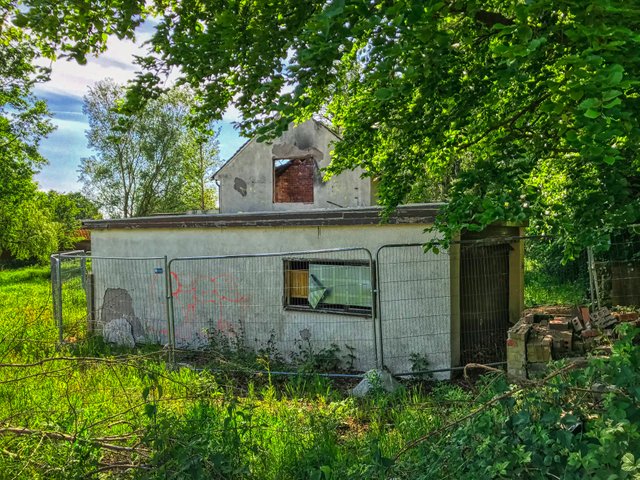 Walking past the house there was a glaring entry point that needed us to get a little mucky, but that's all part of the fun.
…'I don't mean walking through pig shit or even dog shit, that is more @grindle's line'…
We noticed some outhouses and a ruin, so left the main course for later. Some signs placed as deterrents were not so convincing.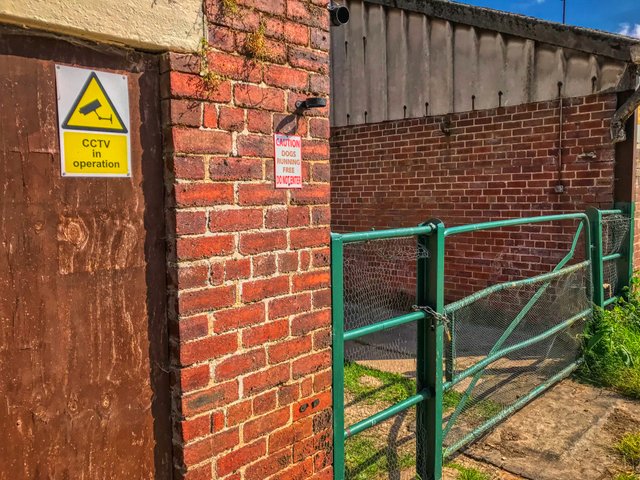 Dogs running free my arse, I doubt it!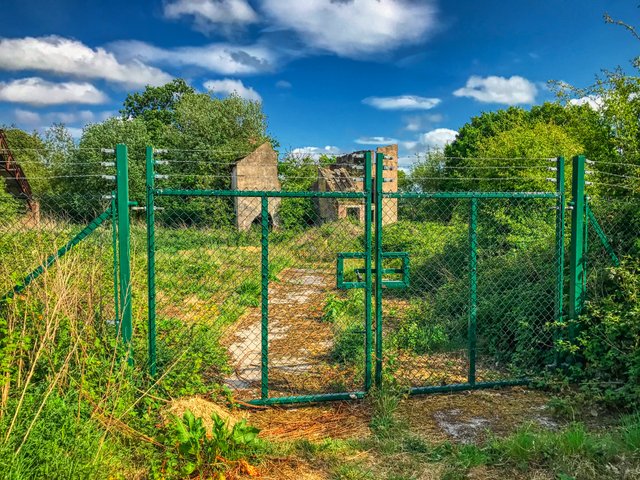 We could see the ruin in the distance but between us and it was a meaty looking fence with locks and barbed wire.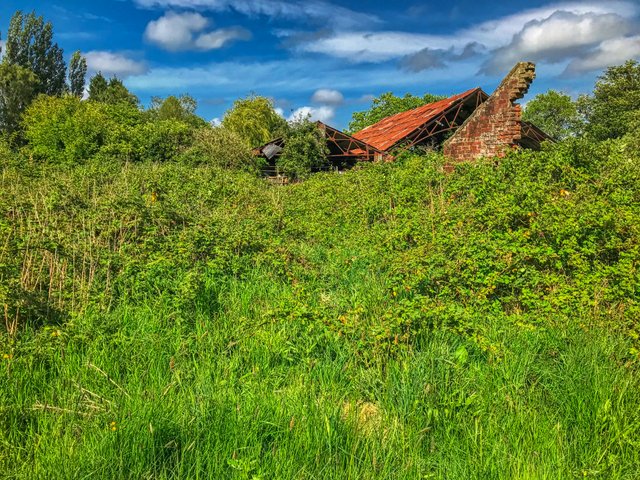 The problem with fencing is that you need to make sure it goes right around the thing that you are trying to protect.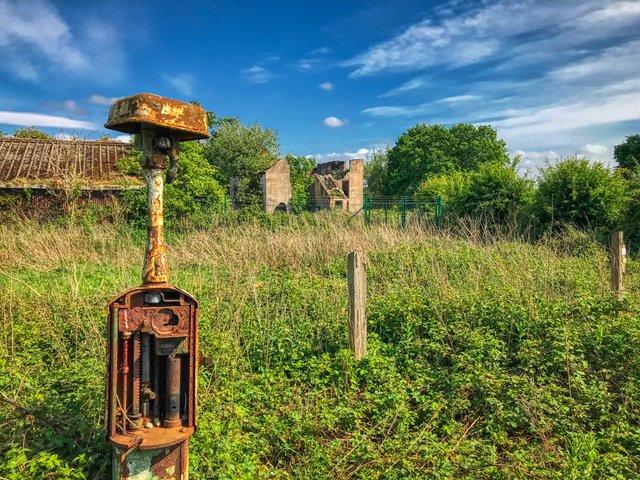 In the case of the ruin, we needed to walk down a public footpath, through some long grass complete with mandatory tripping brambles to get to the other side of said fence.
This is where the dogs are running free except there were no dogs. I suspected all along that it was all lies!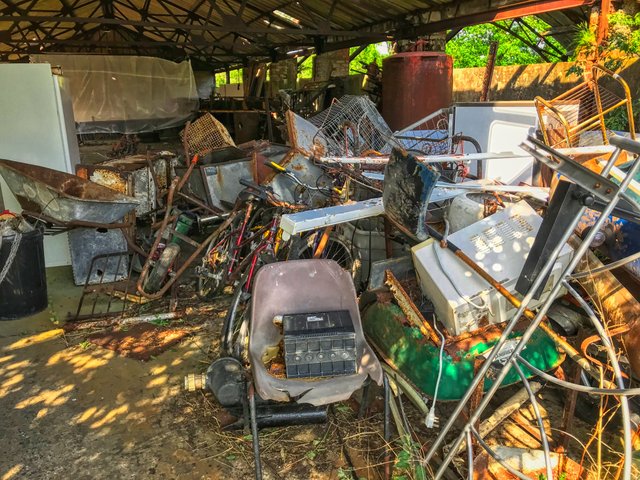 The barn was full of old junk but we resisted the urge to go an look around. Perhaps the dogs were those stealthy ones and once over would bite us, and maybe tear our throats out?
I was a little uneasy for some reason, so didn't hang around the barn area.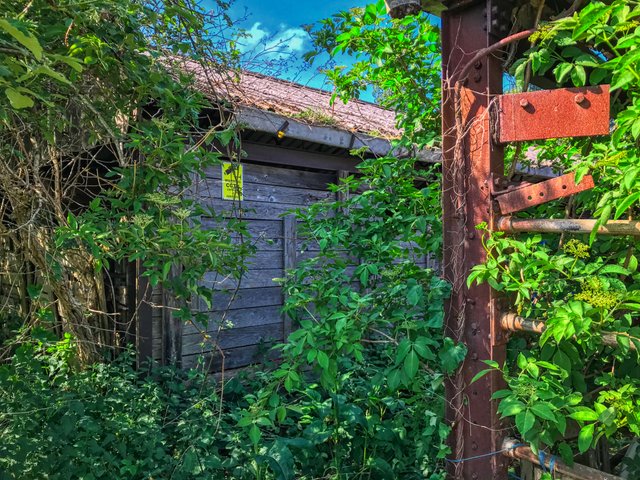 …'CCTV or neglected CCTV?; it's often worth ignoring these signs just to see what happens'…
The ruin was.., well too ruined to contemplate. Even I would not go near it for fear of being nettled and brambled alive.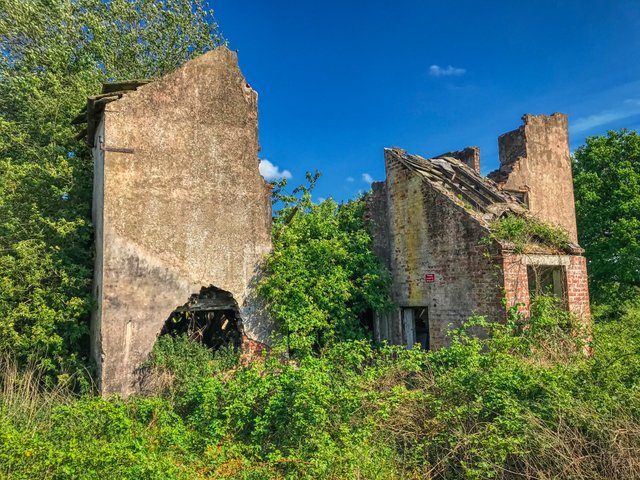 On exiting a nosey old couple stopped us with the usual questions, one of them noting my huge light. Damn that thing causing unwanted attention.
We then got a local history lesson with them complaining about Urban Explorers, Facebook, YouTube, and us assuring them that, 'those lot are a right set of bastards, twats and cunts'.
They were not convinced with our argument, so we split and moved back to the farmhouse.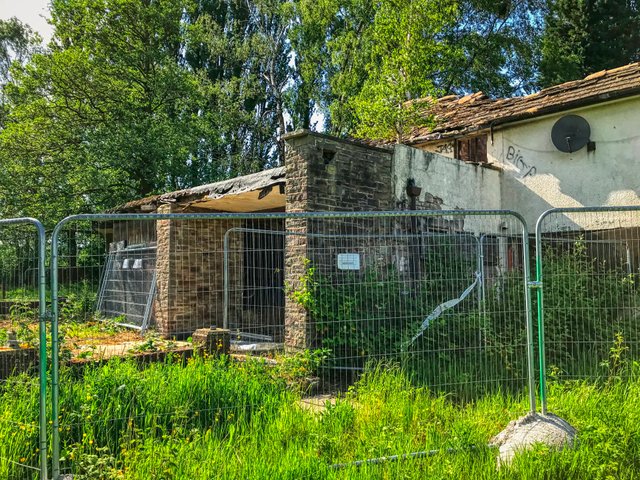 It was a wreck with a partially missing roof but you just have to get in and have a look for yourself.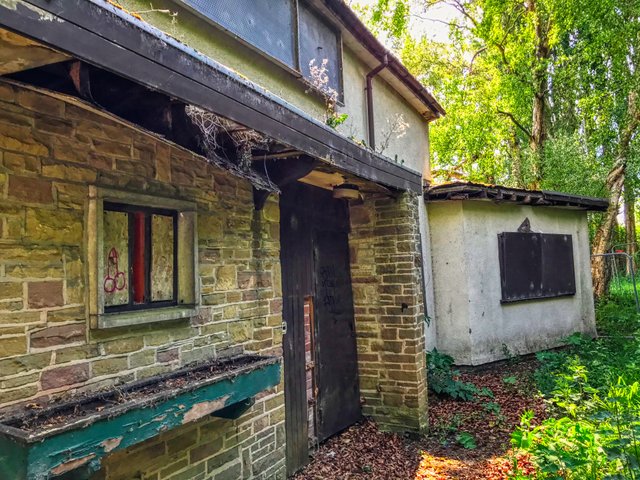 The problem was the number of people having their country stroll, and the way in being in full sight of them.
After 10 minutes of loitering around, scratching our heads and whistling while looking into space suspiciously, the coast was clear and we were in.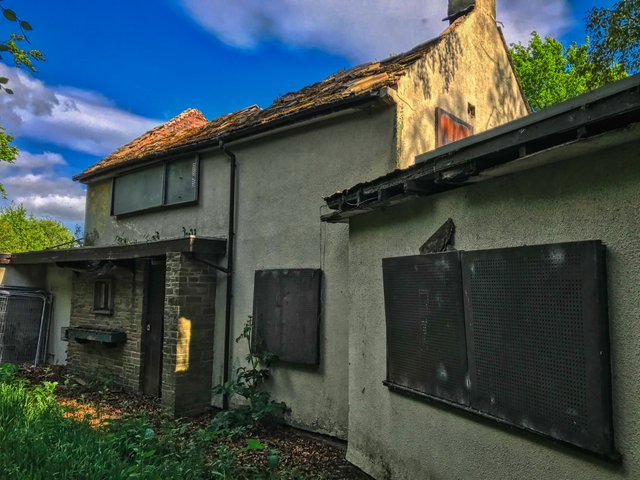 Once past the anti-climbing fencing, we walked through a large hole which was once a door into the house.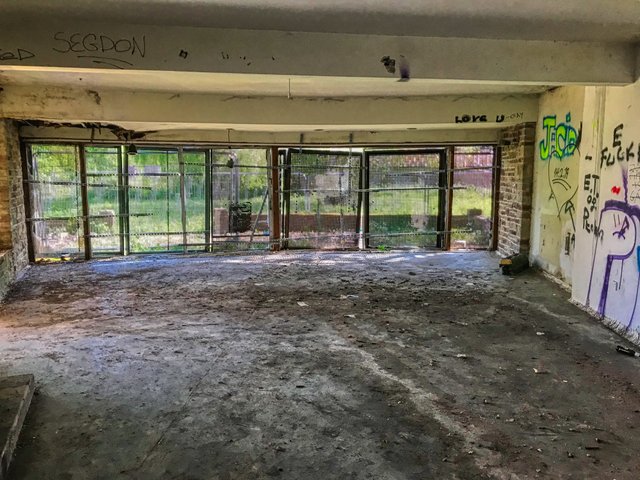 One part seemed quite unaffected by what was obviously fire damage. The room was huge and would have been great once.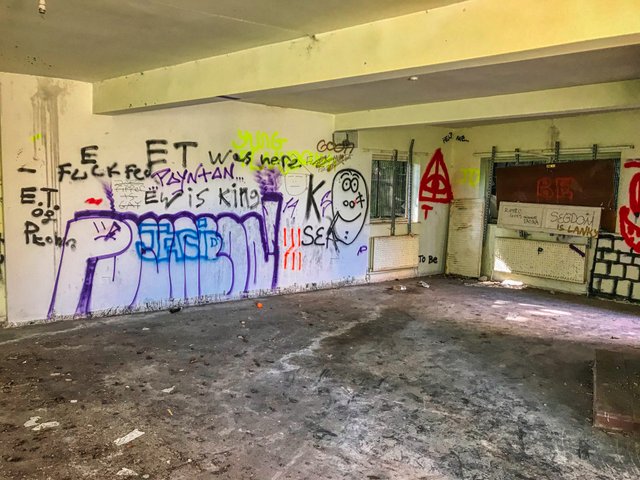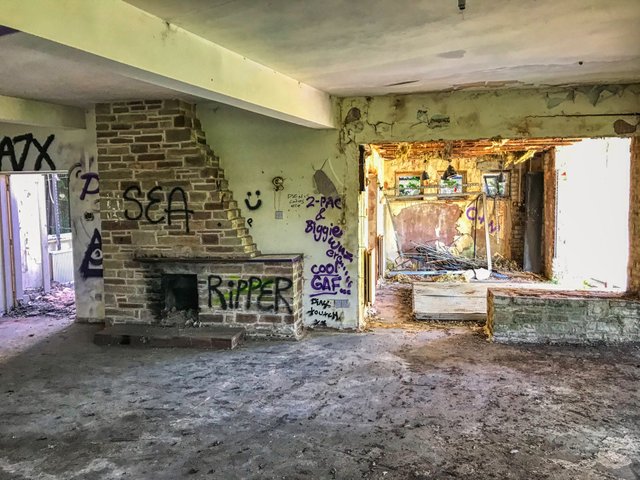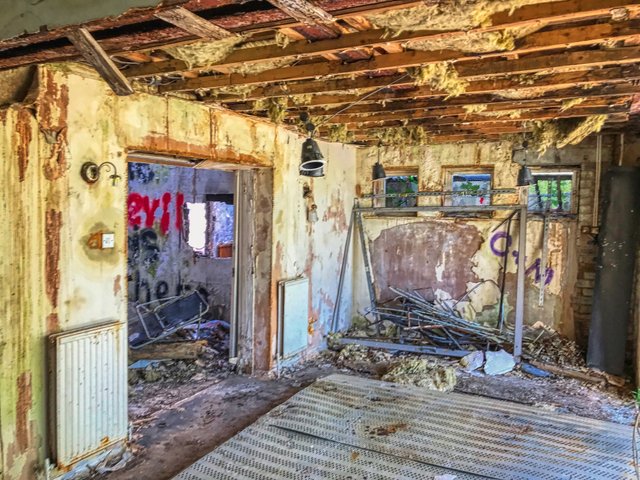 Now it was full of graffiti and showing the usual signs of vandalism.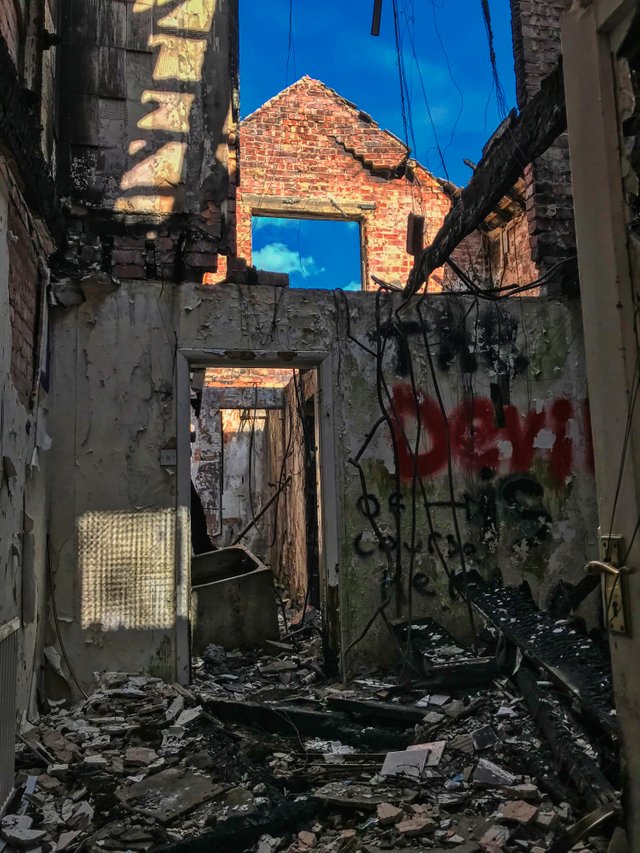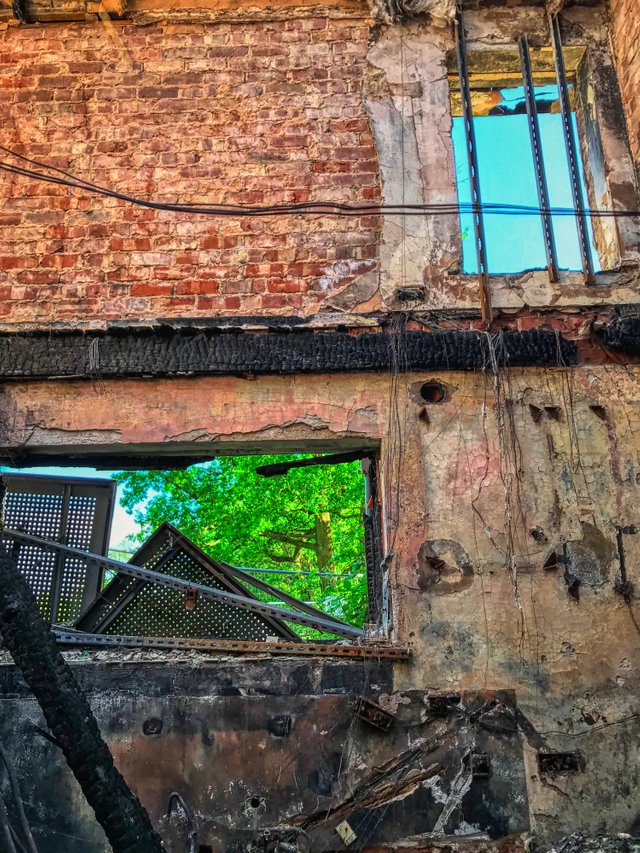 The rest of the house was a different story. I would have loved to have gone upstairs, but where were the stairs?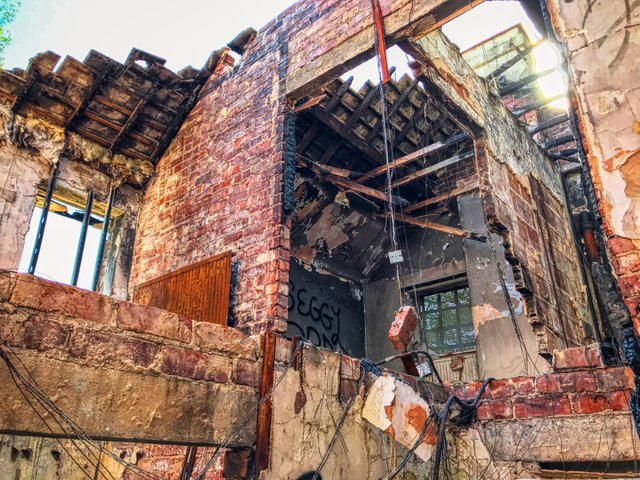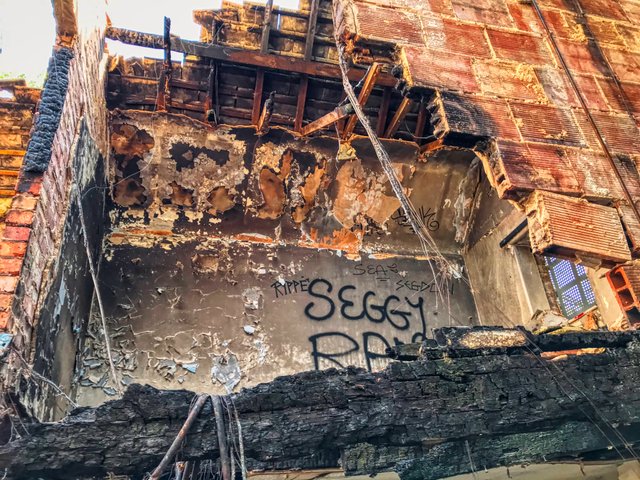 I could see that 'Seggy' had been up there, maybe this was before the burning?
The inside was a little disappointing, I was hoping for more but these burnt-down places can be quite similar.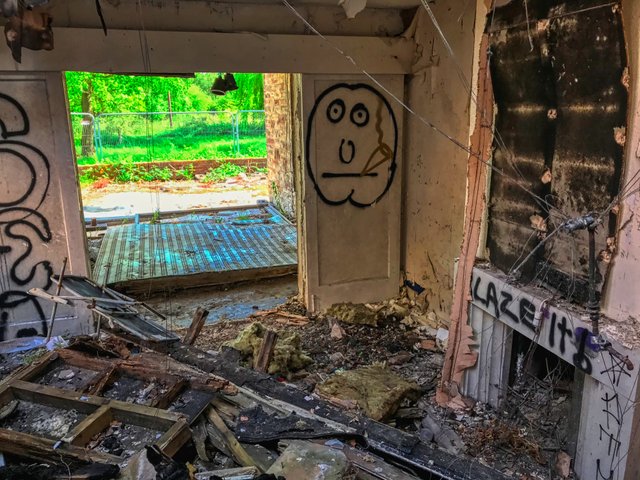 Finding information about Lostock Hall is tough; I did find a meaty thread here which details the ruin as a listed building from the 16th century and has some information about Lostock Farmhouse.
It is from 2007 and mentions the house as being a burnt ruin even then.
The derelict building on the left at the end is Lostock Hall - after which the school and road are named. Unbelievably it's a listed building. It's been something of a no go area for years, due to people living in caravans who were, to put it mildly, not very neighbourly. At some point, a garage was built across a public footpath, with a decaying car inside.
When MBC finally demolished it to restore the right of way, they felt the need to have a police escort. I was once bitten by a Jack Russell belonging to one of the families, and for some time they had a fierce Rottweiler chained up next to the caravans.
Source
I have seen many ruins that are in far better condition but did spot the old car mentioned above. I wonder how long that has been rotting away in there?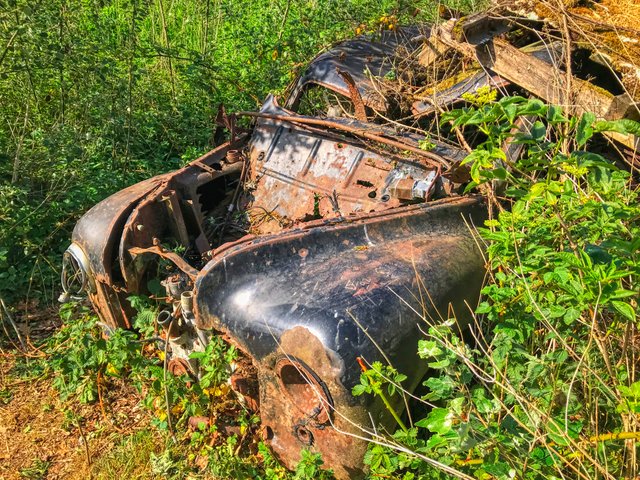 The aforementioned nosey couple told us they moved to the area in the '70s and it was there at that time. Talk about being buried in the brambles!

Do you like posting your Urbex content and photography for FREE on Facebook and YouTube? I like to get some form of reward for my work and every time I create I do just that. Take a look at The Urbex Community on HIVE.
If you want to keep creating for FREE then ignore what you are reading. If you want to be like me and gain something other than BUGGER ALL for your work then click here and learn about posting on the HIVE blockchain.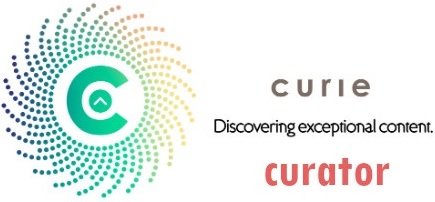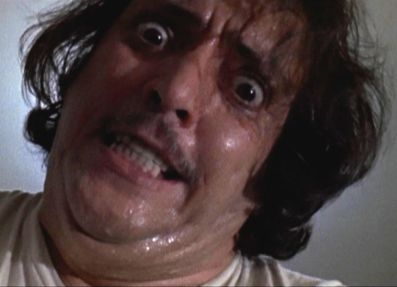 If you found this article so invigorating that you are now a positively googly-eyed, drooling lunatic with dripping saliva or even if you liked it just a bit, then please upvote, comment, rehive, engage me or all of these things.