How to bring more Nigerians to Hive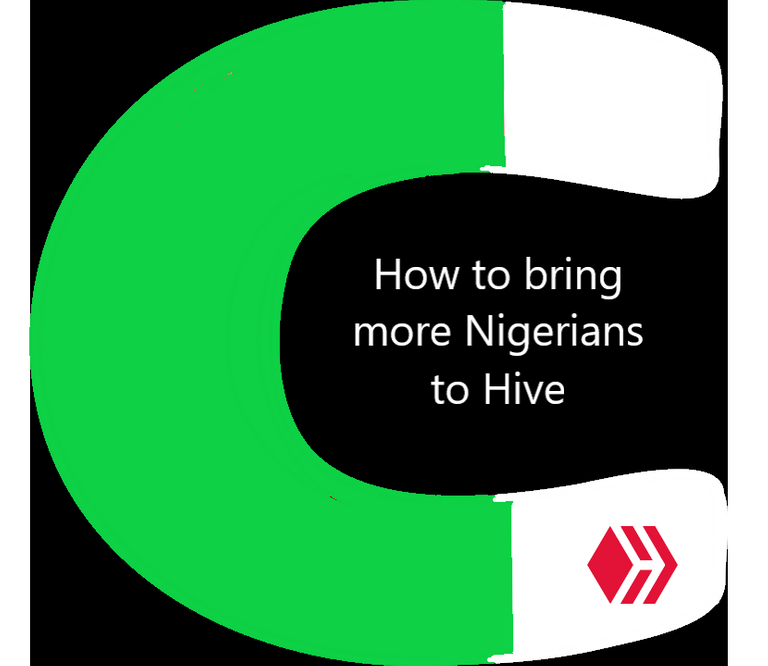 To be completely honest, I had given up on telling Nigerians about Hive. I often find the conversations to be draining and very unproductive. However, thanks to this campaign by @hive-naija in the Nigerian Hive community, I got a new lease on life and started telling a couple of people about it.
In the process, I learnt a couple of things and corrected a lot of assumptions I had in mind. I realised that while certain aspects work for you, it may not work for the next man and also that our discussions about Hive are too streamlined to certain aspects.
Blog for money doesn't ALWAYS work
I use to think that telling people of the prospects of "simply post and earn money" would be an easy sell. However, it turns out that not everyone gives a crap about monetising their data.
I know it is perplexing and super weird but that's just how it goes. I'm sure it is even more frustrating when you try to convince them to just do it for fun then, or maybe just crosspost their shitpost from other platforms into Hive and test it out, but they're still resistant.
The truth is that not everyone is cut out for the blogging life. In fact, not everyone enjoys and if they don't enjoy it, they won't do it. Whether you like it or not, Hive puts a lot of pressure on you because of the prospect of earning money and if you've been around for a while, you will know that your time will come.
For a new guy just getting in, and seeing all the "serious" blogging stuff going on, it might not be so easy to bear. It's even more difficult when the person doesn't derive pleasure in the activity, so forces themselves to do it.
With that said, if you want to go through the "blog for money route, it is important that the individual or individuals you're telling are people that;
Are active on social media
opinionated people that always have something to share
Nigerians with a history of blogging or vlogging
Nigerians that have tried to monetise their blogging or vlogging
People that are open-minded
I think Nigerians with all or most of the traits above are going to easily absorb the "blog for money" aspect of hive. However, that's not the only aspect of Hive and this brings us to the other part.
Talk about EASY money
Let's face it, Nigerians don't have time for all that long term account building that you need to benefit from earning from blogging, they want it NOW. So instead of telling people to build from scratch, tell them how they can make "easy" money on Hive.
There are many ways to make "easy" money on hive. These opportunities are technically stressless and require no technical knowledge as well. However, for Nigerians to benefit from this part of hive, it is important for them to know certain things like;
Understanding how keys work
Explaining how to use the DEXES on hive
Understanding how to convert Crypto to Naira
These aspects represent the most difficult part for anyone joining Hive for the first time. I believe that if we can devise a way to simplify this process for Nigerians, we will have more Nigerians investing in multiple projects that include Cublife, Utopis, Bro, LBI, Dhedge and all the other projects that pay a dividend or simply holding.
Also, with the new changes thanks to the recent Hardfork, there's an incentive to hold HBD in a Defi sort of way and that is easy money. Nigerians don't have time for long-term stuff and that's not unusual for a country with a large population of poor people. We want it now and you has to make it available or we go somewhere else.
In summary
Don't beat around the bush with people. It is important to know your audience, so you won't be feeding grass to a carnivore.
Some people have the patience for long term stuff, so teach them how to get it for the long term. In reality, I believe that hive is meant for medium and long term investors, so keeping people in this category happy will not be difficult. They will be open to games, blogging and other long term potentials on the network.
The real issue is with those who want it right now and they are the overwhelming majority. You have to find a way to explain everything they need to know and then bring them to your level. Coincidentally, people that want it NOW are also the ones with a higher chance of investing money into the network.
Either way, bringing more people increases the network effect and that will inevitably trickle down into the value of the community. I believe that if we use this approach I discussed, we will bring more Nigerians into Hive.
If you'll like to signup for free, simply visit hiveonboard.com and create a free account.
Please check out my Freelance gigs:
Contact me

---
---