The "joys" of home ownership part 2
---
If you are looking for part 1 of this series, you would have to go all the way back to 2020. That's where the story starts unfortunately. 2020 was a bad year for a lot of us. Covid related lockdowns were just starting to get started and none of us really knew the long term impact this was going to have on us.
I suffered a pretty severe injury to my leg that has caused some mild to minor changes in my life. We had a tree fall on our deck, our region of the state suffered a "once every 600 years flood", and we ended up with a hole in our front yard.
And that was all within the first six months of the year!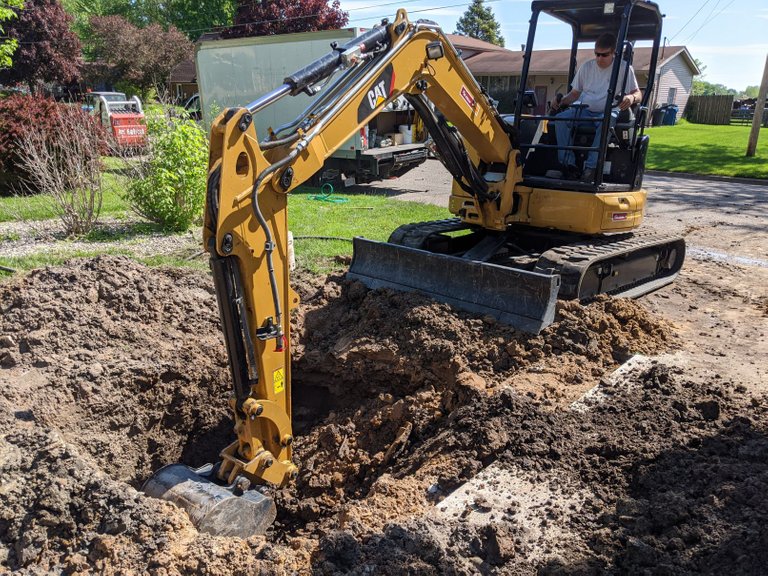 ---
This was the first repair, my buddy Mike brought his crew out and they started to dig along our driveway. About five feet down they found an old tile that had been crushed and was leaking water every time one of the sump pumps ran from the houses along the street.
It cost me about $1500, but they patched the break and I thought we were good to go.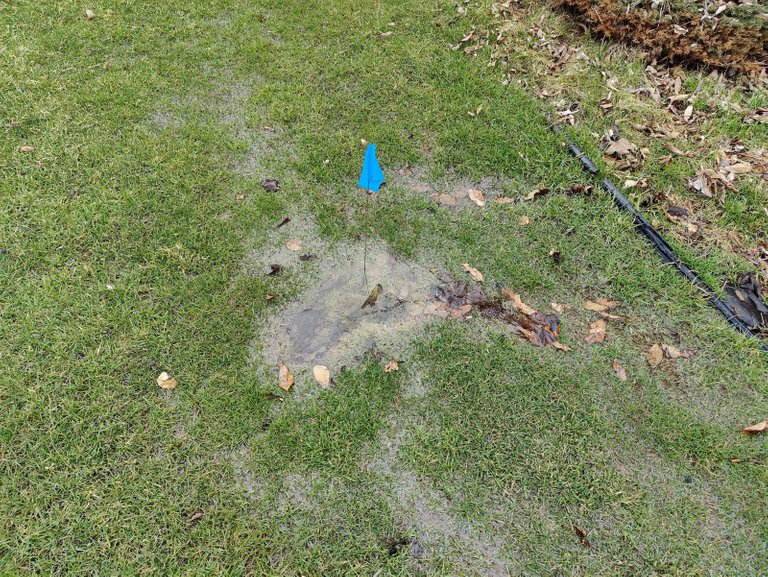 ---
Fast forward two years and sure enough, a new break in the line exposed itself about 10 to 20 feet North of the original one. Right on the property line, but our neighbors seemed to have zero interest in getting it fixed.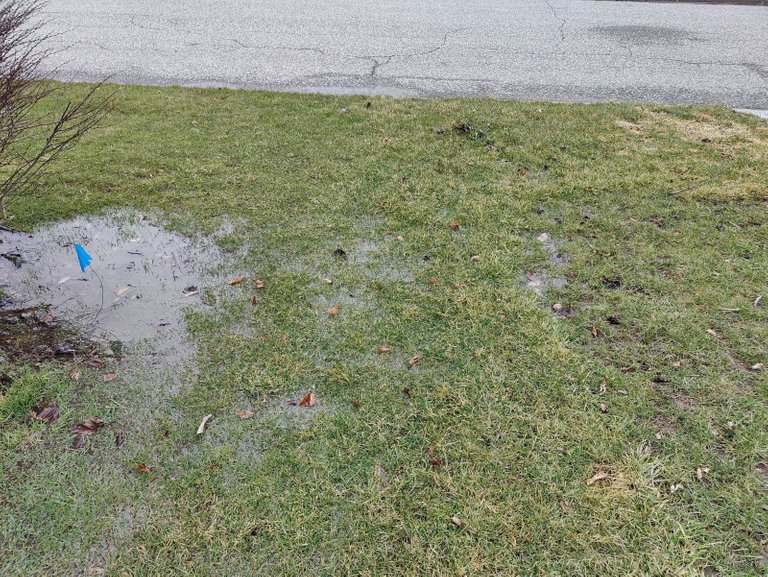 ---
Even when it flooded our front yards like this.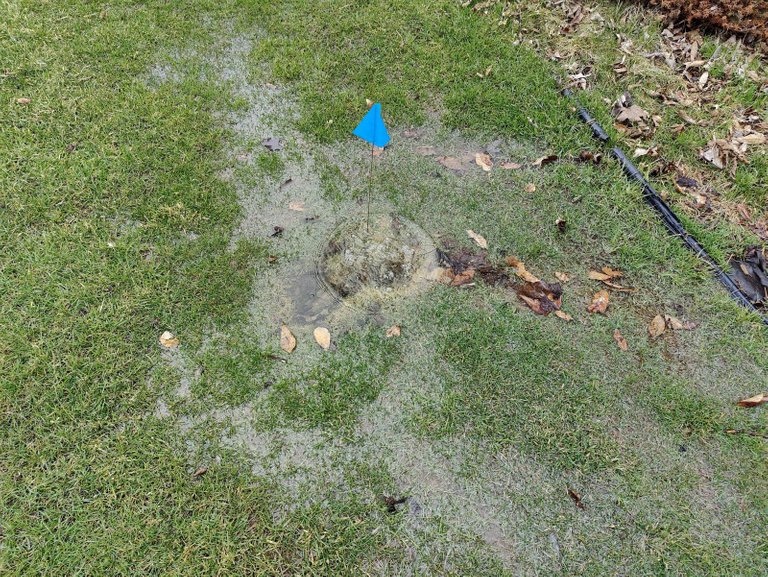 ---
I caught this photo at the very moment one of the sump pumps was running. You can see the water bubbling up from the ground. It was almost comical to watch if you weren't so worried about how much it was going to cost to fix it.
You could actually see the ground around the hole heave and settle when the water came flowing up.
We had a fairly dry summer this year, so getting it fixed wasn't too high on my radar. Plus, the first company I called said they wouldn't be able to get a crew on site to fix it until summer of 2023.
Eventually, I called a different company and they were more than happy to come help out.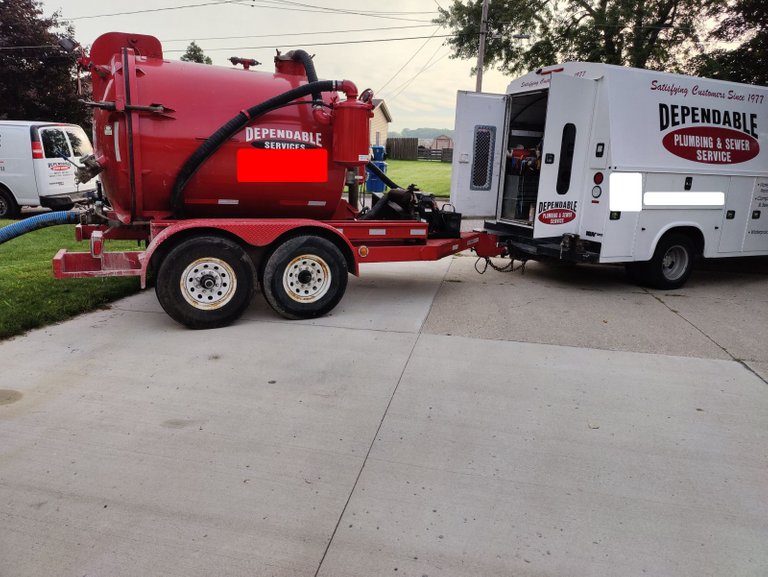 ---
When they came to do the initial inspection, I wasn't able to be home. They talked to @mrsbozz and she explained to them exactly what was going on. I'm still really happy with the job they did, but they made a fundamental mistake on that first meeting with my wife. Maybe they were busy, maybe it was because she is a woman, but they didn't listen to her and that ended up costing them a lot of time when they finally showed up yesterday.
If you look at the previous photos you will see that my buddy had to rent an excavator to do the job. The people yesterday came out with a hydro vac truck. They thought the break was going to be a foot or two down and they were going to be able to easily repair it.
Like I said, my wife was very clear with them that the tile was five or six feet down and had they listened, they could have saved some time.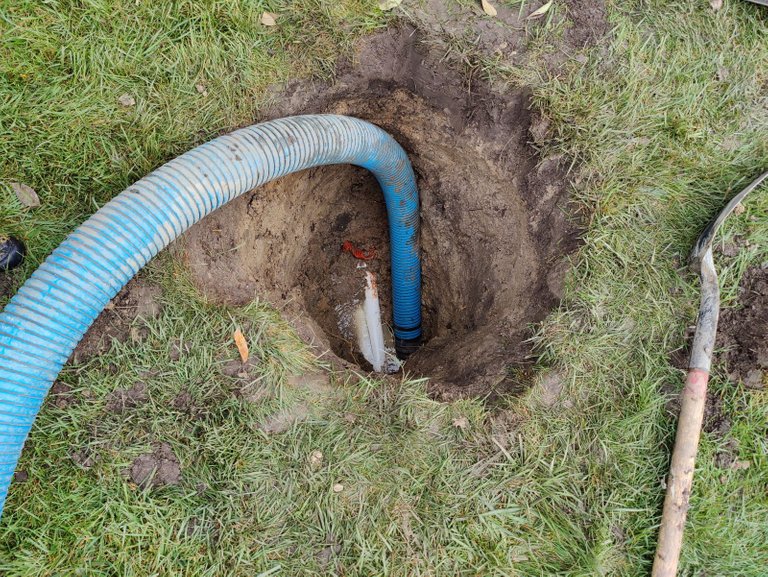 ---
The opening photo is the results of them hydro vac'ing the area. Yes, they exposed the tile and the break (about six feet down), but they didn't clear a large enough area to fix it. They ended up needing to get their excavator to dig a larger hole.
Actually, let me back up a bit. At this point they called me out and asked me what I wanted to do. The worker was pretty sure this should be an issue covered by the township. I knew the township wouldn't want to take responsibility, but I called them anyway.
To my surprise, two guys from the township showed up in less than 10 minutes to check it out. As expected, they passed the buck and promised they would call the drain commission and the road commission.
---
You see, this tile runs the length of the road, each house has a sump pump that feeds into the tile then the tile runs into the storm sewer and that storm sewer runs into a drainage ditch on the other side of the road from us.
The worker I hired contended that if everyone's sump runs into it and it connects to the storm sewer then it is part of the storm drain system and not our responsibility to fix it. It wasn't much of a surprise when each of the municipalities showed up and said "nope, not our problem, that is up to the homeowner to fix".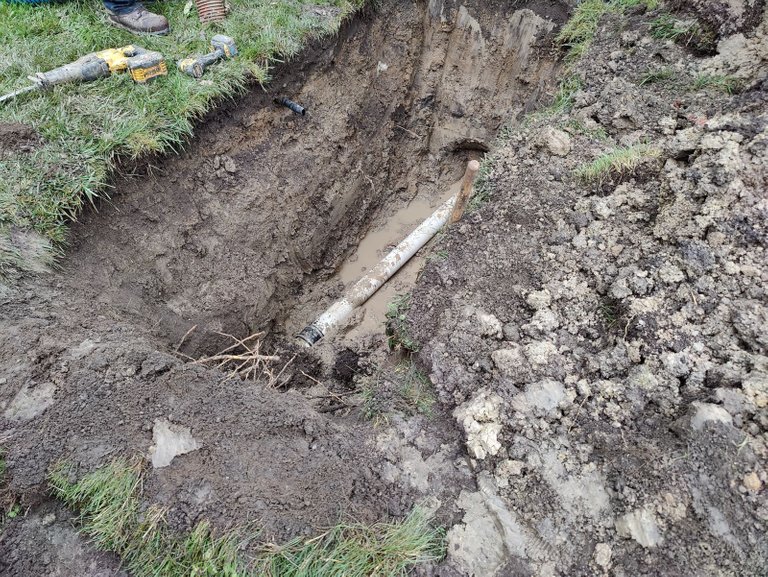 ---
Needless to say, the worker I hired thought it was "BS" that everyone was passing the buck, but we kind of expected that too. They excavated the area and cut the tile, then they added a patch with a couple of Fernco connectors. The picture above is the end result.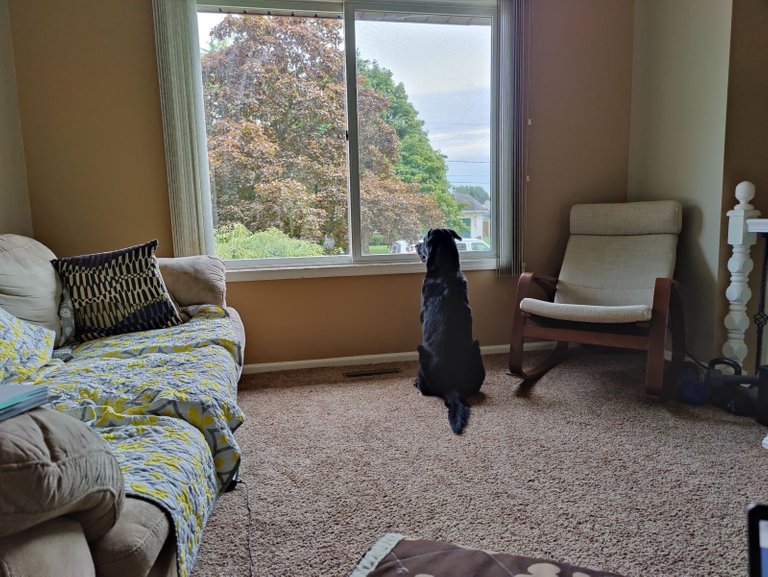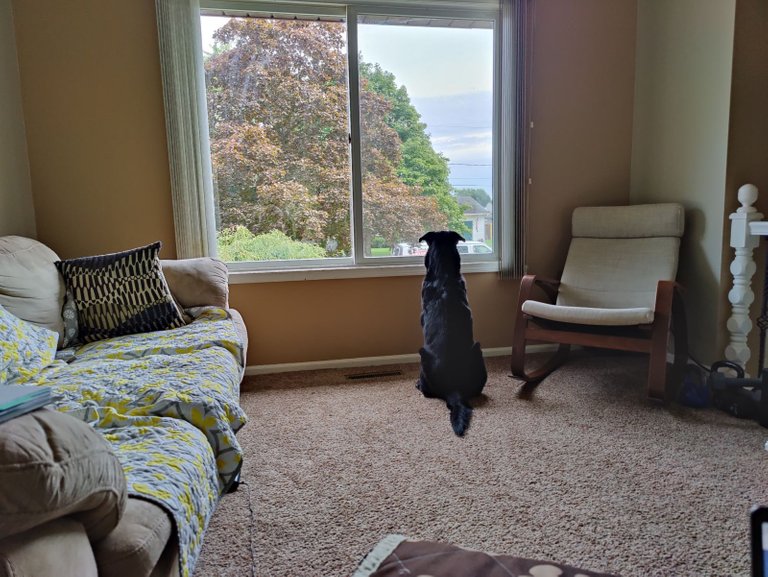 ---
Our dog Jovi was doing an excellent job of supervising the whole thing. I took the day off and stayed home with her so we could make sure everything was completed to our satisfation.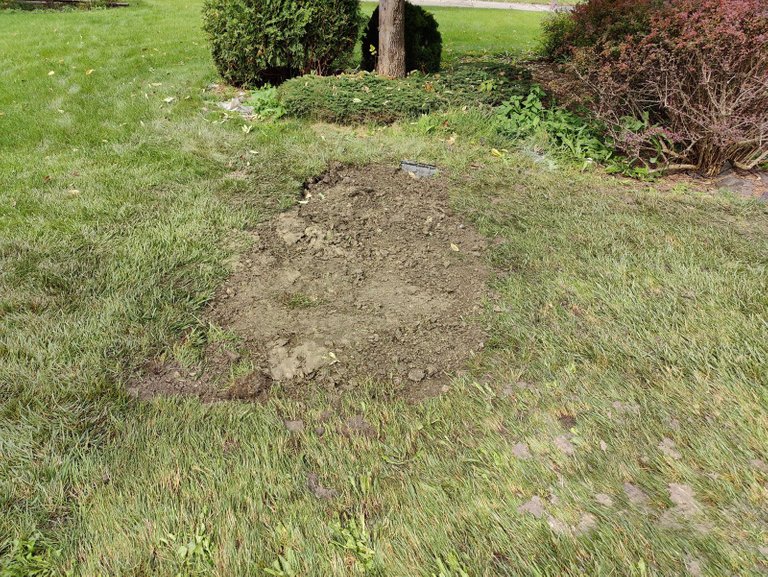 ---
I was pretty impressed with how well they cleaned up after the giant mess they made getting to the break. The guy let me know that the ground would probably settle where they filled the hole. He said to let him know and he would come back out with some topsoil to cover it up. He said they don't usually do that, but he felt bad about how the township and county was shafting me.
I plan on hiring a landscaper this fall to come out and treat my front lawn anyway, so I will likely have them do some cleanup over there so I can be sure to have grass growing again next spring.
The thing that really drives me crazy is the fact that there is no guarantee this tile won't break again somewhere else. In fact, now that we have patched this weakest point, it is very likely it will break again somewhere else.
At this point my only hope is that it isn't on my property. Not that I wish ill on anyone else, but I have already dumped $3500 into the two repairs of this tile that really shouldn't be my responsibility.
Although my friend only charged me $1500 there was a reason I went with a different company that charged more money this time. For one, my friend is very busy and it would have taken away his regular work to try and fit me in. Two, the company I hired was able to pressure test the tile both ways to at least ensure it was clear.
Realistically, the whole tile needs to be tore up and replaced the entire length of the road, but no one is going to want to tear up driveways and eat the cost to do that.
Like I said, it's not a question of "if" it fails again, it is a questions of "when". I just hope it isn't on my property next time.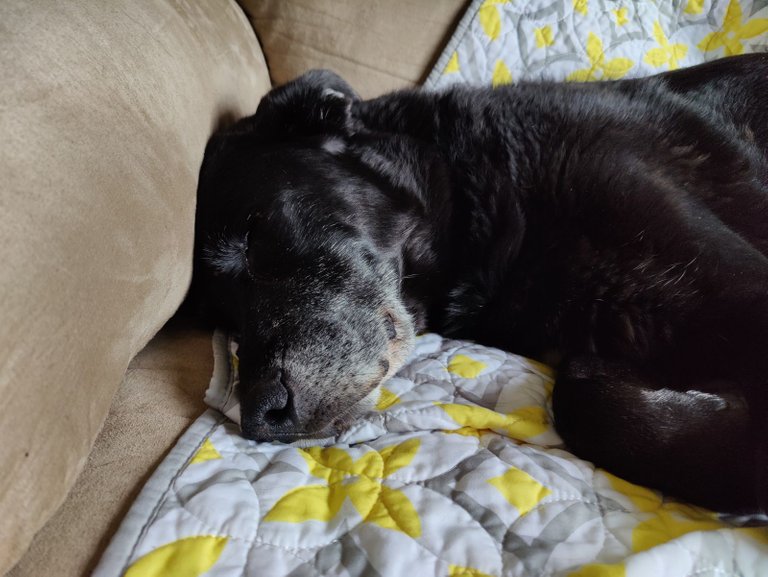 ---
Supervising is hard work. As you can see, Jovi was plain tuckered out from all the excitement of the day!
I do have some peace knowing it is taken care of, but I just have that lingering dread in the back of my mind that it is going to happen again...
---
---

---
All pictures/screenshots taken by myself or @mrsbozz unless otherwise sourced
---
---