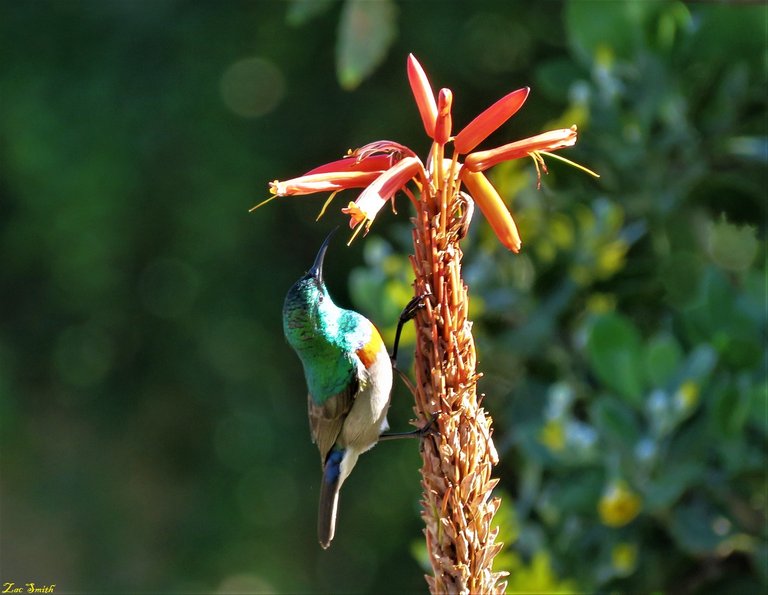 This is the male sunbird inspecting a flower for some nectar!
We have no hummingbirds here in the Cape, but instead we have the small sunbirds and they are a treat to watch in action. Our garden is slowly being transformed into a bird haven and Spring will bring many delightful birds here again.
Come have a look at the sunbirds!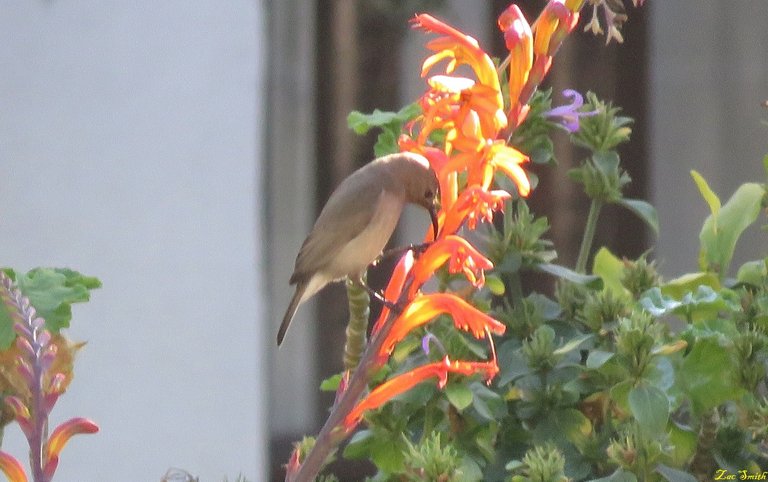 You wanted to see the female and here she is!
Much smaller than the male and she doesn't sing, but she doesn't have to, as she is just a tiny cutie!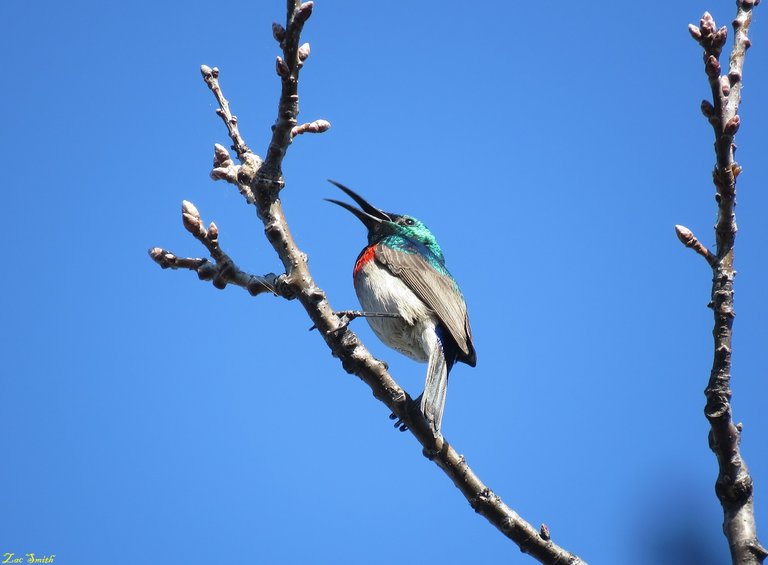 One thing about this little guy, he loves to sing all day long.
Short bursts of tinkling sounds!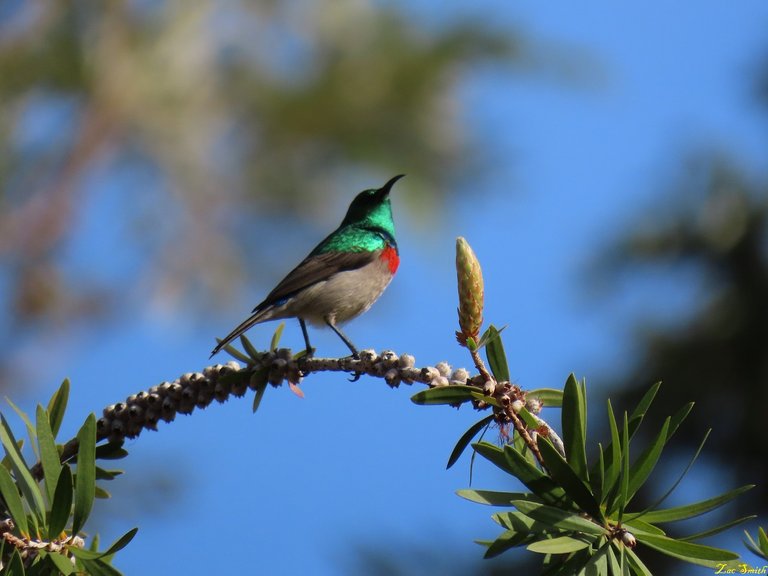 At times they also do some sky gazing for little flying insects!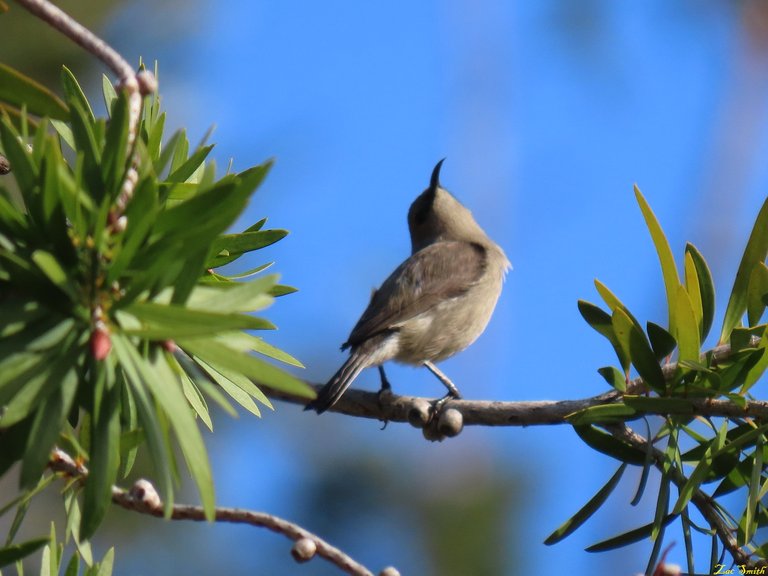 Here we have the cute little lady also searching for a meal.
Their old nest was blown out by a gale force wind, but the good news is that they are building a new nest!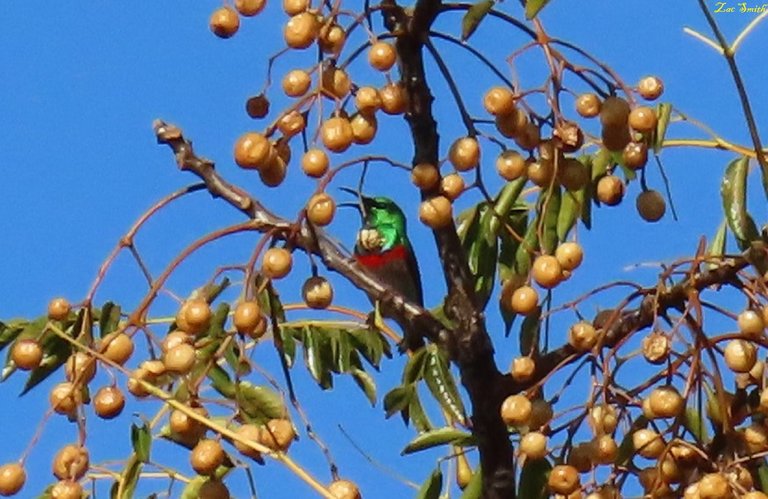 The Syringa tree singer between the yellow berries!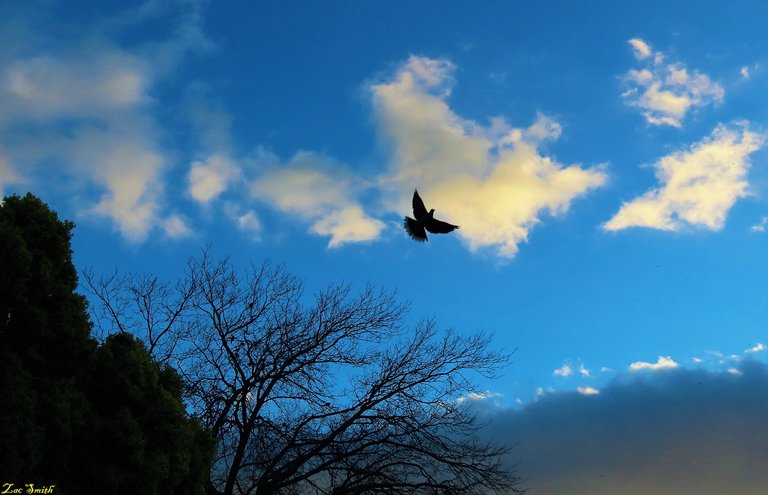 As night was approaching it was time for the birds to go home!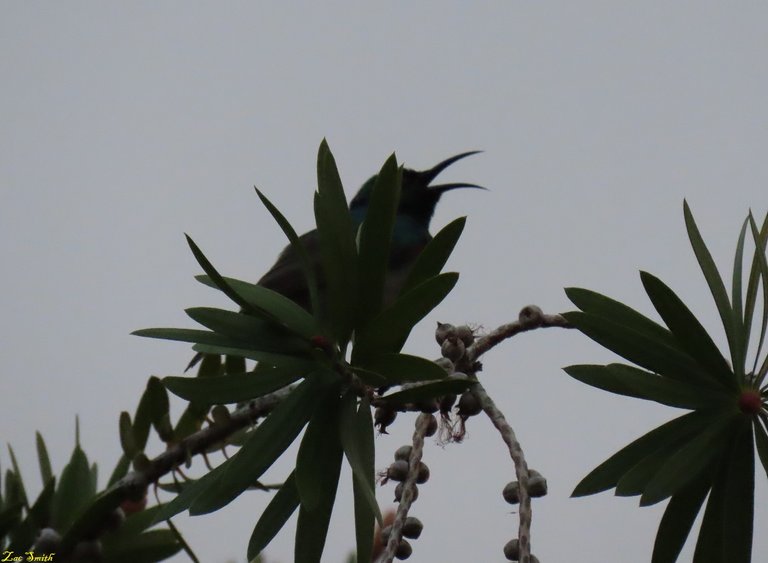 Finally, here's our little songbird with his Good Night song!
The red-collared sunbirds have only 3 enemies, cats, cuckoos and of course man.
Cats can catch and eat them, in fact a neighbor has seen one of the house cats here taking a sunbird. Cuckoos lay their eggs in the sunbirds nests and mankind catch and cage them for sales.
My blood boils when I see ads about sunbirds for sale.
I have even stopped to place posts about our dwarf chameleons, as people keep asking me where exactly they are. They sell for an expensive price and nobody is going to sell our wild animals.
The little sunbirds are safe here as long as we are around and we intend to keep it that way!
And That's All Folks!
Note: All photos are my own, unedited and cropped for uploading.
Camera used: Canon Powershot SX60HS.
We hope that you have enjoyed the photos and thank you for visiting a post by @papilloncharity
Disclaimer:
The articles, trademarks, and photos appearing on this @papilloncharity site may not be used in any advertising or publicity, or affiliation with any product or service, or for private purposes, without the author's prior written permission.
All posts are placed without prejudice!
PLEASE DO NOT COPY