Happy day @Hive Community:
Feliz día Comunidad @Hive:
We are happy to present a great gift made by our brother Marcos Molina @minueteacademy, on the eve of the celebration of World Day against child labor, the extract of the song is based on the biblical account in the books of Luke the Good Samaritan, that who has compassion for his neighbor.
Estamos felices de presentar un gran regalo realizado por nuestro hermano Marcos Molina @minueteacademy, en visperas de la celebracion del dia Mundial contrada el trabajo infantil, el extracto de la canción está basada en el relato biblico en el libros de Lucas el buen Samaritano, aquel que tiene compasion por su projimo.

JOIN AND BECOME A CHANGE AGENT HELP CHILDREN IN VENEZUELA
ÚNETE Y CONVIÉRTETE EN UN AGENTE DE CAMBIO AYUDA A LOS NIÑOS EN VENEZUELA.
End child labor


One in 10 of all children worldwide are in child labor situations. While it is true that the number of children in child labor has decreased by 94 million since 2000, the rate of reduction has slowed by two thirds in recent years. One of the goals of Sustainable Development Goal 8 demands the end of child labor in all its forms by 2025.
ONU
Acabar con el trabajo infantil


Uno de cada 10 de todos los niños en todo el mundo están en situación de trabajo infantil. Si bien es cierto que el número de niños en situación de trabajo infantil ha disminuido en 94 millones desde 2000, la tasa de reducción se desaceleró en dos tercios en los últimos años. Una de las metas del Objetivo de Desarrollo Sostenible 8 exige el fin del trabajo infantil en todas sus formas para 2025.
ONU
From Venezuela we join a single voice against child labor, in these times of pandemic with the covid-19 the most vulnerable especially in poor countries are children. Let's make an effort and protect the little ones.
Desde Venezuela nos unimos a una sola voz en contra del trabajo infantil, en estos tiempos de pandemia con el covid-19 los mas vulnerables sobretodo en países pobres son los niños. Hagamos un esfuerzo y protejamos a los mas pequeños.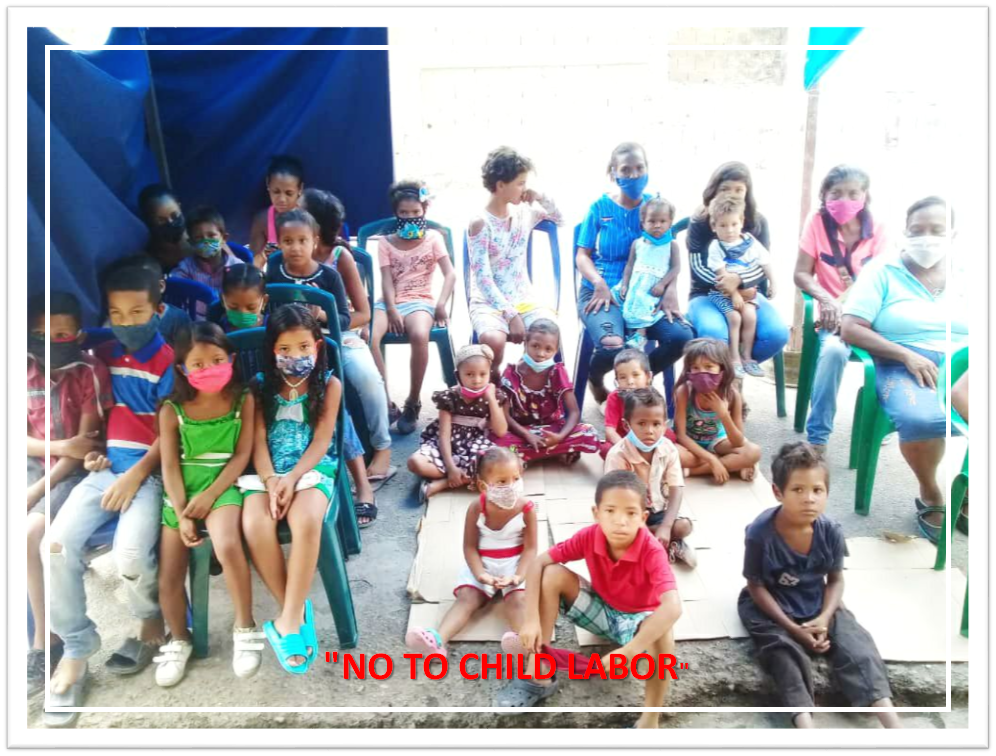 We bring a summary about the reflections of entities and organizations to combat this scourge. June 12 is the World Day against Child Labor. Millions of children around the world are engaged in some type of hazardous or exploited work, usually at the expense of their health and education and, above all, their general well-being and development.
In order to raise awareness about child exploitation, UNICEF Spain launched the "#TheUnescapeRoom" campaign. With this video social experiment we seek to put ourselves in the shoes of children who work in the most extreme conditions.
Traemos un resumen acerca de las reflexiones de entes y organismos para combatir este flagelo.El 12 de junio es el Día Mundial contra el Trabajo Infantil. Millones de niños de todo el mundo se dedican a algún tipo de trabajo peligroso o en el que son explotados, por lo general a expensas de su salud y su educación y, sobre todo, de su bienestar general y desarrollo.
Con objetivo de sensibilizar sobre la explotación infantil, UNICEF España lanzó la campaña "#TheUnescapeRoom". Con este video experimento social buscamos ponernos en la piel de los niños que trabajan en las condiciones más extremas.
COVID-19: Protect children against child labor, now more than ever! Is the UN statement and also made its promotional video.Africa ranks first among the regions, both by percentage of children in child labor (one fifth) and the absolute number of children in child labor situation: 72 million. Asia and the Pacific rank second with seven percent and 62 million in absolute terms.
The Africa and Asia-Pacific regions together number nearly nine out of ten children in child labor situations worldwide. The remaining population is divided between the Americas (11 million), Europe and Central Asia (6 million), and the Arab States (1 million). In terms of incidence, five percent of children are in child labor situation in the Americas, four in Europe and Central Asia, and three in the Arab States.
África ocupa el primer lugar entre las regiones, tanto por porcentaje de niños en trabajo infantil (un quinta parte) como el número absoluto de niños en situación de trabajo infantil: 72 millones. Asia y el Pacífico ocupan el segundo lugar con un siete por ciento y 62 millones en términos absolutos.
Las regiones de África y Asia y el Pacífico juntas alcanzan la cifra de casi nueve de cada diez niños en situación de trabajo infantil en todo el mundo. La población restante se divide entre las Américas (11 millones), Europa y Asia Central (6 millones) y los Estados árabes (1 millón). En términos de incidencia, el cinco por ciento de los niños están en situación de trabajo infantil en las Américas, el cuatro en Europa y Asia Central, y el tres en los Estados Árabes.
In Venezuela, the authorities ratify social policies on the World Day against Child Labor.
En Venezuela las autoridades ratificaron políticas sociales en el Día Mundial contra el Trabajo Infantil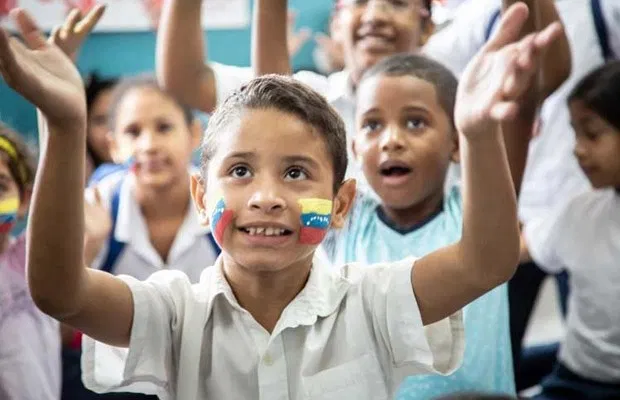 We from HeartCHurch Venezuela also raise our voices with facts and social work to protect our children and that love always lives.Although child labor has decreased and is decreasing worldwide, and although the figures are encouraging, the fight against this fact continues in order to ensure that affected children have access to a life worthy and proportional to an individual of their age.
Nosotros desde HeartCHurch Venezuela también alzamos nuestra voz con hechos y trabajo social para proteger a nuestros niños y que siempre viva el amor.Aunque el trabajo infantil ha disminuido y está disminuyendo en el mundo entero, y aunque las cifras son alentadoras, la lucha contra este hecho continúa en aras de lograr que los niños afectados tengan acceso a una vida digna y proporcional a un individuo de su edad.
---
Visit reference pages:
https://www.unicef.es/noticia/dia-mundial-contra-el-trabajo-infantil
https://www.un.org/es/observances/World-Day-Against-Child-Labour
We thank our collaborators
@sirknight,@sniffnscurry,@pennsif,@adollaraday,@fundition,@redpalestino, @wilx, @charitycurator, @theycallmedan,@curatorhulk, @impactn-projects,@partiko,@newhope, @hanshotfirst.
@penguinpablo
,
@exyle
,
@hive-175254
---
---