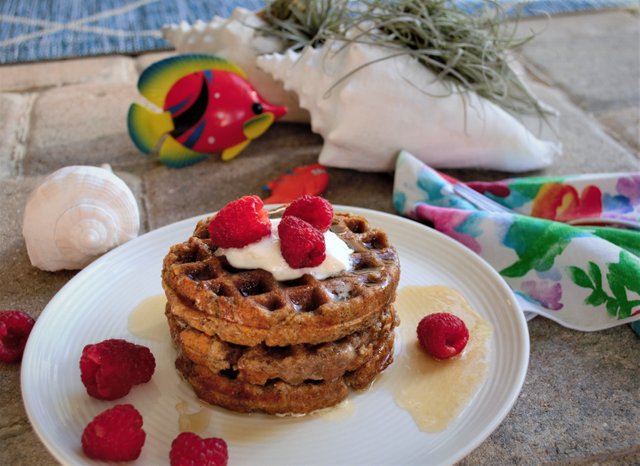 Okay, did I just say our day began with Waffles?
---
I realized we had quite a few apples which needed a bit of attention so applesauce was cooking on the stove when everyone rolled out of bed this morning. When I asked my grandson what he would like for breakfast he replied "awffles". Easy enough! How about apple awffles!
---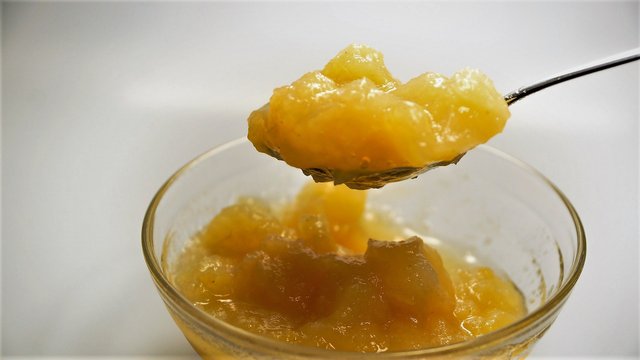 photo thx to pixabay
---
Bird's "awffles"
Almond Milk (3/4 cup)
Coconut Oil (2 tbsp.)
Vanilla (1 tsp)
Flax seed (1 tbsp.)
Applesauce (1/4 cup)
Gluten free flour (1 cup)
Baking Powder (1 tsp)
Baking Soda (1/4 tsp)
Dash of salt
---
While I made waffles the little guy discovered yet another visitor to the Bird nest! Heading out to take a stroll around the yard Grandfather quickly spied our green breakfast guest.


Well, hello!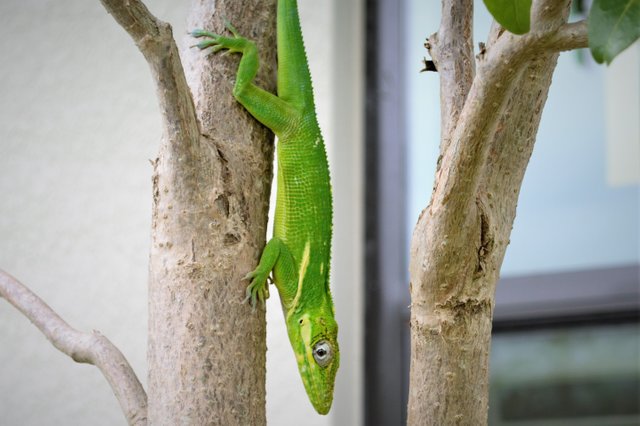 Just about the time...
this guy spied my grandson, it was all over! Too much excitement, luckily breakfast was ready!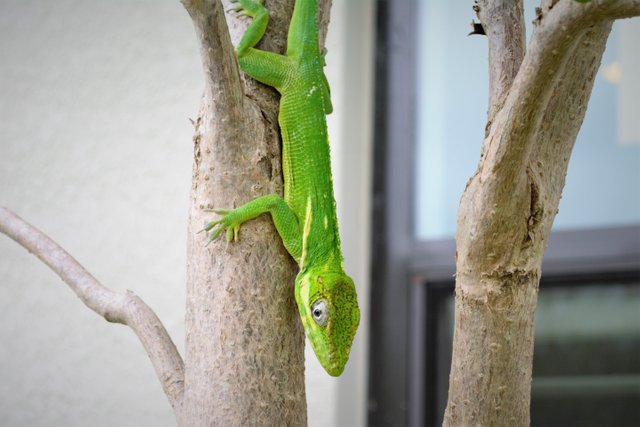 With just a drizzle of maple syrup…
these waffles were gone in no time.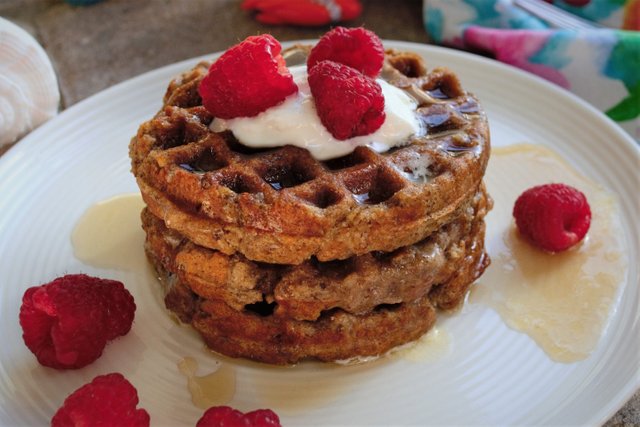 I did say a drizzle didn't I?
I am constantly amazed as I remember all of cleanup I used to do when my daughters were young! Oh yes,those sticky hands, chairs, tables and floors! Thank goodness my grandson is strapped into his chair during meals! A little drizzle certainly goes a long way.
---
We've been going through hand soap by the gallons...
I don't know about you but I haven't been able to buy hand soap.Shelves are bare at the market. Hand sanitizers are wonderful but to eliminate dirt and some germs hand soap is much more effective with sticky hands. Luckily I have been able to find the ingredients to make it myself! Liquid Castile Soap, Almond Oil, Tea Tree Oil and your favorite essential oil for fragrance is all you need!
---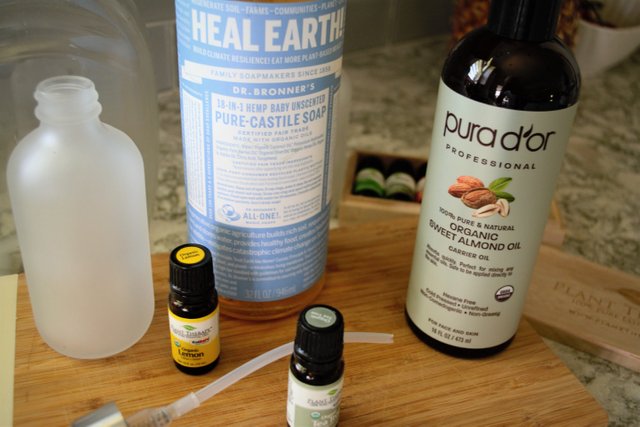 ---
Bird's Sticky Hand Solution!
Liquid Castile Soap (1/2 cup)
Filtered Water (1/2 cup)
(Tea Tree Oil (10 drops)
Essential Oil of your choice (15 drops)
---
Liquid Castile soap…
is the basis for our hand soap. Castile soap is an olive oil based soap, no animal fat oil here! There are many manufacturers to choose from; just make sure it is a natural Castile liquid soap without fillers and additives. Your skin will thank you during these times where we find ourselves washing our hands more than usual. I love Dr. Bonners, but I have also purchased Dr. Woods. I have had great results with both.
---
Sweet Almond Oil…
is so soothing to the skin. Adding the Almond Oil will help protect the moisture in your skin.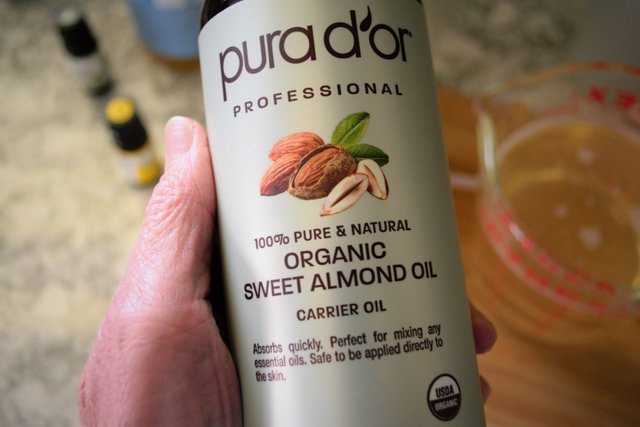 Tea Tree Oil…
is a wonderful antibacterial oil. Chapped and irritated skin will appreciate the healing properties of tea tree oils.
Lemon perhaps?
Feel free to use your favorite fragrance. I thought lemon would be a nice fresh scent this time.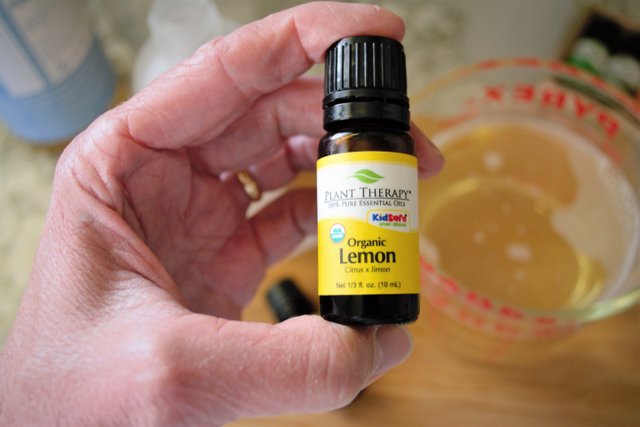 Combine all…
and pour into your favorite soap dispensers.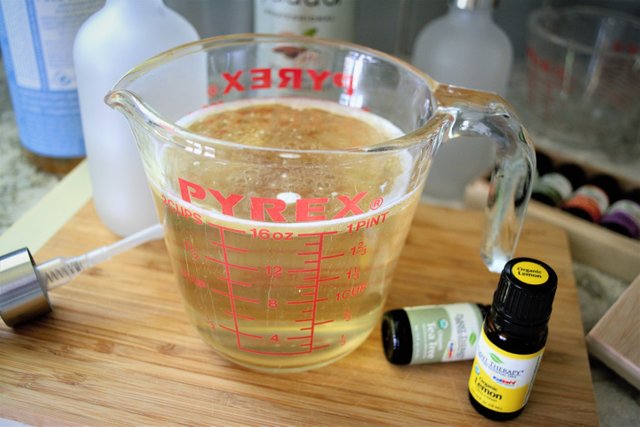 No sticky hands around the Bird's nest!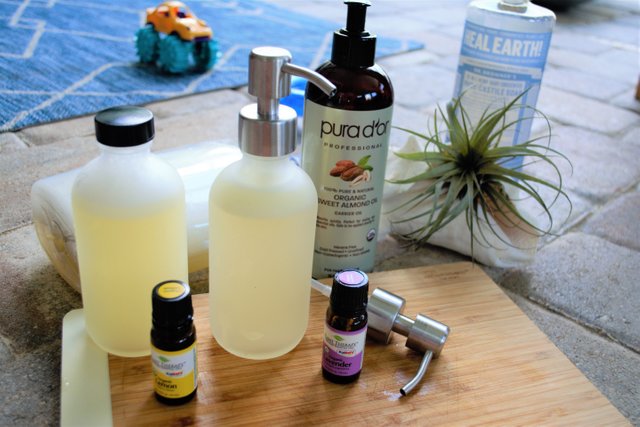 ---
The soap dispensers are filled and the little guy has a full tummy a new green friend and lemony sweet clean hands….for now! lol. I hope you'll try it. With hand soaps flying off the shelves at the market making your own hand soap is a perfect solution. Plus, it's much less expensive! Thanks for stopping by!
---
Remember, wash those hands and practice social distancing!
And as always, blessings to you all!