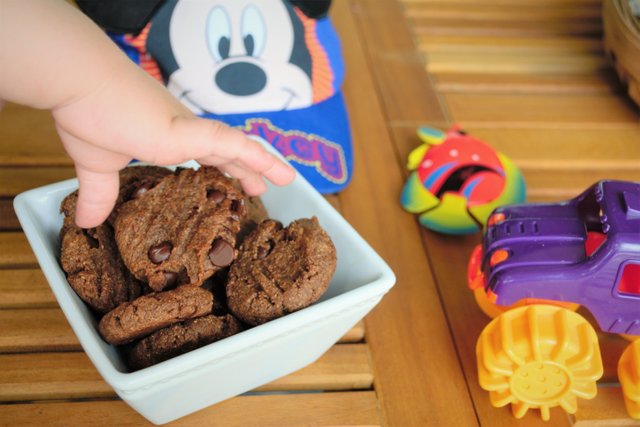 Salutations my sweet friends!

Ah, life with a toddler...
has brought back so many memories! Time seems to fly by with one day blending into the next. Our mornings always entail a sweet walk to visit the newest construction site. We could sit for hours, just watching the trucks!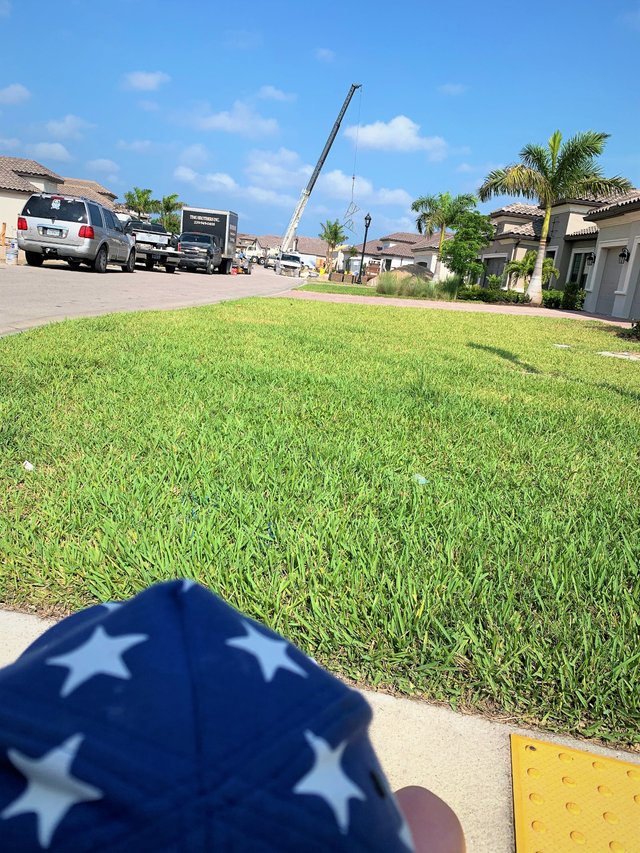 ---
Of course by the time we return home it's time for a snack! Bubbles would keep him busy for a while I headed to the kitchen! Making your own bubble liquid is so simple by using liquid dishwashing soap, water and glycerin or syrup. A little goes a long way! Hours of fun as you can see!
---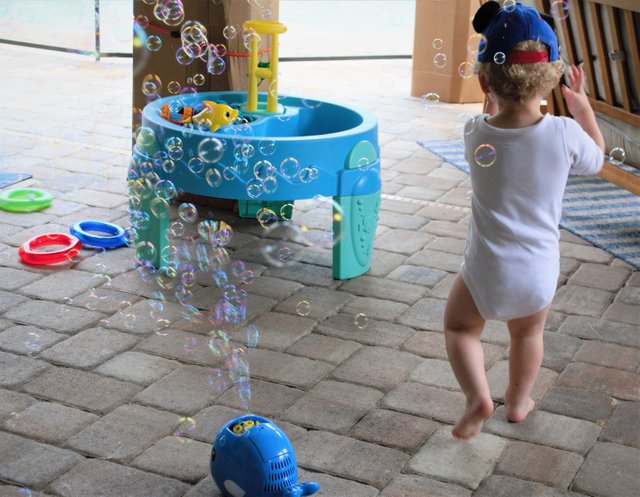 Meanwhile in the Bird kitchen…
we're making Cacao Kisses! With the quarantine still in place we've been trying to rely on pantry items to create tasty treats. I always try to have an assortment of nuts available to make nut butters when I need them. They're surprisingly easy to make and nice for those quick recipes. Hazelnuts were the nuts I grabbed this morning! Nutella will be the base of this 5 ingredient cookie recipe. Yep, only 5 ingredients, and I'm not using any eggs! But first, let's make Nutella!
Nutella
3 Ingredients! That's all you need!
Hazelnuts (2 cups)
Cacao or Cocoa (2 tbsp.)
Maple Syrup (3 tbsp.)
---
Roast the hazelnuts…
by preheating the oven to 350 degrees. Place the hazelnuts in a single layer on a parchment lined baking sheet. Roast for about 10 minutes! Don't let them burn! Let them cool and then remove the thin shell covering.
---
Quick tip!
Place the toasted hazelnuts in a clean dishtowel and rub them together in the towel. You'll be amazed, the shells come right off!
So much easier than trying to peel those little guys! Trust me, I've done it, lol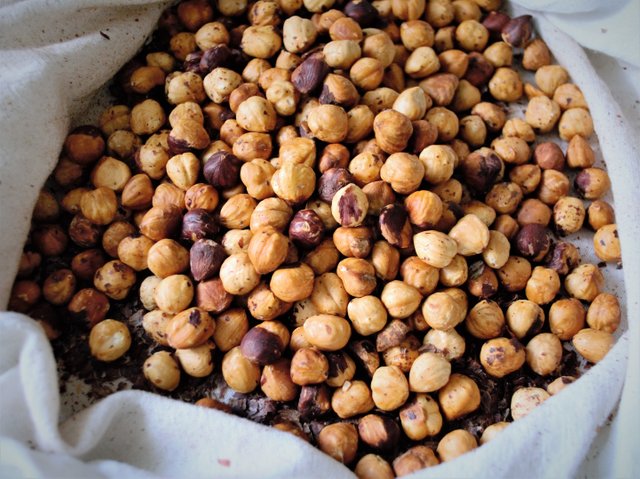 Grab your favorite…
Food processor or heavy duty blender. Yes of course I called good old Walter! Even at 40 years old he's always on standby for these challenges. Add the Cacao and Maple syrup and start processing. As they say…patience is a virtue! It's not done yet! Keep processing!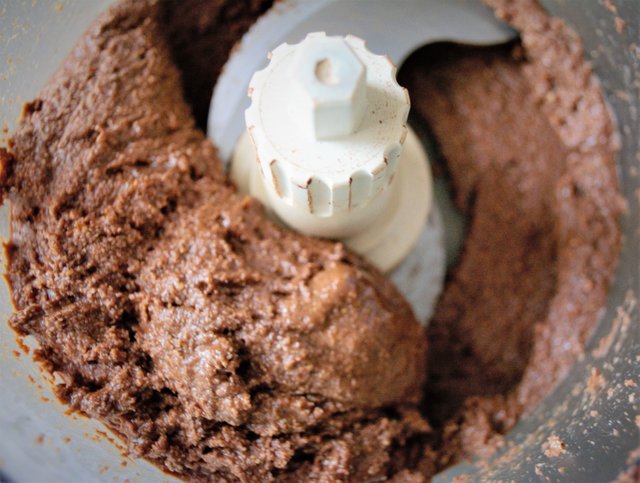 Now that's much better!
Dreamy Creamy Nutella! I continued to process for a few minutes more; I wanted a really smooth butter consistency! Into your favorite jar, it's great with apples, on toast, in smoothies and in cookies!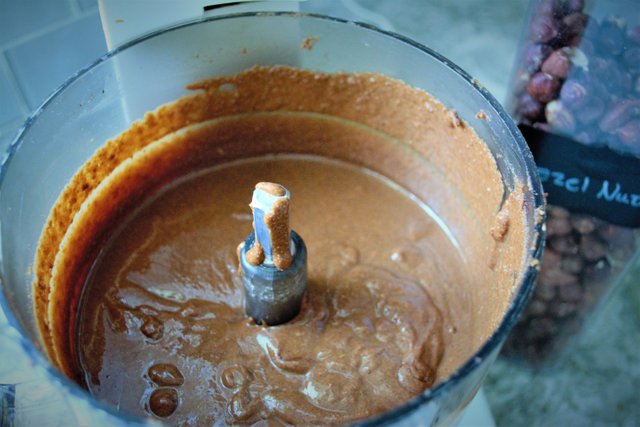 ---
Now we make the cacao kisses!
Nutella (1 cup)
Almond Flour (1 cup)
Chia Egg (qty 1)
Maple Syrup (2 tbsp.)
Dairy free Dark Chocolate Chips ( ¼ cup)
Note: 1 Chia egg= 1 tbsp. chia seeds + 3 tbsp. water. Let sit for 10 minutes before using
---
Time was of the essence at this point
Bubble time was over and the troops were heading in! With the oven preheated at 350 degrees I prepped my baking pan lined with parchment paper! Quickly combining all of the ingredients together except the chocolate chips I gave it a quick stir.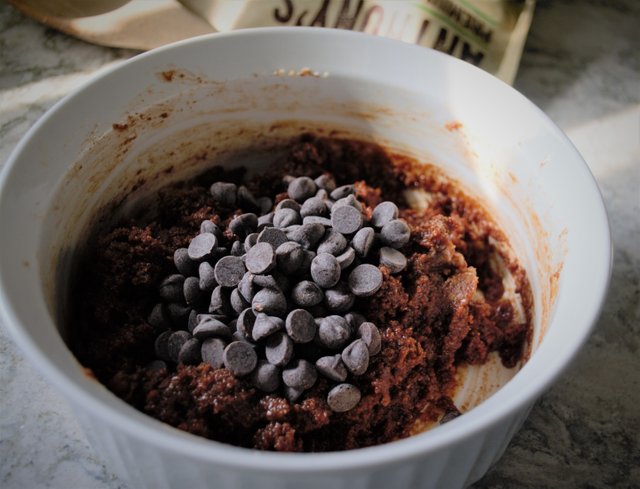 A few chips to the baby bird…
bought me a few more minutes!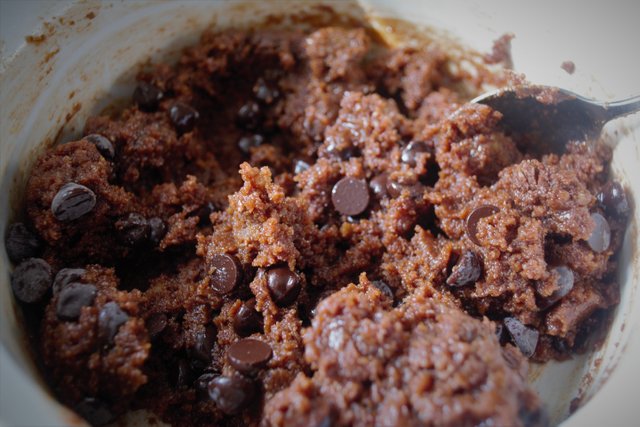 On to the baking sheet…
and pressed with a fork they were ready for the bake! 10 minutes later they were out of the oven and cooling!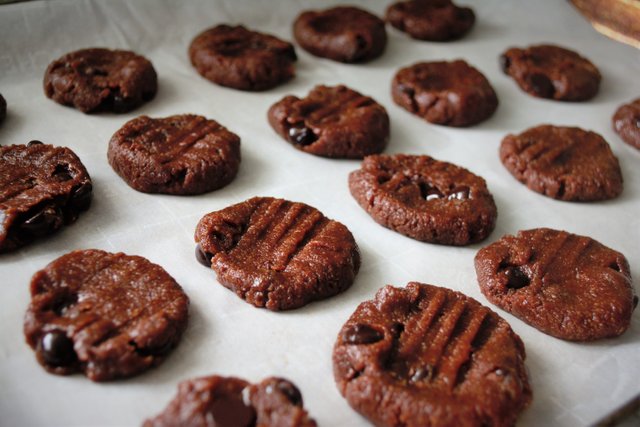 Finally, cookies were ready!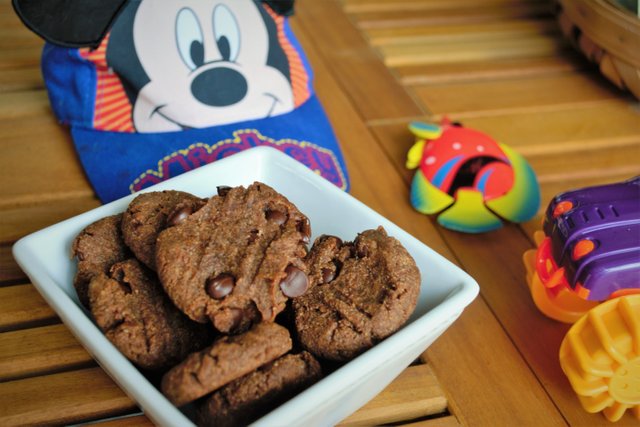 Did I tell you…
my grandson loves chocolate and Mickey Mouse?
You won't find a Bird who doesn't like chocolate,lol.
Dairy free dark chocolate chips by Enjoy Life are the chips we try to buy. Needless to say he was ready for cookies!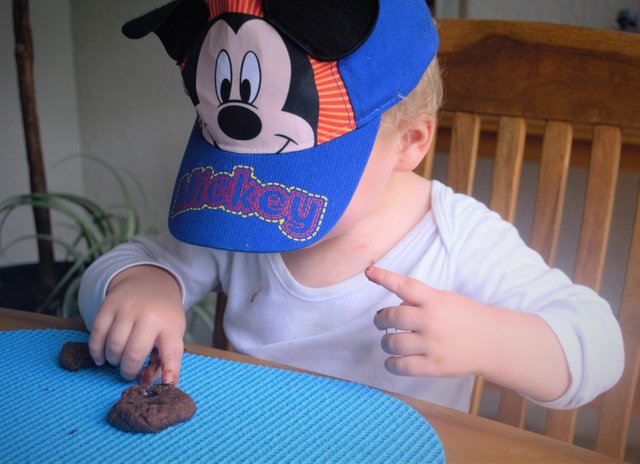 It didn't take long..
before we enjoyed a chocolate smile and a
more please
.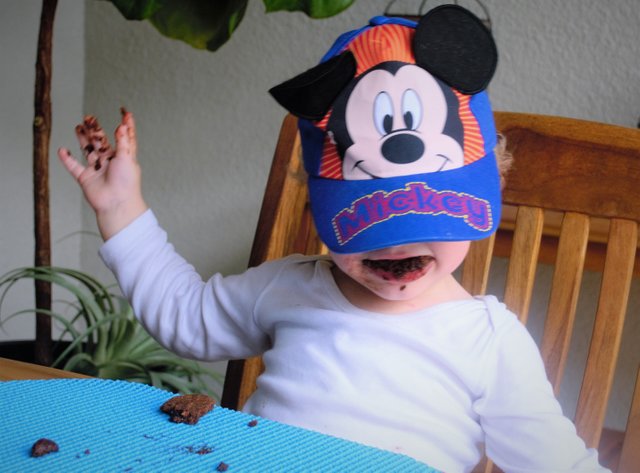 ---
I could bake all day long for this little guy. Grandchildren are such a treat; we are certainly blessed to have this time together. I hope you'll try this easy cookie recipe, I know your family and friends will love it! Thanks for stopping by, stay healthy and don't forget about social distancing! At least 6 feet!
---
And as always, blessings to you all!


---
---

---