Well the Phoebe bird with her chicks have all flown away.
It was interesting to discover how the young birds first learn to fly!
As you can see the chicks have grown pretty big and they have to really scrunch up to fit in the nest.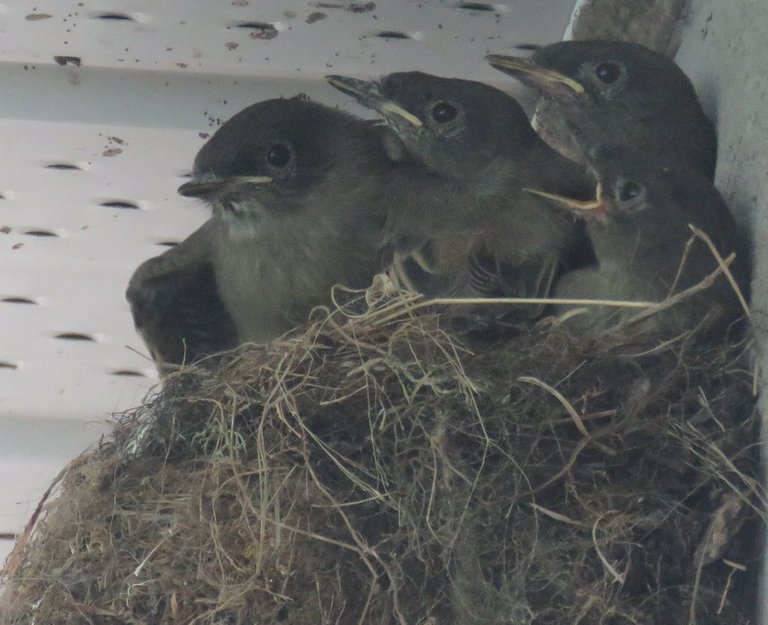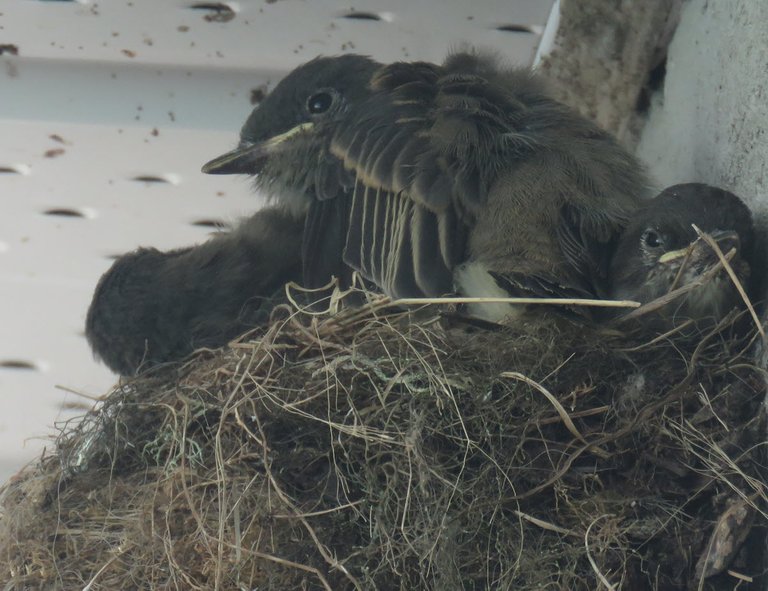 The momma bird has been feeding them regularly and they all open their beaks wide to get their share.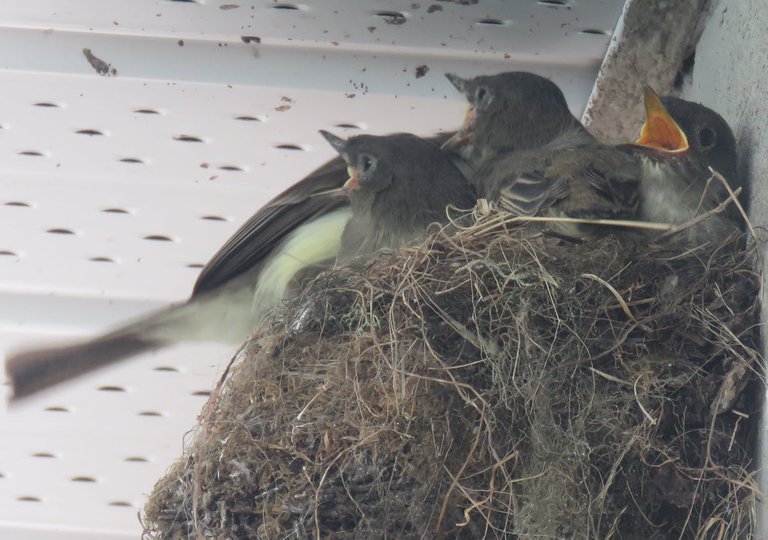 The young birds have begun to exercise their wings flapping them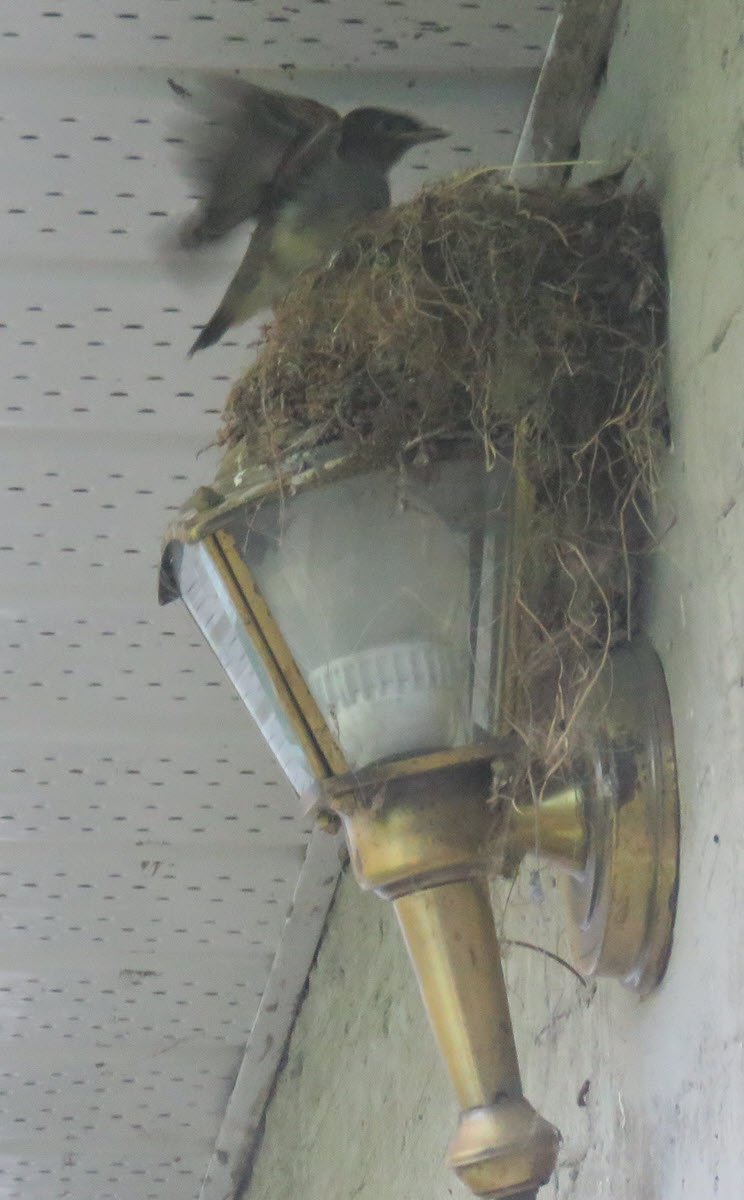 The mother bird when she came to the nest had flapped her wings while on the nest's edge and a couple of her youngsters flapped their wings just like she was doing and they took off flying with her.
There were a couple more left in the nest so after awhile when the mother returned once more she again flapped her wings to entice her young to fly but these two were not ready yet so she settled into the nest with them.
By the next day the last two were ready to fly and took off with their mother leaving the nest empty.
I was so happy that all four chick safely learned to fly and could accompany their mom!
Another bird that must have had a nest close by was the American tree sparrow who was giving me heck when I came to close as you can hear in the video below.
Close Up American Tree Sparrow Chirping in Spruce Tree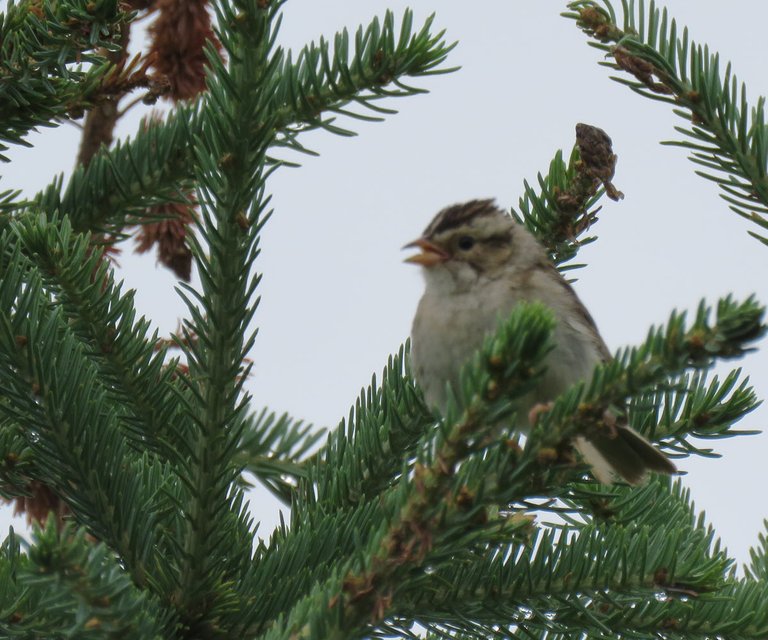 Upon a visit to a pond by the roadside I spotted a female ruddy duck with her six ducklings resting in the safety of the water. The give away that it was a ruddy duck was the way she was holding her tail up. Her ducklings were so cute and much younger than the Bufflehead ducklings that I had been watching grow. The Bufflehead ducklings were looking more like adult ducks as you can see in the photo below.
Ruddy Duck with Six Ducklings in Pond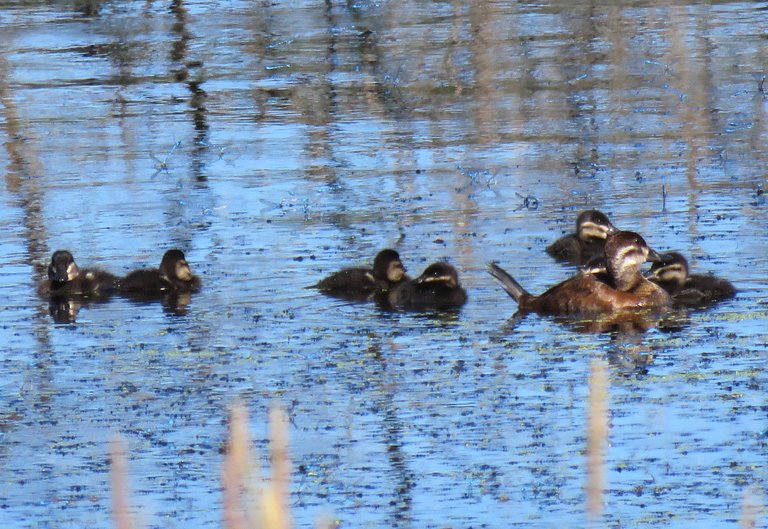 Close Up Ruddy Duck with Ducklings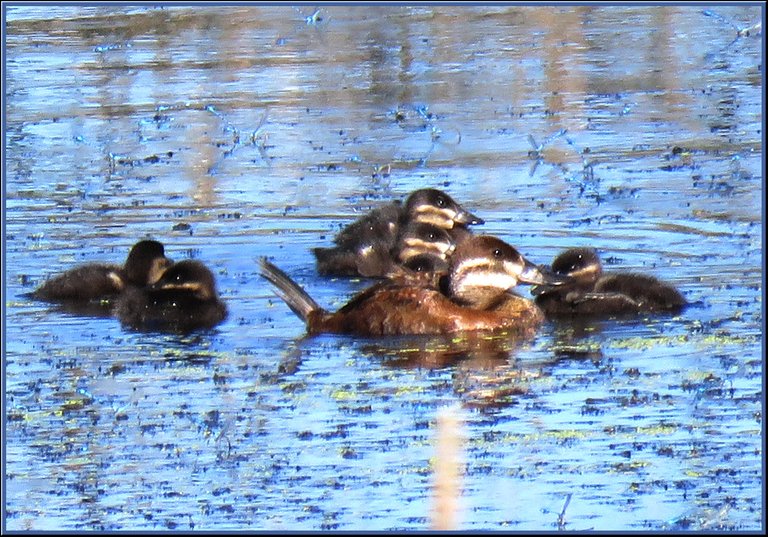 Close up Female Bufflehead Duck with 9 Nearly Grown Ducklings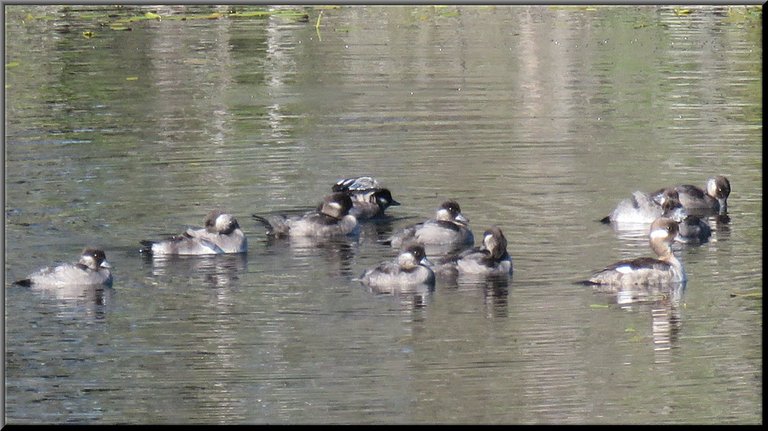 In the pasture near the pond the horses were contentedly grazing among the wildflowers and some young claves were out frolicking around.
Horses Grazing Contentedly Young Calves Playing in Background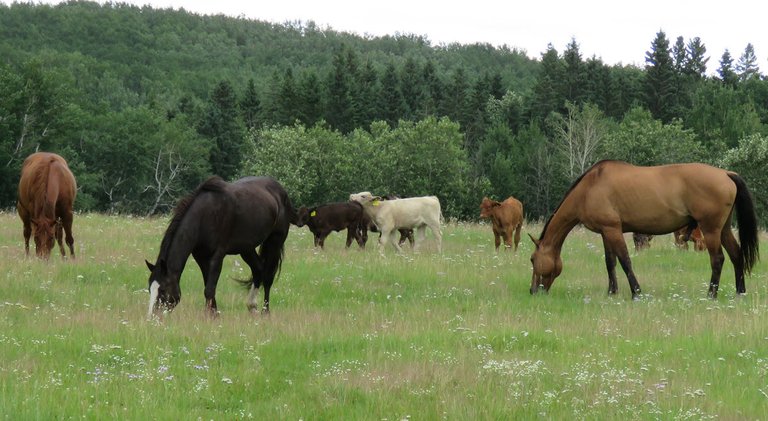 The horses were buds and a couple of them were giving each other back scratches.
Horses Giving Each Other a Back Scratch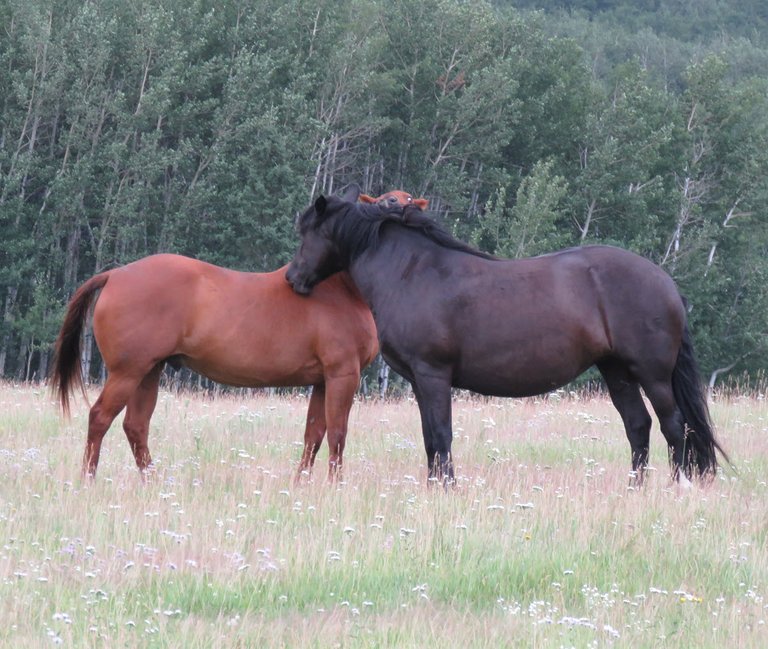 Young Calf Grazing Among the Wildflowers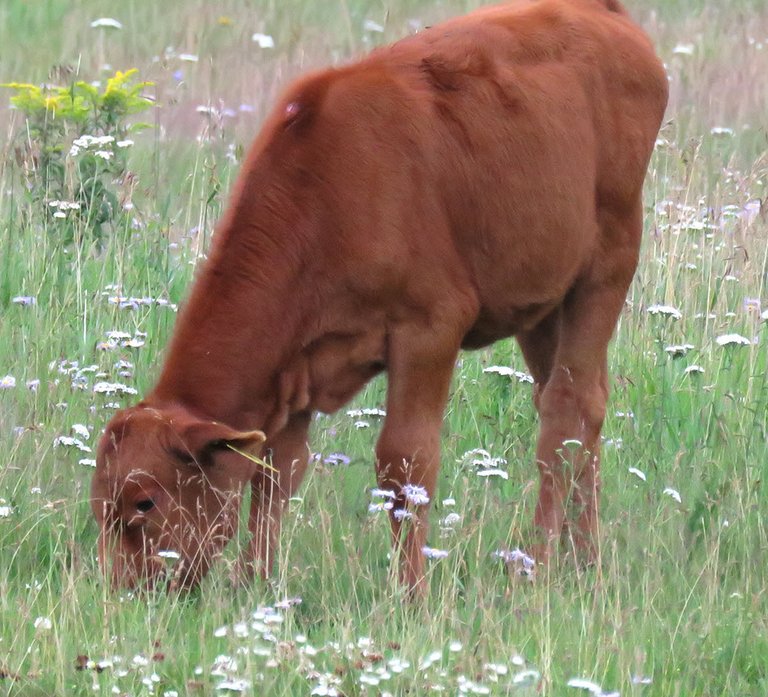 The young calves were quite curious about me and many of them came to check me out like this little fellow below.
Cute Calf Checking Me Out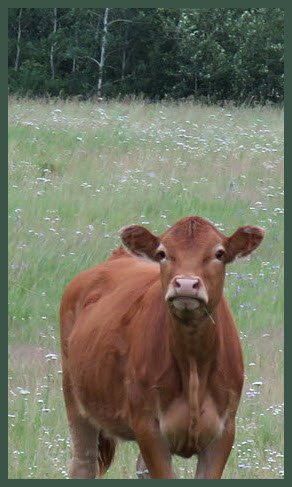 Along the roadside the goldenrod blooms were starting to open up.
Goldenrod Bloom Among the Hyssop Flowers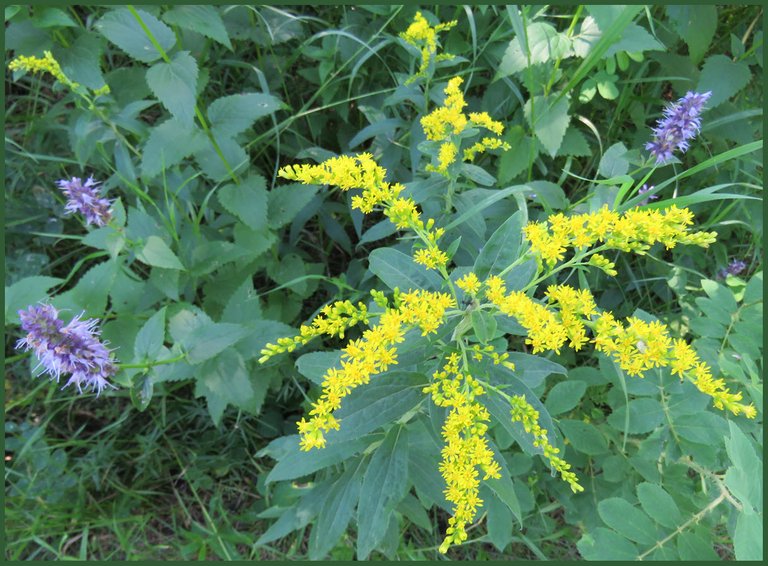 And on those blooms were the pollinators ensuring there would be a succession of plants to come.
Close Up Pollinator on Goldenrod Bloom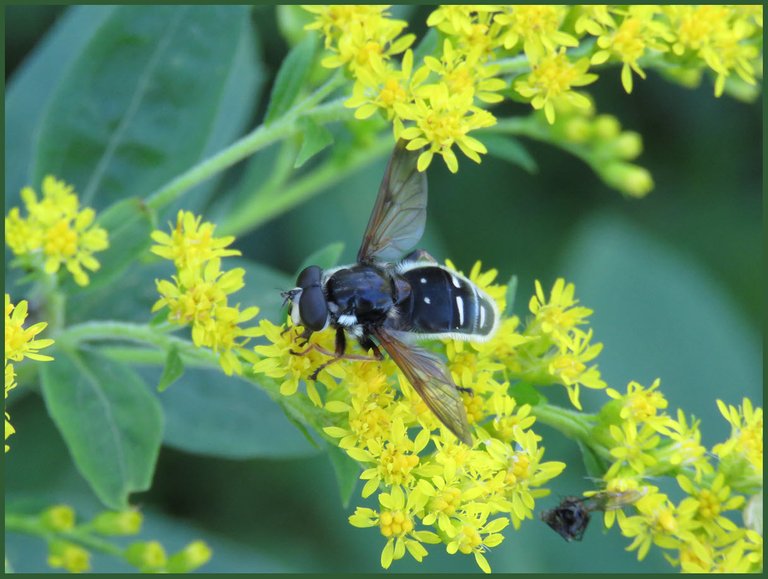 I'm sure there will be many more photo of the goldenrod blooms for they are just beginning and will be with us for the rest of the summer. I love their bright golden color!
This is my #WednesdayWalk hosted by @tattoodjay. He collaborates with @elizacheng and her #MakeMeSmile initiative see her latest post here

The photos were taken with my Canon PowerShot SX60 HS.
Thanks for stopping by!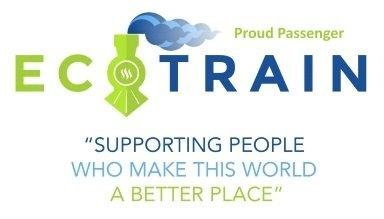 Discover previous ecoTrain magazines at @ecoTrain plus news on the Eco-Village at www.ecovillages.io

Join The Best Natural Health Community on Hive

MINDFUL LIFE is a Natural Medicine project which supports meditators on HIVE Discord II Community**

Creating Abundance on Hive