Right now our post payouts are in HP and HBD only. So most of us want to convert those HBD to HIVE.
---
If you are in a hurry and want to convert your HBDs into HIVE immediately then you're probably using an instant exchange that allows you to swap HBD to HIVE at a rate depending on the market values of HIVE and HBD. Or maybe if you're looking for a slightly better rate, you're using a traditional exchange where you sell your HBD to BTC and use BTC to buy HIVE.
---
At the current market rate of HIVE and HBD :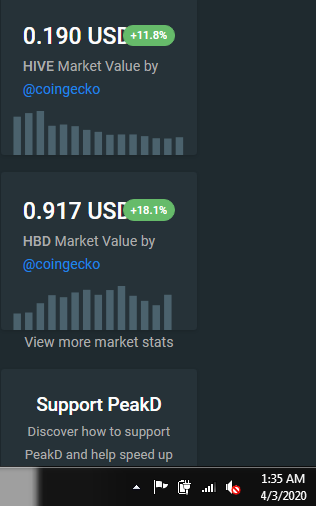 At this rate you should ideally get a rate of around 4.8 HIVE per HBD, but taking exchange fees into consideration, you'll actually end up getting 4.4-4.5 HIVE per HBD. So if you wanted to convert say for example, 7 HBD, you would get somewhere between 30-31.5 HIVE.
---
Another option if you need HIVE immediatley is to Use the HIVE internal trading market and how to use it has been explained very nicely in the post I linked by @rehan12.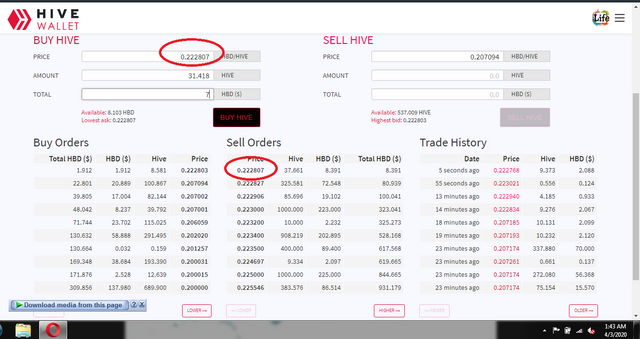 So basically, at the current market state, the best deal you can get is HIVE at 22 cents, even though the current market price is 19 cents as you can see in the first image. So, if you wanted to convert 7 HBD to HIVE, you will get around above 31.4 HIVE.
---
P.S. : Even when the market price of HIVE was around 17 cents earlier today, I checked the internal market, and even the best rate you would get was similar to what it is now. So even when HIVE was priced at 17 cents, you would have to pay around 22 cents per HIVE to convert your HBDs, because no one was sellingHIVE at a cheaper price.
---
But there's another method that a lot of us aren't aware of. That the convert to HIVE feature of Peakd. First I will show you how to use it and a bit of details of how the rate is calculated and by the time I'm done, you'll automatically know why you should be using this feature if you have time in your hand and don't need the HIVE immediately.
---
How to use the built-in Convert to HIVE feature?
Go to your wallet from Peakd.com and then find and click the Convert to HIVE.

---
The you just enter the amount of HBD you want to convert and proceed. Note however that, as of now, this feature is not working if you are signed into peakd with HiveKeysigner. I hope this gets fixed, but until then, use peaklock.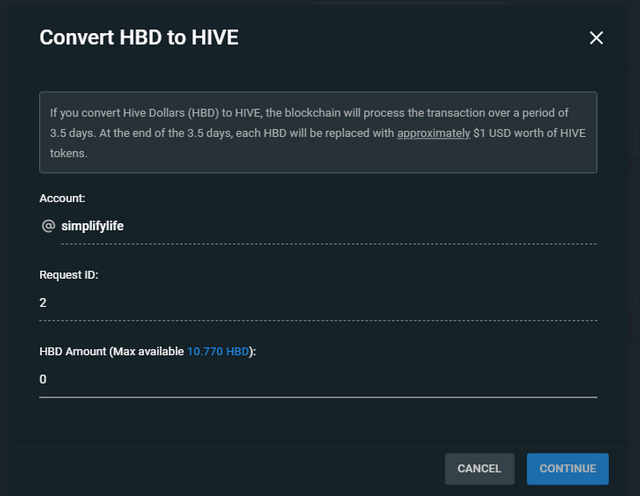 Note that this takes 3.5 days to complete.
---
This is how they calculate the rate :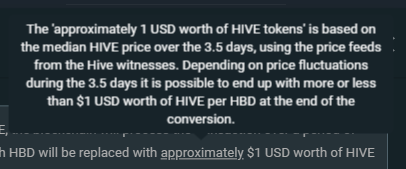 At first read, this seems ridiculously complicated. I'll explain it in simple terms.
---
What it says is, the price at which HIVE will be at for most of the duration of the 3.5 day after you initiate the conversion request, that is the rate at which your HBD will be converted to HIVE.
---
I had initiated a conversion request of 7 HBD a few days back when the price of HIVE was around 21 cents. Soon after it dropped and stayed around 19 cents for most of the time and dropped further to around 17 cents at the time my conversion was ending. Because the price of HIVE stayed around 19 cents for most of the time, I was given HIVE at a rate of 19 cents.

As you can see, I got a 36 HIVE for 7 HBD. Compare it to the other methods where I would have gotten around 30-31 HIVE for 7 HBD. But I would have gotten it instantly. Now I had to wait for 3.5 days, but I got a much better exchange rate.
---
Now if you are converting small amounts of HBD, it doesn't make too much difference, just 5-6 extra HIVE, but if you're converting a larger amount and you have the time to wait 3.5 days, this method makes a significant difference.
---
I hope this was helpful! If there are more such tricks that you are aware of, do share in the comments or if you have a post talking about more cool features and how to use them, do leave them in the comments!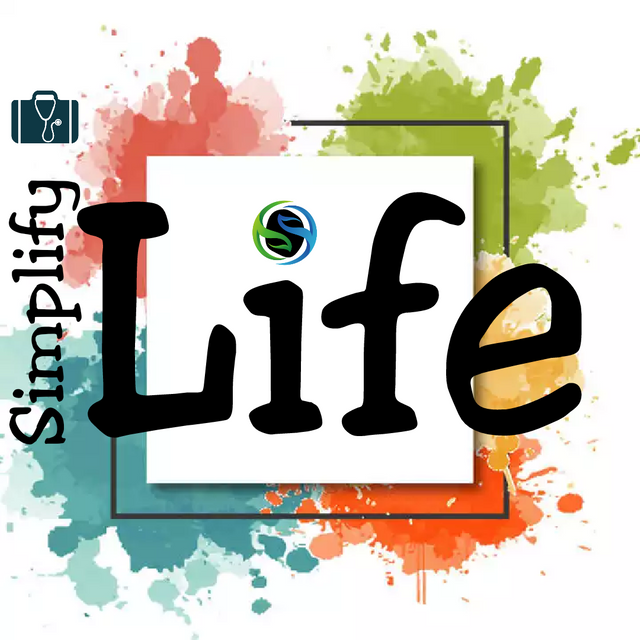 Until Next Time!
Peace!