Happy day to you!
---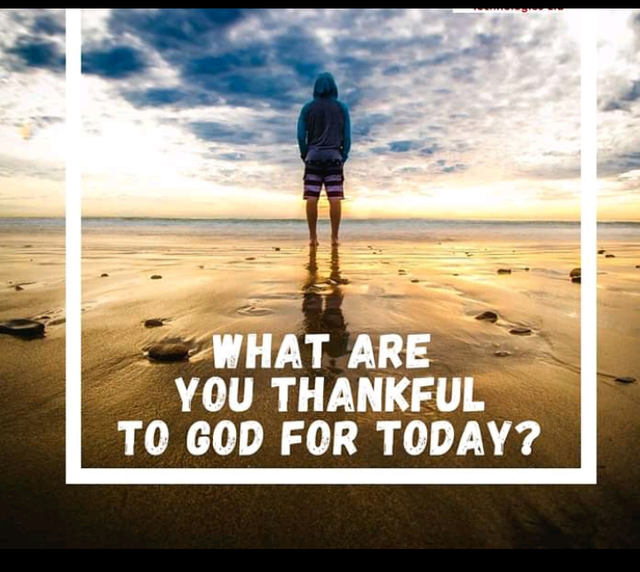 ---
"Enter his gates with thanksgiving, and his courts with praise! Give thanks to him; bless his name! For the Lord is good; his steadfast love endures forever, and his faithfulness to all generations." Psalms 100:4-5
---
Oftentimes, many Christians and children of God, forget to show gratitude and thankfulness for the numerous things God has done for them and the many blessings they have received. Instead, we always keep asking and praying for more. It is necessary that we at all times, give thanks to God Almighty for He is good.
---
Giving thanks and appreciating God gives room for more. So, one of the ways to receive from God is through thanksgivings prayers and praises. God loves to praised and praises move HIM.
---
We also see that some persons only thank God when things are going all rosy and smooth with them. They sing God's praises only when they have money, good health, food etc but when these things are not available, they see no reason to give praise to the Lord and thank Him as well. This should not be so, whether in good or bad times, we should always give thanks to God.
---
He's still God no matter what you maybe going through so, give thanks not because you have everything good in your life but because HE is good and He is God. Be thankful always! Do not be like Job's wife in the Bible that advised Job to curse God and die.
---
So, do you have anything to be thankful for? Has God been good to you? Have you seen God's blessings in your life? The answer is YES!
---
We all have numerous reasons to be thankful to God. Only a foolish person would say that God has not be good to him. We see the goodness and mercies of God day by day. When we wake in the morning, God's love is what we see, at noon time and night time, we still see HIS love. God's love is more than we know.
---
So, here is what I'm thankful for today - My Soul Salvation!!
---
I have every reason to tell God thank you. He saved me from the claws of the devil. He gave me His life and made me a new man. It was in 2007 while I was still in the secondary school that I got saved, a pastor gave a sermon and it got through to me. I saw the need to follow Jesus Christ and be born again so, I joined the altar call. I changed from my old ways through the grace of God.
---
I can boldy say that, I have seen great changes in my life ever since then. So, I have every reason to be thankful. Thank you Jesus for I am saved and free.
---
"Give thanks in all circumstances; for this is the will of God in Christ Jesus for you." 1 Thessalonians 5:18
---
So, what are you thankful for today? Share in the comment section.