When the heather shows flowers, summer gives its last powers
---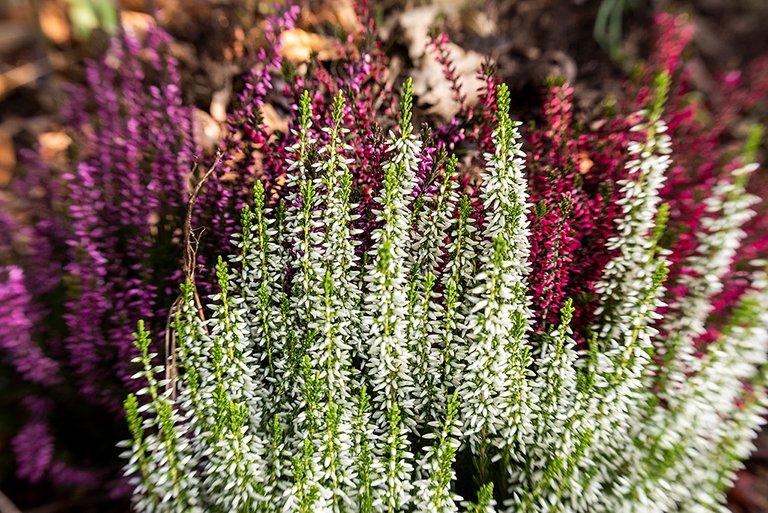 ---
Strikingly Beautiful
It can be seen in so many things. If you are a bit of a nature person ... summer is slowly turning into autumn. A time that can evoke melancholy. But also a time that shows beautiful colors. The leaves of the trees that slowly turn into flowers one by one. But the most striking natural phenomenon I find every year the flowering of the heather.
A plant that can look so dead and barren during the rest of the year, and which in August / September can suddenly cover large parts of our Dutch landscape with a beautiful purple cloth.
I couldn't resist
Yesterday I went to a wholesaler with a friend of mine, and coincidentally, (well, what you happen to call these days), there were the heather plants on sale. I couldn't resist. Where the other flowers all die, and thus lose their colors, the heather is now in full bloom. And that gives my garden a beautiful color that allows me to enjoy it a little longer. Summer may be almost over. But this way I can enjoy beautiful colors a little longer.
Did you know ...
Besides cheerfulness due to the beautiful colors of the flowering heather, this plant has much more to offer. What probably not everyone will know is that this plant was traditionally used as a broom! So besides beautiful it was also useful. But that's not all. Because this heather, also has great benefits for our inner well-being.
---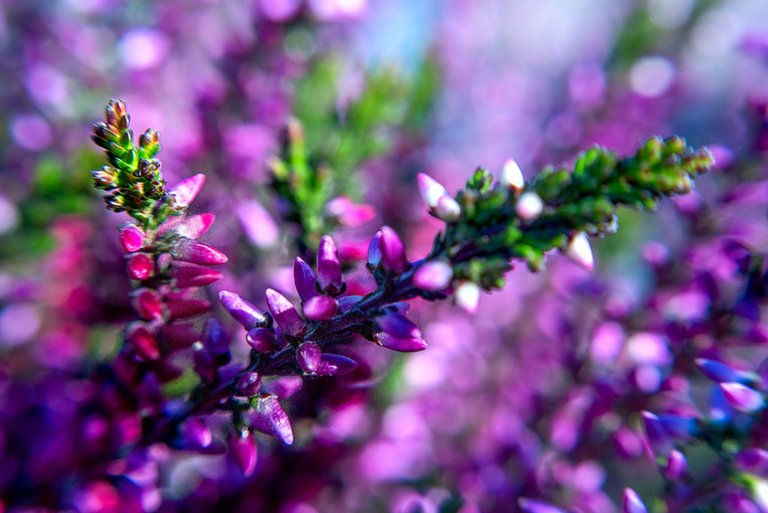 ---
Inner Balance
In Bach flower therapy this plant is used, among other things, to bring people's inner balance. The slightly calming properties of heather give you back your inner peace, allowing your relationships with other people to become more equal again because you no longer have to constantly look for confirmation. The properties of heather used in Bach flowers teach you to love yourself again. That loving yourself is a valuable quality that allows you to be in the center of your own strength. How valuable is it that heather can help you with this! Heide makes you emotionally independent, that you can give attention to others. And not just be with yourself. And everyone knows how important this is in human relationships.
Wait that's not all
And if you think this is all ... then I have a surprise for you. Because heather is also frequently used in natural medicine. The flowering herb is mainly used in naturopathy. The active substances contained herein are arbutin, hydroquinone, arbutase, catechols gallus tanning agents, the flavonoids quercetin, myricitin, leucodelfinidin and traces of the essential oil ericoline and ericinol.
Cleanse the body from within
Heather has a mild diuretic effect. Moreover, it has sweat-wicking and blood-purifying properties. It is therefore used in herbal blends that aim to cleanse the body from within. Waste products are more quickly removed from the body when using this medicinal plant.
Phytotherapists can prescribe it for the following indications:
Kidney stones,
Cystitis,
Kidney inflammation.
Other urinary tract problems
Heather has less disinfectant effect than bearberry or red blueberry. These are more powerful medicinal plants for treating urinary tract infections. Nevertheless, the heather is useful. It has a diuretic, antiseptic, astringent and calming effect on the urinary tract. In addition to the urinary problems already mentioned, heather can provide relief during a treatment of the
following diseases:
Oliguria or too little urine output,
Albuminuria or protein in the urine,
Prostatitis or inflammation of the prostate,
Pyuria or pus in the urine.
---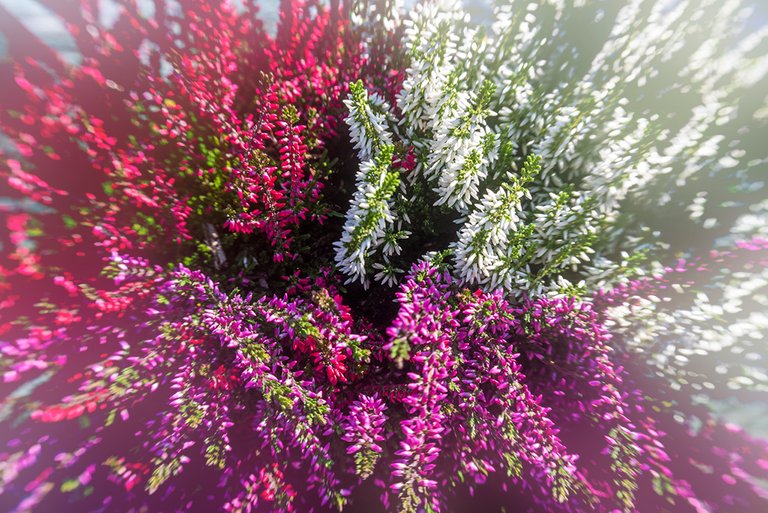 ---
Soothing rheumatic pains
And if you still don't think this is enough. You can also make an oil from heather that soothes rheumatic pains and also helps against skin flakes. You can apply this oil as often as you like.
Heather has no known toxic side effects at all.
And that is sometimes different with the medicines that are provided by the pharmacy. Sometimes the remedy is even worse than the disease.
Naturopathy has so many advantages ... and can be found in the most unexpected, special, but also everyday plants.
Nature is so giving
I am increasingly convinced that nature offers us almost everything we need. Nature provides us with food, and in addition, Mother Nature offers us almost everything our body needs to stay healthy, or to become healthy again.
It takes time and effort to learn, but is so worth it!