August has been quite a big transformation for my Weed Garden. I moved most of my plants outdoors, and it's definitely made a big difference for them to live with nature, albeit me living in town.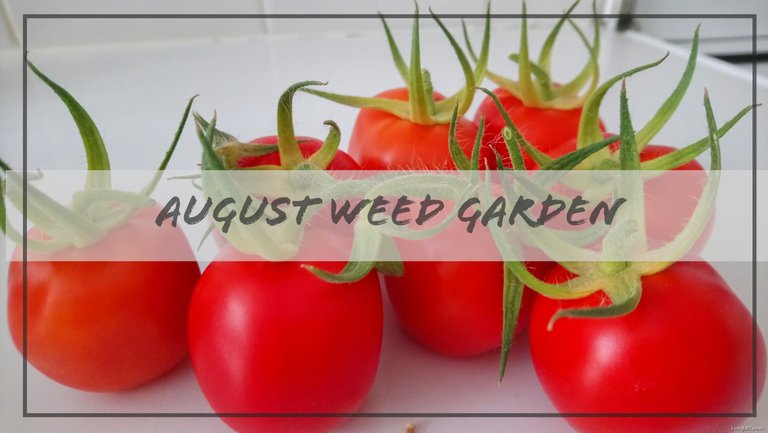 Courgette
Wow! It's been a roller coaster ride for my courgette/zucchini. It escaped death twice this month. I actually wrote a story about it, if you're interested to find out what happened, you can read the post here. The TLDR version is that I moved it outdoors and it was so windy that it snapped the stem. I thought it was going to die, but luckily it didn't. Now it's actually starting to bear fruit. There are two little courgettes on its way. I'm so chuffed, as I had really given up on it.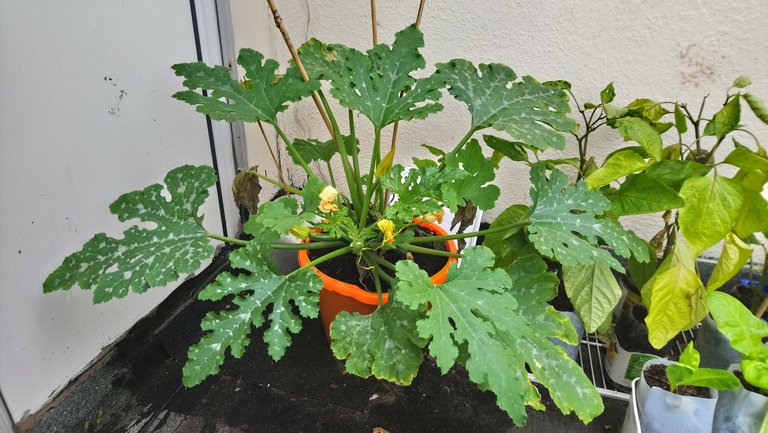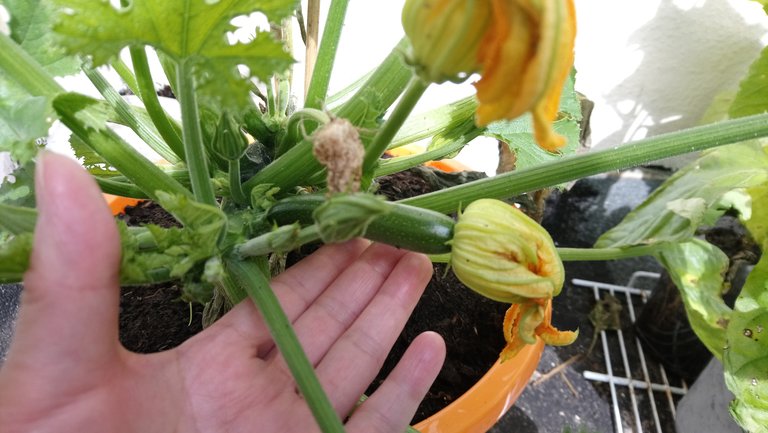 Tomato
I have finally harvest my tomatoes this month! It took a bit longer than I expected from flower to fruit, but it's been very rewarding watching the progress. The first four tomatoes grow rotten bottoms, not sure why that happened so I had to discard them. I harvested 8 the other week, they were such beautiful little things. To be honest, I don't really like tomatoes, but I had them with my steak. Boy, did they taste good!!!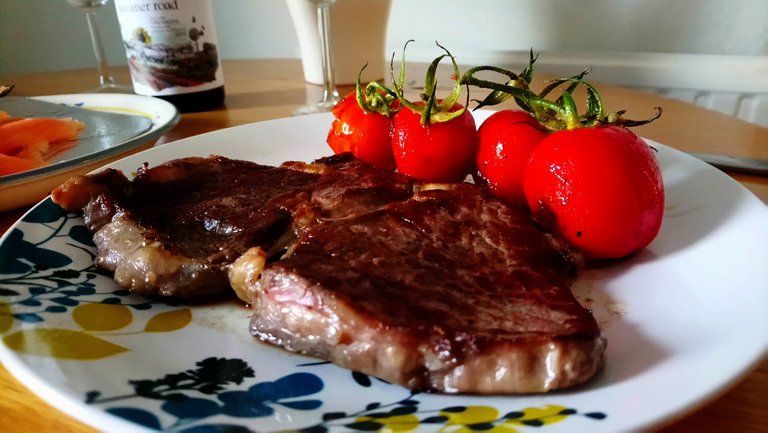 I think I've come to the end of the tomato journey now. I will harvest the last few and let them mature in the fridge with the others that I have yet to eat.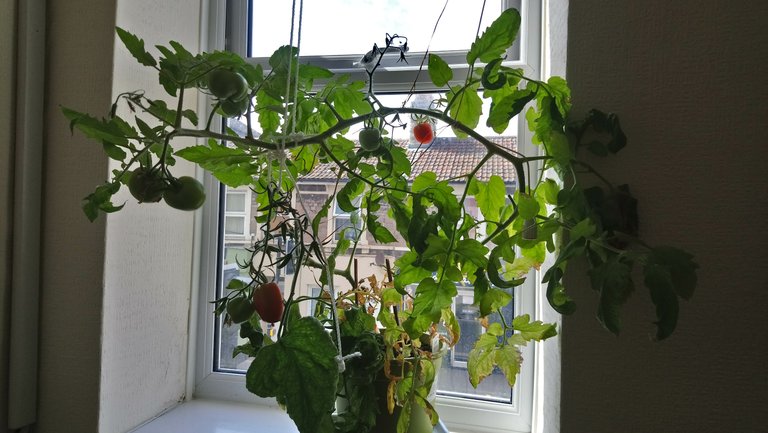 ---
Bell Peppers
It was a near disaster for my bell pepper plants. Last month, I mentioned there were aphids all over them. I was getting really frustrated. Then the other week, I had to go away for a week and was worried they would get worse if left unattended. I took them over to my sister's to babysit them for me. She did a great job to get rid of the aphids and helped me to prune them back. If it was me, I'd be really greedy and leave all the buds there and probably end up with none or tiny fruits.
Anyway, my bell peppers plants are outside next to the courgette now. The leaves are a bit battered due to the aphids, but that's fine as the problem is gone now. The fruits are coming along nicely, not the best-looking peppers, but what matters is I grew them!!!!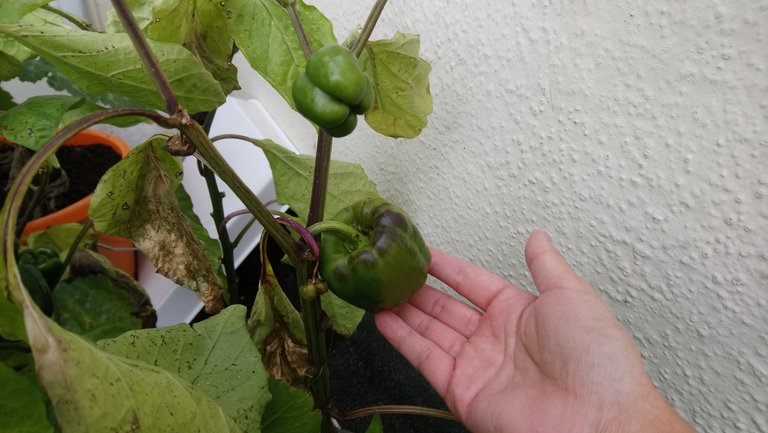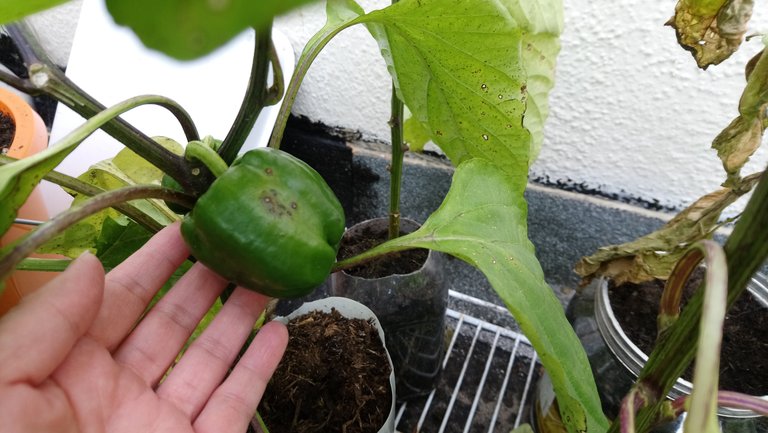 ---
Lettuce
I planted another batch of lettuce seeds last month, they also went to my sisters when I was away that week. They didn't need much attention just some watering as the seedlings were very young. They have come along very well, and I've replanted them the other week. They're also outdoors. I was worried it would be too windy for them as most of the leaves got battered by the wind during the first few days. Luckily they've grown very well and seemed very strong. They're 43 days old today and definitely look a lot better than my previous indoors batch. They're not so leggy, the leaves there are more leaves and they're bigger. Hopefully I will have another bumper lettuce harvest soon.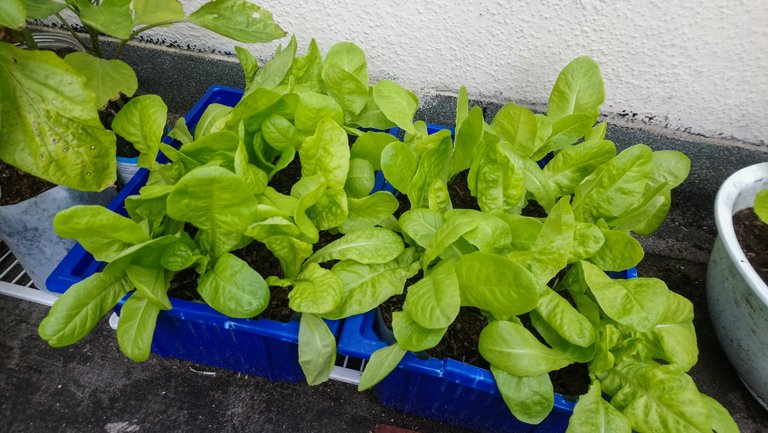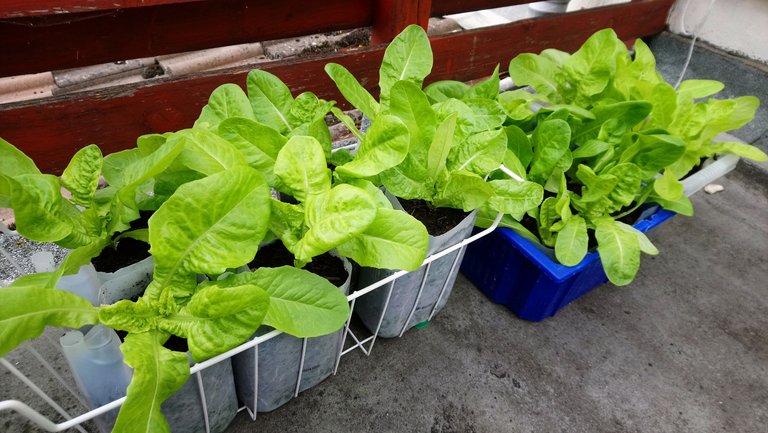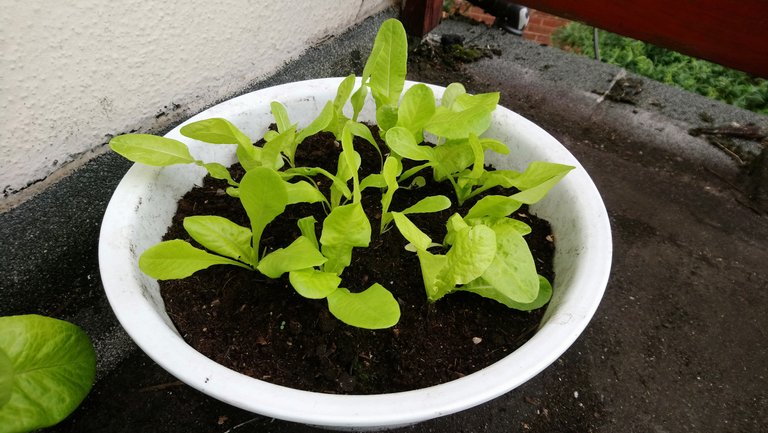 ---
Mangetout Peas
Last and not the least, my mangetout peas. When I went away the other week, I got my other sister to pop in to water them. This sister isn't much of a gardener (worse than me 😆) and I think she may have drowned them. Anyway, they were sill coming along nicely. I got the mangetout peas wall I was hoping for, they looked cool and started to flower. Then I noticed the leaves at the top of the plant were very small and were starting to wilt, I had adjusted the watering after I returned from my week away and made sure the soil was neither too dry not too wet. But still, the leaf's condition didn't improve.
Then I noticed aphids in my soil! The peas are near where my bell peppers used to be so I think some of the horrid little bugs must have jumped across into the soil. You can see the leaves at the base are starting to dry up. I doubt I'll be able to harvest anything again as it's a race between the pods maturing between the aphids getting to the top.
Well, at least I'm getting a better yield from my crop this time round, I got four flowers per plant, that's 100% increase from last time!!!!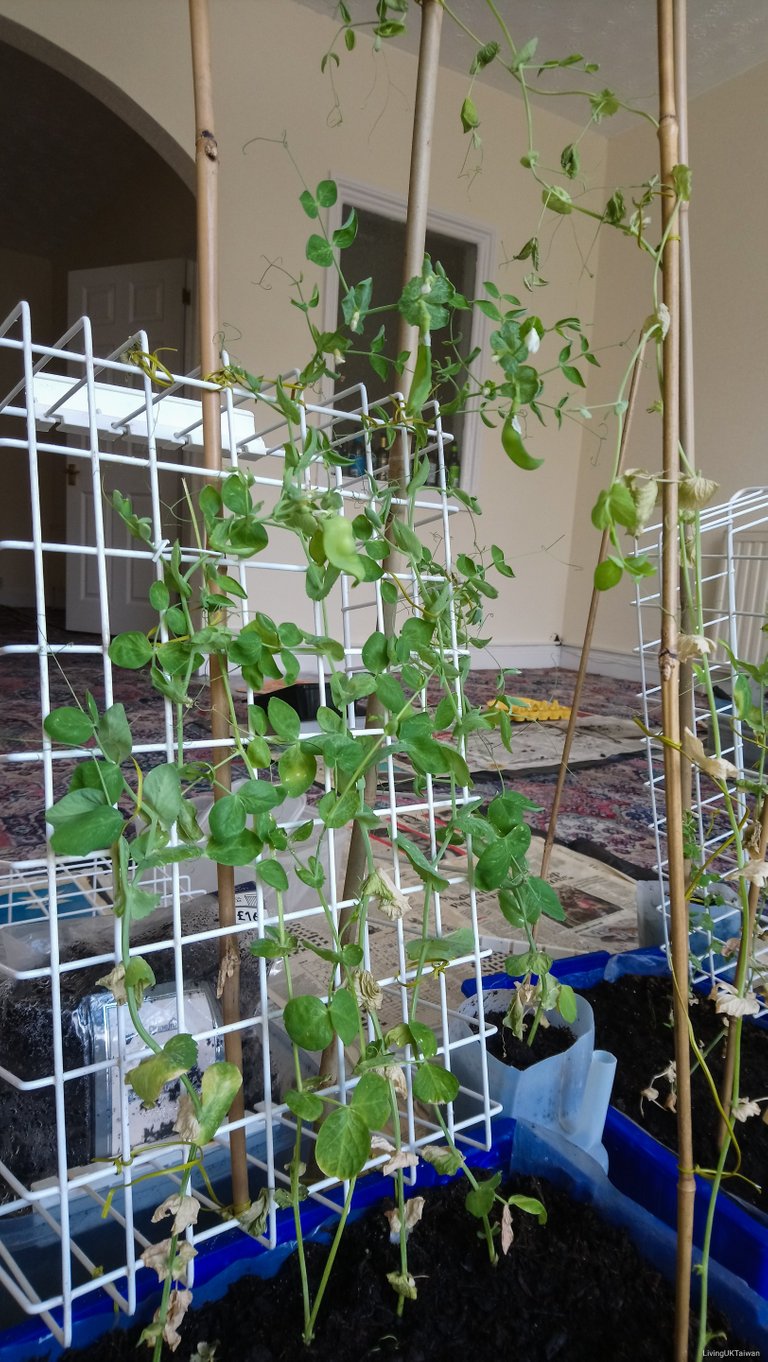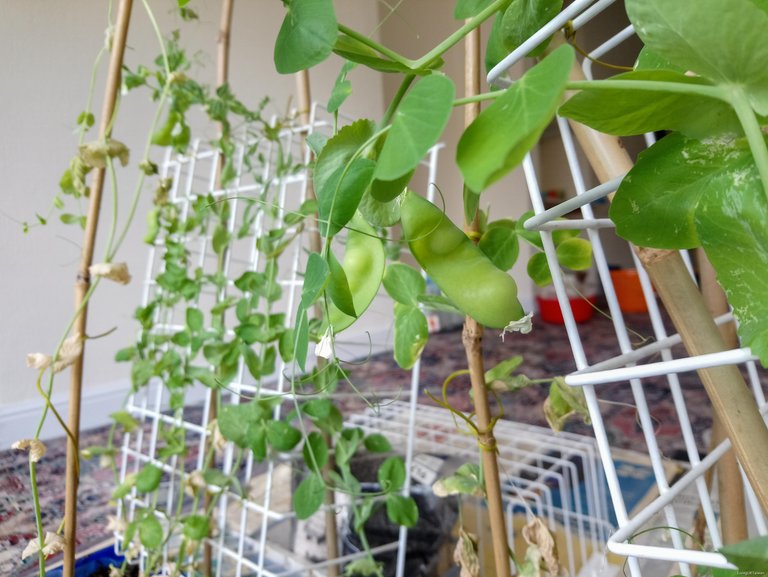 Nobody said it's easy being a farmer and I kinda understand why so many people don't want to be one if they had a choice. For me, it's a learning process, and something to keep me occupied and provide some self satisfaction to see and eat something that you nurtured over the months. The reward is priceless.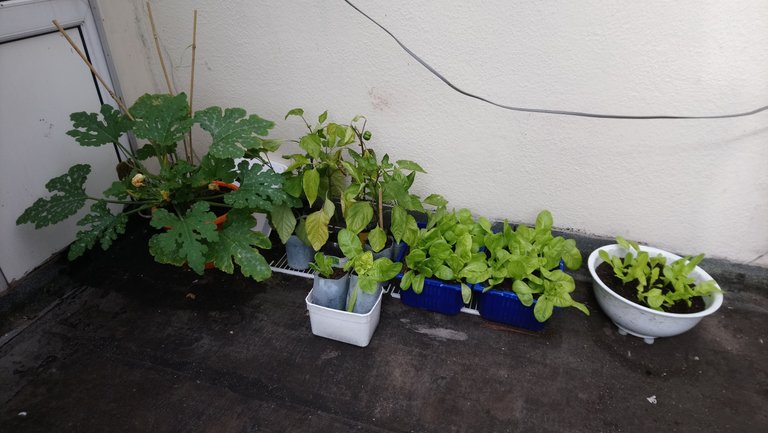 This is my entry to the Garden Journal Challenge hosted by @simplymike