I brought these Pumpkin Donut Pops Recipe to a party this week and I knew the kids would all love them.... but it seems the adults did too! What's not to love? Donut, butter, sugar, pumpkin spice, chocolate - all bite sized, on a stick!? Yum!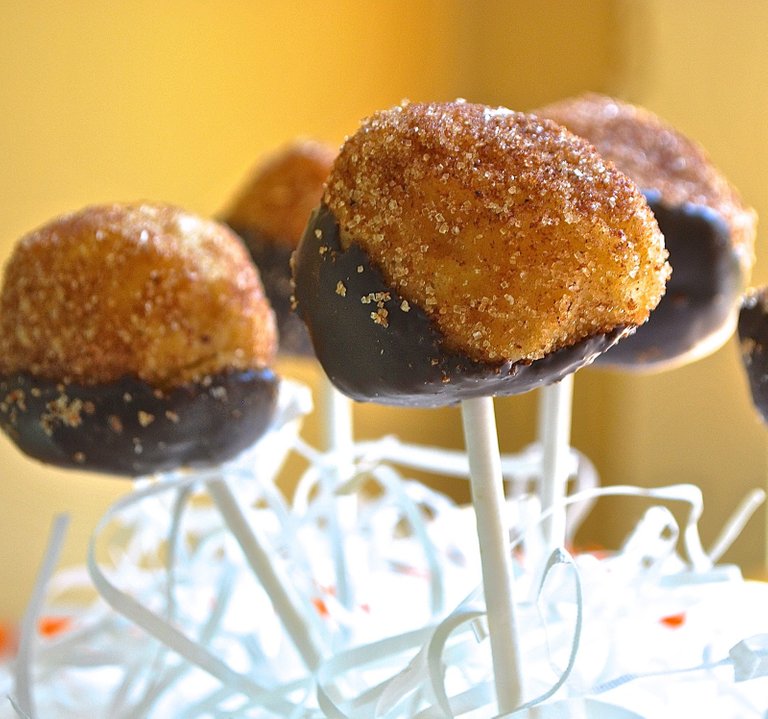 And here's a direct quote from my neighbor Anthony, when he tasted these: "OMG! it's crack!" I think he liked it?
Enjoy!
Recipe: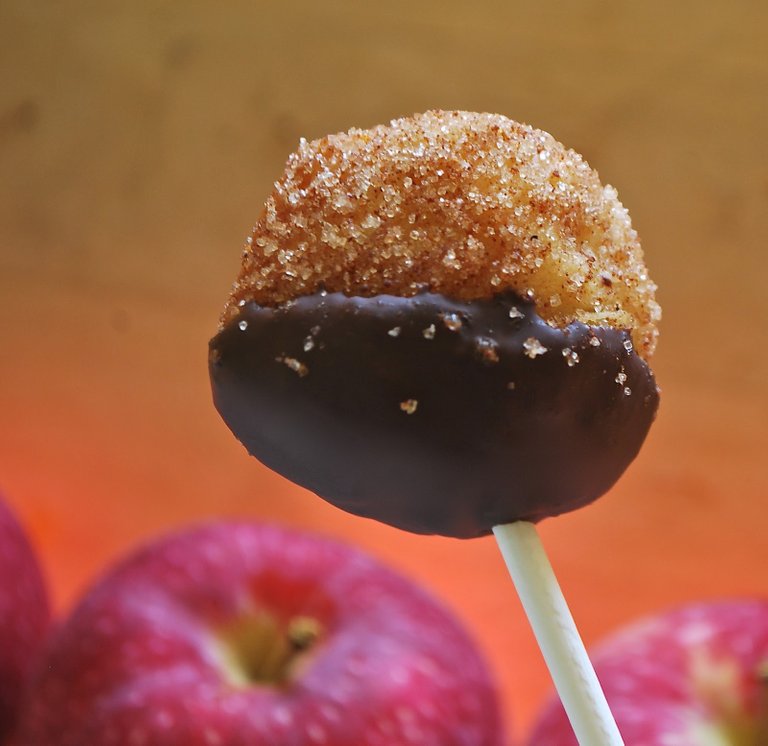 1 can of pop-n-fresh biscuits, grand-style buttermilk (like Pillsbury), cut into four pieces for each biscuit
1 stick unsalted butter melted
1/2 cup granulated sugar
1 tablespoon cinnamon
1 tablespoon of nutmeg
1/2 teaspoon ground ginger
vegetable oil (or similar), to fill saucepan 1/2 inch high
1 bag good quality semi-sweet chocolate chips
1 bag small lollipop sticks (about 30)
Mix sugar and all spices in shallow bowl. Add melted butter in separate shallow bowl. Set aside. You will dip fried donut holes into each of these.
Pop open your buttermilk biscuits. Cut them into 4-5 pieces per biscuit and roll each one in your hands until they are a ball.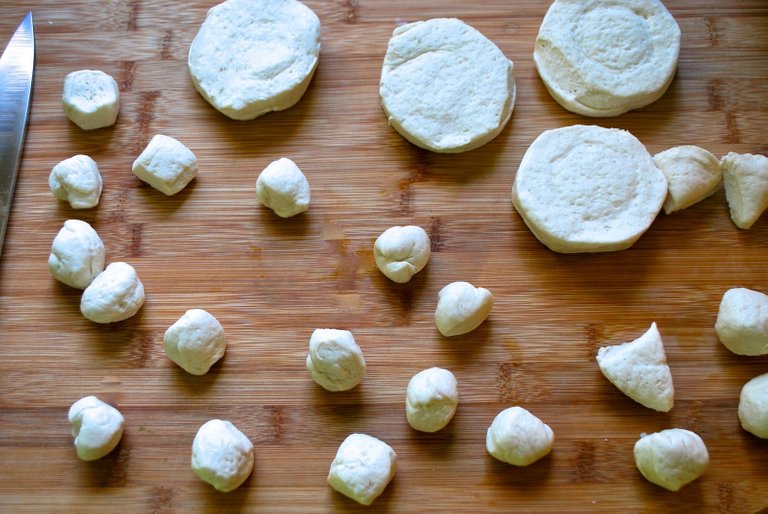 In non-stick frying pan, heat about 1/2 inch of vegetable oil (I actually used Trader Joe's Coconut Oil which you can fry on a higher heat and has a nice flavor). Turn the pan on to medium high heat. You don't want it to smoke or burn but you want it to be hot enough to turn the donuts as the cook to keep them round.
When the oil is ready, add the donuts and cook for a minute or two --while gently rolling them in the oil so they stay in the shape of a ball.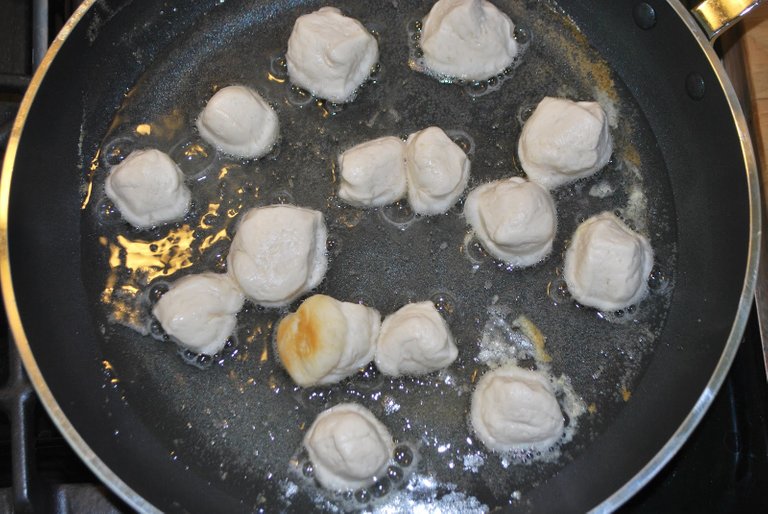 Remove from oil, lay on paper towels to remove excess oil. When they are cool enough to touch, dip each donut hole into melted butter, then into the spiced sugar mixture.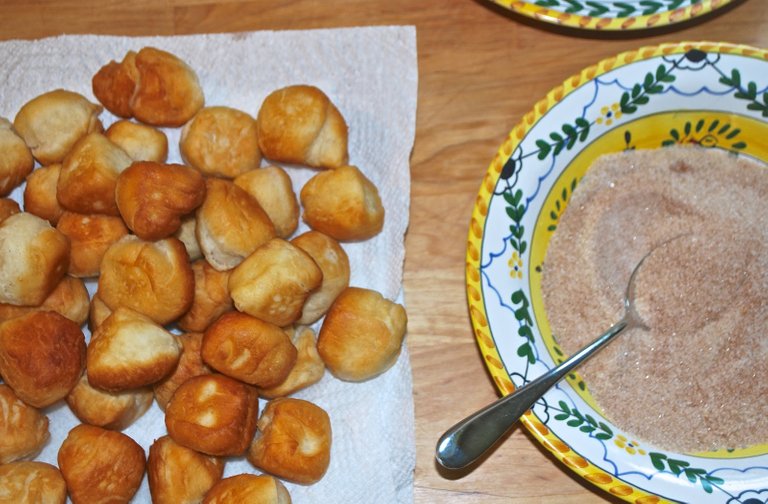 Set donut holes aside.
In double boiler (or microwave) melt the chocolate. Dip each donut hole halfway into the chocolate, add a lollipop stick into the chocolate side (that will help the stick to stay in the pop). Set on foil or wax paper to cool and harden. You can also stick them in the fridge to set the chocolate.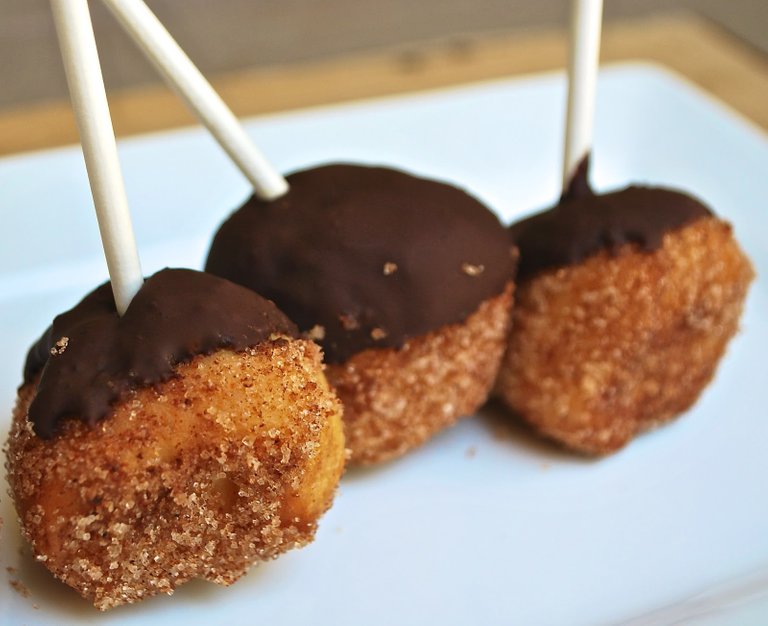 You can change the recipe for the donuts to anything you like. It's so versatile and easy!