Labor Day BBQ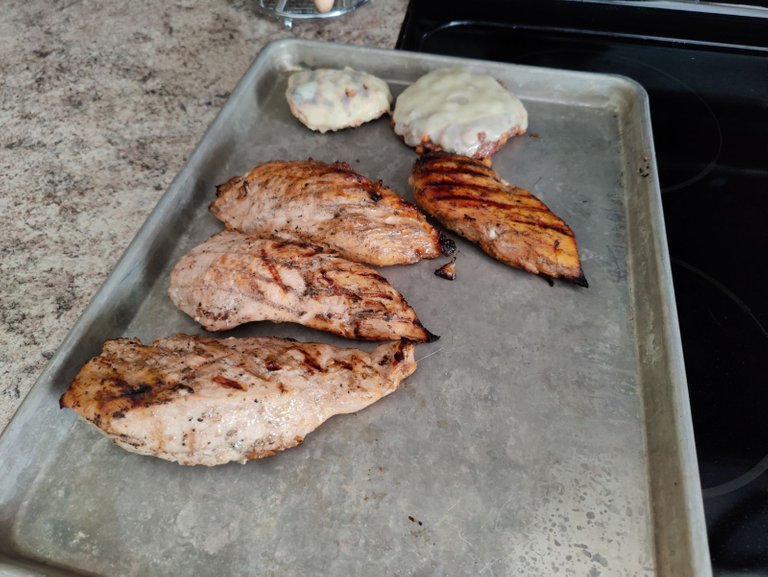 ---
If there is one thing that Americans know how to do well, it is celebrate a summer holiday. Memorial Day weekend is considered by many the unofficial start of summer. Grills get moved out of storage and fired up for what will be many cooks through June, July, and August.
Likewise, Labor Day weekend is considered the unofficial end of summer. Pools get closed, grills get stored away, many use this weekend as one last "hurrah" before the cold and snow Michigan winters settle in.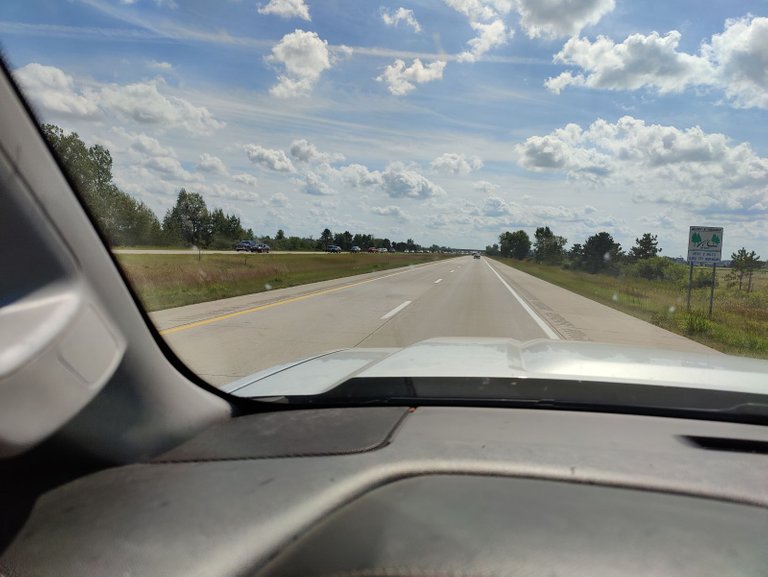 ---
In Michigan, we have an added layer of complexity to our holiday weekends. It's a bit hard to see in the photo above, but if you look really closely to the center left, you will see bumper to bumper traffic. That would be a mass of people heading "north" for the holiday weekend. This photo was taken Friday around 2:15 PM on my way home from work. Trust me when I say, the traffic just gets worse the closer to 5:00 PM ("quitting time") you get.
@mrsbozz and I have always had an unspoken agreement that neither of us wants to deal with the headache of Labor Day weekend. Mostly because of the traffic, but also because it is right around the time school starts and we often just like to stay home and prepare ourselves mentally.
This weekend was no exception, but just because we didn't go away, doesn't mean we didn't find our own ways to celebrate.
For me, that meant doing some cooks on my Weber Kettle grill.
The first one was the picture you see above. Chicken and burgers. We ate the burgers that night and used the chicken in meals the rest of the weekend.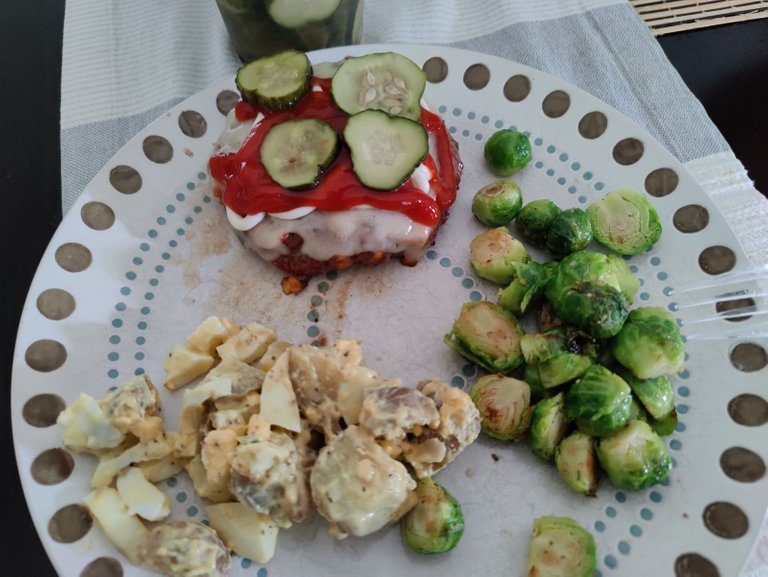 ---
That's a jalapeno cheddar burger for me. Brussels sprouts and homemade potato salad. It was fantastic. We made the decision a while ago to stop buying buns for our burgers. While I do miss the extra carbs occasionally, I can handle skipping it most of the time for the sake of my health and my weight!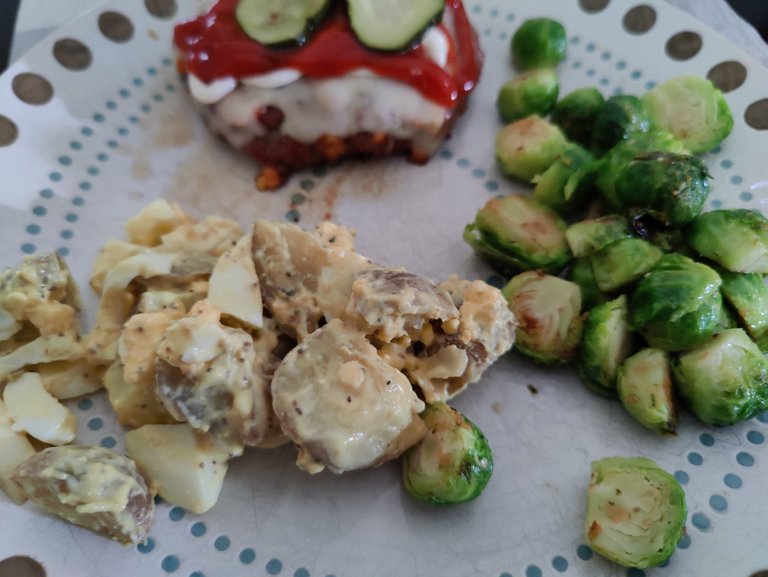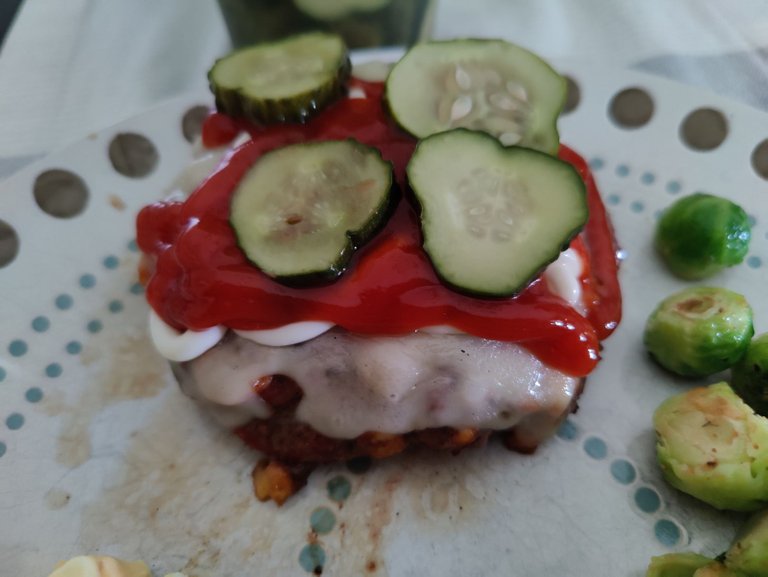 ---
Oh yeah, I forgot to mention the homemade pickles on the burger as well. @mrsbozz had a chicken burger that we make ourselves. My burger was purchase from what used to be one of my favorite butchers. Unfortunately, the owners just sold the business, and I don't know if I will be visiting there anymore.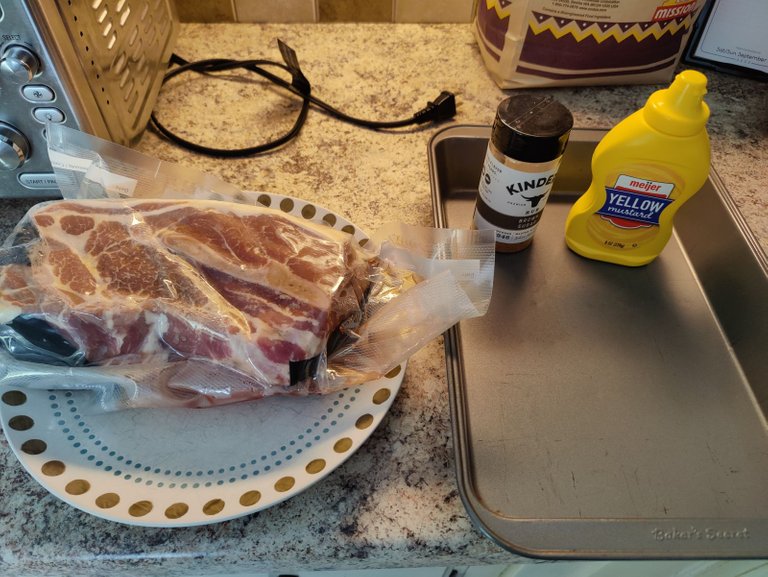 ---
Sunday, I decided to do a cook that took just a bit longer than the chicken and burgers. That's a pork shoulder that I bought a while ago and had cut into two smaller pieces. I had vacuum sealed it at the time and was keeping it in my freezer until I had the time to babysit it on the smoker.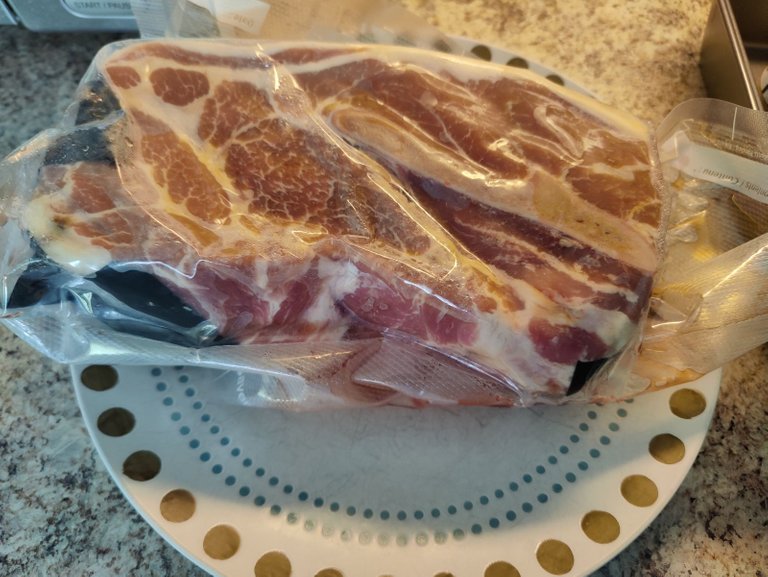 ---
As you can see, there is quite a bit of marbling of fat in the meat. That is part of the reason you need to cook it low and slow, so all of that connective tissue breaks down properly.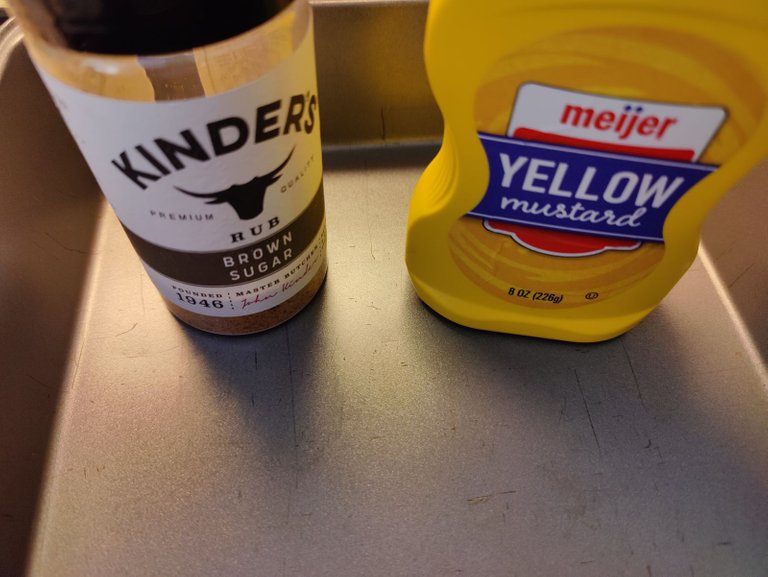 ---
There are about a million different brands of rubs out there, but this is one of my favorites. Unfortunately, I don't remember where I bought it, so I am going to have to look around since I used this up.
---
A good slathering of mustard allows the rub to stick really nicely to the meat. Believe it or not, you don't even taste the mustard after you cook the thing all day!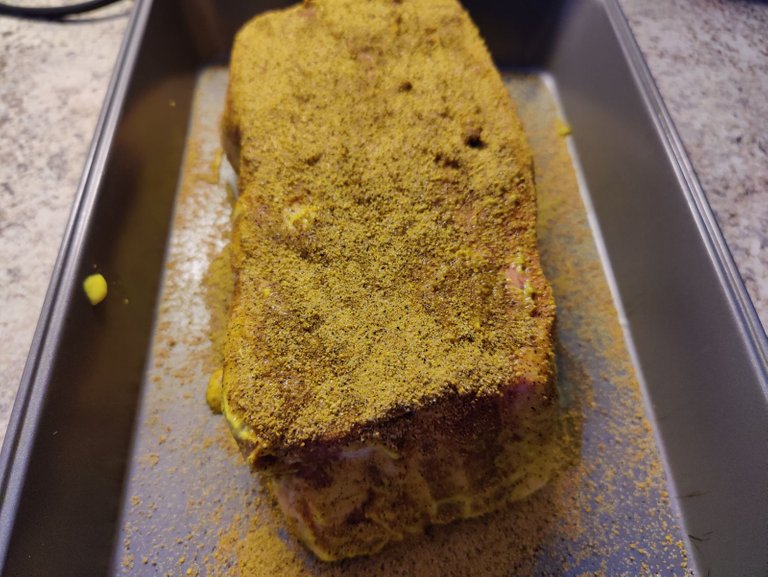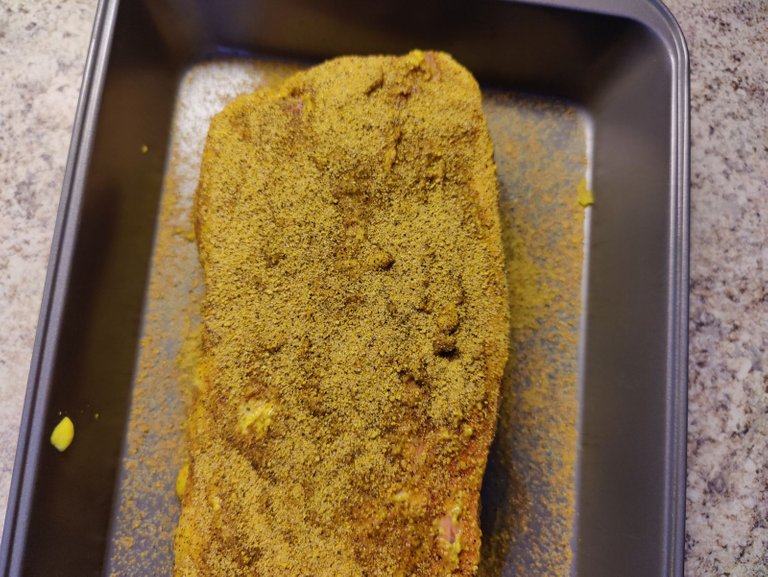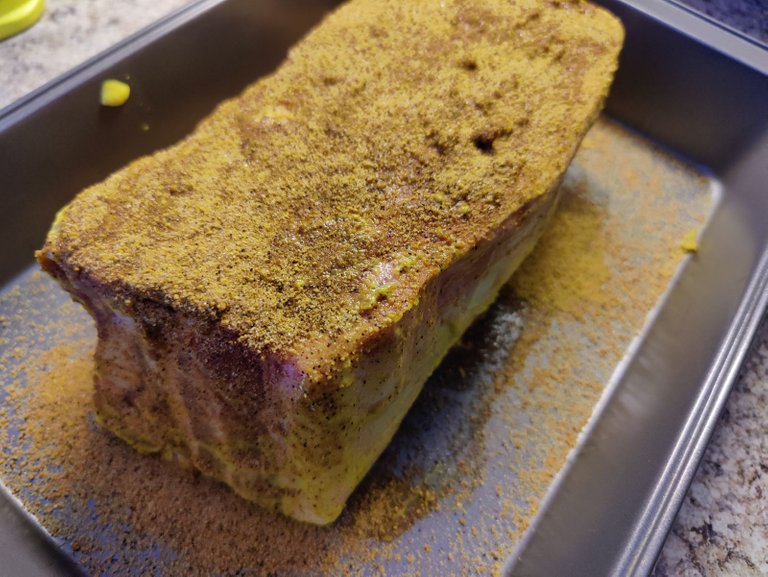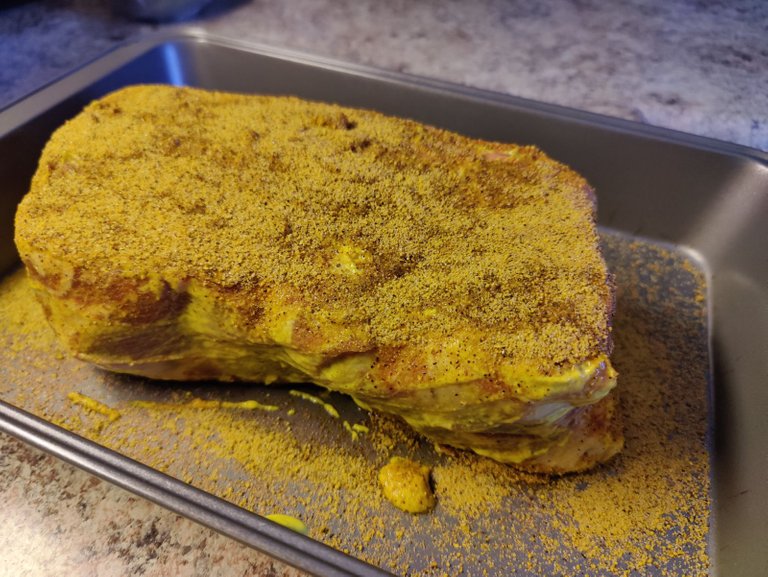 ---
I actually put the rub on the shoulder Saturday evening so it could have time to work its magic before I actually cooked the meat.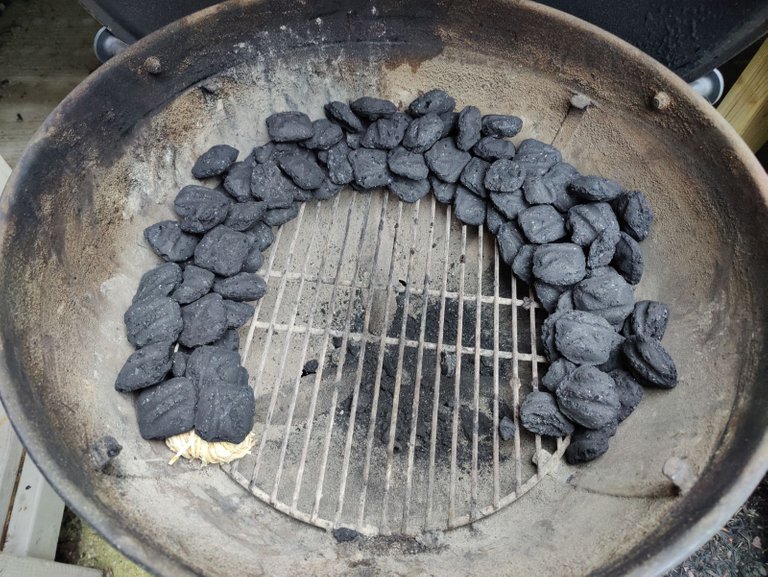 ---
Smoking on a Weber Kettle is pretty easy. You just need to use the snake method. This basically takes advantage of a process called the minion method and just extends that over a longer period of time. I have found it works very well in helping you maintain a fairly even temperature. Something that isn't easy when you aren't using a fixed energy source like gas or pellets.
I will admit, I need to do a better job of laying out my charcoal. I was in a bit of a hurry and I had some gaps in my "snake". You might also notice I had a lot more charcoal towards the end than I did at the beginning. That came back to bite me in the form of some pretty high temps towards the end of the cook.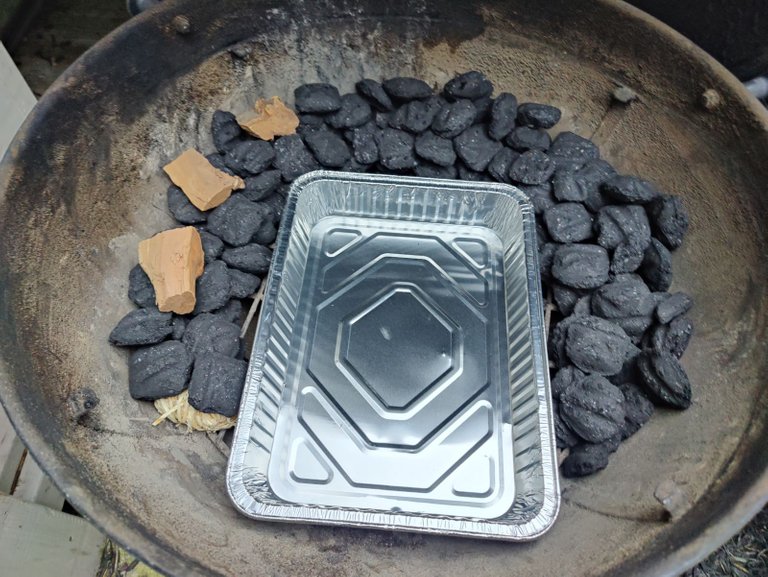 ---
A water pan in the middle is a must to catch all the drippings from the meat in the early stages. I used some apple and hickory wood chunks around the edges for my smoke flavor. You might notice I only have them at the beginning. The meat only absorbs the smoke flavor in the early stages of the cook. You are wasting them if you add them later. The only reason I would add them later is if you are trying to boost your cook temp.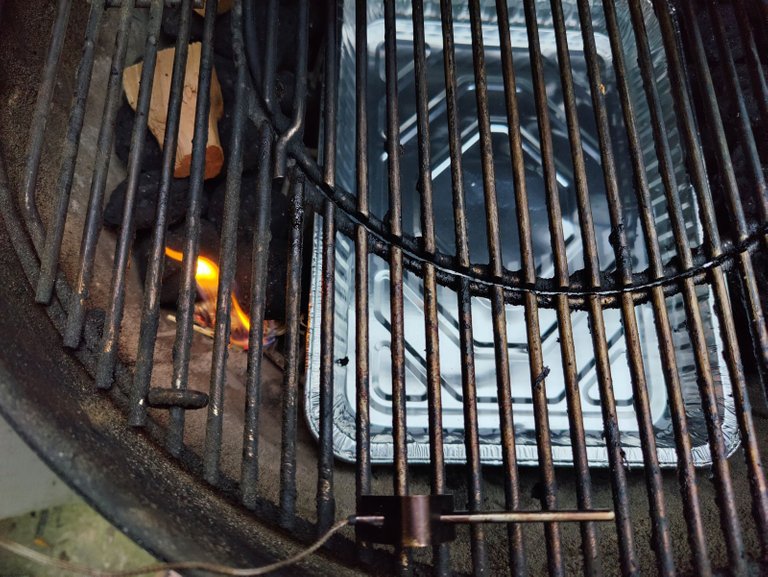 ---
I started the fire and then waited a bit before I put the meat on.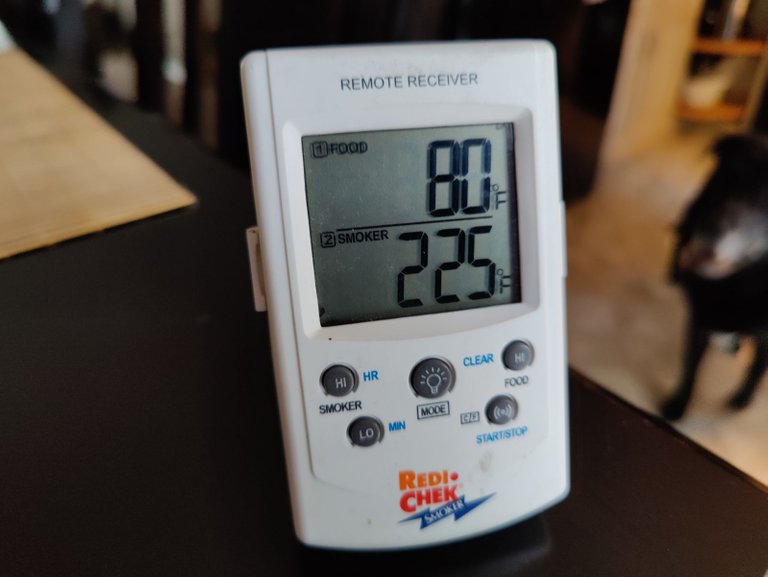 ---
Eventually, the fire got where I wanted it and I put the pork shoulder on. If you look really close you can see a blurry Jovi photo bomb in the right of this picture.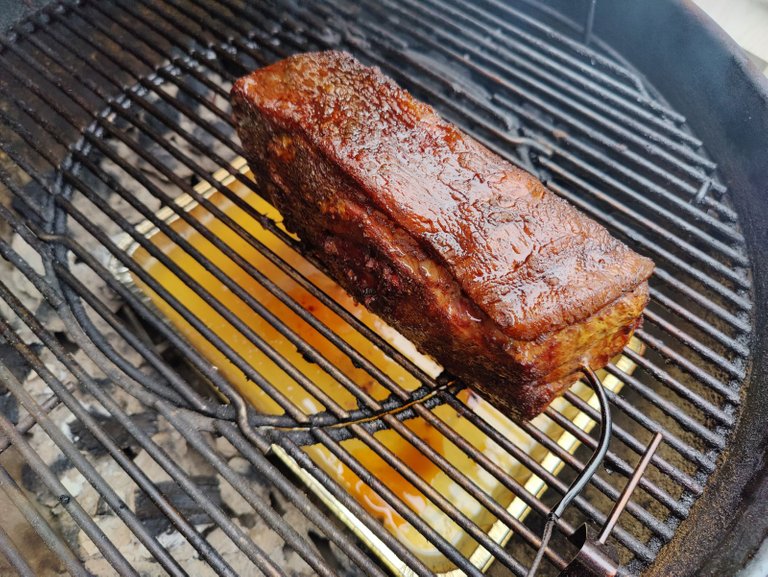 ---
After about four hours, the temperature got up to right around 150 which is where "the stall" often happens. Between 150 and 170 is the official range. At this point, I wrapped the shoulder in foil to help it push through the stall. If you have more time, you can let it go naturally, but I think most people wrap it.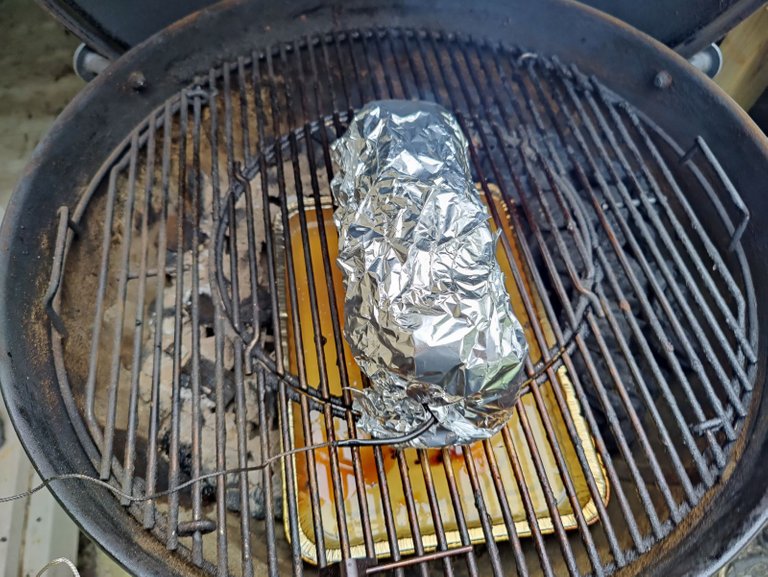 ---
I let the shoulder go another three hours until it got to an internal temperature of 200 to 205 degrees F. It took about seven hours total to smoke this 3 to 4 pound pork shoulder.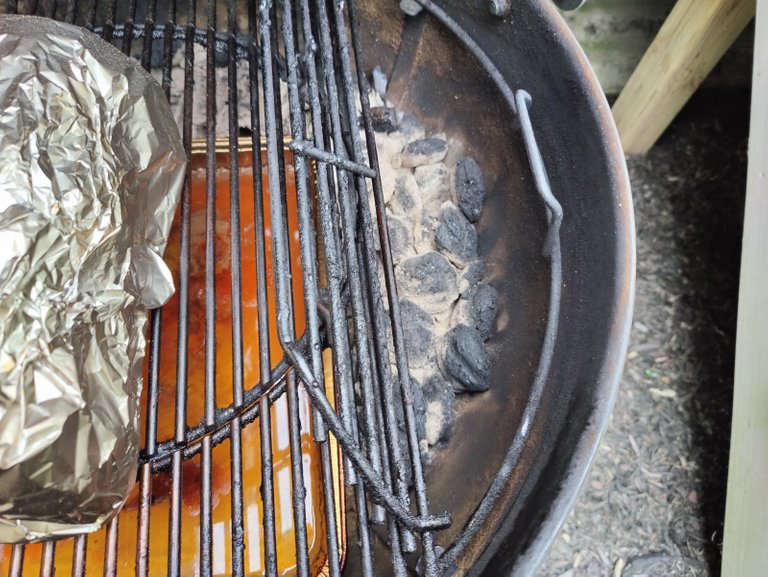 ---
As you can see, it is a good thing it hit the desired temperature because I was just about out of charcoal at that point. I could have added more, but I was starting to get hungry as well!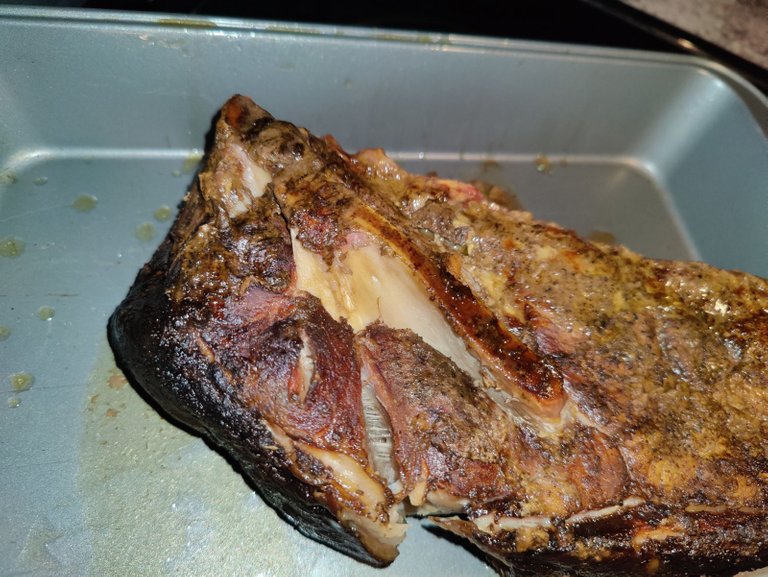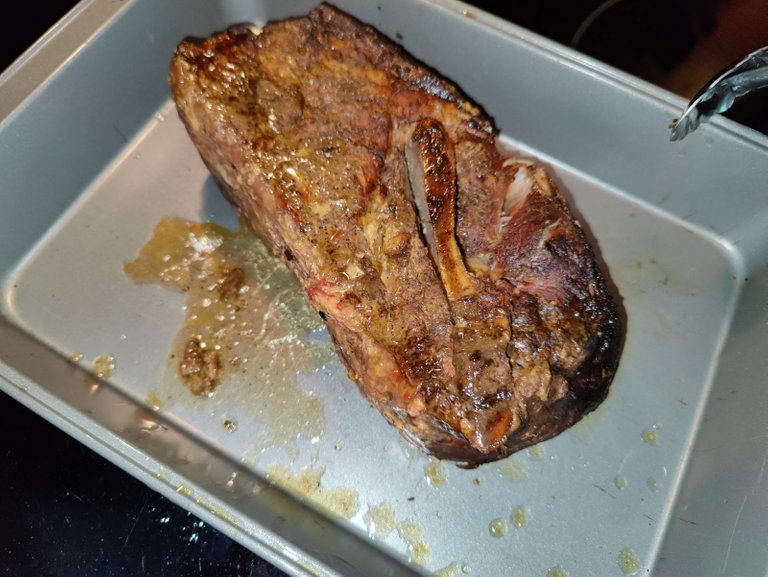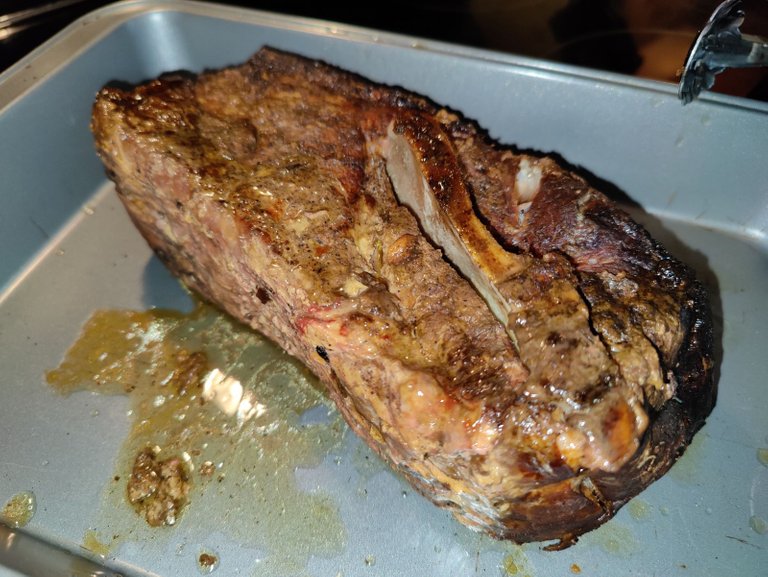 ---
As you can see from the photos, the meat was starting to pull away from the bone rather nicely. I let it sit and rest for about a half hour before I started "pulling" the meat.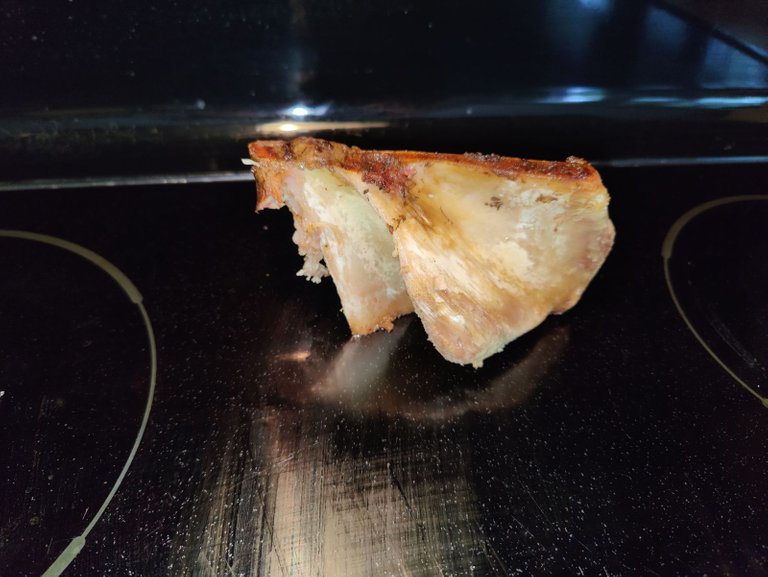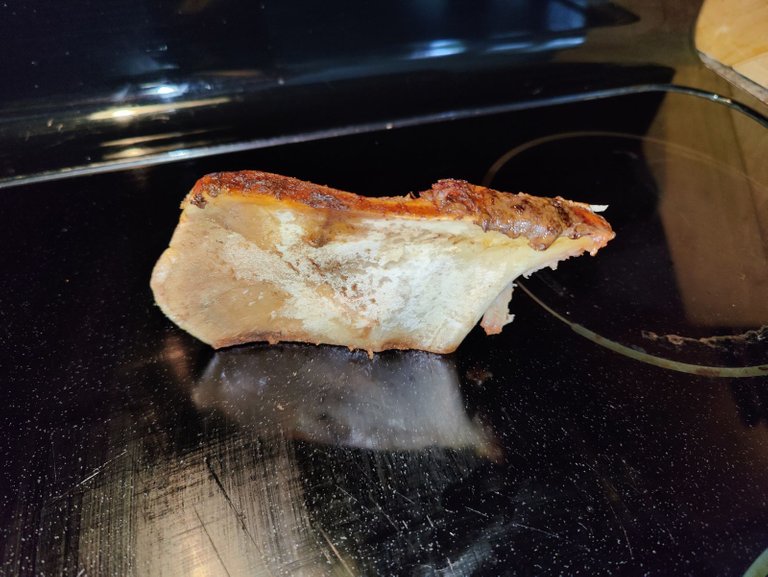 ---
I was really happy to see how cleanly the bone pulled out of the shoulder. That's something to be proud of for sure!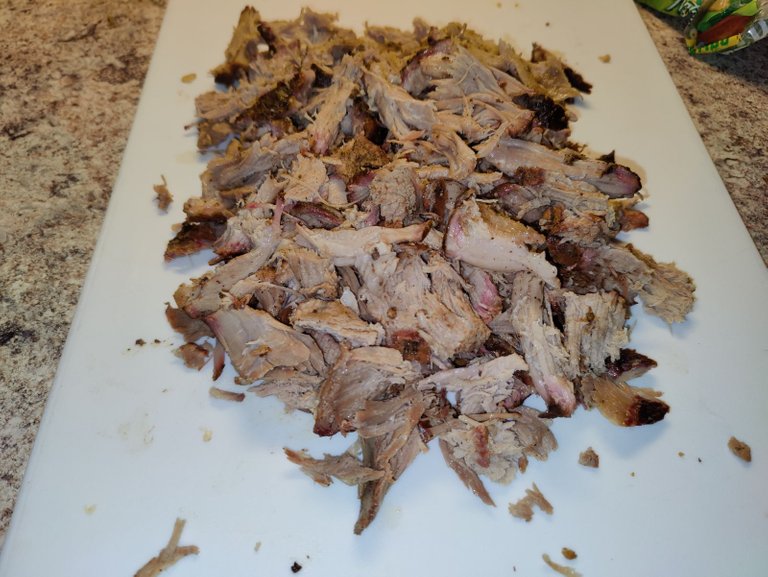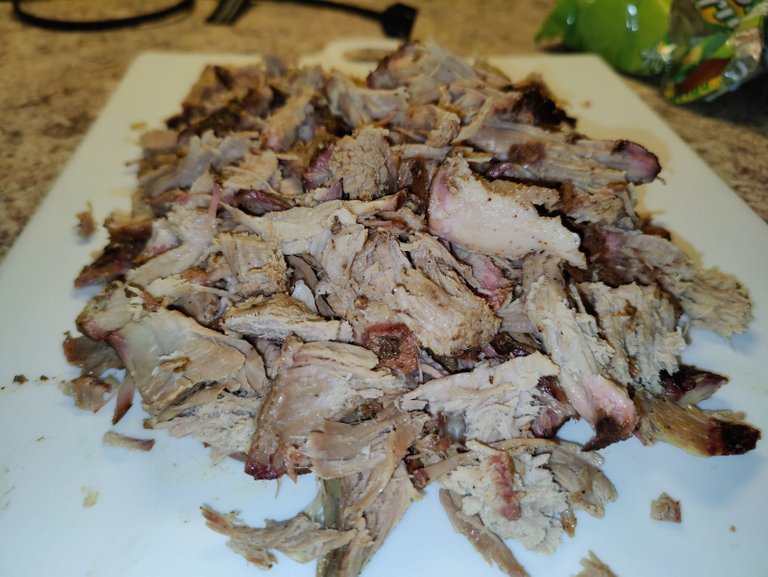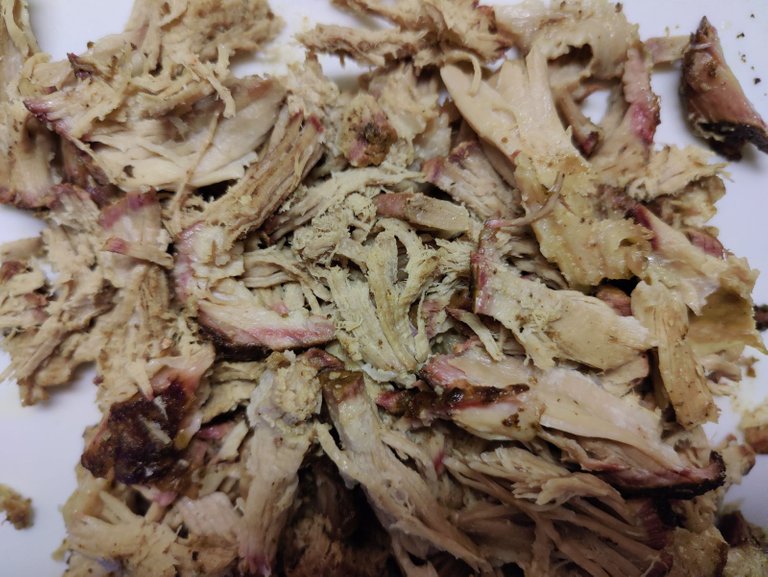 ---
As you can see, there was a fairly nice smoke ring on the meat. That is the red bits that you can see mixed in with the rest of the meat. It was more subtle than I have had in the past, so I am wondering if I should have used more wood. It was very tasty though, and I am looking forward to buying another one to do this winter sometime.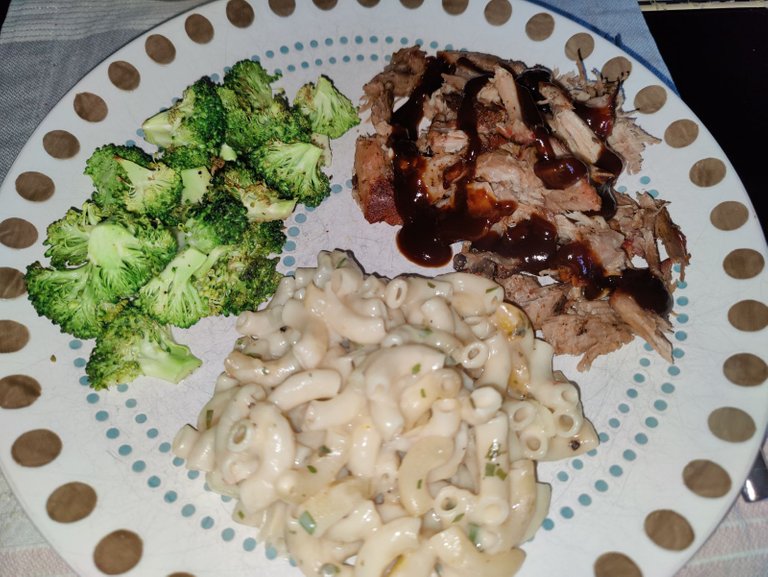 ---
Homemade mac and cheese and broccoli were the perfect accompaniments to my pulled pork. My wife ate a piece of the chicken that we had grilled the night before. She isn't much of a pulled pork fan. She thinks it smells good, but there is something about the texture that she just can't do. I don't mind though, more for me!
---
---

---
All pictures/screenshots taken by myself or @mrsbozz unless otherwise sourced
---
---