Litti Chokha is one of the favorite meals of Indian State, Bihar. I used to eat it chokha a lot when I was in Kolkata as we used to get it there. In Bangalore, it's very hard to find authentic Litti Chokha and thus tried to prepare it at home for dinner.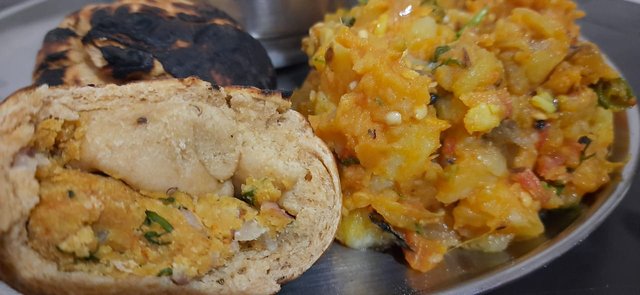 The chokha can be made of anything but for authentication, it has to be made of Brinjal, called as Baingan Ka Bharta. But I have made it as a mix of Brinjal, Potato, and Tomato.
At first, I have directly fried Baingan and Tomato on the stove.
| Bringal | Two Brinjals |
| --- | --- |
| | |
I have also boiled potato and peeled the outer skin of both brinjal and tomato.
| Brinjal And Tomatoes | With Potato |
| --- | --- |
| | |
Fried some onion in mustard oil and then added giner garlic paste.
| Onion is Must | With fried tomatoes |
| --- | --- |
| | |
After that added potato and crushed it along with Brinjal. Kept it for 10 minutes and thus my Chokha is ready.
| Added Potato | Then Brinjal |
| --- | --- |
| | |
For litti we need Sattu to fill, if we dont have it then we can roast Besan and use it. I used the roasted Besan.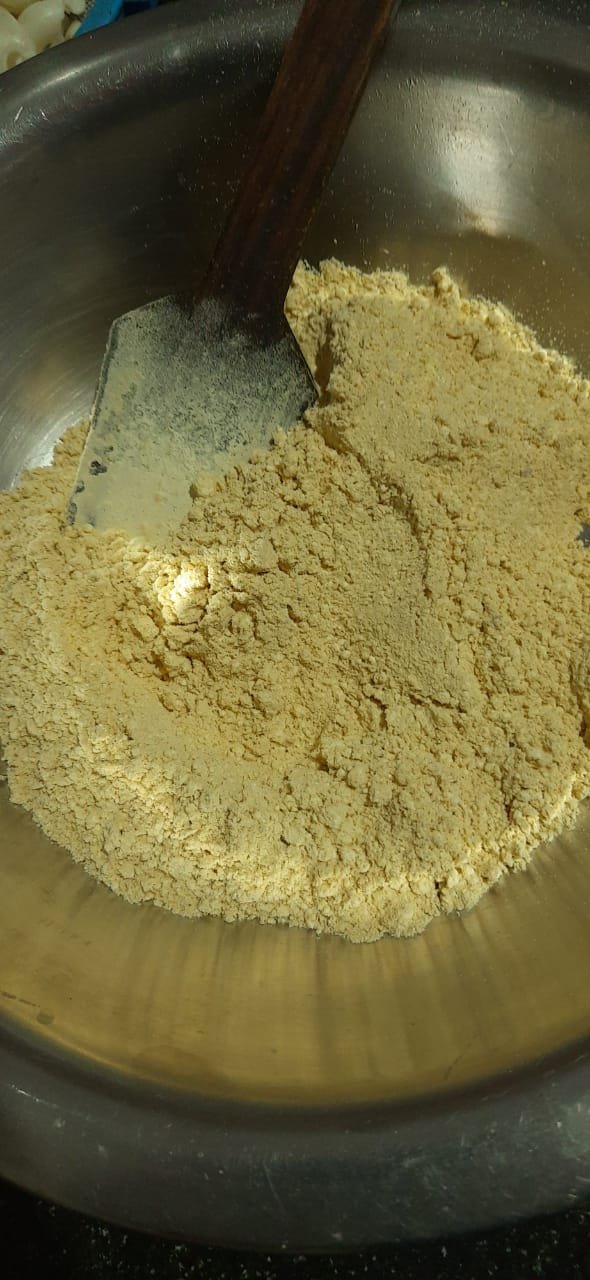 After that created a wheat dough and the filling. For filling added cumin seeds in the roasted besan and added red chili powder, chopped green chillis, ginger, garlic, onion, coriander leaves and black salt. After that added mustard oil and then mixed the flour with water. The mixture should not be too dry or too wet.
| Wheat Dough | Litti Stuffing |
| --- | --- |
| | |
Then made small sized balls from the dough and then added litti stuffing inside it and given it a round shape.
And then start roasting it on the Gas stove. My DIY Setup for roasting.
| Started Roasting | A Little while |
| --- | --- |
| | |
And serve it with hot.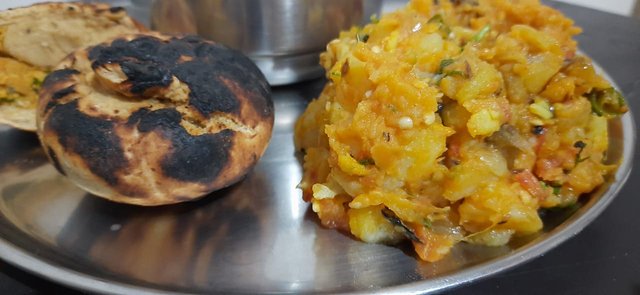 Though preparing is easy, it was time-consuming. It took us me and my wife to around 2 hours to prepare it. But the time was worth it.