[ESP-ENG] Granjero Navideño al estilo 👉 de Cocina creativa 👨‍🍳 / Christmas farmer style 👉 from Creative Cooking 👨‍🍳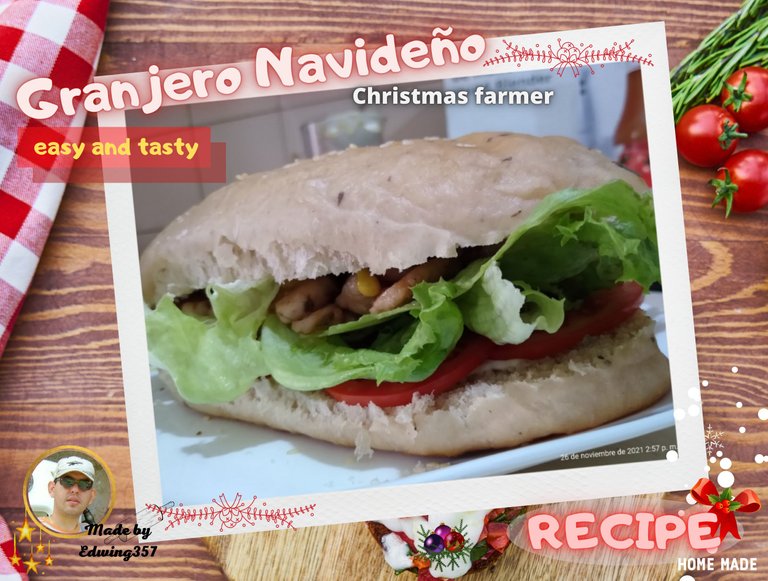 ---

---
Pan Granjero
Farmer Bread
---
Spanish

---
Hola mis amantes de la cocina, regresé jajaja 😁
---
Me pongo a idear tantas cosas, que no me da tiempo de compartirles, pero hoy les tengo una receta fácil y deliciosa
---
Se que muchos estan en la onda navideña como yo 🤣 y pasan el día de compras o haciendo labores en casa
---
Así que les comparto este excelente pan, para que tengan mucha energía durante el día, pocos ingredientes y mucho sabor
---
Están listo? si... entonces manos a la obra!
English

---
Hello my cooking lovers, I'm back hahaha 😁.
---
I get to think of so many things that I don't have time to share with you, but today I have an easy and delicious recipe for you
---
I know many of you are in the Christmas mood like me 🤣 and spend the day shopping or doing chores at home.
---
So I share with you this excellent bread, so you have lots of energy during the day, few ingredients and lots of flavor.
---
Are you ready? yes... then let's get to work!
---

---
Qué necesitamos? - What do we need?
---
Para la masa:
250 gramos de harina de trigo
2 cucharadas de aceite vegetal
2 cucharadas de azúcar (opcional 4)
Una pizca de orégano seco
1/4 cucharadita de sal fina
1/2 cucharada de levadura
1/2 taza de agua
Para el relleno:
Pollo (pechuga)
Tomates
Lechuga fresca
Mayonesa gourmet (RECETA)
Mostaza (opcional)
Salsa agridulce (opcional)
For the dough:
250 grams of wheat flour
2 tablespoons vegetable oil
2 tablespoons of sugar (optional 4)
A pinch of dried oregano
1/4 teaspoon fine salt
1/2 tablespoon of yeast
1/2 cup water
For the stuffing:
Chicken (breast)
Tomatoes
Fresh lettuce
Gourmet mayonnaise (RECIPE)
Mustard (optional)
Sweet and sour sauce (optional)
---

---
Cómo lo hacemos? - How do we do it?
---
Empezamos por colocar en el recipiente de amasar, la harina, el azúcar, la levadura instantánea y el orégano, luego el aceite y la sal fina en el centro como las dos últimas imagenes inferiores
We start by placing the flour, sugar, instant yeast and oregano in the kneading bowl, then the oil and the fine salt in the center as in the last two images below.
---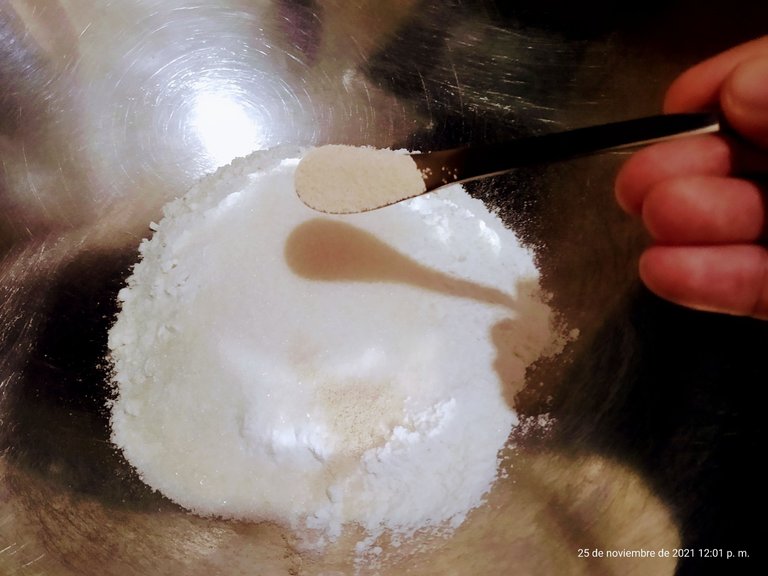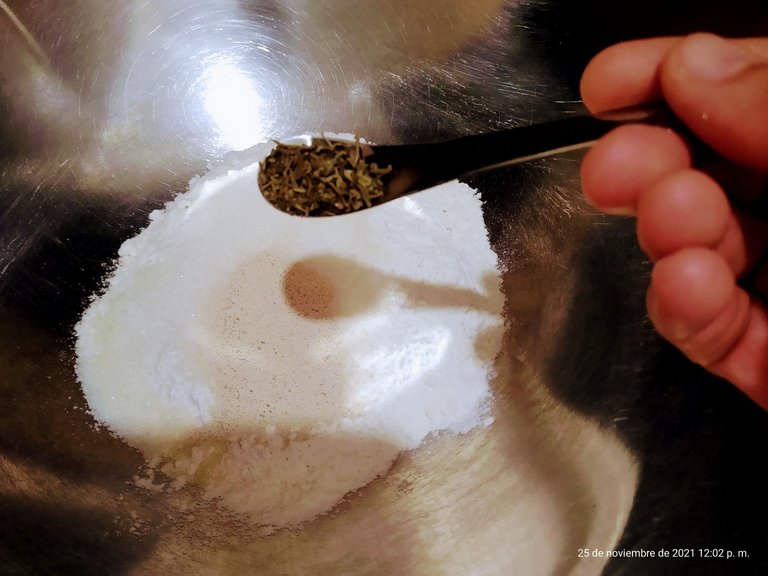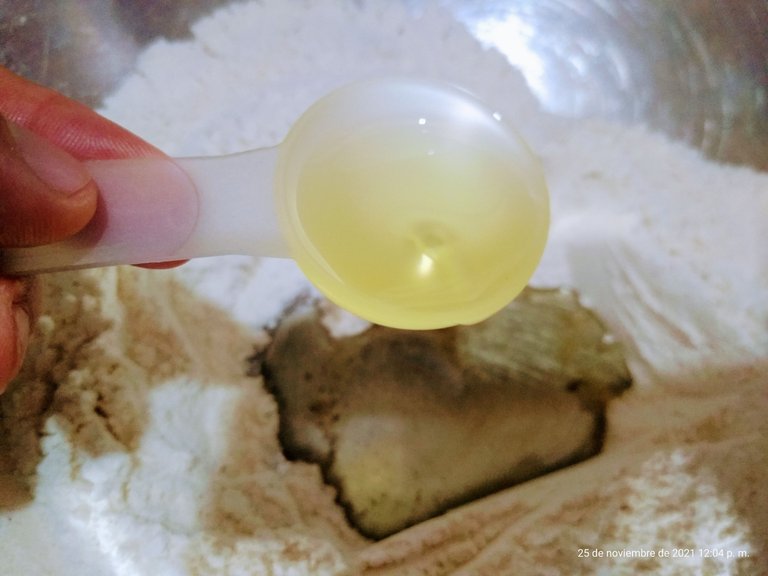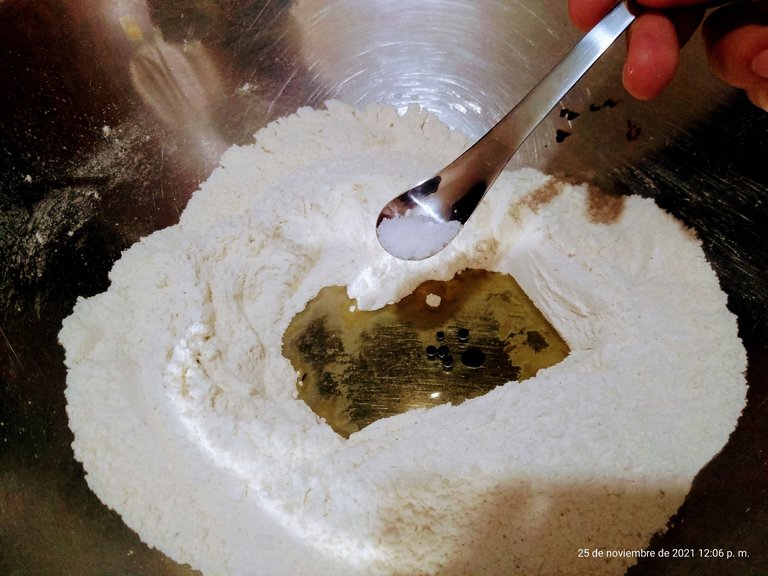 ---

---
En este punto podemos pintar la masa de color verde o rojo 😜 para dar el color navideño 🎅 o simplemente hacerla normalita
At this point we can paint the dough green or red 😜 to give it the Christmas color 🎅 or just make it plain.
---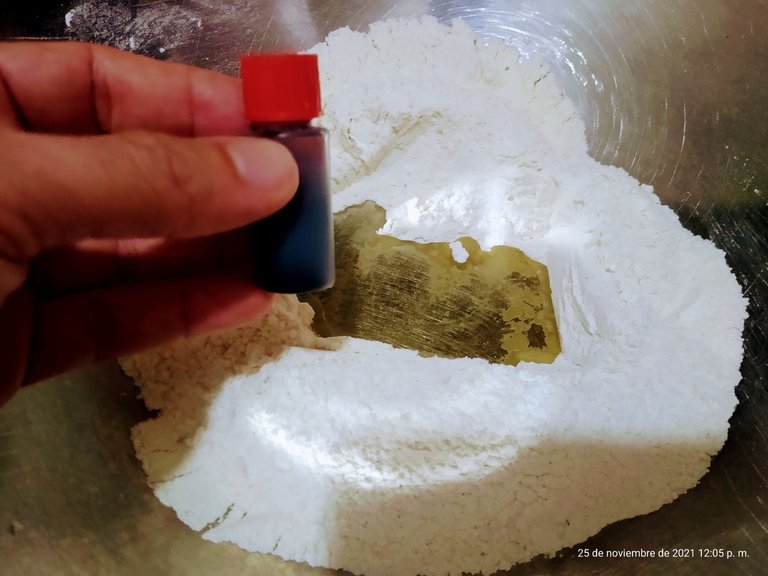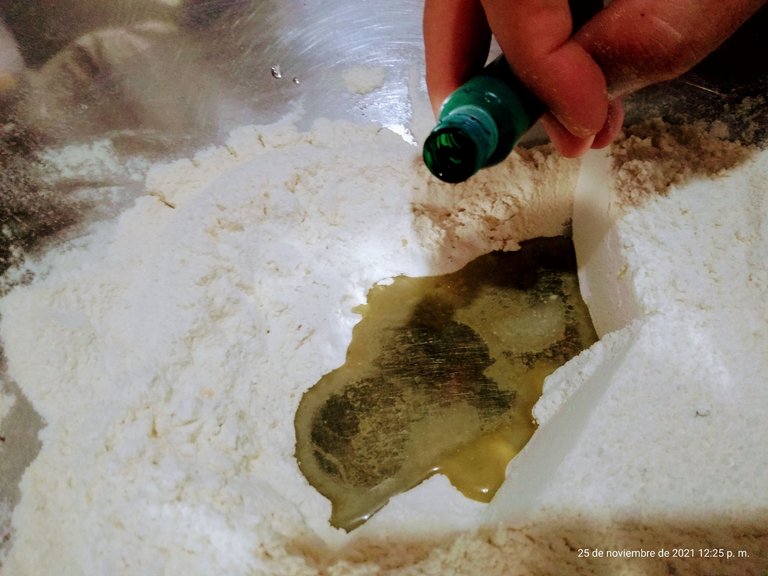 ---

---
Ahora agregas el agua y amasas de manera normal, primero integras todo y después pasas al mesón
Now add the water and knead in the normal way, first integrate everything and then pass to the counter.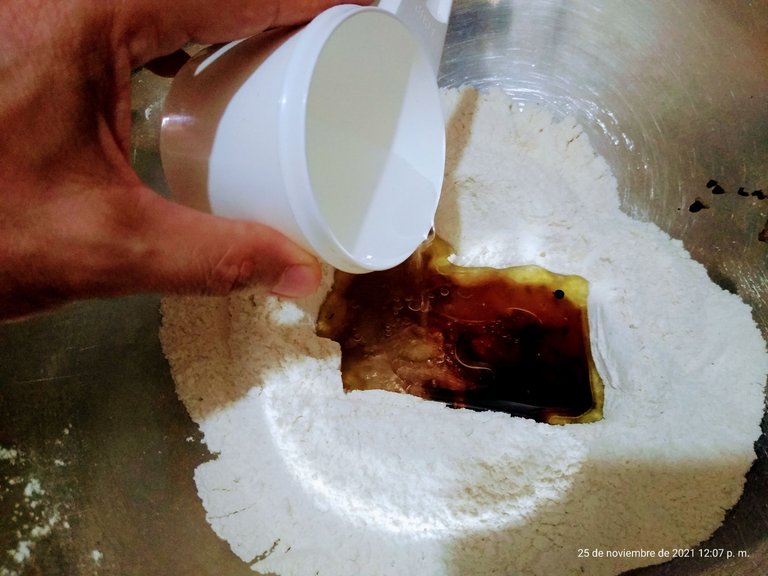 ---

---
Yo hice una de color natural y otra verde, porque el colorante rojo no me pinto el agua 🤣 seguimos no se distraigan jajaja
I made a natural color and a green one, because the red dye did not paint my water 🤣 we continue do not get distracted hahaha.
---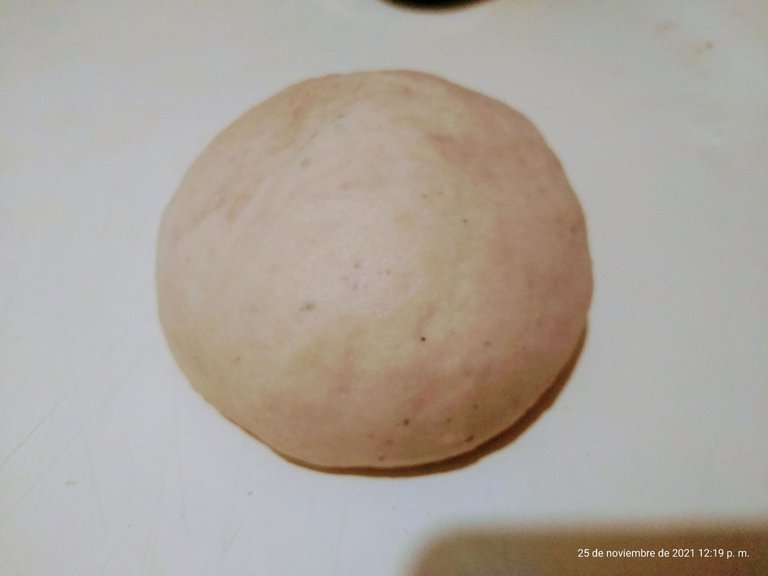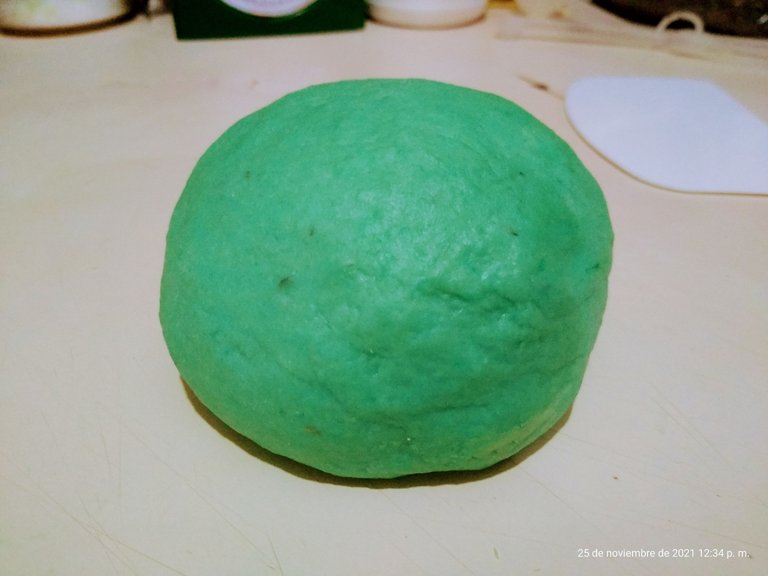 ---

---
Al terminar de amasar por unos 5 minutos cada masa, le damos media hora de reposo, cubierta con un plástico
After kneading each dough for about 5 minutes, we give it half an hour to rest, covered with plastic wrap.
---

---
Al pasar la media hora cortamos en dos porciones cada masa, la boleamos y luego aplanamos con rodillo
After half an hour, cut each dough into two portions, roll it and then flatten it with a rolling pin.
---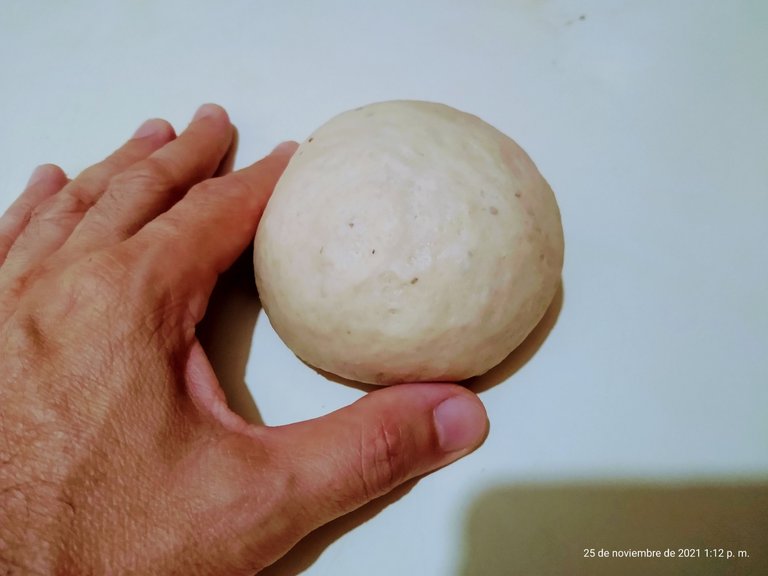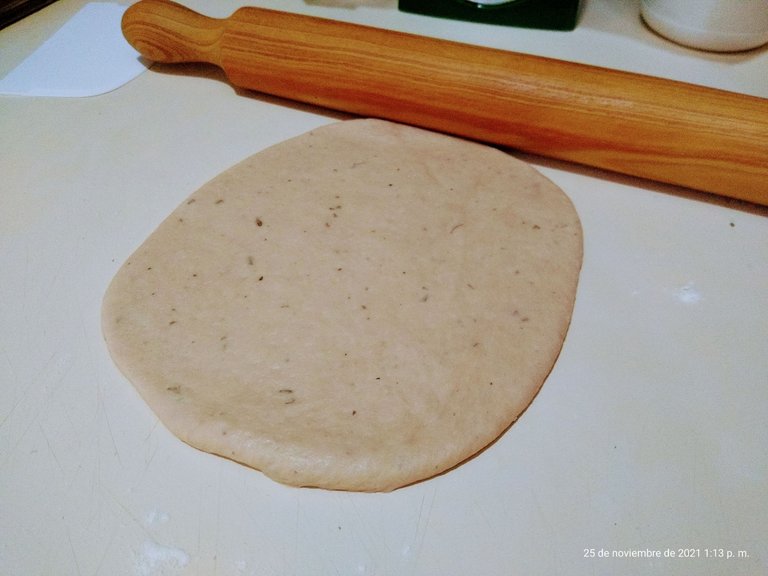 ---

---
Hacemos un dobles leve y presionamos con los dedos un poco a lo largo del mismo
We make a slight bend and press with our fingers a little bit along it.
---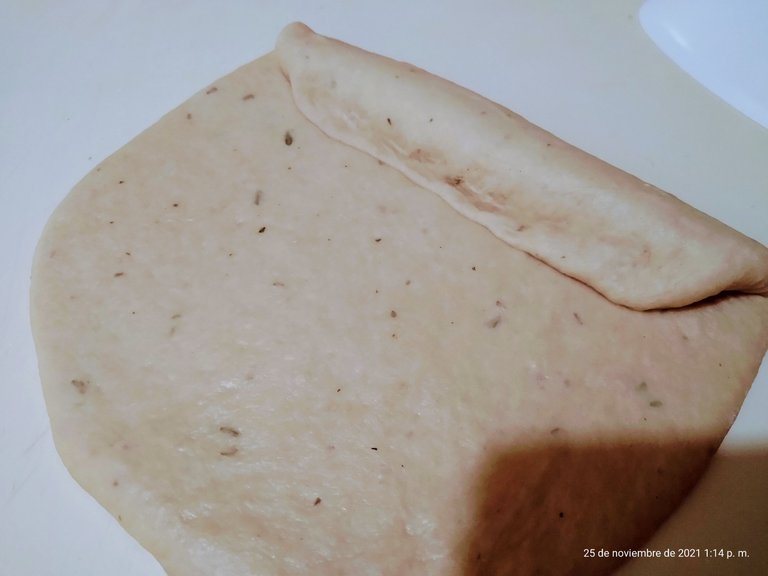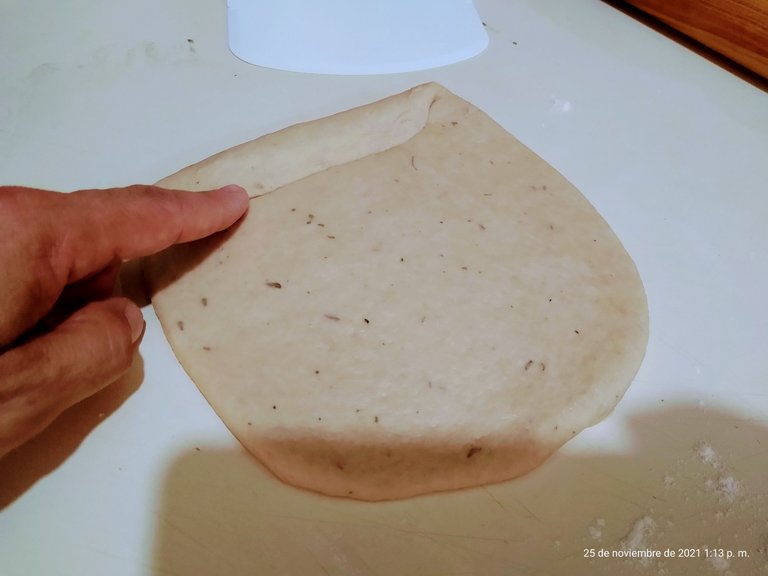 ---

---
Así vamos enrrollando poco a poco repitiendo el proceso de pisar con los dedos en cada vuelta hasta terminar el pan
We roll it up little by little, repeating the process of stepping with the fingers in each turn until the bread is finished.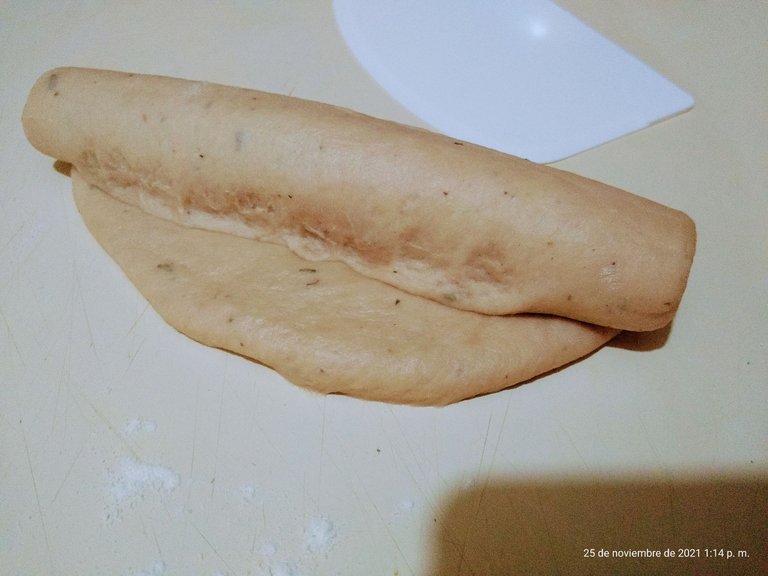 ---

---
Les debe quedar una especie de flauta que pondremos con el pliegue hacia abajo en una bandeja de horno engrasada con manteca vegetal
They should have a kind of flute shape that we will place with the fold downwards on a greased baking tray with vegetable shortening.
---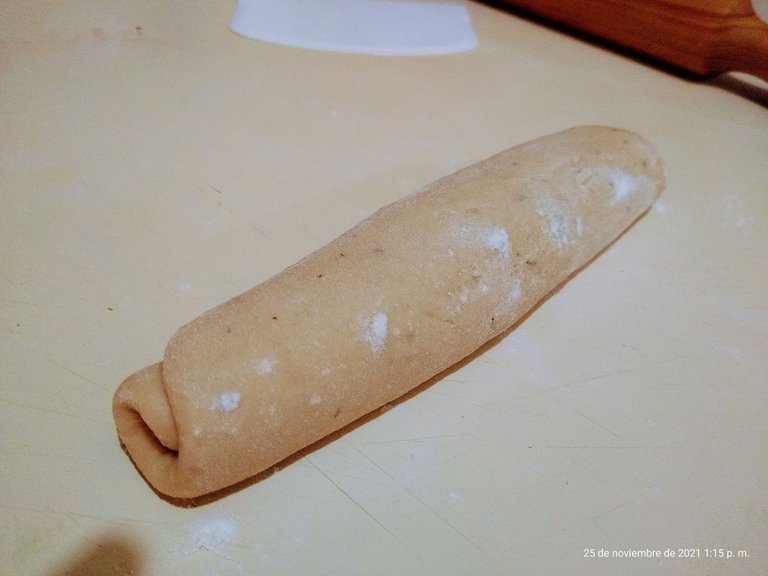 ---

---
Luego repetimos el proceso con la masa de color verde (este colorante si pinto jajaja)
Then we repeat the process with the green dough (this dye if I paint hahaha).
---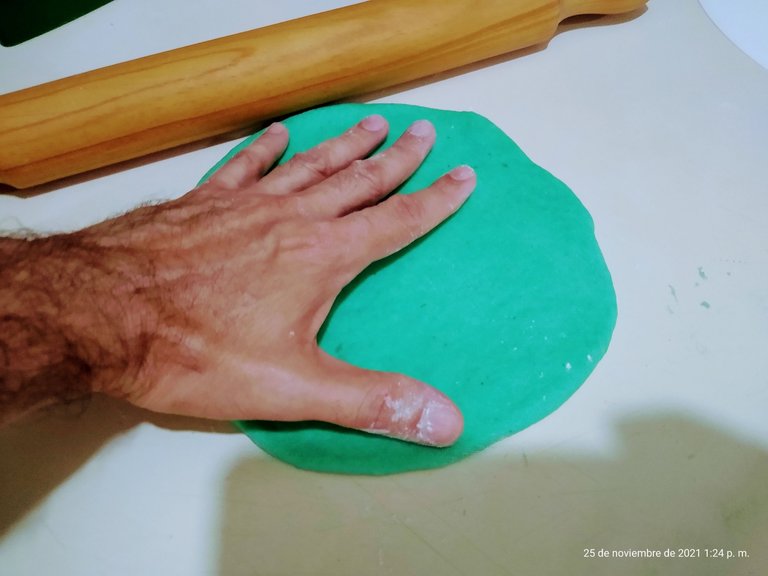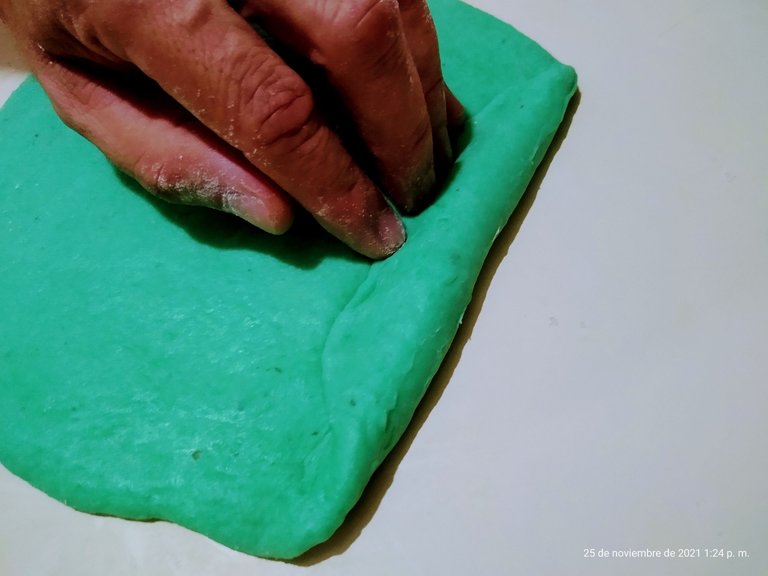 ---

---
Los dejamos reposar hasta doblar su volumen, siempre cubiertos con un plástico o paño húmedo y los llevamos luego al horno por 15 minutos a 220 grados Celsius
Let them rest until they double their volume, always covered with plastic wrap or a damp cloth and then put them in the oven for 15 minutes at 220 degrees Celsius.
---
Esta masa les da dos panes de 220 gramos cada uno, así que deben preparar una para cada color, yo prepare solo dos colores 🙃
This dough gives you two loaves of 220 grams each, so you must prepare one for each color, I prepared only two colors 🙃.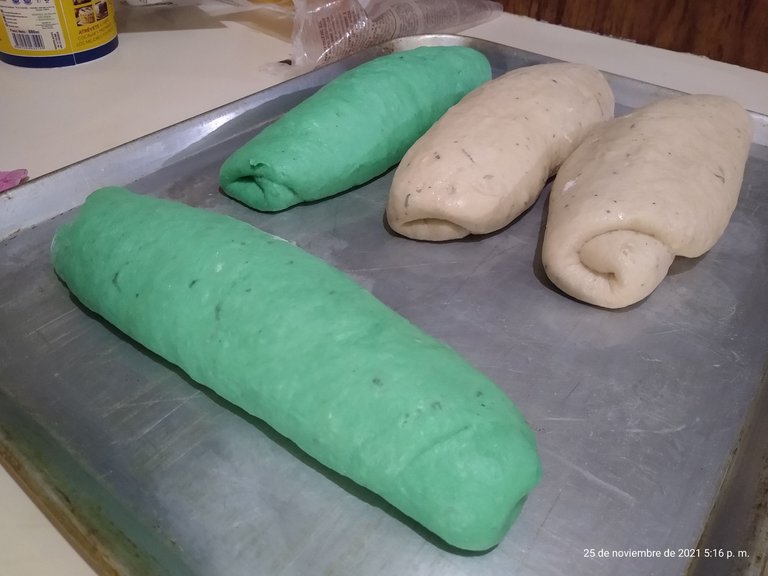 ---

---
Como tips les dejo, precalentar el horno a 250 grados primero y luego bajarlo a 220 grados, de esta manera su pan estará listo a los 15 minutos exactamente
As a tip, preheat the oven to 250 degrees first and then lower it to 220 degrees, this way your bread will be ready in exactly 15 minutes.
---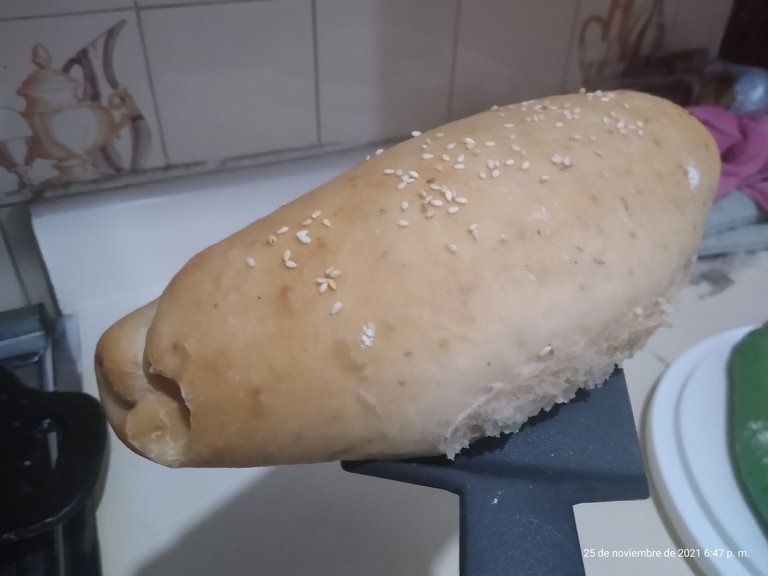 ---

---
Ahora solo tenemos que cortar los tomates y lavar bien la lechuga con un poco de agua y vinagre
Now we only have to cut the tomatoes and wash the lettuce well with a little water and vinegar.
---

---
El pollo lo preparas fácil, lo sal pimentas, le pones un toque de ajo en polvo, una pizca de orégano, un chorrito de aceite y salsa de soja, lo llevas a fuego alto en un sarten y listo!
The chicken is easy to prepare, you salt and pepper it, add a touch of garlic powder, a pinch of oregano, a dash of oil and soy sauce, put it over high heat in a frying pan and that's it!
---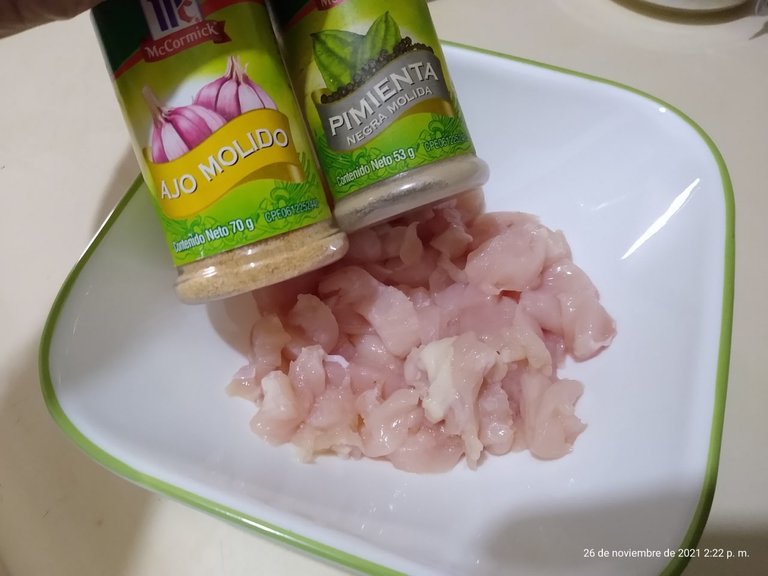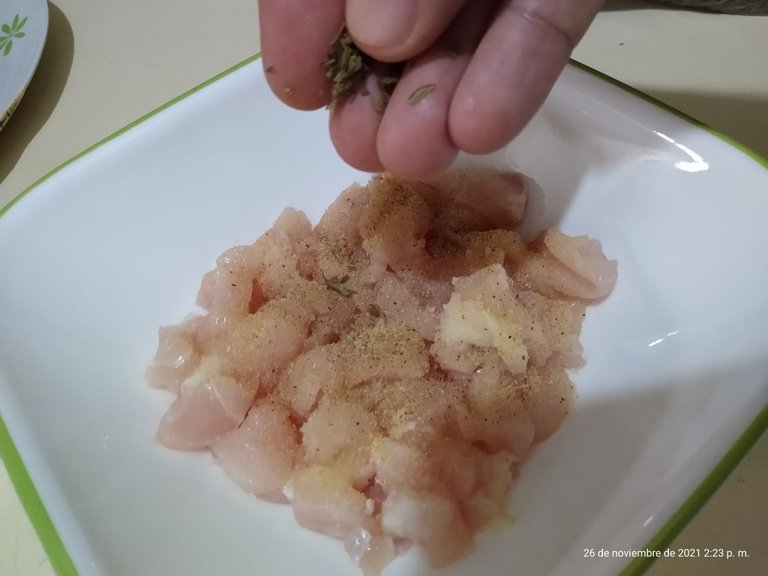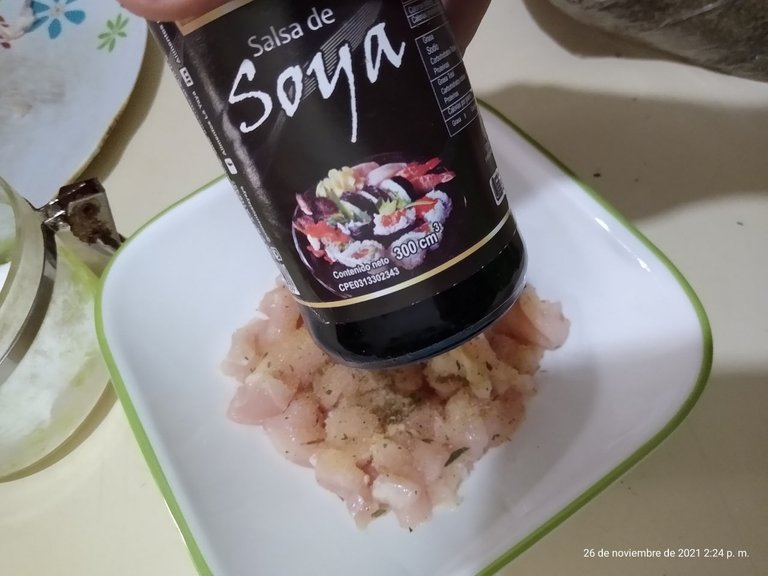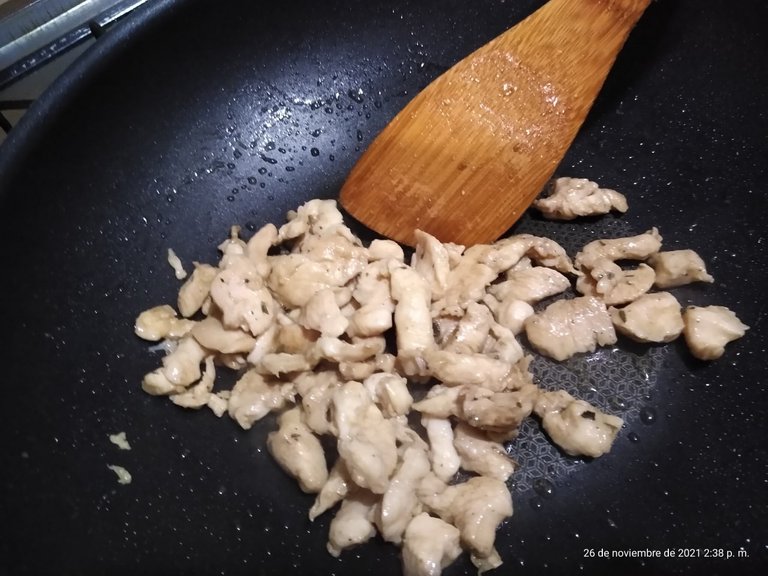 ---

---
Ahora solo cortamos el pan, ponemos mayonesa y los tomates en una de las caras del pan
Now we just cut the bread, put mayonnaise and tomatoes on one side of the bread.
---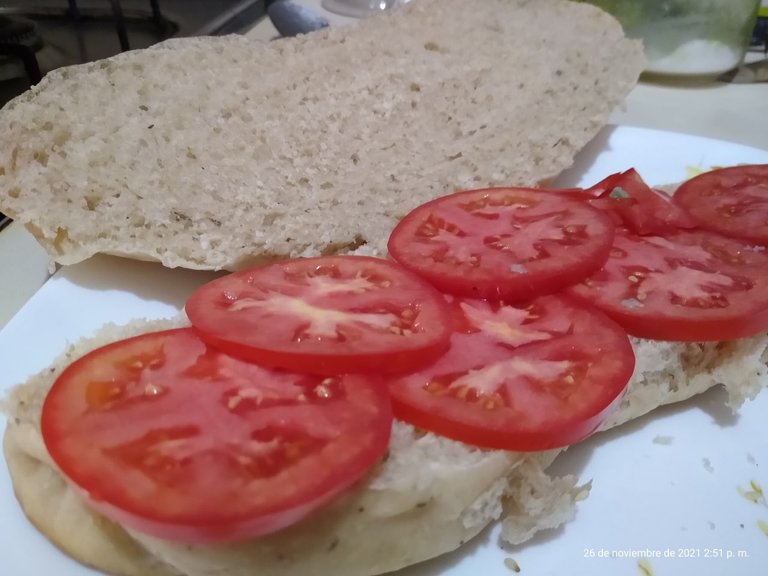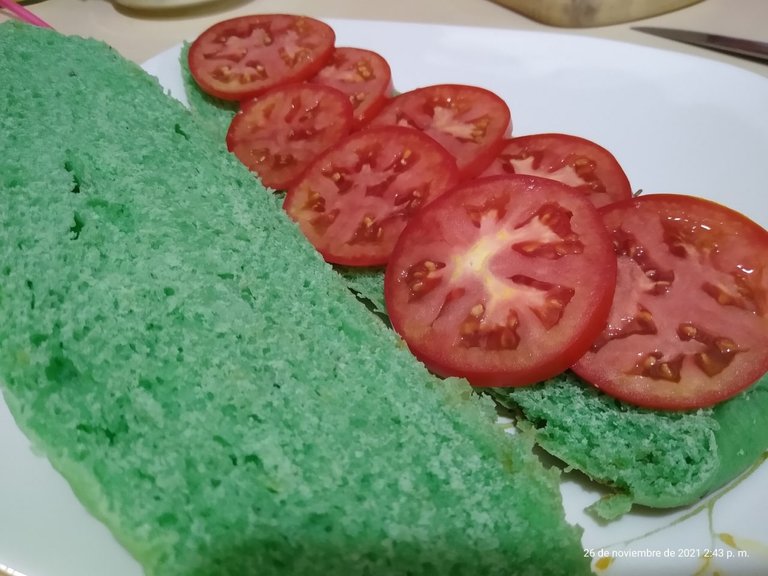 ---

---
Por aquí te comparto mi receta personal de mayonesa, aquí en mi cocina todo es hecho totalmente en casa 😉
Here I share with you my personal mayonnaise recipe, here in my kitchen everything is totally homemade 😉.
👨‍🍳 RECIPE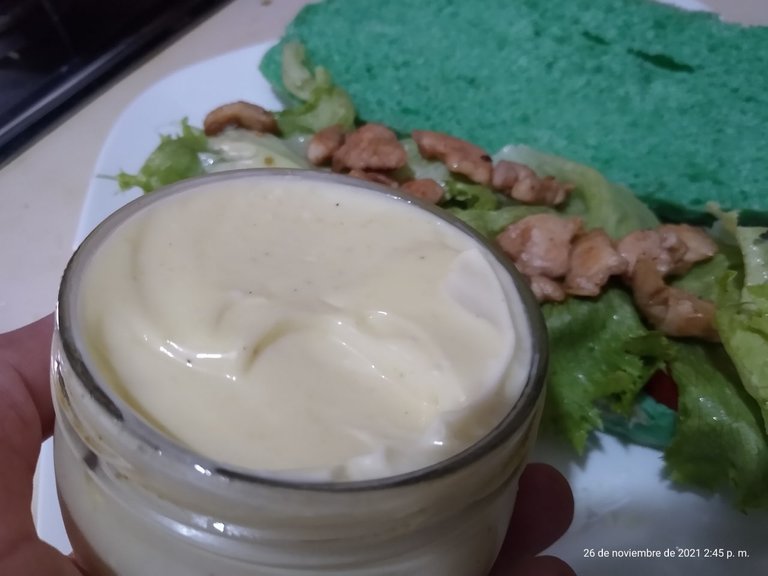 ---

---
Continua con la lechuga y el pollo a lo largo del pan, un pequeño toque de mostaza y más mayonesa en la otra cara del pan
Continue with the lettuce and chicken along the bread, a little touch of mustard and more mayonnaise on the other side of the bread.
---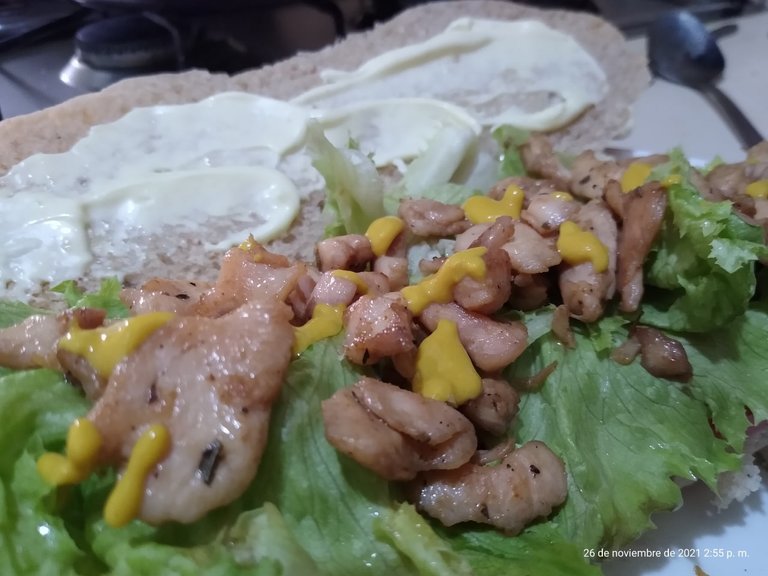 ---

---
La salsa agridulce es opcional, pero ya es cosa de gustos, si le colocas ketchup... ponle solo unas gotas
The sweet and sour sauce is optional, but it is a matter of taste, if you put ketchup... put just a few drops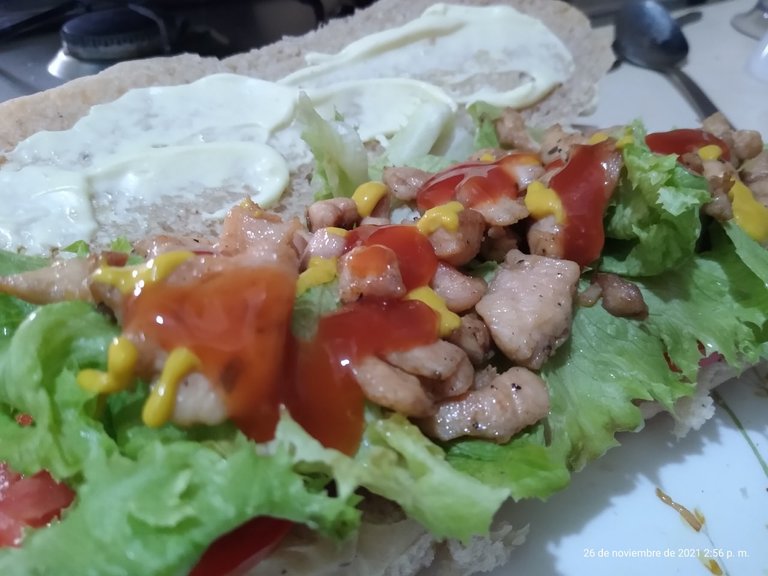 ---

---
Mira esta belleza! y dime si no es una delicia 😋
Look at this beauty! and tell me if it's not a delight 😋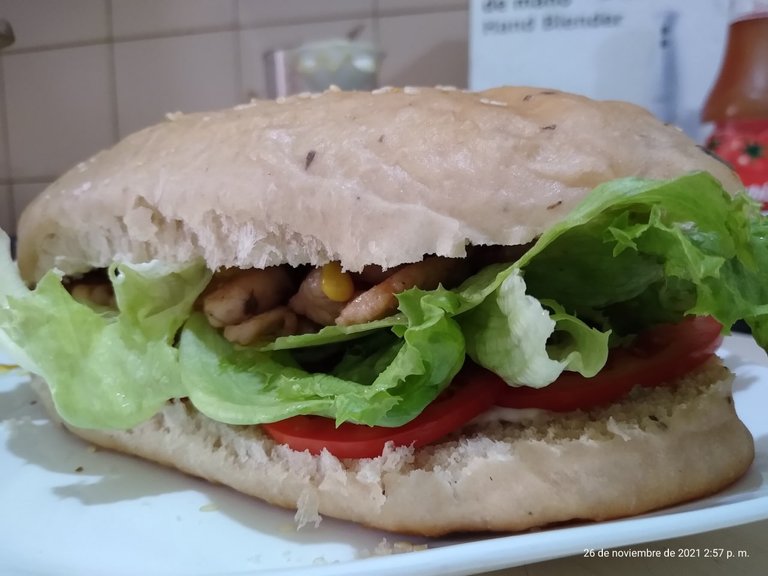 ---

---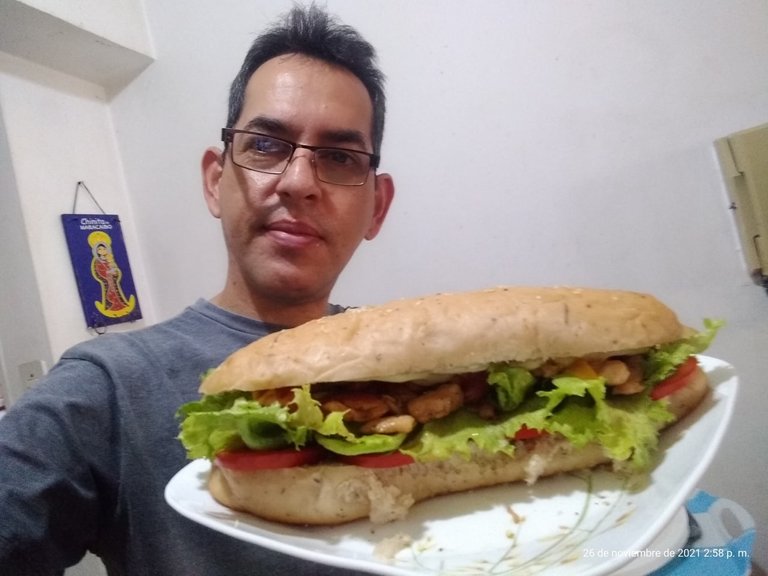 Y así queda este delicioso pan granjero de 28 centímetros
P.D. Me dío hambre otra vez al ver mis fotos jajaja 🤣
And this is how this delicious 28 centimeters farmer bread looks like.
P.S. I got hungry again when I saw my pictures hahaha 🤣
---

---
Todas las imágenes y textos son de mi autoria. Los separadores y banner personal los realice con Canvas. Fotos : Cámara motoG7 power y un trípode fotográfico
Tradución realizada con https://www.deepl.com/es/translator
---
All images and texts are my own. The separators and personal banner were made with Canvas. Photos : motoG7 power camera and a photo tripod
Translation made with https://www.deepl.com/es/translator
---

---

---
Si llegaste hasta el final de mi publicación y dejas el primer comentario te llevas un voto jajaja, eso si... que no sea solo buen post 🤣, hablando ya en serio, si te gusto mi receta, puedes dejar tu comentario como siempre es bien recibido 😁
If you got to the end of my post and leave the first comment you get a vote hahaha, that if... that is not just good post 🤣, seriously speaking, if you liked my recipe, you can leave your comment as always is welcome 😁
---

---
🎅
---
---