[ESP-ENG] Panecillos de Navidad multi sabores 👉 Cocina creativa 👨‍🍳 / Christmas muffins 👉 multi-flavorsv 👉 Creative Cooking 👨‍🍳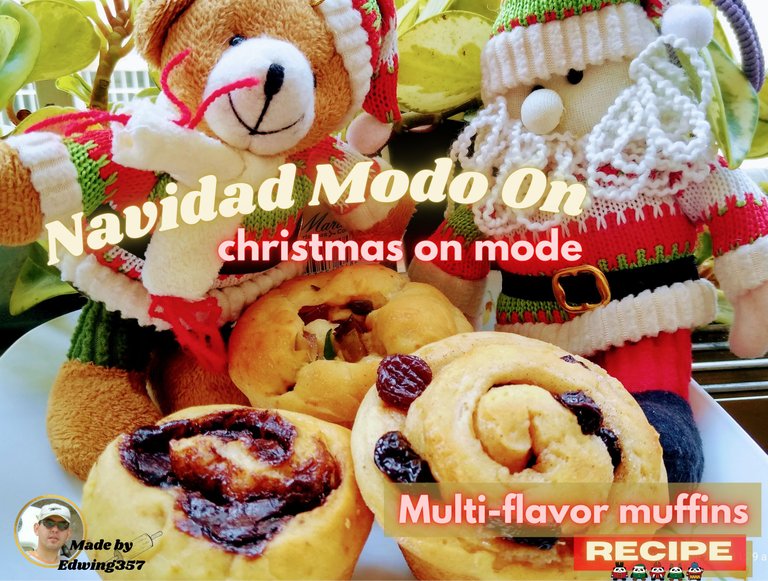 ---

---
Panecillos de navidad 🎅
Christmas rolls
---
Spanish

---
Hola mis hivers, estaba algo ocupado pero ya llegue en modo navideño 🎄
---
Como estamos a pocos días de entrar en el mes decembrino, es hora de ir probando las recetas 🤤 🤣
---
Así que me puse hacer combinaciones, para traerles los mejores pllatillos
---
Sin más que decir empezamos jajaja
English

---
Hello my hivers, I was a little busy but I'm in Christmas mode 🎄
---
As we are just a few days away from entering the december month, it's time to start testing the recipes 🤤 🤣
---
So I started making combinations, to bring you the best dishes.
---
Without further ado, let's get started hahaha
---

---
Qué necesitamos? - What do we need?
---
900 gramos de masa semi-dulce (masa básica)
100 gramos de pasas
100 gramos de frutas confitadas
50 gramos de Dandies
50 gramos de lluvia de colores
100 gramos de crema de avellanas
Masa básica:
500 gramos de harina de trigro
60 ml de aceite vegetal
80 gramos de azúcar
1/2 cucharadita de sal
1/2 cucharada de levadura
250 ml de agua
1/4 de cucharadita de vainilla
opcional: una pizca de canela en polvo y clavito molido
900 grams of semi-sweet dough (basic dough)
100 grams of raisins
100 grams of candied fruits
50 grams of Dandies
50 grams of colored rain
100 grams of hazelnut cream
Basic dough:
500 grams of wheat flour
60 ml vegetable oil
80 grams of sugar
1/2 teaspoon salt
1/2 teaspoon of yeast
250 ml of water
1/4 teaspoon vanilla
optional: a pinch of powdered cinnamon and ground cloves
---

---
Cómo lo hacemos? - How do we do it?
---

---
Comenzamos por elaborar una masa básica, la cuál le daremos 30 minutos de reposo y luego la extendemos con rodillo en forma rectangular
We begin by making a basic dough, which we will give 30 minutes of rest and then we extend it with a rolling pin in a rectangular shape.
---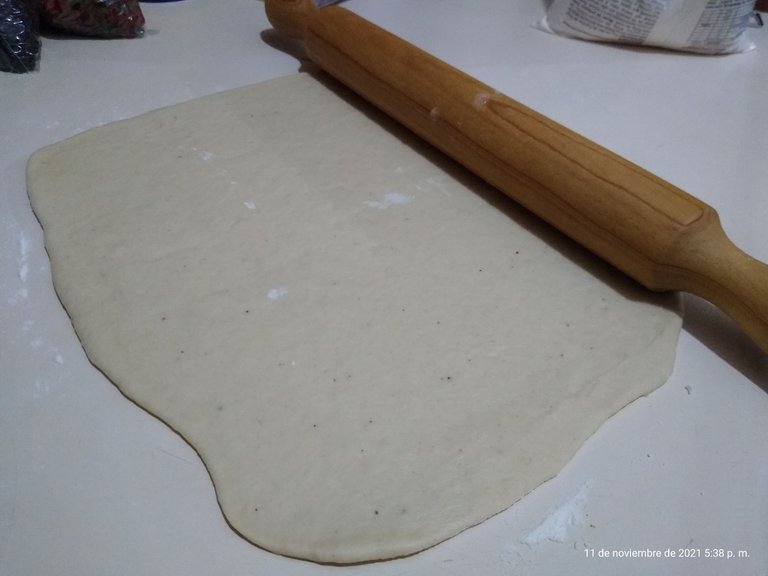 ---

---
Sobre esta masa colocaremos, 7 hileras de los diversos ingredientes antes mencionados, como se muestra en la imagen inferior
On this dough, we will place 7 rows of the different ingredients mentioned above, as shown in the image below.
---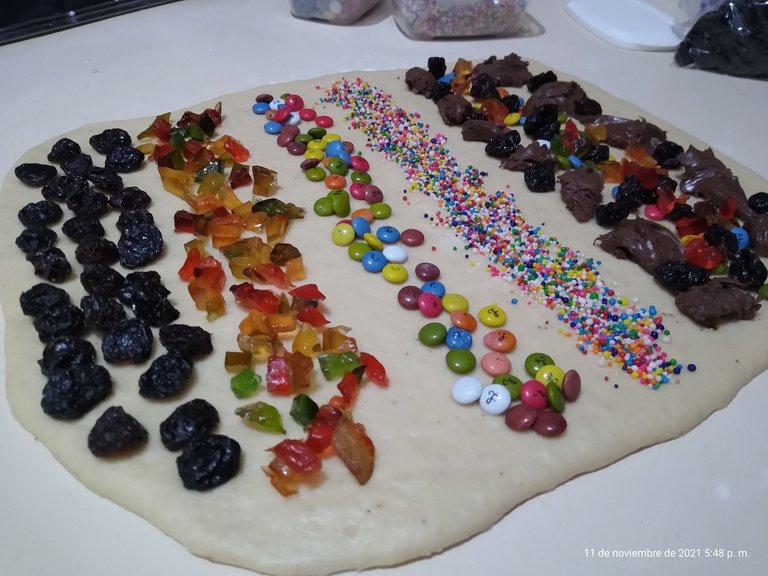 ---

---
Luego vamos enrrollando poco a poco y listo. Cuando pogan cada hilera dejen cada una con un tamaño de tres dedos aprox 😉
Then we roll up little by little and that's it. When you roll each row, leave each one with a size of about three fingers 😉.
---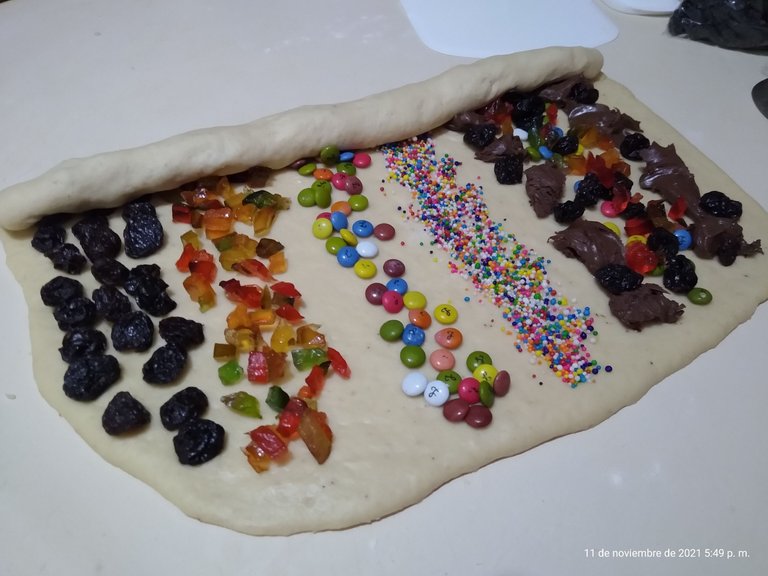 ---

---
Al terminar de enrrollar, empujamos un poco los extremos hacia dentro y cortamos usando la misma medida de tres dedos de ancho aprox
When the roll is finished, push the ends inward a little and cut using the same three-finger width approx.
---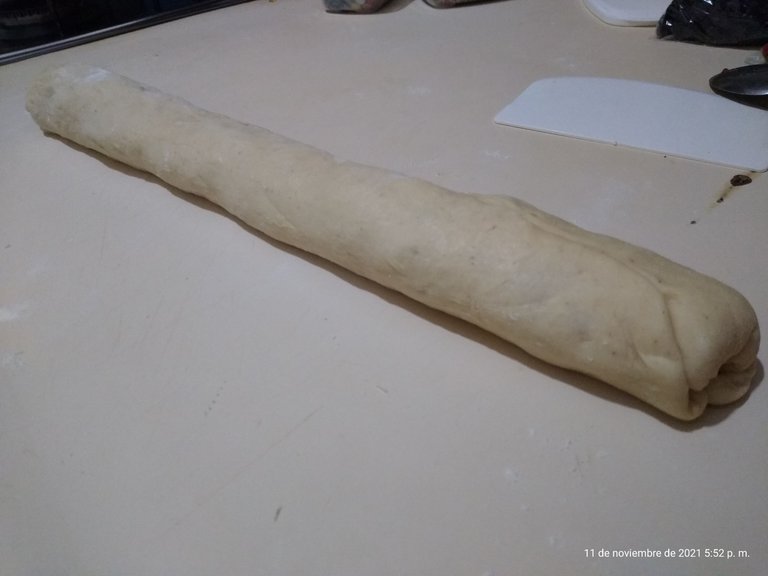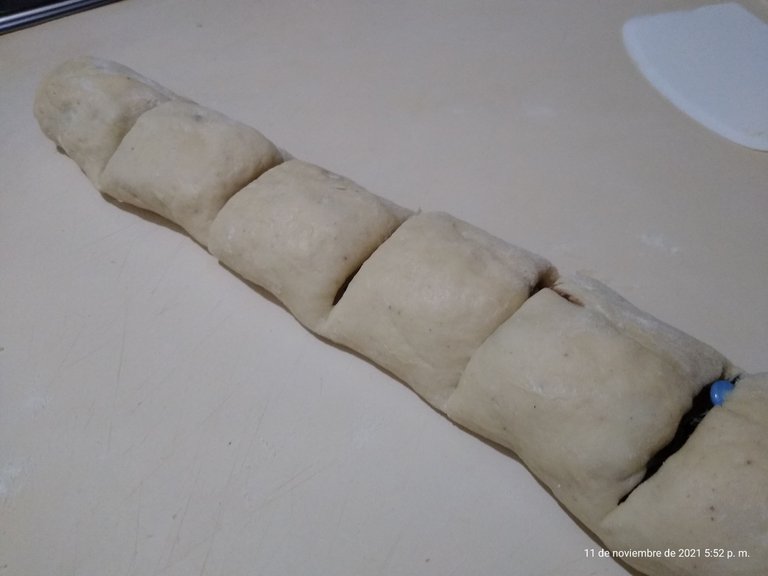 ---

---
Ahora colocamos cada rollito en una bandeja de hacer ponques, engrasada con manteca vegetal y aplanamos levemente
Now place each roll in a greased buttered cake pan and flatten slightly.
---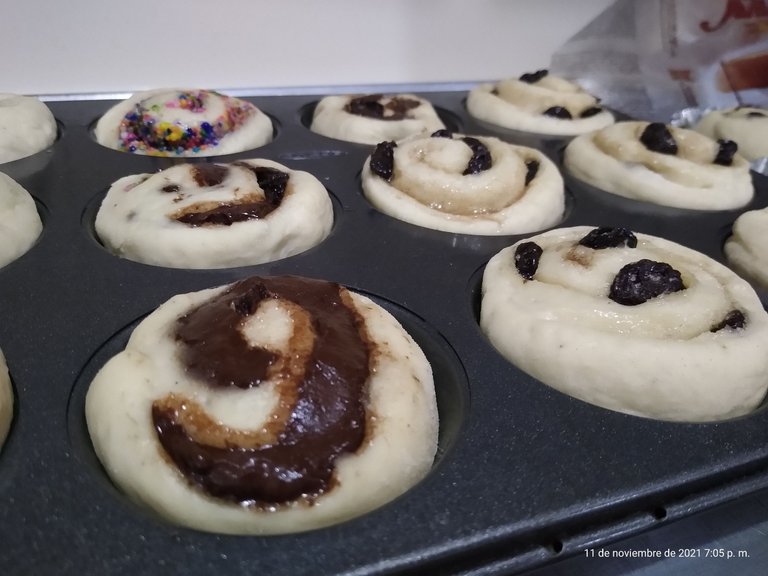 ---

---
Los cubrimos y dejamos reposar hasta que suban de tamaño, los llevamos luego al horno a 220 grados Celsius por 30 minutos apróximadamente
We cover them and let them rest until they increase in size, then we put them in the oven at 220 degrees Celsius for about 30 minutes.
---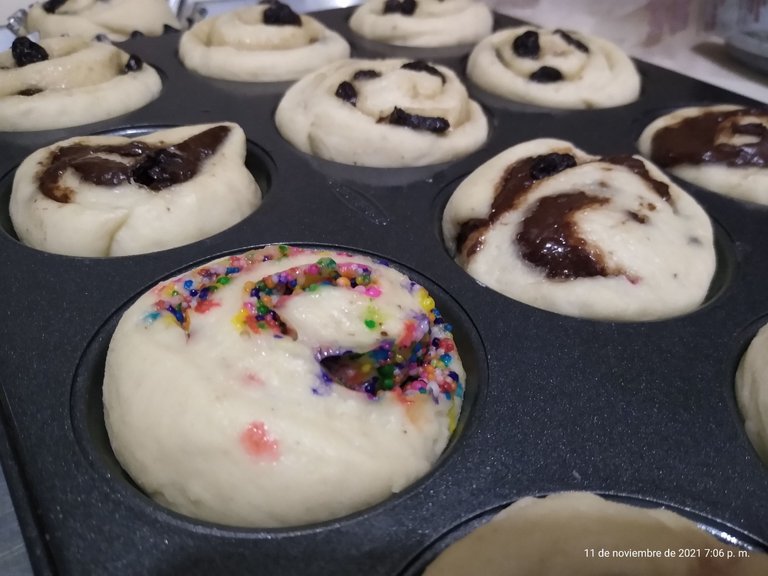 ---

---
Pasado los 30 minutos de horneado revisamos si ya estan dorados y desmoldamos 😋
After 30 minutes of baking, check if they are golden brown and unmold 😋.
---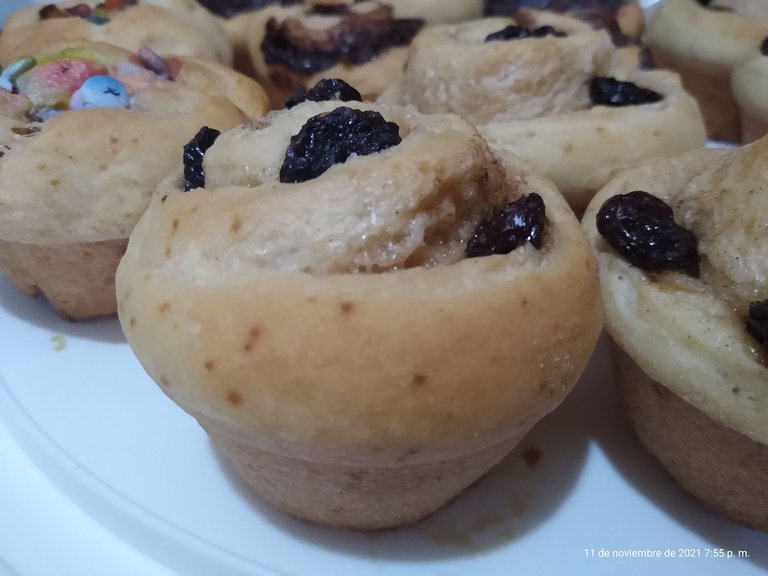 ---

---
Les cuento que el resultado fue genial, porque así puedes degustar de diversos sabores en una sola bandeja sin mucho trabajo
The result was great, because you can taste different flavors in a single tray without much work.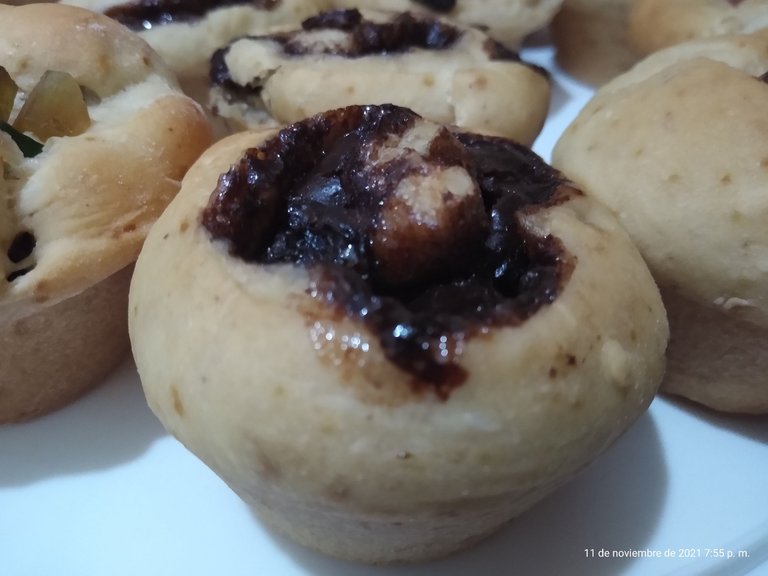 ---

---
Como saber cual es cual jajaja, fácil las pasas delatan los primeros 😜
How to tell which is which hahaha, easy the raisins give away the first ones 😜.
---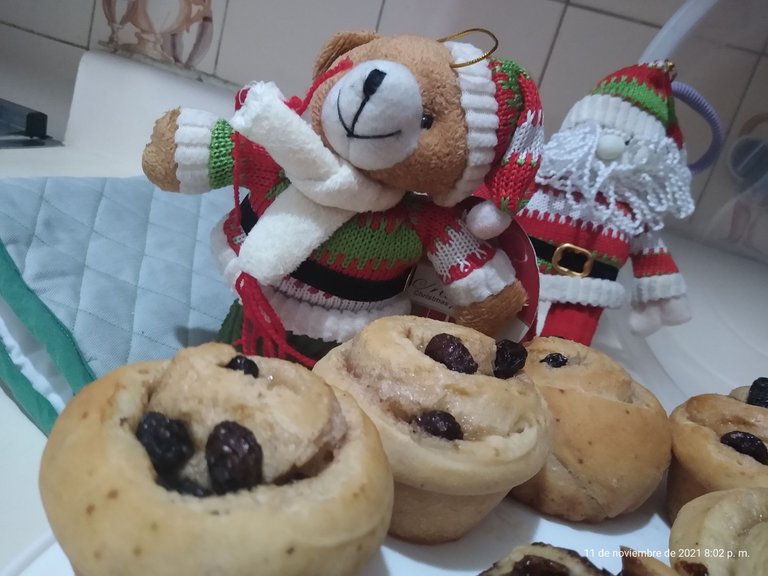 ---

---
Por la parte inferior tienen esta presentación, que les parece ? 🙃
At the bottom you have this presentation, what do you think ? 🙃
---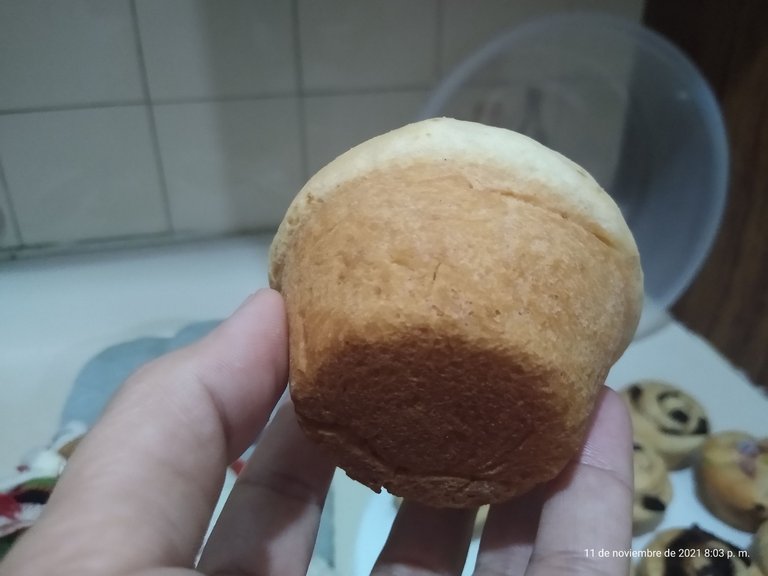 ---

---
Así quedan los de pasa y crema de avellana, aunque este tenía una frutica verde por allí abajito jajaja
This is how the raisin and hazelnut cream ones look like, although this one had a little green fruit at the bottom, hahaha.
---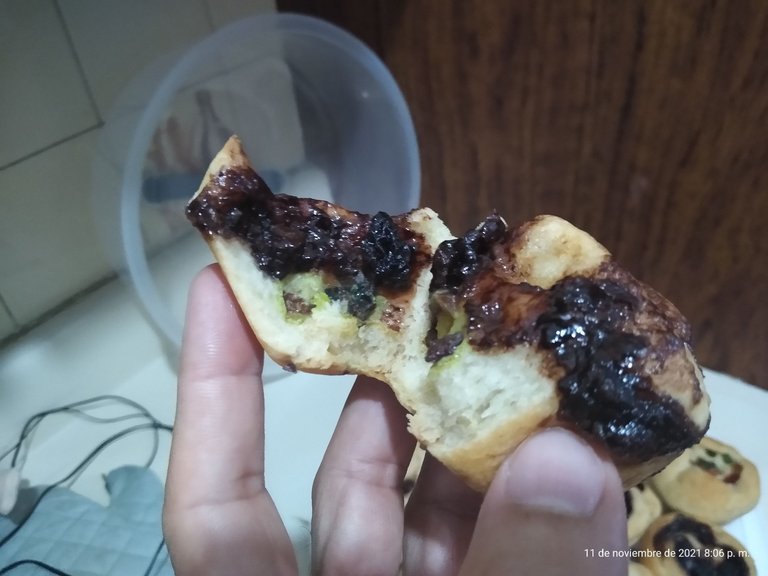 ---

---
Este es una parte de crema de avellanas y dandies que al final perdieron el color 🤣, pero el sabor es demasiado bueno 🤤
This is a part hazelnut cream and dandies, which in the end lost the color 🤣, but the taste is too good 🤤.
---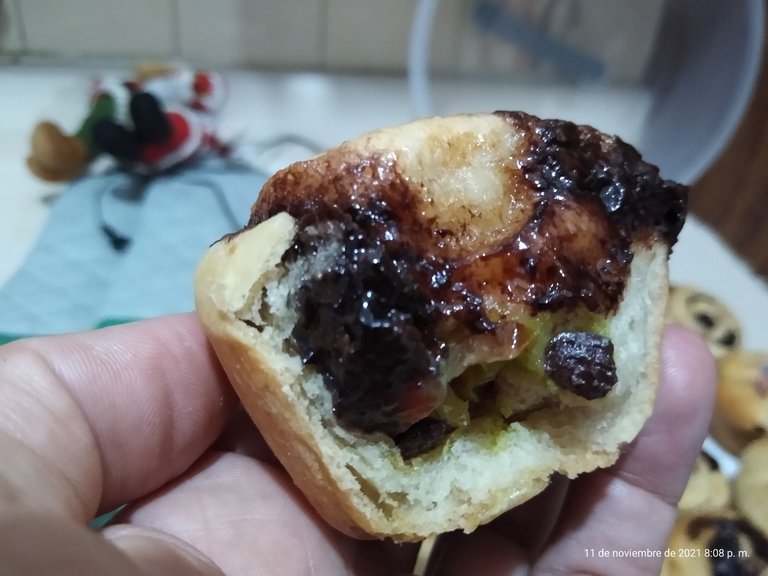 ---

---
Los de fruticas confitadas también se delatan solitos jajaja 🤣
The candied fruit ones also give themselves away hahaha 🤣
---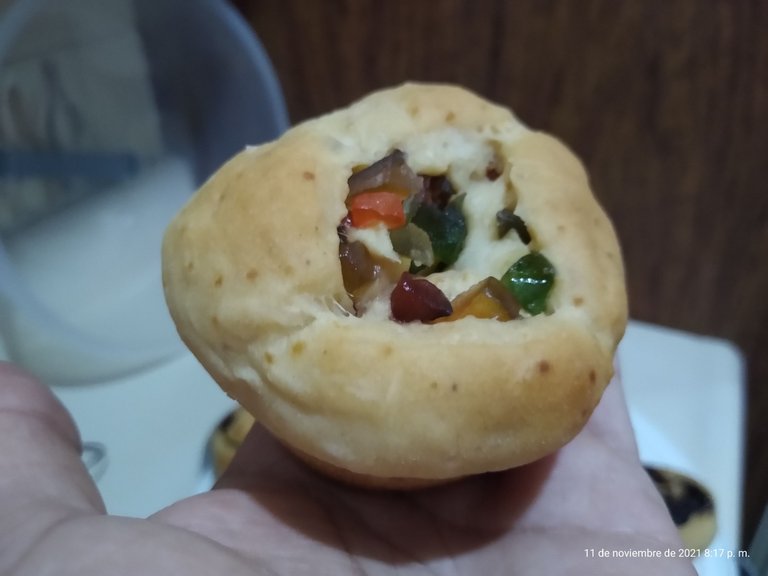 ---

---
Dirán que soy muy goloso pero los probé todooooos jajajaja
They will say that I have a sweet tooth but I tried them all hahahahaha
---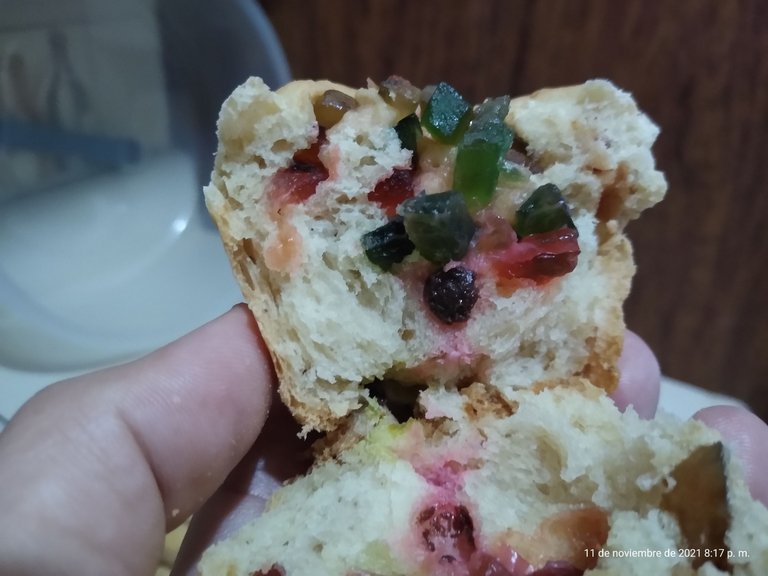 ---

---
Al final todo es cosa de gustos. Pero todos son muy buenos 😋 ahora voy por más combinaciones que les estaré trayendo en las próximas publicaciones
In the end it's all a matter of taste. But they are all very good 😋 now I am going for more combinations that I will be bringing you in the next posts.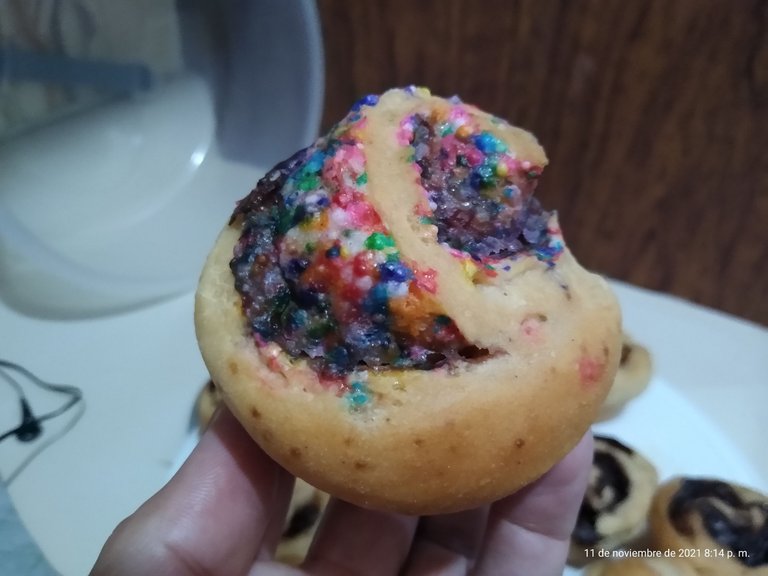 ---

---
Dejen volar su imaginación que siempre el resultado seŕa genial, pero recuerden invitarme a degustar 🤣
Let your imagination run wild, the result will always be great, but remember to invite me to taste 🤣
---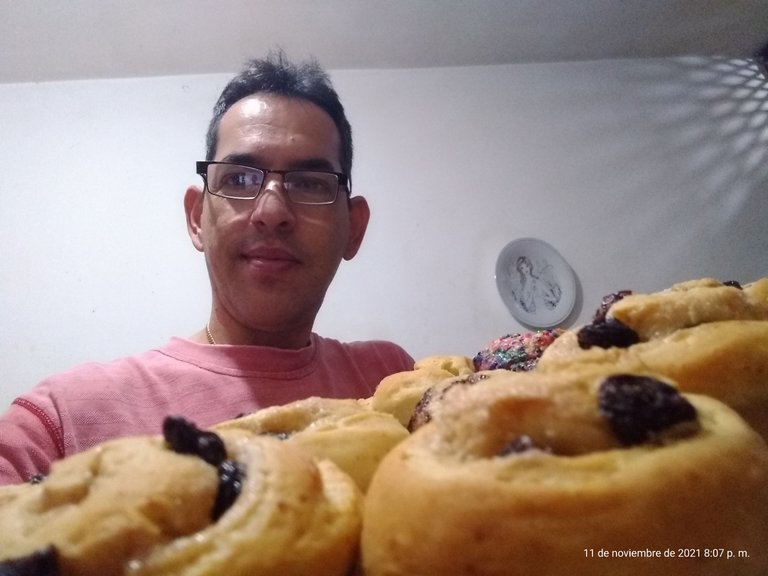 ---

---
Todas las imágenes y textos son de mi autoria. Los separadores y banner personal los realice con Canvas. Fotos : Cámara motoG7 power y un trípode fotográfico
Tradución realizada con https://www.deepl.com/es/translator
---
All images and texts are my own. The separators and personal banner were made with Canvas. Photos : motoG7 power camera and a photo tripod
Translation made with https://www.deepl.com/es/translator
---

---

---
Te invito a dejar tus comentarios por aquí en o mis otras redes, serán bienvenidos, si eres amante de la cocina estás en el lugar indicado 😉
I invite you to leave your comments here in or my other networks, they will be welcome, if you are a lover of cooking you are in the right place 😉.
---

---
👨‍🍳
---
---
---