I have loved empanadas since I can remember, the Venezuelan empanada is a fried cornmeal-based dish and is filled with stews or cheese, or whatever you want. The most famous ones are made of larded meat, ground meat, chicken, fish and the controversial one filled with white cheese. It is a breakfast par excellence, there are always street vendors in the Venezuelan streets selling empanadas, they are usually the tastiest. The empanadas of Margarita Island are usually the most famous, and the one with dogfish (a species of very small shark) is the most sought after, but they also specialize in making seafood stews that are a delight.
He amado las empanadas desde que tengo uso de razón, la empanada venezolana es un pastel frito a base de harina de maiz y se rellena con guisos o quesos, o lo que desees. Las más famosas son de carne mechada, carne molida, pollo, pescado y el controverial relleno de queso blanco. Es un desayuno por excelencia, siempre hay vendedoras ambulantes en las calles venezolanas vendiendo empanadas, suelen ser las más sabrosas. Las empanadas de la Isla de Margarita suelen ser las más famosas, y la de cazón (una especie de tiburón muy pequeño) es la más buscada, pero también se especializan en hacer guisos de mariscos que son una delicia.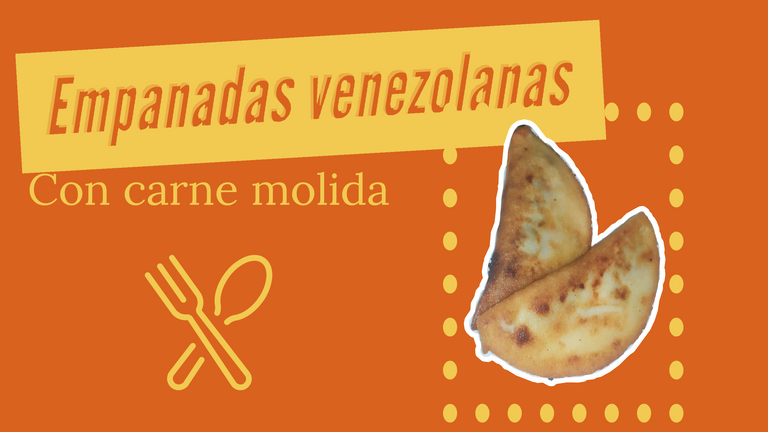 One of the stories I treasure the most is how I learned to make empanadas. As my family was foreign, I learned the Venezuelan recipes along the way; among these, the empanadas. My maternal grandmother still makes them, but they don't know what one is used to eating in the street stalls. But on one occasion, several years ago, on a festivity in the city of Cumaná, Edo. Sucre, a group of friends decided to get together to make an empanadazo and we invited the lady who made the empanadas on the corner to teach us. Sometimes you think it's kneading and frying, but even the spread has its technique. Today I will show you how to make some empanadas filled with ground meat and potatoes.
Una de las historias que más atesoro es como aprendí a hacer empanadas. Al ser mi familia extranjera, las recetas venezolanas las fui aprendiendo a hacer en el camino; entre estas, las empanadas. Mi abuela materna aún las hace, pero no saben a lo que uno acostumbra a comerse en los puestos callejeros. Pero en una oportunidad, hace varios años, en una festividad en la ciudad de Cumaná, Edo. Sucre, un grupo de amigos decidimos reunirnos para hacer un empanadazo e invitamos a la señora que hacía las empanadas en la esquina para que nos enseñara. A veces uno cree que es amasar y echar a freír, pero es que hasta el extendido tiene su técnica. Hoy les mostraré como hacer unas empanadas rellenas con carne molida y papas.
Ingredients:
For the dough:
For the filling:
Dressings (onion, paprika, sweet bell pepper, chives, celery and garlic)
200 gr of ground meat
oil
Onoto or vegetable color
1 small potato
1 small carrot
Ingredientes:

Para la masa:
Para el relleno:

Aliños (cebolla, pimentón, ají dulce,cebollín, apio españa y ajo)
200 gr de carne molida
aceite
Onoto o color vegetal
1 papa pequeña
1 zanahoria pequeña
Preparation
Prepare the dough: mix the water, salt and flour and knead well.
For the preparation of the stew: chop the seasonings very small. In a very hot frying pan add the oil with the vegetable color, garlic and the ground meat, this is stirred very well so that it is sealed and it does not stick. Then add the seasoning, stir well and add the carrots and potatoes. Add a little bit of water and cover it so that the potato is cooked.
Preparación
Se prepara la masa: se mezcla el agua, la sal y la harina y se amasa bien.
Para la preparación del guiso: se pican los aliños muy pequeños. Aparte en una sartén muy caliente se agrega el aceite con el color vegetal, ajo y la carne molida, esta se va revolviendo muy bien para que se selle y que no se empelote. Luego se agregan los aliños, se revuelven bien y se les agregan las zanahorias y las papas. Se le agrega un chorrito de agua y se tapa para que se cocine la papa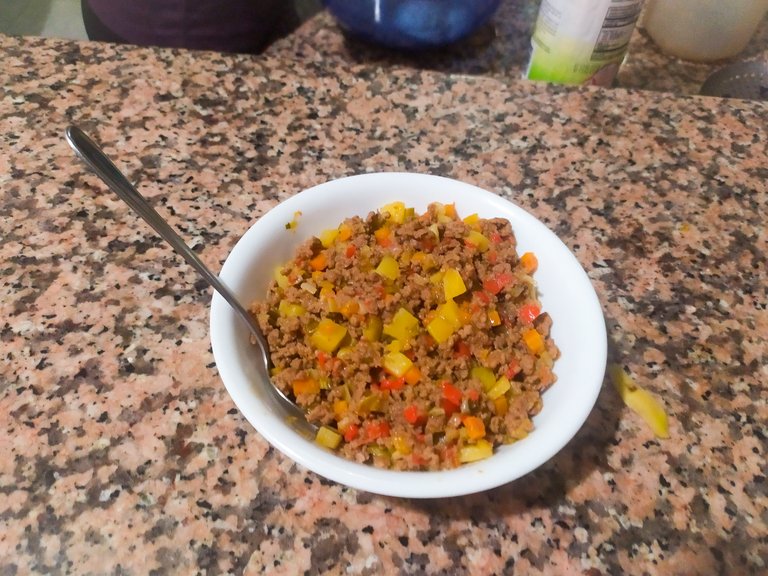 The stew will be ready when the potatoes are soft. They are left to rest so that it cools down and the empanadas do not fall apart. I like to leave the stews dry, without any liquid so that it does not provide humidity and the empanadas or release liquid when they are in the oil.
El guiso estará listo cuando las papas estén blandas. Se dejan reposar para que se enfríe y que no se desarmen las empanadas. A mi me gusta dejar los guisos secos, sin ningún líquido para que no le aporte humedad y las empanadas o suelten líquido cuando estén en el aceite.
For the assembly process I recorded a video. The steps are: take a ball of dough and spread it with the use of a bag, the bag I prefer to use is the one with the rice or sugar packages because they are thicker and keep a smooth dough that can be taken off. After extending the dough I put two spoonfuls of stew, I fold the dough in two that is in the shape of a half moon and short with the help of a cutter, or in my case, with the help of a round container. And ready, to fry in very hot oil.
Para el proceso de armado les grabé un video. Los pasos son: se toma una bola de masa y se extiende con el uso de una bolsa, la bolsa que prefiero usar es la de los paquetes de arroz o azúcar porque son más gruesos y mantienen una masa lisa que se puede despegar. Luego de extendida la masa le pongo dos cucharadas de guiso, pliego la masa en dos que quede en forma de media luna y corto con la ayuda de un cortador, o en mi caso, con la ayuda de un envase redondo. Y listo, a freír en aceite muy caliente.
While the empanadas are coming out, I put them vertically in a strainer so they can drain the oil and rest, it is not advisable to eat them so hot. We can accompany them with a rich cream of guasacaca, but since I didn't have it at home, my sister made a pico de gallo to eat them: a bite, pico de gallo and another bite.
Mientras van saliendo las empanadas, las voy poniendo verticalmente en un colador para que escurran el aceite y se reposen, no es recomendable comerlas tan calientes. Las podemos acompañar de una rica crema de guasacaca, pero como no tenía en casa, mi hermana hizo un pico de gallo para comerlas: un mordisco, pico de gallo y otro mordisco.
Empanadas make hearts happy, everyone loves them because of the different amount of stews we can make, we will always end up happy after eating one, if you don't believe me look at Alejandro's face eating one (he asked for more). I hope you can use my recipe, and make these delicious empanadas.
Las empanadas alegran corazones, todos la aman por su diversa cantidad de guisos que podemos hacer, siempre terminaremos felices luego de comer una, si no me creen miren la cara de Alejandro comiéndose una (pidió más). Espero que puedan usar mi receta, y hacer estas deliciosas empanadas.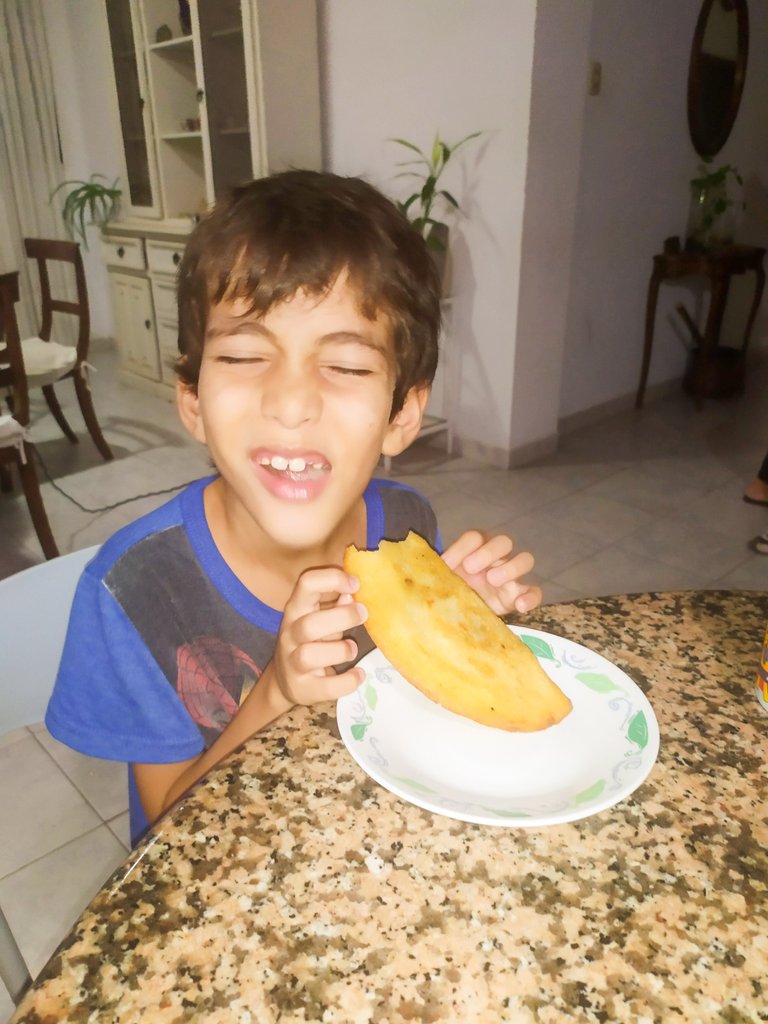 ENJOY!
El video fue grabado con un Redmi Note 7.
Editado con Kinemaster.
Banners y Footers con PicsArt y Adobe Spark Post.