Greetings from Venezuela to all the great HIVE family!
Today I want to share with you my recipe for Vegetables with Chicken, this is an ideal recipe to strengthen the immune system, thanks to the great beneficial properties of vegetables and chicken.
In addition, the consumption of vegetables is ideal for our health, because it contains many vitamins and minerals, facilitates digestion, improves the health of the heart.
Chicken is a dish that children like very much so it is a good opportunity to make them consume the vegetables that they need so much for their growth.
Ingredients:

Chicken Milanese
Zucchini
Dad
Eggplant
Carrot
Salt
Oil with Onoto
Chili pepper
Garlic
Onion
Parsley
Celery
Oregano.
Preparation:
Step 1: After washing and peeling the vegetables, cut the potato, carrot, eggplant and zucchini into squares.


Step 2: The chicken milanesa is cut into squares, placed in a cauldron, the salt is added, the garlic cloves cut into small pieces, the oil with onoto is added.

Step 3: Cut the chili pepper, onion, parsley, celery, and add everything to the cauldron along with the oregano.
Step 4: A little water is added to it and the whole thing is left to sweat from the steam for another 20 minutes.

Step 5: The chicken is served with vegetables.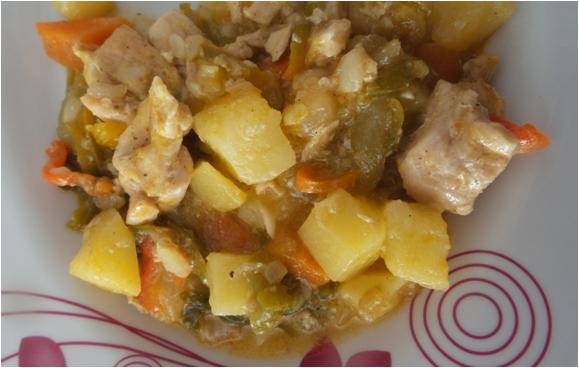 In this recipe it has a great vegetable flavor and we can all enjoy and eat very well.