Baked Potatoes! (EN/TR) Fırında Patatesss!

-EN
I salute you all! How are you? I hope you are good. I'm good for me. I guess I'm a little too good :D. Today, I wanted to make a different and more energetic entrance than usual. I hope I am good at this. If I could put my laughter into the article, I'd be sure to do that too. I think my period of depression is coming to an end. I don't think there is any other explanation for why I am so happy for no reason. I want to laugh all the time. lol.
Today I am here to share a very practical and vegan recipe with you. The number of ingredients is very few. The main ingredient is potatoes, perhaps my favorite vegetable. A classic baked potato recipe. You can consume this dish in different ways. But I usually serve it alongside a different dish. A good meal on its own too. Still, the choice is up to you. But if you ask me, baked potatoes are a great option, especially with chicken dishes.
-TR
Həmınızı sələmləyırəm! Necəsən? Ümid edirəm ki, yaxşısan. Mən yaxşıyam. Biraz fazla yaxşıyam sanırım :D. Bugün her zamankinden daha farklı ve daha enerjik bir giriş yapmak istedim. Umarım bu konuda iyiyimdir. Yazıya kahkahalarımı aktarabilseydim emin olun onu da yapardım. Sanırım depresyon dönemim sona eriyor. Sebepsiz yere bu kadar mutlu olmamın başka bir açıklaması olabileceğini sanmıyorum. Sürekli gülmek istiyorum. lol.
Bugün sizlerle çok pratik bir yemek tarifi paylaşmak için burdayım. Malzeme sayısı oldukça az. Ana malzeme belki de en sevdiğim sebze olan patates. Klasik bir fırınlaşmış patates tarifi. Bu yemeği farklı şekillerde tüketebilirsiniz. Ama ben genellikle farklı bir yemeğin yanında servis ediyorum. Tek başına da güzel bir yemek. Yine de tercih size kalmış. Ama bana soracak olursanız özellikle tavuk yemeklerinin yanında fırınlanmış patates harika bir seçenek.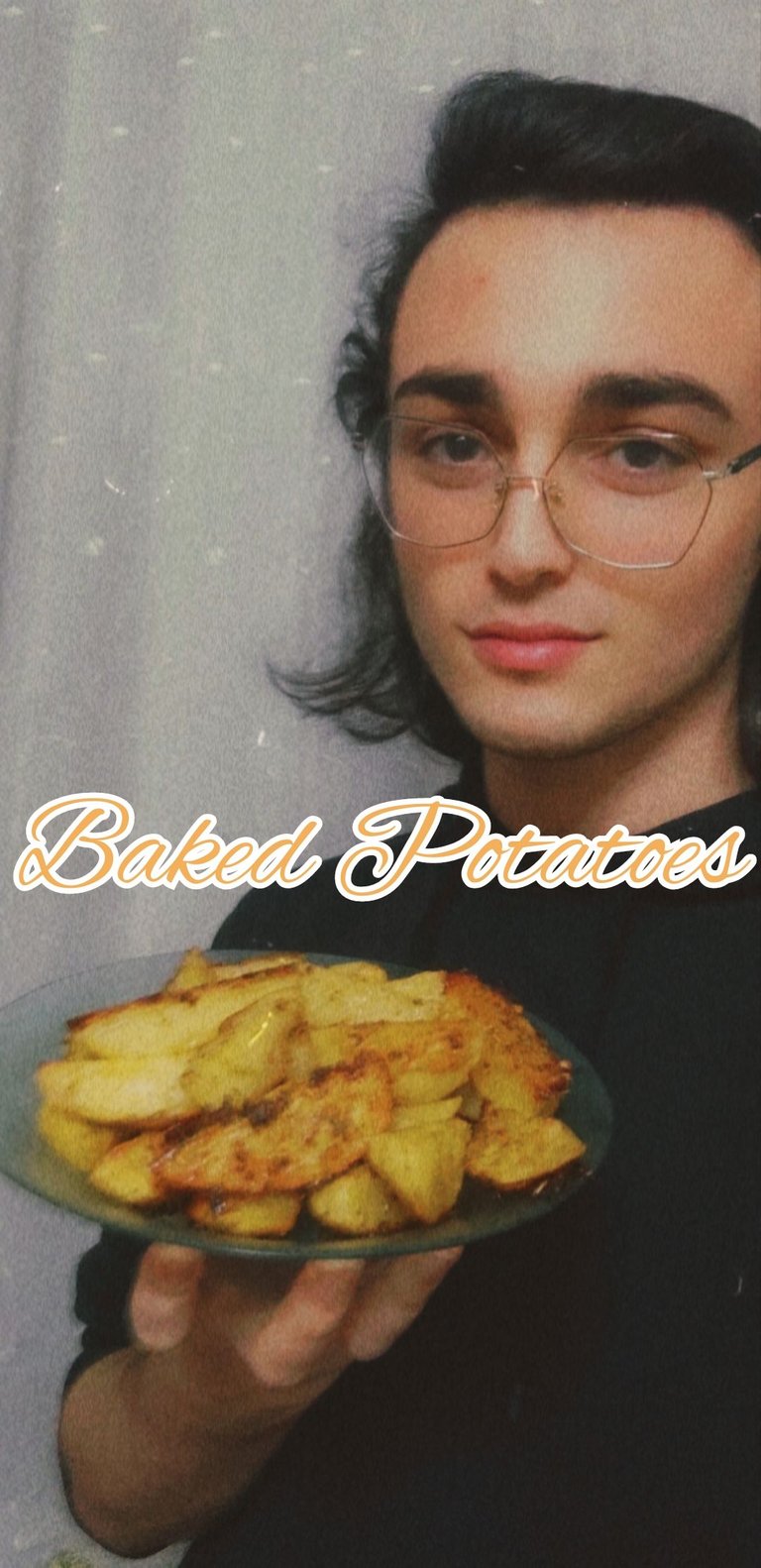 I think there is only one trick to this recipe. Using garlic while making it. Garlic really adds a great flavor. Last time I made this dish, my cousin ate a tray of baked potatoes almost by herself. I didn't think that a thin person like him could eat so much food. Anyway, in short, use garlic. Let's talk a little bit about the recipe!
Bence bu tarifin tek bir püf noktası var. O da yaparken sarımsak kullanmak. Sarımsak gerçekten harika bir lezzet katıyor. Geçen sefer bu yemeği yaptığımda kuzenim bir tepsi fırınlanmış patatesi neredeyse tek başına yemişti. Onun gibi zayıf birinin bu kadar çok yemek yiyebileceğini düşünmemiştim. Her neyse,kısaca sarımsak kullanın. Hadi biraz da tarif hakkında konuşalım!
Baked Potatoes
Ingredients
6-7 Medium Potatoes
200 mL Olive Oil (You can also use Sunflower Oil)
3 Cloves of Garlic
3 Teaspoons of Salt
3 Teaspoons of Chili Pepper
5 Teaspoons of Thyme
Fırınlanmış Patates
Malzemeler
6-7 Adet Orta Boy Patates
200 mL Zeytin Yağı ( Ayçiçek Yağı da kullanabilirsiniz.)
3 Diş Sarımsak
3 Çay Kaşığı Tuz
3 Çay Kaşığı Pul Biber
5 Çay Kaşığı Kekik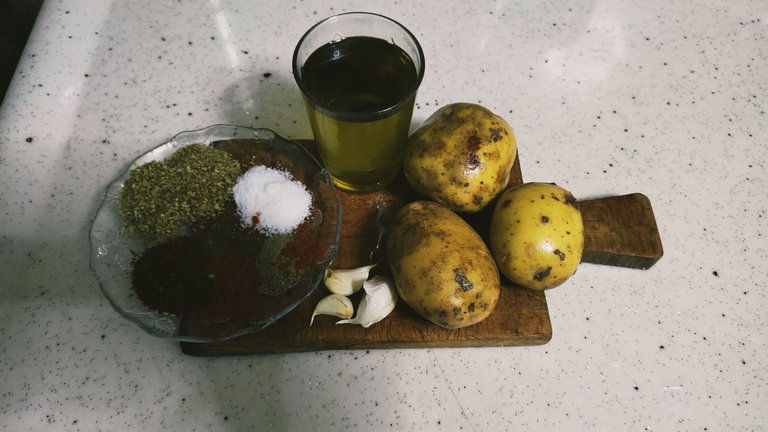 Steps
Chop the potatoes the way you want. This time, I chopped it into thick pieces, different from what I always do.
Adımlar
Patatesleri istediğiniz şekilde doğrayın. Ben bu sefer her zamanki yaptığımdan farklı olarak kalın parçalar halinde doğradım.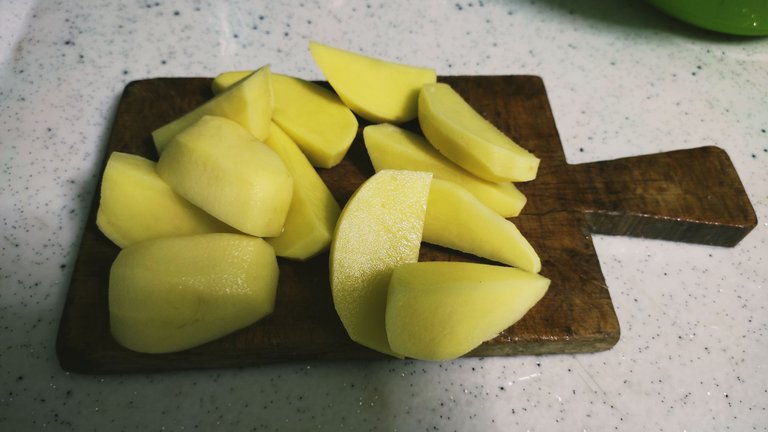 Mix olive oil, grated garlic and spices in a deep bowl.
Derin bir kasede zeytin yağı,rendelenmiş sarımsak ve baharatları karıştırın.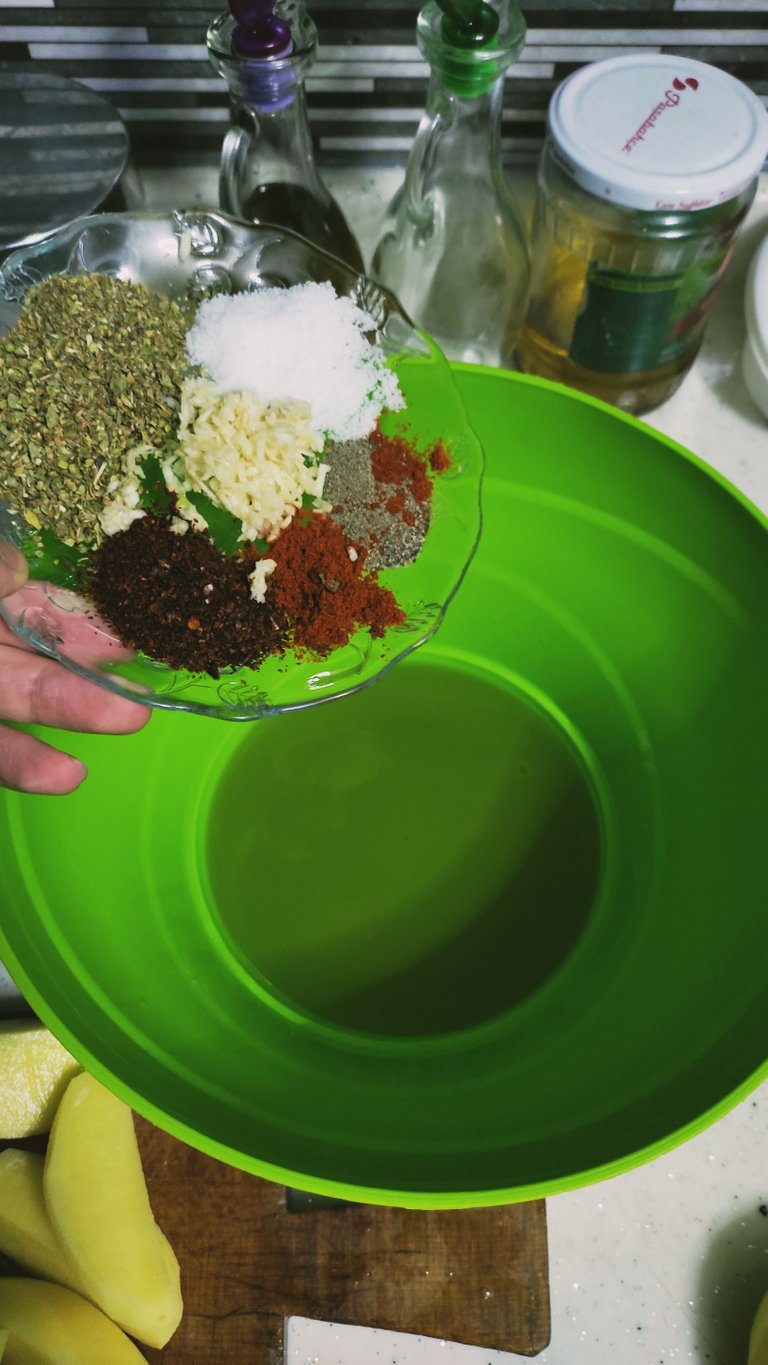 Add the potatoes to this mixture and mix. Then place the potatoes on the tray. Bake in a preheated oven.
Patatesleri bu karışıma ekleyin ve karıştırın. Daha sonra patatesleri tepsiye dizin. Önceden ısıtılmış fırında pişirin.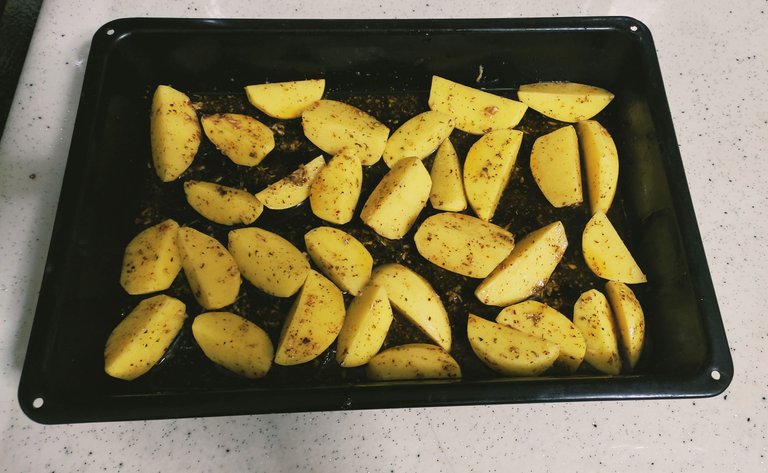 Serve your dish when the potatoes are cooked to your liking. Bon Appetit!
Patatesler istediğiniz kadar pişince yemeğinizi servis edin. Afiyet Olsun!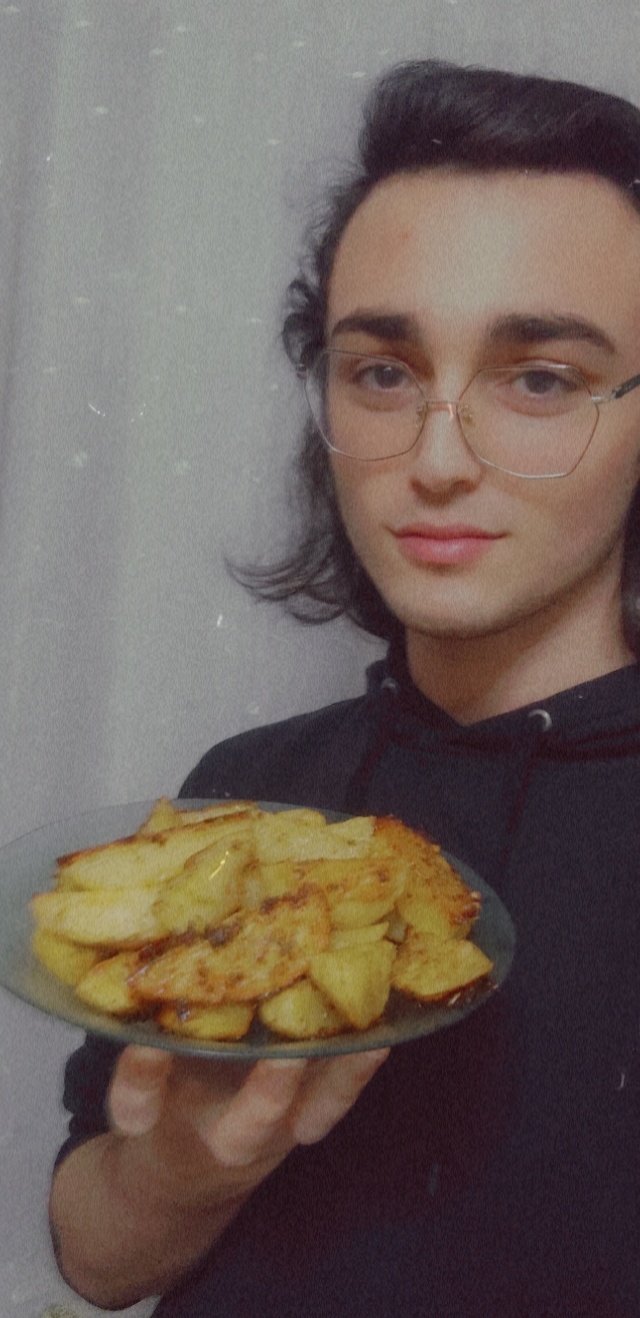 -All photographs are my own,unless otherwise stated.
-Tüm fotoğraflar bana aittir.
---
---