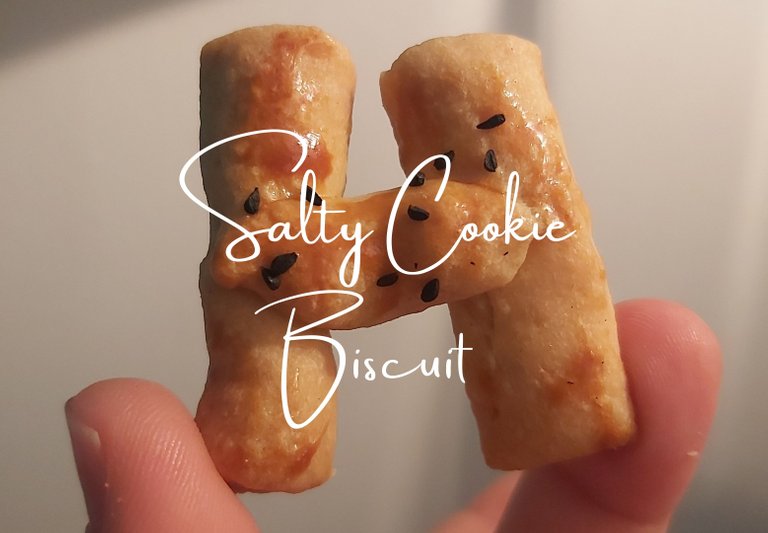 Hello Foodies!
I love cookies. Today I will give you a description of my savory cookies that I make once in a while and everyone likes. If you find time, I suggest you do it. Cookies are the most consumed thing in our country while sitting with guests or during tea time. If I'd let's how I made these beautiful cookies. Before I share the recipe, I want to say something. The pictures may have come out a little poor quality. Since I bake the cookies at midnight, the pictures are not good in low light. So I apologize to you!
TR
Kurabiyeleri çok severim. Bugün sizlere arada bir yaptığım ve herkesin beğendiği tuzlu kurabiyelerimin tarıfini vereceğim. Eğer vakit bulursanız mutlaka yapmanızı öneriyorum. Ülkemizde misafirlerle otururken ya da çay saatlerinde en çok tüketilen şeydir kurabiye. Dilerseniz bu güzel kurabiyeleri nasıl yaptığıma geçelim. Tarifi paylaşmadan önce bir şey söylemek istiyorum. Resimler biraz kalitesiz çıkmış olabilir. Kurabiyeleri gece yarısı yaptığım için düşük ışıkta fotoğraflar güzel çıkmıyor. Bu yüzden sizlerden özür dilerim!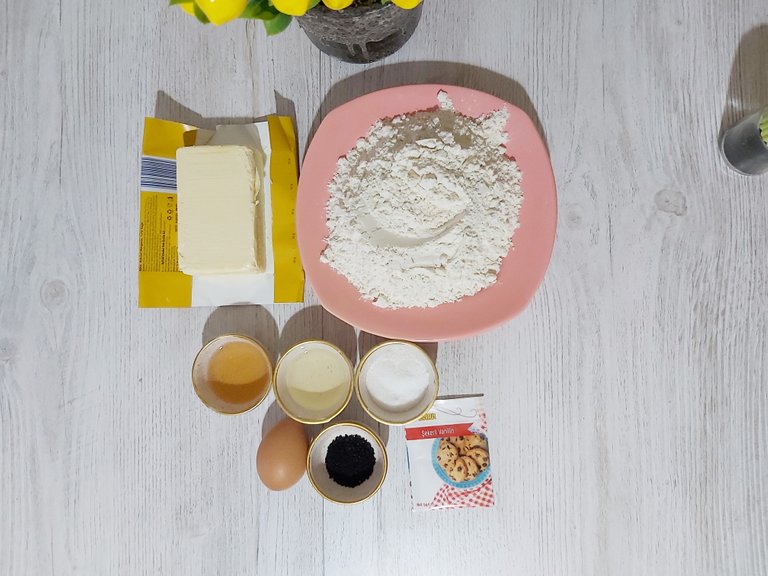 ENG
Meterials
2 tablespoons of apple cider vinegar
1 tablespoon of sugar
2 tablespoons of salt
250 gr Flour
5gr Baking Powder
1 egg (Separate the yolk for later)
3 cups flour
For the above ; Black Cumin
TR
Malzemeler
2 yemek kaşığı elma sirkesi
1 yemek kaşığı şeker
2 yemek kaşığı tuz
250 gr Un
5gr Kbartma Tozu (resime yanlıslıkla vanilin eklemişim)
1 tane yumurta (Sarısını sonraya ayır)
3 bardak un
Üzeri için ; Çörekotu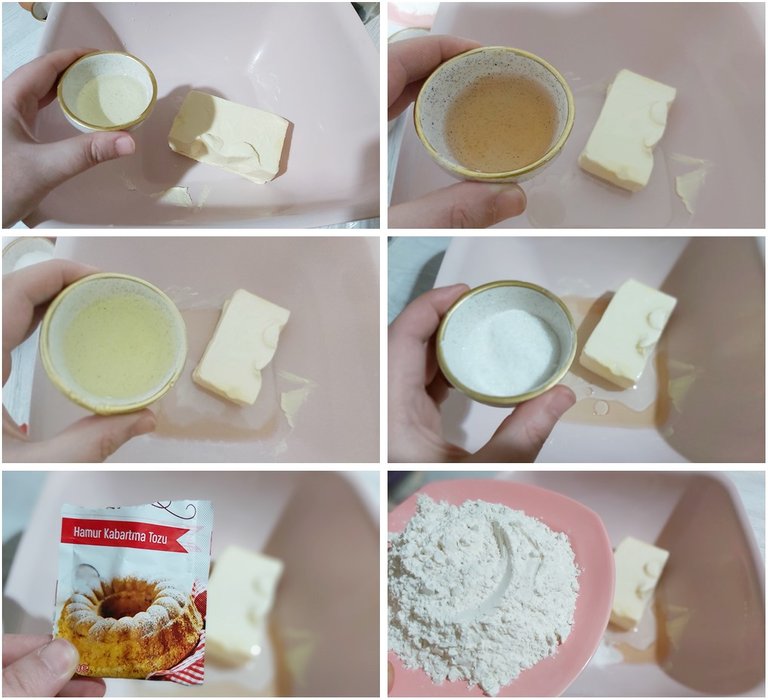 ENG
Let's transfer all the ingredients into a deep bowl. The oil should be soft. If you took it out of the cupboard, wait for it to soften a little. Knead by hand until it reaches the consistency of an earlobe.
We do not use egg yolk in the dough. Just add the whites. We will rub the yolk on it.
TR
Bütün malzemeleri derin bir kaba aktaralım. Yağ yumuşak olmalı. Eğer dolaptan çıkarttıysanız biraz yumuşamasını bekleyin. Kulak memesi kıvamına gelene kadar elle yoğurun.
Yumurta sarısını hamurda kullanmıyoruz. Sadece beyazını ekleyin. Sarısını üstüne süreceğiz.

ENG
The dough should not be too hard or too soft. If this happens, your cookies will crack. Ideally, the consistency of an earlobe (my grandmother used to say so)
TR
Hamur çok fazla sert ya da çok fazla yumuşak olmamalı. Öyle olursa kurabiyeleriniz çatlar. En ideali kulak memesi kıvamında olmalı(anneannem öyle derdi)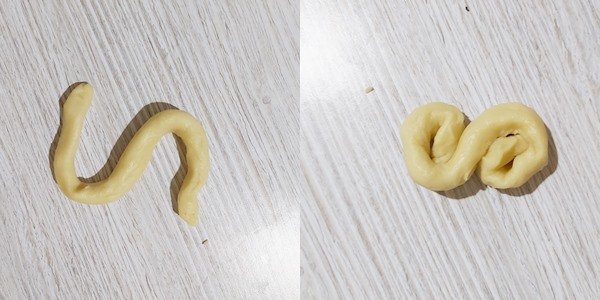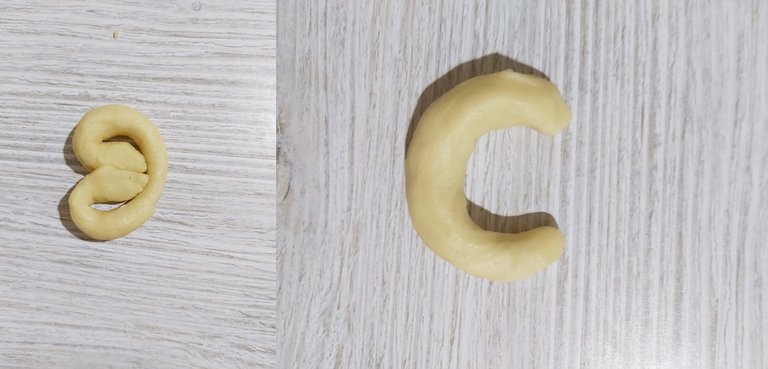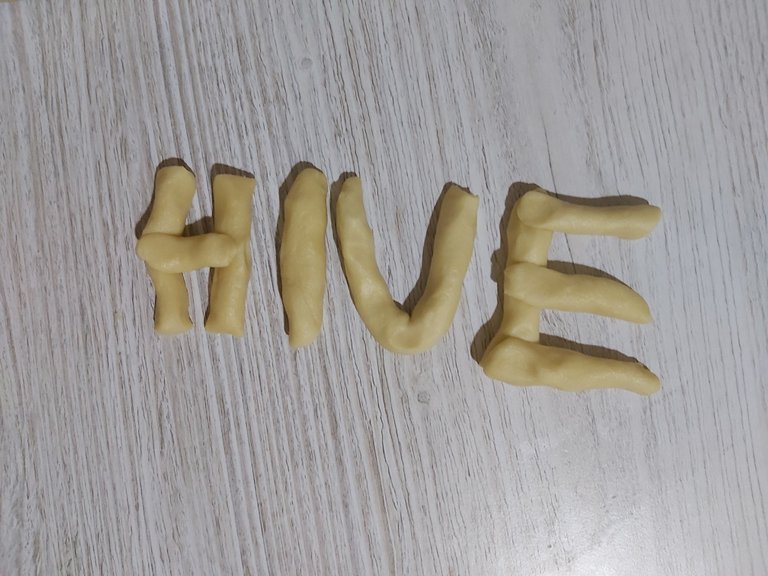 ENG
Our dough is ready. Now it's time to give shape. I have shown different shapes for you. You can do it as you wish. If you want, you can make it yourself with shaped molds. I prefer to do it manually. This sounds therapy to me. I also add my love to the work.
TR
Hamurumuz hazır. Şimdi sıra şekil vermeye geldi. Ben farklı şekilleri sizler için gösterdim. Siz dilediğiniz şekilde yapabilirsiniz. İsterseniz de kendiniz şekilli kalıplarla yapabilirsiniz. Ben elle yapmayı tercih ediyorum. Bu bana terapi geliyor. Hem işe sevgimi de katmış oluyorum.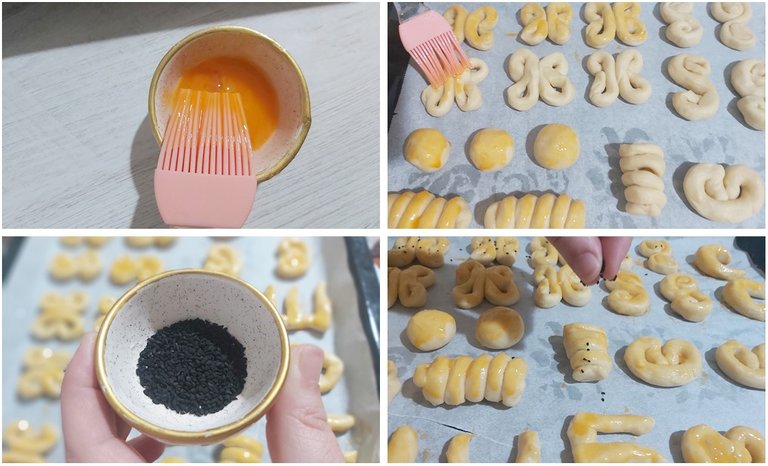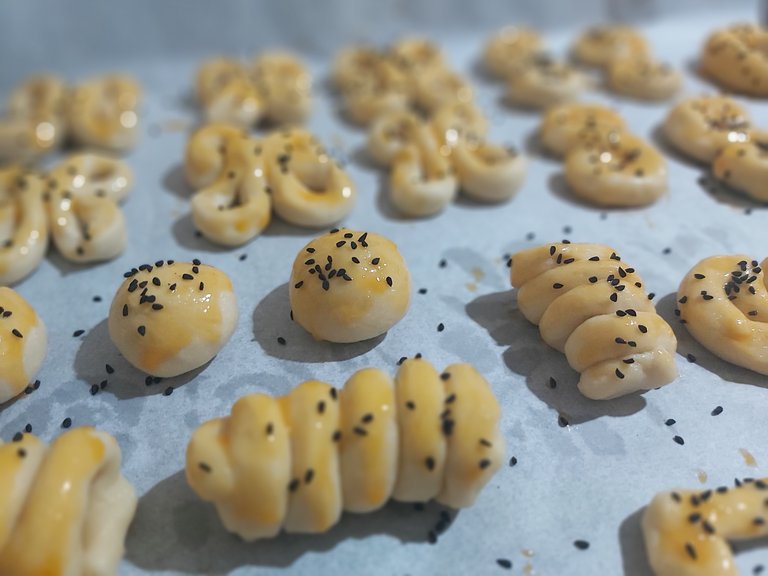 ENG
After giving the shapes, we prepare the tray. I always add baking paper to the tray. I carefully placed the dough we shaped. Then I apply the egg yolk to the cookies with the help of a brush. Finally, I add black seed. Black seed goes well with salty cookies. You must add.
TR
Şekilleri verdikten sonra tepsiyi hazırlıyoruz. Ben her zaman tepsiye pişirme kağıdı ekliyorum. Şekil verdiğimiz hamurları özenle yerleştirdim. Ardından yumurta sarısını fırça yardımı ile kurabiyelere sürüyorum. Son olarak çörek otu ekliyorum. Çörek otu tuzlu kurabiyelere çok yakışıyor. Mutlaka eklemelisiniz.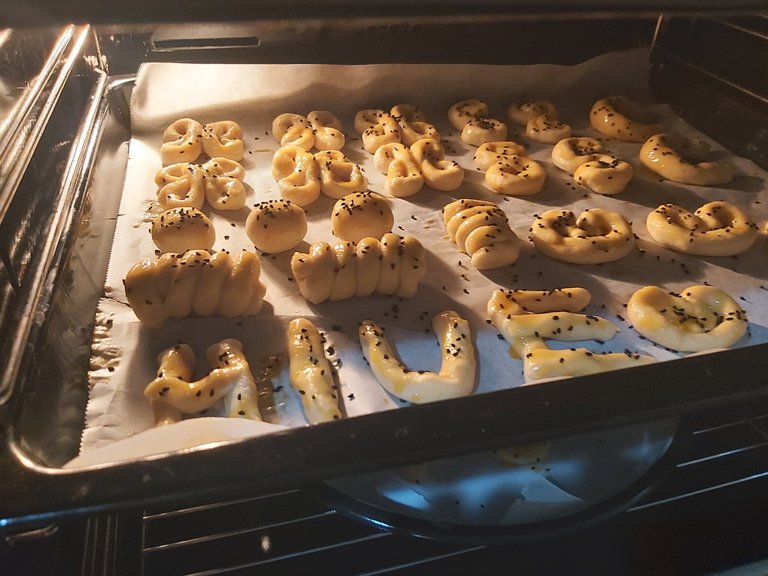 ENG
We set the oven at 190 degrees and put the tray in the oven. We cook until it is browned. An estimated 30 minutes will be enough.
TR
Fırını 190 dereceye ayarlıyoruz ve tepsiyi fırına koyuyoruz. Üzeri kızarana kadar pişisiyoruz. Tahminen 30 dakika yeterli gelecektir.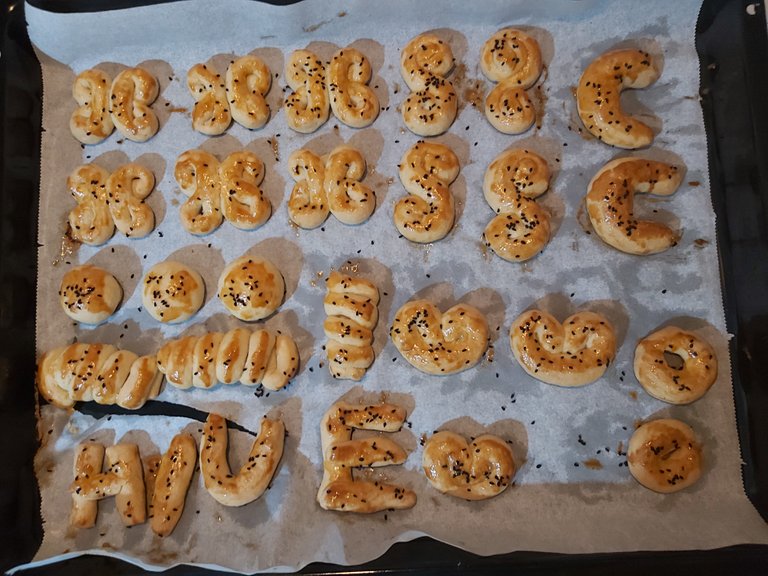 Cookies are cooked, bon appetit!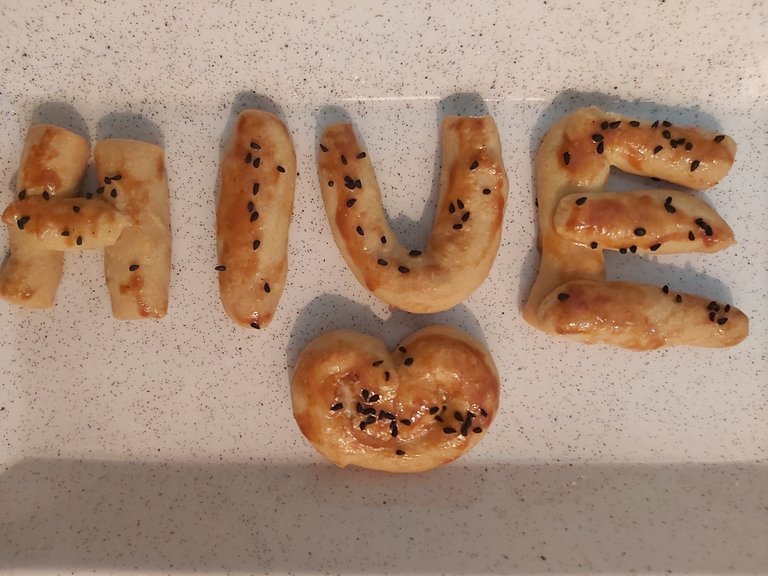 This platform has contributed a lot to us. It wouldn't be possible if I didn't thank him! That's why these were made. :)
Bu platform bizlere çok şey kattı. Ona teşekkür etmesem olmazdı! Bunlar da bu yüzden yapıldı. :)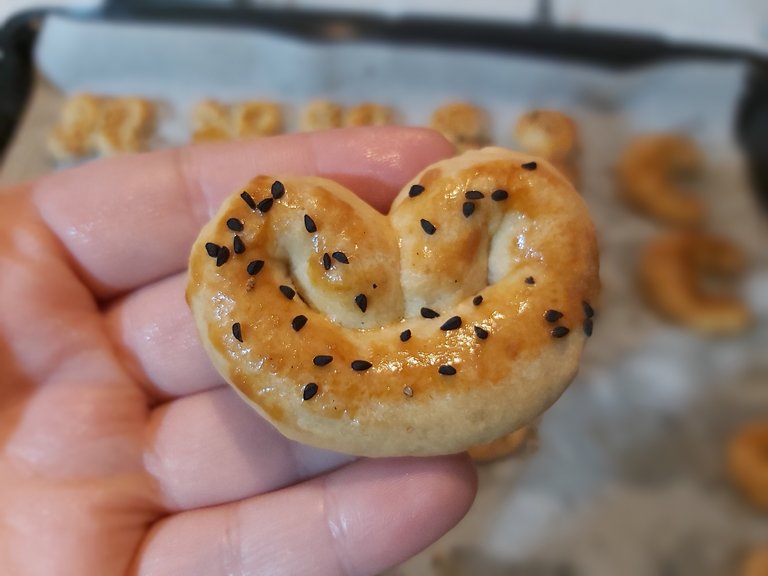 This heart is for you who support me! I offer my endless thanks. My heart would like to share this with you.
Bu kalp beni destekleyen sizler için! Sonsuz teşekkürlerimi sunuyorum. Gönlüm bunu sizlerle paylaşmak isterdi.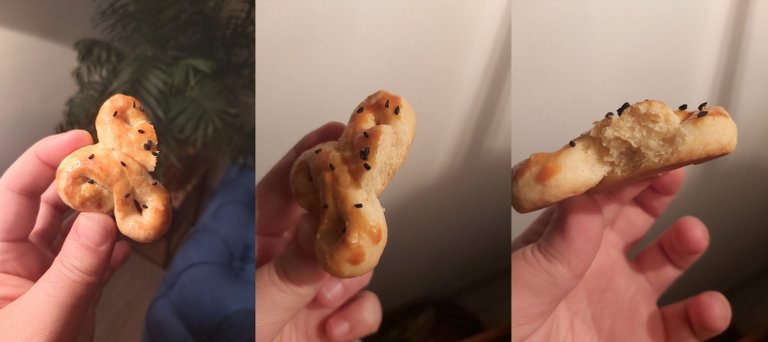 These cookies are really delicious. Using vinegar in particular tasted great.Feel free to use it!
Gerçekten bu kurabiyeler çok lezzetli oldular. Özellikle sirke kullanmak çok güzel tat verdi. Kullanmaktan çekinmeyin!
The cookies on the tray were left for my mother and brother. Only this HİVE is left for me :) Did the smell of my fragrant cookies come over there? Don't stop then come on, You do it too!
Tepsideki kurabiyeler annem ve abime bırakıldı. Bana sadece bu HİVE kaldı :) Mis kokulu kurabiyelerimin kokusu oralara da geldi mi? Durma o zaman hadi Sen de yap!
Love.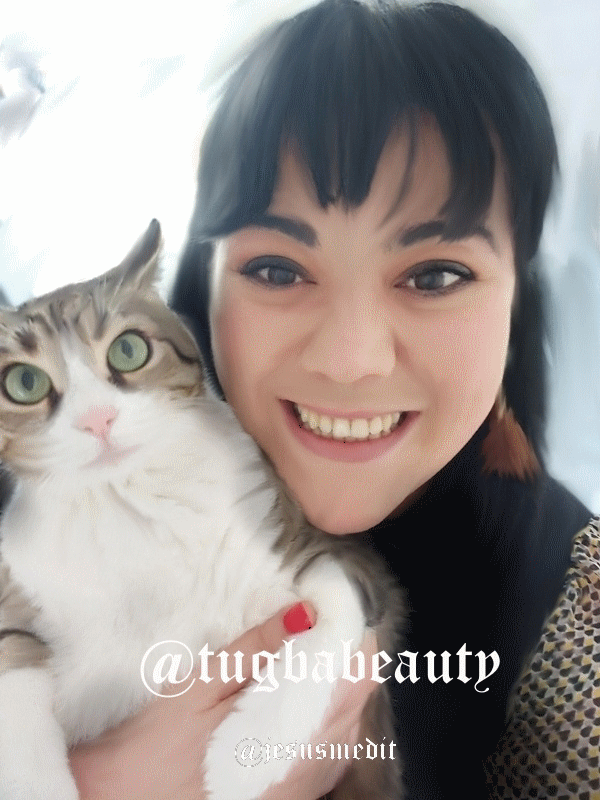 Artwork by: @jesusmedit