English: There are many wonderful dishes from the Philippines and the most famous one is Chicken Adobo. This is a quick recipe but not quite original. I had to use apple vinegar but in the Philippines they use cane vinegar.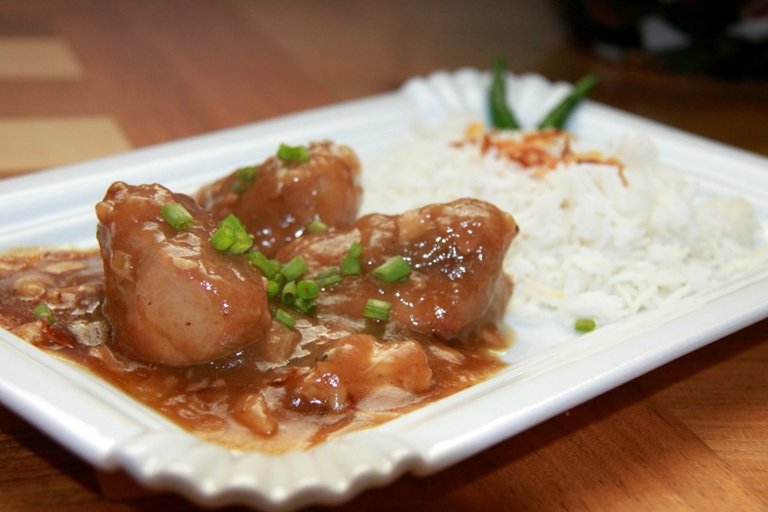 But also with the wrong vinegar the chicken was so tasty, the visitors ate it all.
For 4 persons:
4 big Chicken Breasts sut into pieces (actually chicken adobo is being cooked with a whole chicken, with skin on and bones, but I chose chicken breasts because I did not want my visitors to have to bother with bones.)
4 cloves of Garlic, minced
60 ml Apple Vinegar
60 ml Soy Sauce
5 tbsp Worcestershire Sauce
150 ml Water
1 Bay Leave
Salt and Pepper
1/2 tsp Paprika
2 tbsp brown Sugar
2 tbsp Cornstarch
3 tbsp Water
some Oil
Mix the garlic, soy sauce, vinegar, Worcestershire sauce, sugar, water and spice and marinade the chicken pieces for 1 hour in it.
I cooked the adobo in a clay pot, so the cooking is a little slower but the chicken will stay juicy. Heat the clay pot and add the chicken with the marinade, cook slowly for approx 1 hour.
Heat some oil in a wide pan and fry the chicken pieces until browned. It does not have to cook too long as the chicken is already cooked.
Meanwhile mix the cornstarch with the water and add to the sauce, cook until sauce thickens. Add the chicken pieces and serve with white rice.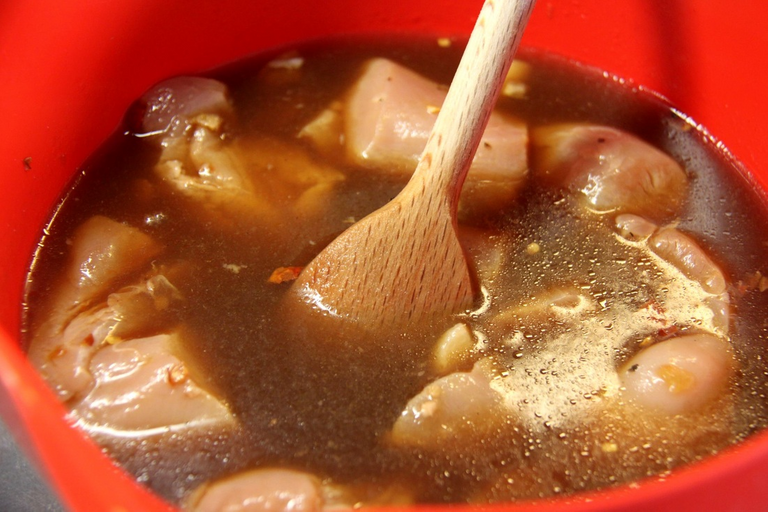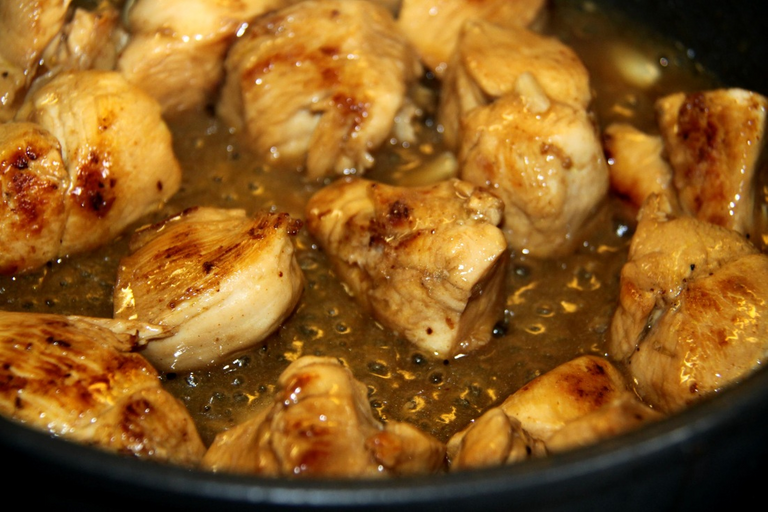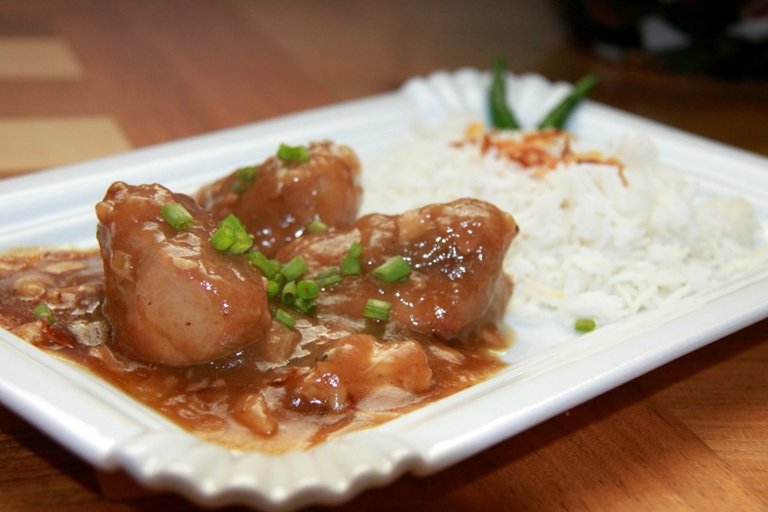 Deutsch: Es gibt sehr gute philippinische Rezepte und dazu gehoert das beruehmte Chicken Adobo. Dies ist ein schnelles Rezept und nicht ganz original. Sobald ich zuhause bin, werde ich es so versuchen, wie es "richtig" gemacht wird, das heisst, mit dem richtigen Essig. Hier in Europa habe ich ihn nicht erhalten und so musste ich Apfelessig nehmen. Trotzdem hat das Gericht sehr gut gemundet!
Fuer 4 Personen:
4 grosse Huehnerbrueste, in Stuecke geschnitten (eigentlich nimmt man ein ganzes Huhn und schneidet es in Stuecke, mit Haut und Knochen. Ich habe Bruestchen verwendet, ohne Haut, sie wurden auch ganz saftig, also nichts von trocken und so. Ich habe das bewusst so gemacht, damit meine Besucher sich nicht mit Knochen abgeben muessen.)
4 Knoblauchzehen, gepresst
60 ml Apfelessig
60 ml Soya Sauce
5 El Worcestershire Sauce
150 ml Wasser
1 Loorbeerblatt
Salz und Pfeffer
1/2 Tl Paprika
2 El brauner Zucker
2 Tl Speisestaerke
3 El Wasser
wenig Oel
Die Knoblauchzehen, den Essig, Soya Sauce, Zucker, Worcestershire Sauce, Gewuerze und das Wasser zusammen mischen und die Huehnerstuecke darin ca 1 Stunde marinieren.
Ich habe das Adobo in einem Tontopf gekocht, das heisst, es kocht langsam und bleibt so saftig. Einen Tontopf anwaernmen und das Huhn mit der Marinade reingeben und ca 1 Stunde langsam kochen lassen.
In einer weiten Pfanne wenig Oel erhitzen und die Huehnerstucke darin nun braun braten. Das braucht nicht lange, denn das Huhn ist schon durchgekocht.
Unterdessen das Staerkemehl im Wasser aufloesen und in die Sauce geben, koecheln lassen bis die Sauce eingedickt ist. Die braungebratenen Huehnerstuecke in die Sauce geben. Mit weissem Reis servieren.